What makes a company or organization exceptional? Hiring the right people, providing a culture in which they can thrive and letting them not just do their jobs, but excel at their jobs. That's the common thread we found in the six honorees for the FER 2017 Management Excellence Awards.
From a big chain that transformed its kitchens into smart, energy-efficient powerhouses to a dealership whose revenues grew 37% to 42% in each of the past three years, the stories of this year's award winners are truly remarkable. Others honored include a smaller chain that spends an intense amount of time communicating with suppliers and franchisees, a dealership that started with a $2,000 business loan in 1974—and reported $31 million in sales in 2016, a university that always remembers employees are students first, and a consulting firm that practically deprograms new hires to help them recover their creativity.
Awards Selection Advisory Boards, made up of knowledgeable professionals from the manufacturing community, choose the recipients of the Management Excellence Awards, while industry association leaders selected the winners of the Young Lion Awards and Industry Service Awards. Advisory board members participated in a series of spirited conference calls and, with lots of commentary and reasoning, agreed on the award recipients. This awards season, members vetted more than 50 companies as potential candidates across all categories. The four categories for Management are large and small chain operations, large and small dealerships, a noncommercial foodservice operation and a foodservice consultancy.
Judging criteria tailors to each category but all recipients must exhibit the following:
• Honesty, transparency and integrity in dealing with employees, suppliers and customers.
• Deeply knowledgeable management and personnel.
• Consistency and excellence in equipment and supply function execution.
• Consistent revenue and profit growth (where known and applicable).
• Creativity and innovation.
Additionally, the candidate must make a significant contribution to the industry.
Join us to honor these winning management teams at the FER Industry Excellence Awards Gala, Friday, Feb. 10, at the Hyatt Regency, Orlando, Fla., during The NAFEM Show. For details and tickets, go to bit.ly/2dGeS6s or call Christine Palmer at 847/648-0059.
Management Excellence – Operator
Arby's Restaurant Group
No. of Employees: 80,000 systemwide
No. of Units: 1,000 company-owned; 2,300 franchised
2016 Sales: $3.6 billion systemwide
Company Motto: "Inspiring smiles through delicious experience."
By Janice Cha, Fe3, Senior Contributing Editor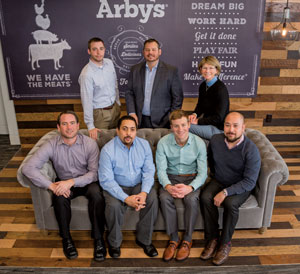 Last year, Arby's Restaurant Group did the near-impossible. The Atlanta-based fast-casual sandwich chain met its goal of reducing energy and water use by 20%—across some 1,000 locations, coast to coast—making Arby's among the first and only restaurant chains to be honored by the U.S. Department of Energy's Better Buildings program.
The remarkable achievement, which was featured in FER's September '16 issue, was the result of six years of hard work at all levels of the company. In the process, Arby's also shifted its overall culture to one that rewards innovation, partnership, communication and fun.
"Led by our CEO Paul Brown, not only do we have strong talent with insights and industry expertise, we also have a clear vision for the brand that is in sync across all departments, both company and franchisee operations," says Peter Cryan, Director of Equipment R&D and New Technology, who himself is a former Arby's operator and district manager.
The result of Arby's company-wide push toward energy-efficient operations has had the bonus effect of "creating a culture that wants to win, is not afraid of making mistakes and challenges the status quo," adds Cryan, who led the research and development team that overhauled a decades-old cooking platform and kitchen layout.
Change-making requires investment as well as commitment. Arby's leadership accepted the recommendations of its various teams, to the tune of nearly $280 million invested across multiple projects—many of which resulted in immediate cash fl ow improvements—between '13 and '16. These advances at corporate-owned restaurants are now helping pave the way for Arby's 2,000+ franchised locations to follow.
Without this leadership style, "we would never have been able to achieve some of the equipment innovations we have accomplished the last several years," Cryan notes. "Our leadership teams have created the environment for us to do just that."
Arby's industry suppliers, whose partnerships with the restaurant chain helped meet the goal, agree. Suppliers across the board admire and respect Arby's management style.
Arby's consistently demonstrated cutting-edge thinking and willingness to try new things, observes Powerhouse Dynamics V.P. Business Development Jay Fiske. "Arby's management team [applies] technology to streamline operations and drive efficiency throughout their business," Fiske says. The energy-use analytics company provides the metrics Arby's has relied on since '12 to monitor utilities consumption systemwide.
"We appreciate the collaborative, creative approach they have taken in applying our SiteSage [energy-tracking] system to an increasingly broad array of functions," Fiske adds. "What started as a pure energy management system now encompasses asset management, integration with kitchen equipment, and food safety automation. Arby's vision for a connected commercial kitchen has [pushed us] to expand our development of leading-edge solutions for the foodservice industry."
"Arby's has intense attention to detail," says Alto-Shaam National Accounts V.P. Adam Dixon, who worked with Arby's to customize the Cook & Hold ovens that serve as linchpin of the restaurant's prototype kitchen. "They did a fantastic job of imagining worst-case scenarios and asking us to program solutions into the unit. For example, if the power went out for any length of time and then came back on, they wanted the oven to somehow notify the operator that the power failed at some point. We met their request by programming the oven's software so the control screen would turn red. It's impossible to ignore."
"Arby's constant drive to challenge the status quo is a large part of its current success," says Shannon Steward, Managing Partner at PMR, the manufacturers' rep firm that supplies FWE cook-hold equipment to the company. "Arby's R&D and New Technology Group has covered every major facet of a new cooking platform: ensuring food safety, reducing food cost, reducing labor and stress on operations, consistency in product quality, and by the way—reducing the footprint for production in the restaurant and increased savings in energy demand. Very rarely as a manufacturer do you partner with a customer to develop a product that does not allow for some compromises in meeting all objectives. Arby's new cooking platform meets every major initiative and serves as a great testament to the collaborative efforts of a customer and manufacturer working together."
"Arby's knows how to build teams without micromanaging," says Nick Swanson, Managing Director for CGA Reps, which helped Arby's develop its signature "Work Smart" cooking platform. "They surround themselves with good people with diverse points of view to create a productive team environment. Arby's knows they have the right people in the right seat of the bus because in many cases they promote store operators or promote from within corporate who have experience running the restaurants. This allows Arby's management to challenge their groups to provide real solutions and to be confident in the teams' findings."

"Arby's corporate culture fosters cooperation and sharing that helps us understand the team's problems and work with them for solutions," says Ron Reynders, Senior V.P. of Sales & Manufacturing, Marshall Air, which supplies Arby's with its new fry dump station, hot holding equipment and a custom-designed heat lamp with heated scale for its slicers. "The Arby's team respects us as a manufacturer. They recognize innovation, are quick to test solutions we provide—and are quick to deploy if the solution meets their needs. The Arby's team is close enough to their business that they know what they need. That's how they can make smart decisions."
Management Excellence – Operator
Blaze Pizza
No. of Employees: 5,000 systemwide
No. of Units: 173
Units Opening in 2017: Up to 90
Company Motto: "Cultivating Fanatics."
By Allison Rezendes, Fe3, Managing Editor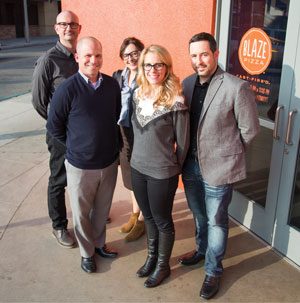 Elise and Rick Wetzel (Co-Founder of Wetzel's Pretzels) knew they were onto something big when they walked into Chipotle for lunch one day in 2011 and asked, why can't we do this for pizza? The following year, the couple opened two Blaze Pizza restaurants in California.
From there, the fast-casual concept has rapidly expanded: by the end of '16, it oversaw 173 units in 31 states and in '17, it will open up to 90 more. Technomic Inc. named it one of the top five fastest-growing chains in '15. Wetzel gives part of the credit for the company's booming growth to its partnerships with leading multiunit operators, many overseeing large chains such as Chili's and Wendy's.
Company highlights in '16 alone included opening a flagship restaurant at Walt Disney World, Orlando, a store at Universal Studios Hollywood, Calif., and another at the Staples Center, Los Angeles. Plus, LeBron James, the company's brand ambassador and an investor, has taken the Cleveland Cavaliers to dine at the unit in Columbus, Ohio.
"We're cultivating fanatics, which is code for us being passionate and getting our guests, suppliers and franchisees passionate about what we do," says Wetzel, Co-Founder. "We're more than a pizza place; we're a lifestyle brand." Anchored by a bright orange Wood Stone fire deck oven, Blaze Pizza units offer healthful, built-to-order, 11-in. pizzas in 180 seconds and at a reasonable price point—about $8.
To cultivate fanatics among suppliers and franchisees, the company spends ample time collaborating and communicating with everybody, says Tiffany Vassos, V.P. of Design and Construction. "We plan a yearly Blaze Un-Convention, where we spend time with our franchisees and suppliers and establish relationships. We get to know what each other's needs are so we're all successful."
Additionally, the Design and Construction Department, based in Pasadena, Calif., holds quarterly conference calls with suppliers to let them know about any upcoming design or equipment changes. They send out weekly updates with the development timelines to help suppliers plan accordingly. "We pride ourselves on the spirit of transparency," Vassos says.
Bill Stoneham, National Account Manager-Foodservice, for Hobart Corp., says, "By engaging in open, honest dialogue, it's clear that the Blaze Pizza team views their vendors as much more than suppliers; they see them as strategic partners. By sharing the chain's vision, goals, menu details, operation concept and more, vendors are able to feel as though they're part of the team and, as a result, are excited and provide a higher level of support and guidance."
Franchisee Joe Stein, President of R&J Restaurants, adds, "From monthly calls to the special operations and developmental workshops to the annual conference, they've created many touch points so the experienced franchisees can share their thoughts and ideas." For example, franchisees expressed concern over the safety of a hot dough press used by employees and so, the department specifies models with burn guards.
Blaze Pizza's loyal commitment to suppliers (inspired by Ray Kroc of McDonald's, Wetzel says) most recently paid off on the Staples Center project in Los Angeles. The department had to complete the job from start to finish in about six weeks, compared with the roughly 10 months it has for traditional locations.
"You have to build up a bank of capital goodwill through fairness and transparency with suppliers because there will be times when you need to draw on it and the Staples Center was one of those times," Wetzel says. "We earned the deal and the following week, we were installing the ovens. A couple of days later, the mixer arrived. These are suppliers that normally need an eight week notice but jumped through hoops for us; the project had to be open in time for hockey season."
Having the right team in the Design and Construction Department was also critical to completing the project on time, Vassos says. "The team we've established here is best in class and extremely smart with a lot of knowledge from other great brands. All of this helps set us apart from competitors."
On the customer side, Blaze Pizza cultivates fanatics by creating a fun, welcoming atmosphere, hiring positive-attitude employees who engage customers, and keeping an ongoing dialogue on its website and social-media platforms, Stoneham says.
Having the culinary expertise of Executive Chef Brad Kent is another advantage for the chain, says Jay Morse, Regional Sales Manager for Wood Stone. "Chef Brad brings his passion for food and service to the culinary experience at Blaze. The adventure of building your own pizza turns customers into pizza artisans and gives them a connection to the pizza that they are paying for."
Stein recalls when Chef Kent tested about 30 different salts before he found the right one to sprinkle on the pizzas before they go into the ovens. "That's just the salt! I can't imagine the countless hours he spends getting the dough just right," he says.
Moving into '17, Blaze Pizza will work hardest on identifying locations to build the up to 90 new units it slated for the year. It's also in the process of building from the ground up its first freestanding unit, located in Rapid City, S.D. Vassos says, "We're going to open more restaurants in '17 than we ever have before." Already on the books for '18: 125 new stores.
Management Excellence – Noncommercial Operator
University of Iowa
No. of Employees: 177 full time, about 950 student staff in dining services
No. of Facilities: 19, including catering
Sales for 2015-2016: $32,570,194
Meals served 2015-2016: 1,796,465
Motto: "We are passionate about hospitality and committed to the success of the Hawkeye community."
By Karen M. Alley, Contributing Editor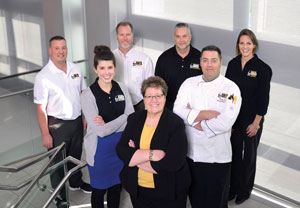 If you happen to be walking through the campus of the University of Iowa, Iowa City, Iowa, around noon, you are likely to be caught up in a flood of students all with one thing on their mind—food. Luckily, those students leaving class don't have far to go. In the fall of 2016 a new addition to the campus foodservice options brought some added excitement in the form of a food truck named the Street Hawk. "We are excited that our enrollment continues to increase, but it was putting a strain on our existing operations, so we brought in the food truck as a way to ease congestion," says Jill Irvin, Director of Dining.
The original menu for the food truck included a variety of sandwiches and tacos served with fresh potato chips. Since it has been in operation the chef has kept things interesting by introducing some new specials, including a poutine and a chicken-and-waffle sandwich. This innovation was possible in part because the truck's equipment was chosen with versatility in mind, but also because the culture of the campus dining service allows talented people to be creative and always look for new avenues of success. "I believe firmly in hiring people who are capable and knowledgeable about their job, and then giving them the room they need to successfully run their operation," Irvin says.
The Street Hawk shows in a nutshell why the dining services team at the University of Iowa has seen success. When faced with a challenge, such as a larger number of students than originally anticipated, everyone rises to the occasion with a creative solution through teamwork and a commitment to putting students' needs first.
"We benefit from the fact that we all have very different skills we bring to the table," Irvin says. "We are able to work together to make sure we allow each other to use those skills to lead our teams and then collectively work together to ensure we're getting the best out of each other."
Nowhere was this more evident than in the recent design of the new Hillcrest Market Place dining facility within a new residence hall set to open in the fall of '17. The operation was this team's first experience with a design/build project. The shortened schedule cut almost a year out of the entire process, allowing the new facility to open as soon as possible to serve the students, but that meant the dining services team had just 21 working days to develop a program of work, including deciding the stations, determining the equipment and planning for staffing. "It was through good communication and teamwork that we were able to accomplish this big project in such a short amount of time, and have some fun doing it," says Fred Kurt, Hillcrest's Manager.
In addition to having a creative, driven group of people working together as a team, the students are a deciding factor for the dining services at the University of Iowa. "When you work with the people at the university, you know they really want the best for their students," says Terry Pellegrino, Principal, Rippe Associates. This includes everything from providing a nice selection of nutritious meal options to a student-focused work environment.
The marketplace has provided an opportunity to add some new selections for students that everyone is excited about. An all-day breakfast bar and sizzling salads top the list. "We are incorporating some different ideas, and while they might not be particularly unique in the industry, it's something new for us here," Irvin says. Decisions about what to offer are made with a lot of research and input from the entire management team, which also traveled to observe what's being done on other campuses.
In addition to new construction, Irvin and Kurt keep a master plan that provides a vision and a schedule for the foodservice operations going out about 10-15 years. This helps prioritize areas for remodeling and equipment purchases. "Our goal is to have great preventative maintenance, but also to stay up to date on our aesthetics and our offerings," Kurt says. "That includes looking for equipment that will help us be creative and innovative with new purchases to make sure we're up to date with what's new in foodservice."
In university dining services, students aren't just the customers, they're also the employees. The University of Iowa depends on student workers to fill about 1,200 positions, and at times staffing can be challenging. "Finding qualified and dependable staff is an ongoing issue, but to attract workers, we've put in place some policies, including a job ladder, to create opportunities for advancement within the student employee ranks," Irvin says. Maybe most important is the fact that management always remembers these employees are students first, allowing them flexibility in scheduling, especially during exam time.
"Overall, the attitude that comes through from the team at the University of Iowa is they want to do things right, with the best equipment, the best facilities and the best employees," Pellegrino says. "Jill fits into that really well. She wants the department to be outstanding, and they have some outstanding individuals there. Letting those people do their job by giving them leeway to plan fun menus and try new concepts is a big part of being a good manager, and it creates a culture of success in this department."
Management Excellence – Consultant
Next Step Design
No. of Employees: 34
Portfolio Highlights: Chefs Club by Food & Wine, New York; The Miami Beach EDITION, Miami Beach, Fla.; Andaz Maui at Wailea Resort, Wailea, Hawaii; Chicago Athletic Association Hotel, Chicago; Nico Osteria, Thompson Hotel, Chicago
Tagline: "Equal Parts Instinct & Ingenuity"
By Amanda McCorquodale, Contributing Editor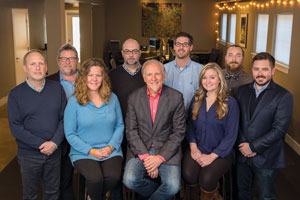 After nearly 30 years in the foodservice design business, J. Russell Stilwell, FCSI, Principal, Next Step Design, and team have built a reputation for high-level foodservice design that facilitates chefs, optimizes productivity, generates energy in the space, and wows patrons.
"The Next Step team thinks like operators and chefs and understands how kitchens flow and what guests will see," says Jeffrey Beers, Founder and CEO, Jeffrey Beers Int'l, a firm specializing in architecture, design and planning. Beers recently worked with Stilwell's Annapolis, Md.-based firm on a restaurant with a uniquely challenging bar design.
"It was oval shaped with a central tequila tower, and the equipment would be visible to guests from all sides," says Beers. "The Next Step Design team not only developed a custom under bar system that was seamless, it enhanced the overall bar design. The team also developed a custom glass walk-in cooler for the beer kegs above the kitchen that became a main focal point to the dining room."
Before founding the firm, Stilwell started as a dishwasher in 1972 and then worked his way up the culinary food chain to a Culinary Institute of America-trained sous-chef. "When I worked in kitchens, some places were so ridiculous in terms of ergonomics that I was shocked to find out that foodservice design was an actual profession," Stilwell says.
When an equipment-supply company was looking for someone with a culinary background to help design kitchens, Stilwell jumped at the chance. In '87, Stilwell launched Next Step Design and built his business using a culinary approach by hiring people with foodservice backgrounds. "This allows us to communicate with the people that actually work in kitchens, allowing us to design from a more visceral standpoint," he says. As the name "Next Step Design" suggests, Stilwell is also very process-oriented, and his team delivers incredibly detailed drawings that are above what is standard in the industry.
Over the past three decades, Next Step's approach has been a big win with clients. "We continue to go back to Next Step Design for every project," says Michael Kitchen, V.P., Acquisitions & Development, Aparium Hotel Group. "Frankly, they make our lives easier."
"I love working with the Next Step Design team," agrees Jay Coldren, Managing Director, Dean & DeLuca, "because they don't just solve the problem of, say, specifying a stove. They solve the whole picture: how to get the stove in, how it should look, where it should be positioned for maximum efficiency, and what the best brand is for maintenance long term."
Since 2006, Next Step has grown from six to 34 employees, quadrupled in sales and expanded from one office to locations in Chicago, New York and San Francisco with a Canadian office on the horizon.
That growth is especially noteworthy considering the economic downturn in '07 that brought nearly every business sector to a halt. "During the recession, we created an aggressive marketing and development plan in which we called on our market's 50 top clients," says Stilwell. "Just about everyone said all of their U.S. projects were on hold but that our product was exceptional so we should keep in touch. Now they make up our core business."
Stilwell is aware that such growth comes with its own challenges. "I don't want the business to get so big that it starts to dilute our product or that we lose the core DNA of the Next Step culture," he says of the main office, which he describes as very casual with employees in jeans, a ping pong table for a conference table, and a fridge stocked with beer. "As I bring in people from other companies, I almost have to deprogram them to get them back to free thinking," he says. "People just turn off their creative juices when they've been at a place where no one encouraged or considered their ideas."
In the summer, Stilwell hosts monthly Fun Fridays when the team knocks off early for a fun lunch, volleyball match or a gathering at his home. "This team works extremely hard and I often feel like I have to chase people out of here. But it's important to me that our employees have fun and have a life," he says. "People say that makes me a nice boss, but it really just means I'm a smart boss."
As '17 approaches, Next Step will celebrate its 30th anniversary with a big party and rebranding launch with a revamped website and logo. Already strong in the hospitality sector, Stilwell says, his team will branch out in the coming years to new market segments such as workplace dining and high-end healthcare. "We're going to keep growing," Stilwell says, "but we're also going to double down on our high-tech, high-touch approach to client relationships. We think long term. I have restaurant groups that I'm happy to say I've done business with for 25 years."
Management Excellence – Dealer
Birmingham Restaurant Supply (Bresco)
No. of Employees: 60
2016 Sales Volume: $31 million
Company Motto: "Treat every customer and client in such a special way that when the transaction is complete, they will come back for more and tell others how great it was."
By Amanda McCorquodale, Contributing Editor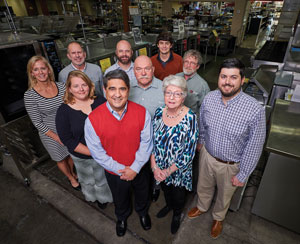 Despite its current prominent location that encompasses one full block of downtown Birmingham, Ala., Birmingham Restaurant Supply (Bresco) had very humble beginnings. George Tobia, President of Bresco, founded the company in 1974 with his cousin and a small business loan. "We started out of the trunk of our cars. Back then, nobody really delivered, so we told everybody if they gave us an order before noon, we'd deliver it the same day," says Tobia.
Forty-two years later, Bresco has grown from a 1,000-sq.-ft. warehouse to a 132,000-sq.-ft. location. Tobia bought out his cousin in '81 and the company now does just as much restaurant supply as they do designing and building out kitchens. Despite Bresco's exceptional growth and the decades that have passed, Tobia says, the company's humble start still drives the business.
"When you start with nothing—$2,000 of borrowed money on your father's name—you appreciate everything you get," says Tobia. "Gratitude still permeates here. I truly believe that when you take care of the small things, you create magic moments and it comes back to you tenfold. If the crisis is at 10 p.m., we're going to get out there and fix it."
"Knowing that we can trust Bresco's team with making things right if challenges occur helps me concentrate on training my team," says Keith Richards, Founder and Chief Development Officer at Taziki's Mediterranean Café. "I've been a customer with Bresco for over 30 years and their customer service keeps me coming back. They make you feel like you're a rock star."
Another recent client David W. Porter, CCM, G.M./COO of Greystone Golf and Country Club, agrees: "Bresco's follow-through during and after installation is amazing. We've been open for close to a year and they still stop by to check on the equipment."
Beyond outstanding customer service, Tobia believes that his team really shines in working with the customers on the initial conceptual design, in the high-quality engineering drawings and specified products, and lastly, in their ability to complete a turn-key, clearly-defined project on time.
"Our word is everything," says Tobia, recalling a recent challenge when four orders came in in the same spot out of state and Bresco had six weeks for the build-out. "Because this was a very good customer of ours, we had our entire purchasing staff drop what they were doing and immediately dive into these four jobs," says Tobia. "We were able to get them all ordered, delivered and installed not only on time, but early."
"When I signed a contract with Bresco, George committed to me that they would provide expert attention to our project and they have exceeded our expectations," agrees Shannon Howell, President at Devcon Services Group, who worked with Bresco on the Henderson Resort Hotel in Destin, Fla. "At every turn, whenever we needed a change or a quick answer on anything, Bresco delivered. Any company can provide equipment; great service is what counts."
Tobia also attributes Bresco's success to their in-house installation crews. "The general contractors and end-users we work with like seeing the same person project to project," he says. "There's also not a long chain of command. If installers need something right then on the site, they are going to get it."

According to Tobia, having one central, large location is a big plus as well. "We can stage multiple projects in this facility and we have control. We can check for freight damage; we can ship complete. This enables a lot of hands-on quality assurance along each step of the process."
That hands-on knowledge of inventory mirrors the face-time Bresco employees enjoy as a team. "We're a tight-knit, well-connected group and it's working very well," says Tobia of the office culture, which includes flexible hours for parents, lunch-and-learn events, charity social events, and a monthly catered lunch. "But you're only as good as the new people you bring in."
In addition to finding and training new talent, Tobia is excited about a new test kitchen in the works in his facility that will be completed by the end of 2017. "Right now, we have to drive 45 minutes to a demonstration kitchen," says Tobia. "With this in-house set-up, we can stage regular demos with restaurateurs, child nutrition directors, potential chain operators and chefs.""What a rewarding industry," concludes Tobia. "It's been a joyful experience. Heck, you have to work every day with all the competition. But we have a nice, loyal following that believes in us and comes back to us again and again."
Management Excellence – Dealer

Clark Associates
No. of Employees: 1,850
No. of Units: 8 cash-and-carry stores in 3 states; 7 distribution centers in 5 states
Revenue in 2016: $905 million (up 42% from '15)
Average Employee Age: 37
By Janice Cha, Fe3, Senior Contributing Editor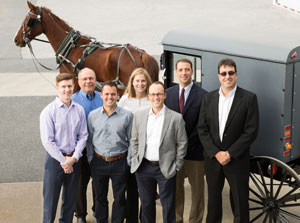 Lancaster, Pa., is a bucolic area with green hills, pastures and farms and, with its large Amish population, horse-drawn buggies sharing the road with cars and trucks. All of which makes it an unlikely home for a technology firm that happens to sell foodservice equipment and supplies: Clark Associates.

A maverick in the often tradition-bound E&S field, part of Clark's success can be attributed to CEO and Founder Fred Clark's independent approach to the business. "I'm the first generation of my family in the foodservice industry," says Fred. "I never had anyone telling me 'you can't do it that way.'"
Fred's "my way" approach has served the company well. Today, Clark is best known for its online powerhouse WebstaurantStore, the "brick-and-click" Restaurant Store and a thriving equipment contract division. Clark companies have generated double-digit revenue increases over the past 11 years. Sales in 2016 tallied $905 million, up 42% from '15. Of that, some 80% of the heavy lifting comes from WebstaurantStore sales.

Under Fred's leadership and management philosophy, the company has evolved into one that employs a young and driven workforce, is technology-driven, relies on a DIY approach to problem-solving and—across all channels—relies on training and continuous improvement.

For starters, Clark is a "young" company, where employees' ages average 37. "We prefer to hire people with no foodservice experience and train them in our way of doing things," explains Fred, who dedicates several hours every week for one-on-one mentoring and training sessions with Clark's upper- and mid-level managers. The company uses DISC Personality profile system to improve interactions, be they between sales team and customers, purchasers and vendors or managers and employees. Often, Fred will review the profile before meeting with a team member and adapt his approach to the learning style the test indicates employee will respond to best.
Clark relies on college job fairs, a full-time recruitment officer and a summer intern program to find the best and brightest. The fact that no one earns commissions (another break from foodservice industry norms) fosters mutual support between Clark's various brands. "It's always 'our' customer rather than 'my' customer," Fred notes. "If you hire right, management becomes simple."
Leveraging online technology has helped Clark lead the industry's online E&S sales arena with the '04 launch of WebstaurantStore. Webstaurant headquarters in Lititz, Pa., would look at home in Silicon Valley with its floor-to-ceiling 3D Tetris mural, wall-mounted monitors showing current metrics by department, game center, workout room and throughout, a staff committed to serving online customers quickly and professionally.
"Technology has always been a primary focus for us," says Webstaurant President David Groff, 34, and a 12-year Clark veteran. But training stands as a close second, he adds. Groff personally takes all new managers through a 10-week course (using videos, discussion questions and role-playing) to lay out company expectations.
"It's one of my most important jobs," Groff says. "Our goal is to create a culture that allows people to excel."
Online technology powers other Clark divisions as well. The cash-and-carry division, founded in 1993 and led by Restaurant Store President Steve Leaman, today operates its own thriving website. The business stocks about 25,000 SKUs on its shelves, yet by sharing Webstaurant content, can offer more than 150,000 SKUs online. "Some 30% of sales originated from our website in 2016, up from 25% of sales in '15," Leaman says. "We have become a brick-and-click business that offers customers the ability to order online and pick up from a store location."
Management dedication to technology can be found even in the most traditional of Clark's divisions, Food Service Design & Equipment, led by Fred's son Gene Clark, 31. Gene shows this FER reporter an online, navigable view of a foodservice project—created using Revit—for a current client. Then he offers an Oculus virtual reality headset to "walk through" the project, right there in the Lancaster office.
"Clark invests in its employees, inspiring and recognizing creative, forward thinking across a diverse group of business models," observes Kevin Lien, General Market Sales V.P. for Manitowoc Foodservice, who has worked with Clark over the past eight years.

The company's tech-savviness combined with its "good-better-best" levels of service offered via its online sales, cash-and-carry and the equipment contract division gives customers what they need. "Clark recognizes consumers have different preferences and values driving their decisions," Lien adds. "This allows Clark to focus on what consumers value, be it speed, consistency, inventory, delivery, service, or a combination thereof."
John Timalonis, Partner at Schmid-Dewland Associates, a manufacturers' rep firm that has worked with the Clark team for 31 years, agrees. "They [actively] look forward to the future of our business and have changed to meet modern consumer needs."
Clark's technology embrace has evolved from its DIY background, something that can be traced back to the company's 1971 origins as an electrical contracting business. Over the years, the DIY attitude has resulted in some 15 individual companies under the Clark umbrella, including businesses focused on remodeling and renovations, contract sales, E&S account sales, chemical sales, custom fab, hood suppression systems, service and repair and mechanical services, to name a few.
But most of all, what spurs sales—and customer loyalty—is Clark's extreme attention to detail, its hands-on, personal touch with vendors, customers and partners.
"Clark may be large, but it's still a one-on-one company," says Christopher Smith, Corporate Director of Food and Beverage for theme park and hotel company Herschend Family Entertainment. "I don't go through a switchboard at Clark—we have two or three people I deal with personally," says Smith, who has worked with Clark for the past two years for the design and build-out of foodservice at the 300-room Dollywood DreamMore Hotel, Pigeon Forge, Tenn. "Clark knows all our history, they've sent their people to visit our parks to see what our operations look like, and they've given us great recommendations for our F&B operations. They're not just a vendor. They're a valued partner in our business."
FER 2017 Management Excellence Awards Selection Advisory Board Members:
Chains: Dave Brewer, Middleby; Mike Whiteley and Lou Anich, Hatco Corp.; Chuck Quinn, Oneida; Kris Gyori, Cambro Mfg.; Jason Prondzinski, True Mfg.; Lyall Newby, Electrolux; Gerry Kenlon, Metro/Ali Group; Keith Kelly, Ice-O-Matic/Ali Group; Rick Caron, Manitowoc Foodservice; Barb Campbell, Henny Penny; Kevin Clark, Scotsman Ice/Ali Group; Tom Krisch, Antunes; Paul Egbert, Vollrath Co.; Tyler Martin, ITW FEG.
Dealers: Dennis Park, Vollrath Co.; Mark Pumphret, Hatco Corp.; Gary Dykstra, Manitowoc Foodservice; Penny Hutner, Advance Tabco; Todd Griffith, Alto-Shaam; Greg Fischer, Cambro Mfg.; Rich Packer, American Metal Craft; Mark Brenner, Eagle Group; Tom Donovan, Unifi ed Brands; Pat Kill, True Mfg.; Jeff Duncan, American Panel; Michelle Wibel, Nemco Food Equipment; Kevin Woods, Globe Food Equipment.
Noncommercial Operator/Consultancy: Rod Collins, Rod Collins Associates; Rob Geile, Ali Group; Kurt Eichmeyer, Wood Stone Corp.; Jack Scott, Alto-Shaam; Terry Hoelle; Nancy Fera, Metro/Ali Group; Teri Brewer, Thermo-Kool/Mid-South Industries; Danielle McMiller, Structural Concepts; David Ciampoli, MEIKO; George Campise, Unified Brands.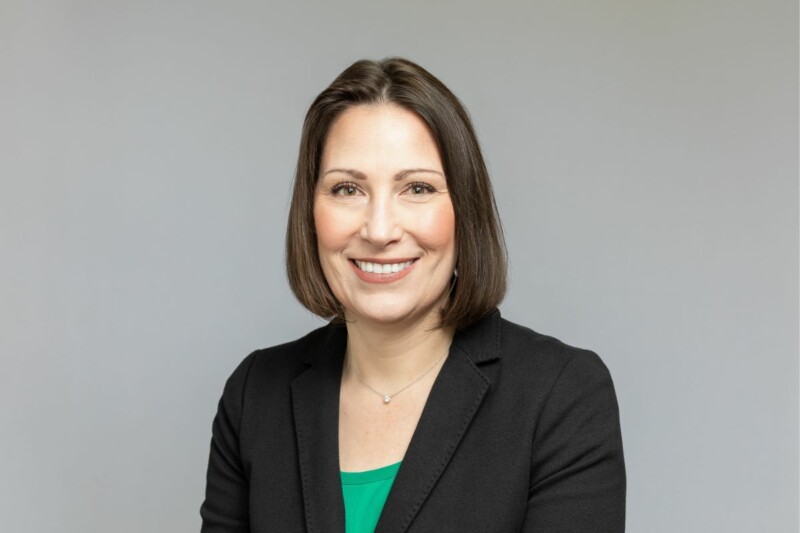 Event Coverage
Foodservice Packaging Institute's Natha Dempsey will offer a deep dive on recycling and composting.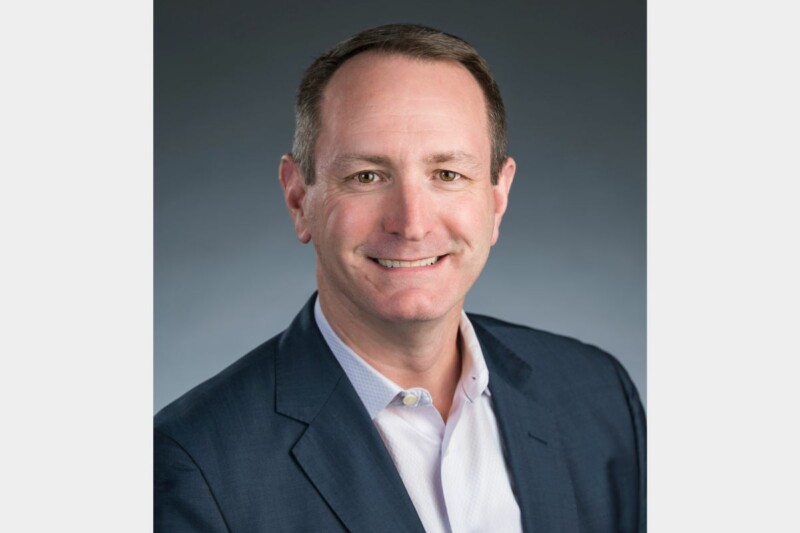 Event Coverage
Register today for the live session, featuring the research firm's rich data and intelligence.