Yes, it's 2017. No doubt you were hanging onto your hat for most of the election year, and you might still be hanging onto it. What to expect for the year ahead?
Spoiler alert: Growth in the coming year will be pretty much like last year's, and maybe a hair better.
Last year goes into the books as a plus. It was good for foodservice operators—in fact it was the sixth straight year of positive industry growth—but as many found, '16 growth was not as strong as '15's and not as strong as originally forecasted.
Late last year, foodservice consulting and research firm Technomic Inc., Chicago, revised its forecast numbers for both '16 and '17. The firm now estimates '16 foodservice industry real growth at 1.6%, down from the 2.4% originally projected. The year ahead should do just slightly better, at 1.7% real.
A couple big factors created some drag on foodservice last year—the election and menu pricing. For months before the general election, it was clear that voters' political angst wasn't doing any favors for foodservice. What would the election mean for jobs, taxes, trade and healthcare? All these things bear on disposable income, and consumer spending clearly started tightening up across many industries by midyear, and even before.
Now, the election's over, but many of the questions remain.
"We have a new administration coming in, and there's lots of uncertainty," says Joe Pawlak, V.P. of Technomic. "That uncertainty will continue into the first three or four months of the year."
Rising Costs, Rising Menu Pricing
The other big factor, menu pricing, began showing even earlier, and it may linger longer than the election effects.
"Same-store sales for chains have been pretty depressed, especially in casual dining," Pawlak notes. Traffic and same-store sales started softening first quarter last year. Some of the weakening likely could be attributed to election issues, but there was something else as well—menu pricing.
"Casual-dining chains have priced themselves out to the point where they're not a good value," Pawlak says. "To some extent, that's true in fast casual, too. The segments are still growing, but not as quickly as they had been."
Pawlak cites a confl uence of forces pushing up menu pricing. Although food prices in general are down, beef is up "signifi cantly," he says. Rising minimum wages are creating some upward pressure. But there are other factors as well. Publicly held chains have additional issues. They rise and fall on market capitalization, which means stock pricing. "Wall Street puts pressure on them for sales growth. So, there's pressure to raise menu prices to mitigate losses in traffic." There's also pressure to offer dividends and keep them at an attractive level. Another factor in menu pricing: After several years of weak leasing markets, lease prices are rising again.
Between the political question marks and the upward pressure on menu pricing, it's no surprise that the National Restaurant Association's Restaurant Performance Index softened noticeably over the past year. The RPI is still positive for the most part, but only by about half what it was a year or two ago. Other consumer retail segments are seeing similar patterns. Companies from Lowes to Amazon reported slower third quarters. Ditto the auto industry.
Which Segments Have Legs?
Where is the foodservice traffic going? "One segment that's benefiting is supermarket foodservice," Pawlak says, and he notes that growth will continue. "And independents are relatively solid," he says. "Consumers are going to independents." Food distributors report case sales to independents remain strong. Pawlak says consumers are hot on the ideas of shopping local, buying local produce, cutting transportation and carbon footprints—all of which can work to the independent's advantage. And very often the independent has more pricing flexibility to respond to local clientele.
Additionally, as FER Publisher Robin Ashton reported in his December '16 editorial, another factor is contributing to independents' success. Chains are generally struggling and independents are doing well thanks in part to third-party delivery services. Chains resist them for fear of losing control, but independents have embraced outsourced delivery and are enjoying tremendous incremental volume.
Looking ahead, Pawlak sees the election having long-term effects as the new administration begins to move forward. "The new administration is talking about tax cuts, which is always good for discretionary spending," he says. "If they move quickly on that, the latter half of '17 could pick up nicely."
Among other factors, he says operators are always looking at labor costs, too, and in this case, they're looking at whether the Affordable Care Act might be repealed. "They're wondering whether that mandate for insurance might go away." In any case, though, Pawlak says it's possible that competitive pressures will still have an impact on benefits packages, "so some of those costs may remain."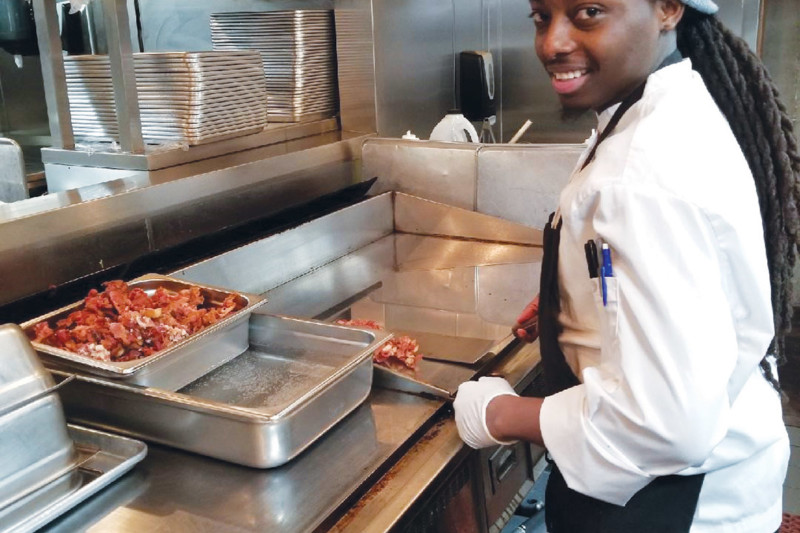 Uncategorized
Burger & Lobster finds Keating's Miraclean Griddle is easier to clean than a broiler