Special Features
Remembering Ira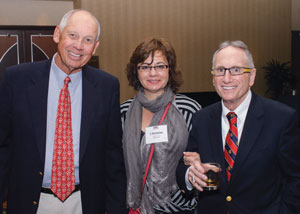 So many of us have been in the foodservice equipment and supplies industry for years, even decades. It's an unusual industry in that people don't often leave it; they might change jobs, but it's usually from one position to another within the industry. As a result, we still get to see each other regularly at our traditional E&S industry events, educational seminars, shows, association meetings and more. We dine together—a lot—and we celebrate often. Most of us have an innate sense that we are lucky to be in this industry and acknowledge that some of the relationships we form through the years go way beyond the "politely professional" to become "profoundly personal." We are shaped by each other. Few people have had more positive impact on more people than Ira Kaplan.
Ira, who served as an industry leader for decades and who was a beloved friend and mentor to so many, passed away last November after a long illness. He was 72. Ira spent most of his industry career with his family's Easton, Mass., manufacturing company, Servolift Eastern, advancing to helm it as president. In 2002, he formed a consulting firm, Aalex Corp./Equipment & Supplies Marketing. Three years later, he founded Irinox USA, the American outpost of the Italian maker of blast chillers. He served as president until last year. That was his day job.
In Dicken's A Christmas Carol, Scrooge, confronted by the ghost of his old partner Jacob Marley, says, "But you were always a good man of business, Jacob." "Business!" cried the ghost, wringing its hands again. "Mankind was my business; charity, mercy, forbearance, and benevolence, were, all, my business!" Ira passionately embraced this philosophy every day of his life.
A man of many friends and many interests, he was deeply involved with every facet of the foodservice industry, including the Foodservice Consultants Society Int'l., the Foodservice Equipment Distributors Association, and the Society for Hospitality and Foodservice Management, which recognized him with awards for ethics and leadership, and the Manufacturers' Agents Association for the Foodservice Industry, which honored him with its Market Mover Award. He sat on countless committees for the North American Association of Food Equipment Manufacturers, where he was a member, president, show committee member, show chair, and winner of the association's highest honor, the William W. Carpenter Award, in 1997.
His charity extended well beyond our industry to myriad causes, educational endeavors (in which he dedicated time to learning as well as teaching) and hunger relief, a special passion. In the pages ahead, his friends and family provide the clearest picture of the man we lost. And it was a loss.
Eulogy By KEN GILL, The Gill Co.
I have lost my best friend, and my children, Kim, Rick and Laura, have lost a man they called their second dad. Last year, Ira asked me to say a few words at this service. I am here to say goodbye and also to celebrate a life lived to the fullest and dedicated to helping, and which left a positive impact on everyone he met on his wonderful life's journey.
I met Ira for the first time in 1976. His rep had made an appointment and in walked Ira Kaplan. We had recently moved into our new business home. I had a small office that comprised a very large desk (given to me) and an old-fashioned, low couch that enveloped you as you sat down. Ira sat, looked up at me, got up and walked out of my office. I had no idea of why or where he was headed. A few minutes later Ira was dragging a tall stool from the engineering department down the hall and into my office. He climbed up on it, looked down at me and said, "Now we can talk." At that exact time, I thought, "I like this guy!" As he was getting ready to leave, I asked him if he and his wife would like to come to our home in Great Falls, Va., for a weekend. He said he would check with his wife and get back to me. Later I learned that Barbara was not happy that Ira had committed her to visit someone she did not know (and had no interest in going to Great Falls, Va.). I confessed later that Joanne was really mad at me for inviting people she did not know and had no interest in meeting. Well, of course it was a great weekend and Joanne and Barbara became best friends. We traveled the world together for business and pleasure, had great annual vacations with Barbara and Joanne and we made great memories together.
Ira formed many associations and groups, but his favorite was NAAP, which stood for the National Association of Aging Presidents. Ira brought in five members plus himself, Mike Stack (Eat Here Brands), Lew Burns (Groen), Don Follett (Follett Ice), Keith Paris (Traulsen) and me. For 30+ years we met twice a year for education and companionship. The remaining guys say, "Goodbye comrade, until we all meet again someday for our next NAAP meeting." Ira, goodbye for now, my friend.
Note From CHRISTINE FRYE
In the 31 years I worked with Ira, first at Servolift Eastern and then for Irinox, I can tell you that Ira loved to be a teacher; he was born to it.
One time, he was flying back from a trip to teach a make-up class for Johnson & Wales students. I was going to meet him to help out and he called me from the airport with the classic bad news/good news. The bad: his flight was cancelled. The good news (to him): not only was I going to take attendance of the class, I was going to teach it! But that was Ira, he was able to make you feel you could do it.
Then of course there was the time when I got pulled over in Canadian Customs during the first anniversary after September 11. It was Ira and Barbara's 40th wedding anniversary. Shari [Kaplan] was with us coming back from an FCSI program we had attended. She had injured herself in a fall the night before and was in pain. Ira told her to go on the plane to get home and get care, but he would absolutely not leave me in Canada Customs alone. Ira paced back and forth outside of Customs…and you don't really want to agitate the Customs officers (but he did). Anyway, they finally figured out that I was not a terrorist and they released me with only two minutes to get to our plane. We ran through the airport, but they did not hold the plane for us and we got stuck in the airport for five more hours. Sandy Hahn was at the terminal and he quickly set us up with two drinks to calm us down (God rest his soul). So it was Ira and Barbara's "anniversary that wasn't."
I always felt Ira's daughters were so lucky to have him as a dad. I know that I was also fortunate to work with him, to have his guidance, support and friendship. He has made an indelible mark on me and all of my co-workers; we'll never be the same.
PAUL JOHNSON, CFSP, President, Johnson Commercial Agents
I read Robin's [Ashton] note of remembrance on the FER website. Tom [Johnson] and I were blessed to have a long and deep friendship with Ira as well. Thank you for encouraging folks to write to you and share an Ira story. The act of homage is well deserved for a man of Ira's caliber.
My story may well be the earliest story of Ira Kaplan entering the foodservice equipment market. Mind you, my personal recollection of the events I will share with you are fuzzy, but Ira himself would recount the story of our First Meeting, often when we were sitting with important customers for dinner.
As Ira would tell it, he had just gotten out of school and knew a little about accounting, nothing about marketing and even less about selling foodservice equipment. His father decided that he needed an immersion course in foodservice sales, so he told Ira that he was sending him to Minnesota, in January, to work with Warren Johnson, the Servolift Eastern rep. Furthermore, Ira only got a one-way ticket to Minnesota, and he could only come back home to Boston once he had an order in his hand that was profitable enough to cover the cost of the trip, including the airplane ticket home.
My dad felt sorry for Ira, so he invited Ira to stay at our house for his visit. As Ira described it, his first day was one of intimidation because he first landed in the cold tundra of Minnesota only to be met by a 6-ft., 6-in. man. To make matters worse, when he entered our house, Ira realized that he, a small Jewish man, was walking into a house filled with Catholic giants. We had six children in the house when Ira came to visit, and the most intimidating fact of all was that even my then 13-year-old sister towered over him. I was six at the time, but I remember Ira being a very humorous man with a funny accent. Our family warmed to Ira immediately, and my mother, Mary, held a special place in his heart.
As Ira's territory visit stretched into its second week (remember, Ira had to earn his way home), my dad took him to a meeting with a local dealer friend, and as Ira told it, my dad begged the dealer to give him a particular order so that my dad could drive him to the airport! As fate would have it, that foodservice sale was the first of many for a true industry legend. Ira, you are missed. Thank you so much for everything you have done for us.
LON PAGLIO, Principal, Paglio & Associates
I had the privilege of working with Ira Kaplan as his manufacturers' rep for seven years, but I first spoke to Ira about 38 years ago and it was that initial conversation that had the most lasting impact. What immediately struck me from that talk was not only how much he knew about his product, but more importantly, the sincerity in his desire to help.
A few years ago Ira called and asked if I would be able to attend the American Culinary Federation conference on his behalf—it was being held in our territory and he had a conflict. My reply was, of course I would—because Ira asked. The next two things that entered my mind were: one, I needed to make sure I studied every single detail of the Irinox blast chiller; and two, don't let Ira down.
What unfolded the morning of the conference and what followed throughout the entire day was a classic reflection on Ira that anyone that knew him would understand and that explains why he was the best. Once the conference chair got over her disappointment that Ira would not be there, she showed me to the area reserved for Ira's/Irinox's display.
The small cardboard trifold display, which Ira or maybe even one of his family members made by hand, consisted of nothing more than success stories from three or four of the industry's top chefs and from the CEOs of major food companies that Ira had worked with. I have no doubt that when Ira asked them if he could relate how they use the blast chiller, not only did they respond, but the detail and effort they put into their testimonials was amazing. The display probably cost no more than $5, but the strength and sincerity of the testimonials and the sharp, intelligent and simple way they were displayed was priceless. It was so smart; typical Ira.
So, you might ask, how was the show? To me it was a solid day of interactions in which just about every chef in attendance—many from the most prestigious facilities inside and outside the U.S.— stopped by to ask, "Where's Ira?" I heard two other things from them throughout the day: "Tell Ira I said 'hello,'" and "Tell Ira 'thank you' for his help."
DEIRDRE FLYNN, Executive Director, NAFEM
When Ira was The NAFEM Show chair in 1991, it was during the days when the show committee did a lot more heavy-lifting than they do now, and their reward was a very special dinner the night before the show opened. It was always a very big deal when you had reached a level where, as a SmithBucklin staff person, you could participate in that dinner. Both Charlie [Souhrada] and I got to go to that dinner. It also was customary that the show chair said a few words and picked out a special gift for Trade Show Advisory Council members. The NAFEM board was never included—nor was the NAFEM president, unless the president happened to be a past show chair; they were always invited. So, the dinner was a small, intimate gathering (not more than 30 people), all with a love for and passion for the show.
When Ira—as only Ira could do—got up to thank everyone, he went one step further and stood behind each person in the room in turn and said something incredibly personal about their contribution to the show, the committee, the team and to him. He started with Jim Rafferty, who still owned Blickman at the time, and was a past president and show chair, and, putting his hands on his shoulders, said "because he is my friend." Well, I started bawling and didn't stop until he finished with all 30 or so individualized comments. When he reached me, he told me he could see the spark in my eyes, and that I watched and studied with this fierce concentration. For Charlie, it was his personality and his ability to plough through. Ira then put his hands on both of our shoulders and said "this is the future of NAFEM." If we only knew then that we would actually run NAFEM in the future… But, Ira's ability to personalize, to find that unique attribute, the perfect words of encouragement always…that's my fondest memory. I always heard from Ira on my birthday, every year, no matter where he was in the world. This year, I hadn't yet, and that was because he died that late morning. So, now we're bonded forever!
KEVIN VIGEANT, Executive V.P., Lakeside Foodservice/Alluserv
Robin and Beth, it was nice seeing you at Ira's memorial service. There are thousands of "Ira" stories out there…he was an amazing person who was passionate about this industry and helping people learn and connect.
My favorite story occurred when I was the V.P. at Dinex. Ira was a consultant to us and our president tasked him with helping us get more involved with the foodservice consultant industry; he knew this could become a steady stream of new project sales for us in the future. So Ira and I were tied at the hip and went out to meet people. Ira decided the best place to begin was the annual FCSI conference, held that year in New Orleans. Well, the opening night reception was at a restaurant/bar overlooking Bourbon St. There had to be 400 people in attendance and—I kid you not—his mission was to introduce me to every single person in that room. He not only knew the business associate's name, their company, etc., but if the person's spouse was standing there, he introduced the spouse by name, too! Ira knew absolutely everyone at that event! Ira was a friend, a mentor, a business partner and just a great person. He will be missed.
MARIA DENICOLA, Gordon Food Service
I met Ira in 1990 at a National Society for Healthcare Foodservice Management (HFM) meeting at the Copley Plaza in Boston. During one of the social events, he asked me to dance and dared to "throw me over his shoulder" in a Lindy-style dance. I didn't think he could do it, given his size and mine. I was wrong, and the rest is history.
Ira had been active with HFM in an advisory capacity since the association's inception and continued for 21 years until its merger with the American Society for Healthcare Food Service Administration, now the Association for Healthcare Foodservice. Ira contributed a lot to the industry advisory council and played a key role in conference planning, recommending motivational speakers and trend-based agenda items for the conferences and educational seminars. Ira always challenged professionals to think outside of the box. He was so knowledgeable. Ira was compassionate, giving and believed in paying it forward.
STAN SCHWARTZ, Principal, PFDI
Ira Kaplan was truly the ultimate Renaissance man. Over the course of 40 years, my relationship with Ira morphed from business to friendship. In the beginning, he was an equipment supplier to me when I worked in a dealership, but he became the teacher and visionary (the real essence of Ira's soul) on whom I relied during my years as a foodservice facility consultant. We spoke almost every morning. Ira was always upbeat, outgoing, more than effervescent.
He coddled me; every week he sent me articles to read, shared information and insights, and helped me develop a higher degree of passion and expertise to ensure I provided the best work to all of my clients. He was knowledgeable, educated and proficient in a wide range of fields. While Ira's health was on the decline, he still read incessantly and still managed to send me articles to read. Ira was the most voracious reader of everything (both related to the industry and outside the industry) of anyone I knew. Ira, we all miss you, but we are sure you are sharing your wisdom with others in the beyond.
Excerpt From Prime Advantage President LOUISE O'SULLIVAN's Tribute To Ira
I learned early on that it was far better to open for Ira than to follow him! In my many years at Groen, onsite meetings with customers often occurred around industry shows and buying group meetings, invariably Ira and I had the same schedule of customer visits. Wherever he went before me, there on the customers' desks, a thoughtful gift sat: a book he knew they would love, a memento related to their hobbies, something unique for their children.
Ira didn't just call on you, Ira knew you. The first 15 minutes of every visit with those customers was about what Ira said, what Ira gave them, and how considerate and fun Ira's sales call was!
Fast forward to 1997, following many memorable trips with Ira and Barbara, trips abroad with customers and shared brainstorming sessions with industry giants, Ira was instrumental as a founding member of Prime Advantage. Ira's Servolift Eastern was the second company to join. Ira was the first chair of the Supplier Selection Committee, and a driving force on the Executive Advisory Board. Most memorable were Ira's passionate talks to our endorsed suppliers, in which he told them how lucky they were to be in this group.
Over the years, Ira's roles changed in the industry, but never in life. He remained the dedicated friend, the one person who was never thinking of himself and always thinking of you and what he could do for you. And Ira cared about SO many people! In this world there are Givers and Takers. Ira Kaplan was a Giver.
Excerpts From Eulogy By SHARI KAPLAN
When I sat down to prepare my thoughts toward what I wanted to say to all of you wonderful family, friends, colleagues and associates that are with us today, I was struck by the enormity of how to define and honor my father and capture his essence in words that can only scratch the surface.
When people would run into my father and inquire how he was, you might get "FANTASTIC!" Or "On a scale of 1-10, I am 892!" Of all the words you could use to describe him, passionate is the word that encompasses everything Ira.
In everything he did, he was the eternal student, never content with the status quo. His thirst for knowledge was unquenchable. His desire to make connections and facilitate "everything" is legendary. He always put others ahead of himself.
Even though he was the quirky kid in the back of the lecture hall—with his hand always up—he was also the consummate teacher. His mind was always searching, questioning, planning, strategizing and looking for the hidden solutions that no one else could even conceive.
Everyone he encountered benefitted from "Professor" Ira's assignments and expectations. He pushed all of us to be the best version of ourselves.
Dad, you were a beacon of joy, hope and love to so many. God bless you and all those you loved and cared for. We will continue to carry you in our hearts and in our minds.
Ira's Endeavors
Listed here are just a few of the organizations, educational foundations and causes to which Ira gave his time, energy and love outside the industry:
• Volunteer, My Brother's Keeper, a Christian Ministry of Loving Service and Education, based in Easton, Mass., and one of Ira's most passionate causes.
• Member of the Board, BCAGlobal, New York. BCAGlobal, formerly the Black Culinary Alliance, was established in 1993 as a nonprofit to promote African-American participation in the culinary, foodservice and hospitality industries and now to increase diversity overall. Alex Askew, its head, was Ira's good friend.
• Vice Chairman of the Board of Directors, The New England Sinai Hospital and Rehabilitation Center, Stoughton, Mass.
• Member of the Board, Taste of the NFL, a hunger relief organization, with good friend and founder Wayne Kostroski, Culinary Concepts.
• Adjunct Professor, Hon. Doctorate, Johnson & Wales University.
• Member of the Board of Advisors, After the Harvest.