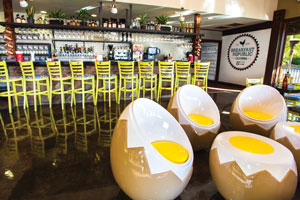 Breakfast is one of the few growth areas in the restaurant business today. According to The NPD Group, breakfast sales were up 1% year over year in December, on top of a strong 3% year-over-year increase in the previous 12 months. (In contrast, lunch sales declined 2% in the year ending in December after flat sales the year before, and dinner was down 1% after dropping 1% in the prior 12 months.) NPD Group expects breakfast daypart expansion to continue, with a projected three-year growth rate of 5% from 2017 to '19.
"There was so much increased awareness of breakfast last year," says Bonnie Riggs, NPD Group Restaurant Industry Analyst. Overall, she says, "the industry did not have a good year in '16; traffic turned negative for the first time in fi ve years, in part because operators took too much price as their operating costs increased. But the morning meal, being a cheaper alternative, is still growing." At LSRs in particular, breakfast sandwiches (up 3% YOY) and innovations like breakfast burgers and all-day breakfast menus have led growth, she notes.
Wade Hanson, Principal at Technomic Inc., points out that ongoing consumer interest in breakfast has been stimulated by recent innovations like McDonald's all-day breakfast menu and the rollout of "Brunchfast" at Jack in the Box. "The daypart continues to be about value, routine, convenience
and cravings," he says.
And while LSRs are certainly the breakfast champions, Hanson notes, there's also been growth in morning daypart sales in the lodging sector and in full-service breakfast-and-lunch-only chains, some of which are seeing double-digit annual growth in unit counts and sales.
Yet other restaurants haven't been quick to take on breakfast fare even after these demonstrated successes. That's because it can be quite diffi cult logistically to add breakfast to an existing menu, Hanson says: "There are so many considerations, from sourcing to how you manage the grill."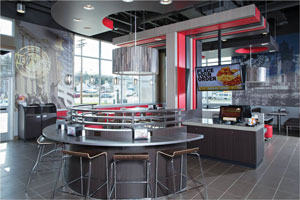 Hardee's: Find A Specialty, Do It Well
At every Hardee's restaurant across the LSR chain's 40-state territory, buttermilk biscuits are made by hand every morning using a 45-year-old recipe. "The biggest part of breakfast is making the biscuits fresh from scratch," says Jack Willingham, Senior V.P. of Construction and Design at parent company CKE Restaurants. "There are no reconstituted, premade, parbaked biscuits. We don't allow any hockey pucks coming through the doorway."
An employee whose only job is biscuits comes in before dawn. The worker will use custom mixing bowls, a dedicated biscuit table for kneading the dough, rolling pins, biscuit cutters and four dedicated ovens per unit. (Biscuits are baked throughout the breakfast rush; in the unlikely event that they don't sell quickly, they're tossed in favor of a new batch.) Later, once breakfast production gets going, the griddle also gets heavy use cooking the egg and meat fillings for biscuit sandwiches. Overhead digital displays track the progress of every order and ensure that fragile ingredients such as eggs aren't over- or undercooked.
Hardee's fanatical focus pays off: the breakfast daypart, centered on the biscuits and biscuit sandwiches, accounts for as much as 40% of total sales in some units. Biscuit items range from the expected (biscuit with sausage gravy; a chicken biscuit sandwich; a steak, egg and cheese biscuit sandwich) to recurring LTOs (blueberry biscuit, pork chop biscuit sandwich) to regional oddities (a fried bologna biscuit sandwich that pops up in the South).
Carl's Jr., the sister chain that operates under the CKE Restaurants umbrella in Western states, added the biscuits to its breakfast menu about fi ve years ago, copying Hardee's recipe, production system and equipment layout. But unlike Hardee's, Carl's Jr. serves breakfast burgers at the same time. Here's where the two-sided work counter with refrigerated and hot wells comes in especially handy, allowing different crew members to work on the two production lines without any crossover.
Choreographing fast, high-volume production in the kitchen is essential to breakfast success, says Willingham. Getting food out of the kitchen fresh and on time involves analyzing everything from the ingredients coming in the back door to where and how they're stored to the start-to-fi nish fl ow of menu production. CKE has been working on an entirely new step-saving kitchen line and more efficient equipment, Willingham reveals. Any advice for an operator considering the addition of a breakfast daypart? "If you're going to make biscuits, you have to really make a commitment to a good product," Willingham says.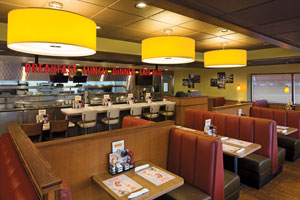 Denny's: Bolder Choices, Speedy Skillets
At Denny's, one of the nation's largest family dining chains, the iconic Grand Slam and other breakfast meals are an all-day and all-night affair.
The venerable chain is busily remodeling units with a retro "Heritage" décor to emphasize its mid-20th century roots, with about half of the system's 1,700-plus U.S. units refreshed so far.
Meanwhile, the menu continues to evolve to serve 21st century tastes.
"One of the main changes we've seen is that 'good' just isn't good enough anymore for today's guests," says Sharon Lykins, Denny's Senior Director of Product Development. "We continue to look for ways to challenge ourselves and push beyond the idea of 'good' when it comes to our menu, including breakfast."
More often than not, that means going for bold. Lykins says guests have responded well to more intense flavors in both savory breakfast items (like chicken apple Gouda sausage links, a health-focused LTO that's now being considered for the permanent menu) and sweet, indulgent choices (such as the popular salted caramel banana pancakes).
The challenges of a broad menu, 24-hour service and the need for consistency across a 1,700-restaurant system are complicated by a mostly made-to-order production model. "We hold a few high-volume items like sauces and gravies for high-volume periods," Lykins explains. "However, we want to ensure that our guests get the best food quality possible, so for the most part, all of our dishes are cooked to order. When you're served your food at Denny's, you can be confident that we just made it, just for you."
The product development team at Denny's is always looking for kitchen improvements that will impact food quality, speed of service or both. One that Lykins raves about: induction burners, which quickly heat food without heating the pan. "Skillet meals are such an important part of the menu at Denny's, and they're at their best when they arrive at the table sizzling hot—but not overly heated to where the food will burn," she says. "The induction burner allows us to heat the skillet meal to the perfect temperature within seconds, so the server can stage the skillet with the rest of the order and still ensure that it arrives at the table with the 'sizzling' sensation the guest loves."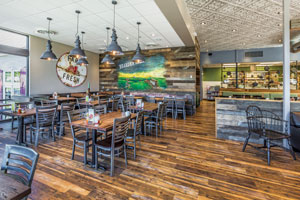 First Watch: A Well-Oiled Machine
First Watch, with almost 200 locations, is the leading chain in a growing sector: the full-service breakfast-and-lunch-only restaurant. From 7 a.m.-2:30 p.m., the kitchen functions as a well-oiled, high-speed machine, with both breakfast foods (egg dishes, pancakes, breakfast tacos, frittatas, hashes and fresh juices) and lunch fare (sandwiches, salads, soups and seasonal LTOs) available from open to close, all made fresh to order.
Every kitchen has the same line, footprint and equipment, says Shane Schaibly, Corp. Chef and V.P. of Culinary Strategy. "It's tight but there's no unused space," he says. "There are no frills and no single-use equipment."
The battery includes a stand mixer and a deli slicer on the prep line. On the cookline are two fl at-top grills (one for potatoes and the other for pancakes, French toast, meats and hot sandwiches). Pancake batter is dropped straight onto the flattop from a stainless hopper. Also on the cookline are a six-burner French top range with two side burners (for sauté-pan preparations like eggs, quinoa, hashes and oatmeal, as well as poaching); a custom 8-ft. salamander for melting and browning; three full-size steam tables for soups, sauces and warm toppings; and three waffle irons. Underneath the potato griddle and French top are convection ovens. On the server side of the line there's a double conveyor toaster. The hot line is supplemented with refrigerated prep tables (pizza versions) of varying lengths with refrigeration below. The only major equipment innovation of recent years was the addition of a Nutrifaster juicer.
Just as important as choosing the right equipment is choosing the right ingredients, particularly when it comes to eggs. "We use a cage-free pasteurized shell egg for all of our shell egg needs—sunny side up, over easy, scrambled," says Chef Schaibly. "The fact that these are pasteurized allows us to crack them into egg cups two eggs at a time and then pour straight from the cup into the pan on the line when we get an order. This means shells stay back in prep and we don't have to crack on the line and worry about shell disposal."
Kitchen work flow depends on precise coordination. "We always start with one person on the line called a black hat, and everyone else in prep," Chef Schaibly explains. "We're always prepping so we have plenty of product ready when the rush comes. As business picks up, the black hat calls up team members from prep to the hot line. By lunch, prep should be done and all team members fi lling out the six-person hot line, with the flow going from the salad station to the egg station, middle griddle, plating and fi nally what we call helm.
"Helm is the leader," he explains. "We call tickets the old-school way. Our ticket time target is eight minutes, and we're able to hit that on a consistent basis."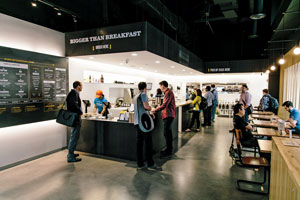 Eastman Egg Co.: Keep It Simple, Make It Fresh
When your concept starts out as a food truck, you learn from the start how to do a lot with a little. "It was just 70 sq. ft. and all we had were a griddle, a toaster and basic refrigeration," Eastman Egg Co. Founder and CEO Hunter Swartz explains. "We took that as our guiding principle: What can we do in the least amount of space?"
Having expanded in less than four years from a single Chicago food truck to a three-unit fast-casual counter-service chain, Eastman Egg Co. is doing quite a lot. The menu of biscuits, burgers and egg sandwiches is served from early morning to early afternoon. Swartz says the concept differentiates itself with speedy service—orders are typically fulfilled in five minutes—as well as an emphasis on sourcing.
"We source from the best in the Midwest," he brags. "We have high-quality bread from Red Hen delivered to our stores every morning. Our coffee roaster has good relationships with family farms in Ethiopia. We work with Slagel Family Farm [in Fairbury, Ill.] to source eggs, pork, beef and turkey."
In-house prep is another hallmark. Meats for burgers, sausages and chorizo are ground in-house, and the sausages are made with fresh herbs and spices. Biscuits are mixed and prepped at night and baked at dawn on sheet trays. Bacon goes on the griddle just as the doors open for business. After that, each item is made to order. "Eggs cannot hold, so they're the hardest part of producing a breakfast menu," Swartz says. "Sit-down restaurants are usually reheating something, but the quality is not the same."
To create the à la minute menu, the concept relies heavily on a 72-in. fl at-top griddle. "That's our most significant piece of equipment," Swartz says. "It's what defines the menu and allows us to do gourmet meals at such speed. If something doesn't fit on the flat-top at rush hour, it doesn't go on the menu." (There are, however, a few additional burners on the hot line for sauces.) Numerous cold drawers under the griddle provide refrigeration. The cold line is on the other side of the hot line, with the two teams working in sync. Also part of the equipment battery are small convection ovens for the biscuits as well as toasters and equipment for cold-press coffee and espresso drinks. An electronic kitchen display system keeps everyone on track of orders.
"We really try to showcase form following function," Swartz says. "We have an open kitchen where possible to let the work speak for itself. Our equipment is very minimalist. Cooking eggs is simple, but we've tried to elevate it."
Breakfast Republic: Narrow Focus, Creative Menu
Johan Engman, Owner of San Diego-based Breakfast Republic and several other brands under his Rise & Shine Restaurant Group umbrella, says his experience has taught him that "less is more."
Breakfast Republic's three units, open 7 a.m.-3 p.m. daily, don't offer lunch, though the menu features off-beat items like bacon mac and cheese and a Vietnamese chicken-wing breakfast bowl along with the standard omelets, Benedicts and pancakes. On the beverage menu are cold-brew coffee, espresso drinks, fresh-squeezed juices, kombucha and 20 rotating beers on tap.
"We have no salads, no pizza, no steaks," Engman points out. "We only serve breakfast, so as eclectic and diverse as our menu is, it's not complicated—it's still pretty easy to set up and do big volume."
Both the breakfast focus and the offbeat vibe play out in
front-of-house décor, which features bucket chairs that look like eggs on the half shell. Three Yama 24-hour cold-drip coffee machines along the wall add further differentiation.
The current Breakfast Republic locations are remodels, so the kitchens are small, a feature that Engman says forces efficiency. Everything starts at a 6-ft. stainless prep table. "We get in really early, and have one person prepping throughout the day," he explains. In each kitchen is a flattop griddle for pancakes and French toast. There also are ranges with eight to 10 burners as well as a wall-mounted salamander. The range and griddle sit atop a refrigerated chef base. Also on the hot line are a fryer and adjacent steam table.
Eggs are refrigerated at 41°F, and most are premixed before service and held in aluminum containers to retain cold. Cooks use nonstick aluminum pans for each order. The key to getting food out of the kitchen efficiently is the chef on the expo line, says Engman. "If the front-of-house needs something from the kitchen, the server only talks to the expo chef," he explains. "It's so important to have the chef on the expo line fi re things properly so that items with different cook times come out together."
Engman is now planning Breakfast Republic's first new-build unit and is choosing equipment with his chef and a kitchen designer, zeroing in on functionality rather than looks or brand name. He's insisting on a range with burners that are shielded from drips—important for a concept that relies on eggs.
Advice for operators thinking of jumping into breakfast? Dare to be different, Engman says. "I don't even think it's easier to open a regular old diner with the same old stuff," he adds. "Whoever wrote the rule that breakfast has to be the same everywhere?"