Healthcare
Right-Sizing History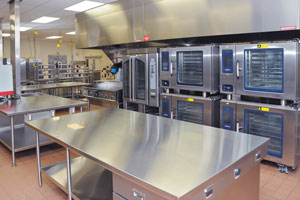 In September, the Dayton VA Medical Center in Ohio completed a $7.65 million renovation of its foodservice area—just in time for its 150th anniversary this year. The center is one of three of the oldest Veteran facilities in America, having served its fi rst patient in 1867. Many of those original buildings remain and have been recognized as National Historic Landmarks. The center now cares for Veterans from a 16-county area in southwestern Ohio and Richmond, Ind. Although not 150 years old, the building that houses foodservice opened in the early 1940s and underwent renovations 25 years ago for a very different kind of foodservice operation.

"Originally, we operated as a cook/chill commissary and shipped food to three other VA facilities in Ohio and Pennsylvania as well as our own campus," says Ann Marie Barrett, Director of Dayton's Nutrition and Food Services. "But 15 years ago, we transitioned to a cook/chill service for just our medical center. We currently provide 1,207 meal/meal equivalents per day for 486 authorized patient beds across Dayton's 360-acre campus."

Despite the transition in service, the staff members were still working in a commissary-style kitchen—with large kettles that could cook up to a month's worth of food—and with an outdated, oversized trayline that was separated from the kitchen by a long corridor. "As an old building, the heating and air conditioning were basically non-existent as well," adds Bridget Pellegrino, Food Production and Food Service Manager.

Introducing Flow, Efficiency
In 2013, while planning an update to the building's utilities, Barrett's team joined up with foodservice design consultant Scott Reitano, FCSI, Principal of Reitano Design Group, on a large-scale overhaul of the space. "Our foodservice operation was spread out across two floors with areas for food prep, cooling and trayline almost existing in isolation from each other," says Barrett. "Our goals were to downsize the overall footprint and do all the operations in one area as well as improve the flow of the ingredient control room and dishroom."

As part of the renovation, the kitchen and trayline areas were consolidated to take up about half the square footage as they did in the former space and were optimized for the center's foodservice program that cook/chills for a five-day inventory vs. an entire month. "Perhaps the biggest improvement we made was to locate the trayline adjacent to the production and food prep area," says Reitano. "In doing so, Ann Marie and her team gained efficiency, onsite supervision and communication. They are one cohesive unit now instead of two separate teams."

On the first floor of the building, there's now 840 sq. ft. of walk-in storage, 2,740 sq. ft. of kitchen, and a dishroom that's 1,150 sq. ft. "In the dishroom, we had plenty of room to play with but it was all disjointed," says Reitano. Barrett says the former space was T-shaped with the scrapping area stationed in the middle up against the dishmachine. The new set-up flips the direction of the dishmachine and positions the scrapping area toward the soiled end along a back wall. "Now soiled and clean paths don't cross because the new dishroom is more linear," says Barrett. "This freed up a corner of the room for a cart wash area, something we never had a dedicated space for before."

In place of the commissary-style kitchen with outdated equipment, Reitano says, the production area became more of a traditional cook island with combi ovens and steamers. According to Barrett, the new design greatly improves the effi ciency of the cooks' tasks because the ovens are located just three steps from the blast chillers. Staff remove pans from the oven and place them on ladder carts to put into the blast chiller that functions as a pass through. When racks of food have reached proper temperature, they are removed through a back door and loaded into an attached storage cooler. "It's a unique application of blast chilling because instead of chilling in batches, it produces a continuous flow," says Reitano. "This makes the process more efficient and also improves food quality. The sooner you get a protein out the oven and into the blast chiller, the better it will taste."

Downstairs in the basement, the team updated the 3,560-sq.-ft. ingredient control room with more lighting, more walk-ins and improved fl ow. "The former ingredient control room was like a dungeon," says Reitano. "The new space is as different as night and day." Before the renovation, the ingredient control was split in half with dry goods on one side, and sink and disposal on the other. The new design groups tasks adjacent to each other with sink, tables and shelves set up in a U-shape. "The new design also lets staff load completed recipe ingredients into a cooler within the same room instead of across the hall as in the former space," says Pellegrino.

The center had already been using a pulper to reduce the trash footprint but as part of the renovation, the team added a dehydrator in the lower-level waste room to further compact the amount of trash that goes into the VA's waste stream.

Challenges
Reitano says a project of this scope would take 18 months typically but as this was a federal job, that timeline was almost doubled. "Ann Marie and Bridget were so great to work with and we consider them part of our design team," he says. "Working with the federal government did have its own unique speed bumps that really lengthened the renovation process." Furthermore, as part of an historic facility, the foodservice building's renovation had to preserve as much of the original architectural details—such as the large windows with a semi-circle pane on top—as possible.

That timeline also meant that Barrett's team had to stay operational and feed patients throughout the lengthy renovation and construction. "For a full year, we operated out of three trailers from Kitchens To Go situated off one of our docks," says Pellegrino. "Two housed the kitchen and production, and one was for washing dishes with walk-in refrigeration at the back of the trailers. We had to make some modifi cations to the menus because there were limited options for cooking and chilling."

Better Serving Veterans
"Within the VA we have a program called MyVA to help us become more patient-centered, staff-centered and to incorporate effi ciencies and lean principles," says Barrett. "This renovation married those three aspects: We created a wonderful new work environment for staff. Patients benefi t in terms of a more accurate tray, better food and more choices. We gained efficiency throughout but especially with work fl ow and tray assembly."

Barrett and Pellegrino also worked with an architect to incorporate displaying an antique wooden refrigerator door from the building in the space to pay tribute to the center's impressive history. The facility's principal interior designer incorporated white tile walls with a splash of red and blue tiles into the design as a visual reminder of the VA's mission to care for and nourish Veterans.

"That's the part we never forgot: We're trying to take better care of our Veterans," says Reitano, whose father is a Marine Corps veteran. "I always remind my team that no matter how many projects we have going on at once, for operators, this may be the only chance they have to really improve their operations and do better for the people they serve."

DAYTON VA MEDICAL CENTER
Dayton, Ohio
No. of Beds: 486 authorized
Originally Opened: 1867
Hours of Operation: 5 a.m.-9 p.m., 7 days/week
Cost of Project: $7.65 million
Dayton VA Medical Center: Ann Marie Barrett, RDN, LD, Nutrition and Food Services Director; Bridget Pellegrino, MS, RDN, LD; Food Production and Food Service Manager; Ravindra R. Wani, P.E., Project Manager; Kimberly Larson, NCIDQ, CHESP, Principal Interior Designer
Foodservice Consultants: Scott T. Reitano, FCSI, Principal; Jim Kessenich, Jr., FCSI, Project Manager, Reitano Design Group, Indianapolis
Architect: Thomas M. Hesse, AIA, LEED AP BC+D, John Poe Architects, Miamisburg, Ohio
Engineer/Prime Consultant: Matt Graham, P.E., LEED AP BD+C, Heapy Engineering, Dayton, Ohio
Contractor: Ed Slagle, Project Superintendent, Veterans Construction Services/Staffco Construction, Fairborn, Ohio
Kitchen Equipment Contractor: Thomas Brannon, Project Manager, TriMark SS Kemp, Cleveland
Facility Kitchen Equipment Contractor: Kim Barr, Project Manager, Government Sales, Morehead City, N.C.

KEY EQUIPMENT
Dry Storage
Eagle Group shelving, bun pan rack
Lakeside utility cart
Cold Storage
Master-Bilt/Standex walk-in coolers, pass-thru blast chiller
Irinox reach-in blast chiller
Waste
InSinkErator/Emerson disposal system
Somat/ITW FEG compostable waste dehydrator, pulper
Production Kitchen
Alto-Shaam combi ovens
Baxter/ITW FEG mini rotating rack convection oven
Keating of Chicago griddle
Cleveland/Welbilt braising pan/tilt skillet, kettles
Cres Cor hot and hold cabinet
Advance Tabco combi oven/steamer stand
CaptiveAire ventilation
Follett/Middleby ice maker w/dispenser
Hatco hot water dispenser
Hobart/ITW FEG mixer stand
Warewashing
Hobart/ITW FEG fl ight dishmachine, turbo wash
Campus Products silverware polisher
Spray Master Tech power wash
Avtec/Unifi ed Brands soiled tray conveyor
Advance Tabco dishrack shelf
Custom dishmachine ventilation
Tray Assembly
Burlodge/Ali Group B-Lean System: mobile adjustable tray dispenser, cantilever rack dispenser, gravity shelves, 5-well hot table, refrig. slider table, short slider table with adjustable shelves, long slider table, Kanban telescopic bin holder, BCool air curtain
FWE air-curtain refrig.
---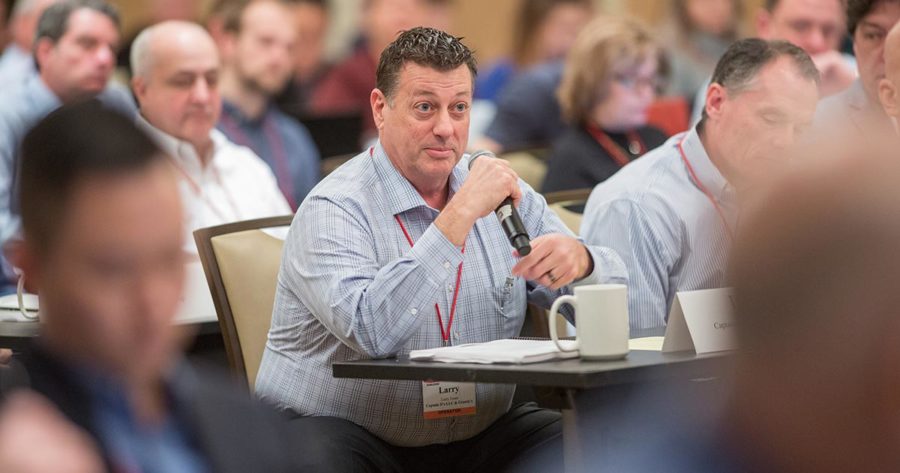 Advance Your Knowledge of Foodservice Equipment Technologies at MUFES
MUFES is a one-of-a-kind event for foodservice equipment decision makers from multiunit chains and noncommercial facilities.