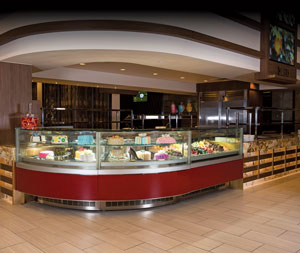 Creamy, dense, and intensely flavored, gelato is hard to resist, and a growing number of consumers don't even try. However, this traditional Italian treat is generally an impulse buy. So, as you seek the right setting for this frozen gem, you need to start by showing off. Suppliers offer plenty of display cases to do just that.
What You See Is What You Get
Or, in the case of gelato, what your customers see is what they get. Display case manufacturers all say visibility and eye appeal drive sales, and several elements contribute to that. First and foremost is glass.
Lower-priced gelato displays are available that have single-pane glass with heated frames, if price is an issue. However, many manufacturers recommend double-pane, heated glass on the front and ends of the display, to prevent condensation, which reduces visibility of the product.
Additionally, a unit that angles the gelato pans toward the customer increases visibility. Displays low enough for children to see also are a good idea.
Good lighting improves visibility. Nearly all models today have LED lights, which offer more illumination with less heat than other light sources. One manufacturer recommends 4100K or 3500K color-rendering index of lighting (cool white) to show off gelato. Another manufacturer says 6000K (mimicking daylight) can make the gelato look better but suggests that your best option is a supplier who can offer different types of LED lights, to fine-tune the display to its location and ambient light levels.
Keeping Your Cool
Temperature regulation is vital with gelato merchandising. Displays must hold gelato at temperatures that are slightly warmer than ice cream—between 10°F-22°F versus 0°F-5°F for hard ice cream. This protects the creamy texture of the gelato. But the display must keep the temperature consistent, or taste and texture can suffer. This is complicated by the need for any freezer to have a defrost cycle. Gelato remains in the case during defrost cycles, but it's more sensitive to the temperature fluctuation during the cycle compared with ice cream. Ice cream can withstand a larger fluctuation in temperature.
Additionally, the display also must evenly distribute cold air. Employees generally mound gelato above the edge of the pans, to contribute to its visual appeal. Cold air must flow over the top of the gelato, as well as under the pans. To accomplish this, gelato cases use a forced air cooling system, rather than the static cooling standard for traditional ice cream dipping cases. Some gelato models have not one but two evaporator coils (one at the rear of the display and another at the front), which put out even more cold air, facilitating the cold going both over and under the pans.
All display cases come insulated, but there are different levels of insulation, for different settings. One manufacturer notes that there are even versions for tropical climates that offer more insulation. Manufacturers use foamed-in-place, zero ozone-depletion-potential polyurethane foam in the merchandisers' walls to maintain the cold. Of course, no amount of insulation will compensate for a bad location (near a heat vent or adjacent to hot cooking equipment, for example), and you need to keep these units out of direct sunlight.
On the employee-accessible back side of the unit, lightweight doors can contribute to holding the cold. Side-to-side sliding doors are the most common, but whatever option you choose, make sure they're light and easy to operate, so servers aren't tempted to leave them open. Plexiglass is the standard for these back doors.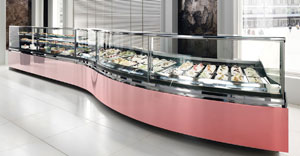 Maintaining Displays
Shut down gelato displays once a week for a complete defrost; this also is a great time to thoroughly clean the case. When it comes to cleaning, getting the glass out of the way is important, so choose a display with a front pane that either tilts out or lifts up. For glass panes that lift, suppliers recommend pneumatic or hydraulic lifters that will hold the glass in place while you clean, keeping it from slamming shut. Note: glass is heavy, so over time, all hinges can wear out and break. Monitor them.
Other elements that make a unit easy to clean are removable rear doors, removable pans and pan assembly systems, and removable deck pans, which is the bed that all other pans rest on. Quick-disconnect evaporator fans and access to the drain can also help facilitate cleanup.
Pan, Caster Options
While some suppliers can configure merchandisers for standard American tubs, most gelato merchandisers hold European 5-liter pans (about 1.32 gal.). Other common sizes of pans are 8 or 12 liters (about 2.11 gal. or 3.17 gal.). Pans typically don't come with display cases, but they're readily available from numerous vendors. The stainless pans used for gelato are similar to standard foodservice pans, and many are sized to accommodate prefilled gelato containers (from a food supplier, if you're not making gelato in-house), eliminating the need for transferring the gelato from the container to the display pan.
Displays have two rows. The most common arrangement is two rows of six 5-liter pans each. However, models also are available for big displays of 18 or 24 pans.
Gelato merchandisers often connect to pastry, deli or chocolate displays, so selecting a unit may involve figuring out what else you want to sell. If you're uncertain, choose a style that can add cases as you expand your offerings.
Some vendors offer casters, but don't put in for them if you're going to use multiple cases. Even with single units, casters may be problematic, as displays require a floor drain to remove water during the defrost cycle. However, some merchants want to be able to clean under units or use units in multiple locations. So, while casters are not useful for most, they're available.
Other Considerations
The range of prices among gelato displays is considerable, with materials and manufacturing methods dictating cost. The least expensive models have single evaporator coils, single-pane glass in a heated frame, and sheet metal construction. These are light weight and often on wheels. At the high end, you have stainless construction with two evaporator coils and embedded pipes for quick defrost, and double-paned, heated glass. Higher-end units also offer the ability to attach or integrate with other displays.
Many gelato displays in the U.S. come from Europe. These offer styling to match the elegance of Europe's upscale gelaterias. Many say they're the best. However, lead time and price may be issues. If you purchase equipment from U.S. manufacturers, prices are generally lower, lead time is usually shorter, service after sales can be timelier, and parts are available locally. That said, if you pick a popular import that's used by others in your area, parts and service can be more accessible. One manufacturer recommends asking dealers to identify someone locally who uses their equipment, who can talk about benefits and disadvantages.
All display equipment in the U.S. must be certified to NSF 7 standards for sanitation and UL for safety. Equipment must also pass Department of Energy 2017 standards. If you are buying an import, ask if the equipment has these approvals.
The condensers in freezers for both ice cream and gelato come in three-phase and single-phase versions. The one you choose will depend on whether you have (or want to convert to) a three-phase power source. Three-phase condensers are more efficient and more durable. They're also more expensive. Most buildings, including most small businesses, have single-phase power sources, which means anyone can operate a single-phase equipment, but single-phase systems can be overwhelmed by power surges. You need to confirm which power source you have and make certain you either get a system that matches your source or look into converting.
Start spec'ing your gelato display case by visiting the suppliers' websites listed in the sidebar below.
Tips For Specifying
Most manufacturers agree that the following are key elements to weigh when considering which gelato display to buy:
Single-pane glass saves money, but heated, double-paned glass offers a better view of the product and better temperature control.
Good quality cooling elements keep temperature even and air moving up and over the gelato.
LED lights offer good visibility and attractive display at a lower temperature than other lights.
Employees should be able to easily remove components so they can wash the entire inside of the display.
Look for a supplier with a good track record in the U.S. The longer a brand has been in the U.S., the more extensive the network of qualified service agents who can repair the unit.
Make It Yours
There are many variables that can help you suit your display to your location. Here are some to consider:
Pans: How many do you need and what capacity?
Evaporator coils: Do you need two or will one work fine?
Style: Exterior design and interior and exterior finishes range from "Old World" charming to "Space Age" sharp.
Attached or adjacent cases: Will you display pastry, deli items or confections? If so, do you want cases that match your gelato display?
Casters: These are only ideal for those who want the convenience of being able to move the case during maintenance, or who plan to vary the case's location. (But be aware these cases require a drain.)
Gelato Display Case Suppliers
1515 Design
1515design.com
Advanced Gourmet Equipment & Design
advancedgourmet.com
Cardinal Carts and Equipment
cardinalcarts.com
C. Nelson Manufacturing Co.
cnelson.com
Ciam
ciamweb.it/en
European Gourmet Imports
europeangourmetimports.com
Excellence Industries
excellenceindustries.com
GTI Designs
gtidesigns.com
Hydra-Kool/MVP Group
mvpgroupcorp.com
IFI S.p.A.
ifi.it/en
ISA S.p.A.
isaitaly.com
Infrico USA
infrico.us
Ital Proget
italproget.it/en
Master-Bilt/Standex
master-bilt.com
OTL ORION by Clabo USA
otl-america.com
Oscartek
oscartek.com
RPI Industries
rpiindustries.com
Sevel USA
sevelusa.com
Structural Concepts
structuralconcepts.com
Universal Coolers
universalcoolers.com
This list represents gelato display case manufacturers and suppliers—both in the U.S. and abroad— which show up prominently in the FER Buyers Guide, online resources, trade show exhibitor lists or word-of-mouth conversations.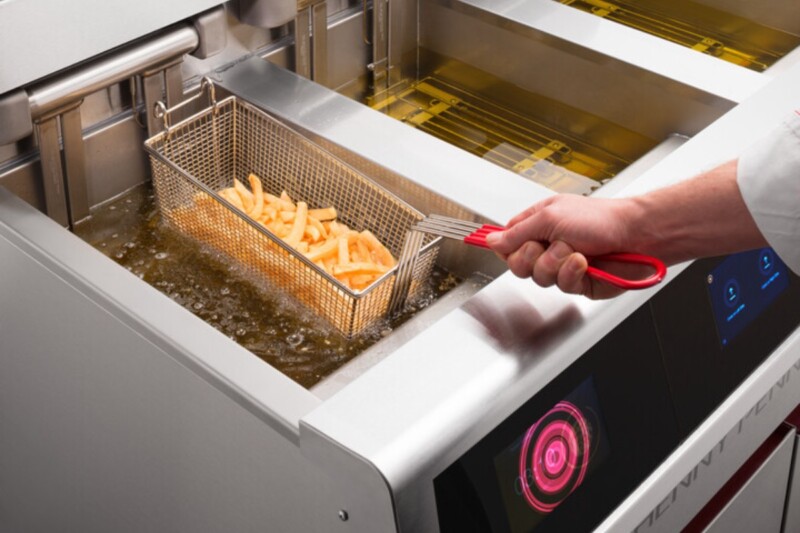 Equipment
In 2009, we introduced Evolution Elite, the industry's first reduced-oil capacity fryer. Now, we're celebrating the newest generation! Our latest low oil volume fryer, called 'F5', combines innovation and simplicity to…