Air-screens, also called air-curtain refrigerators, go above and beyond standard fridges by their ability to maintain cold temperatures even when the door is left open for a substantial period of time. With the door open, blower fans kick on to create a wall of cool air so that staff can either unload food products or load in made-up trays while the interior stays chilled.
Buying an air-screen is an important purchase, says Jacqui Gustafson, Area V.P. of Sales for Carter-Hoffmann. "When you're plating cold food, it's critical that you maintain that cold chain from prepping fruit cups, salads, etc. to assembling individual trays," she says. "And because your air-screen will be moved around the kitchen and used for three meals a day, it needs to be durably constructed with high-quality welding to stand up to constant use."
In addition to quality of construction, you'll want to consider a variety of factors when deciding on a new air-screen. Models differ in how many pans of food or made-up trays they can hold, typically somewhere between 10 and 15. Models also vary by compressor size, which affects how long the food can be held safely at 41°F or below with the door open, a range of 30 min. to 4 hr. Regardless of their model-specific features, all air-screens must comply with the Department of Energy's (DOE) regulations, which tightened energy consumption standards back in 2012 and will do so even more in '17, and use Environmental Protection Agency (EPA)-approved refrigerants.
Read on to learn more about how air-screens operate and what else to consider in terms of construction, mobility, capacity, maintenance, energy use and refrigerants.
Keeping Cool
When air-screen refrigerators' doors are closed, they are simply refrigerators, although highly efficient ones that provide faster temperature "pull down" and "recovery" times than standard refrigerators. When their doors are opened, fans kick on to blow a curtain of air across the opening that keeps warm air out and cool air in. The air flow blows horizontally in addition to, or in place of, vertical air flow so that the wall of air is not disrupted by a partially pulled-out tray.
Models with a larger compressor can maintain temperatures for up to 4 hr. but there are many operating conditions that can affect how long doors can be left open while maintaining internal temperatures. Ideally, the room should be at 75°F with 45% humidity but surrounding air exchanges, voltage, the internal temperature of food product placed into the cabinet, profile of food product and food product density can affect safe operating times.
While a 4-hr. air-screen is impressive, such an extended tray make-up period may not be necessary for most operations anymore, suggests Laura Gutkowski, Sales Development Manager at Traulsen. "Trends in healthcare foodservice are moving toward more room service, more pod set-ups in kitchens with two or three smaller traylines that move fast and triple-up production," she says. "We're seeing air-screens used in remote kitchens in different wings of a hospital and in smaller pantry kitchens away from the main kitchen."
With all air-screens, makers recommend using only pre-chilled food inside as the units are designed to hold temperatures, not cool items down. But Gutkowski says users still feel they need to take an extra step to keep certain items very cold. "When you have the door open for 90 min., no matter how good the unit is, you're going to lose some refrigeration," she says.
"For example, milk gets warm fairly quickly so staff often pre-chills it in a walk-in freezer before the tray make-up period. So we offer a dual stage thermostat on our air-screens so they can turn the unit down to 25°F-35°F for an hour to really chill the food and then reset it to normal operation when they open the door for tray makeup."
Designed To Move
Constructed from foodservice-grade stainless, air-screen units can have single or dutch doors that are solid steel or tempered glass. Because the units are used in busy kitchen settings, they are designed to minimize the obstruction or clearance needed for the open door. Most air-screen doors swing back on a hinge at 270° and latch to stay open. Several makers offer doors that can be switched onsite to either swing left or right to optimize work flow in the particular kitchen's design. To further minimize the physical impact of an open door, some models feature a removable door or one that slides along the side of the unit like a pocket door.
Air-screens also are designed for mobility as they will be transported to various setups in the kitchen. To provide a low center of gravity and greater stability during movement, the units' refrigeration system is bottom-mounted. They also sit on six casters with some makers offering an offset caster design so that the heavy units move more fluidly over uneven kitchen floors, across thresholds and over cords. To further ease mobility, air-screens also are outfitted with a rear push bar, side hand grips, and a rubber perimeter bumper to protect the cabinet as well as surrounding walls and doors when the unit is being moved into position.
Capacity
Of course, an air-screen is only as useful as what you put inside of it. Holding capacity varies from model to model from 10 to 15 trays with the space between each sheet pan ranging from 2½-in to 4½-in. Most units' trayslides are removable for cleaning and are designed to not tip forward either by a built-in catch or by the proximity of the tray above it. In one model, the trayslides can be angled downward slightly so that gravity assists staff trying to reach back items on the very top shelf.
Maintenance
The number-one complaint of makers is that users do not adhere to the recommended operating instructions of using only pre-chilled food and sticking to the recommended door-open time. As a result, some makers offer fail-safe features on their air-screens such as the dual-stage thermostat for convenient pre-chilling on the spot as well as an alarm that sounds after the recommended open-door time has elapsed.
Most air-screens feature both automatic defrosting and a defrost-on-demand button to prevent condensation buildup. One model uses expansion valves over capillary tubes to prevent clogs and quicken the unit's recovery time.
"Expansion valves are more expensive, but they extend the life of a compressor," says Jennifer Ward, Ali Group North America's V.P. of National Accounts. "Unlike the standard capillary tubes, when these valves sense higher temperatures, they open to allow more refrigerant through, never clogging. The quicker the temperature is able to pull down, the less the compressor has to run."
As with any kitchen equipment, good maintenance is key to getting the results you can depend on. "The condensing unit must be kept clean of lint and dust or else you lose efficiency," says Jim Cortese, Head of Engineering, FWE/Food Warming Equipment. "Especially with air-screens, you want to keep operating conditions optimal because unlike other refrigerators, they are working hard to maintain temperatures with the door open."
Compliance
All air-screens made and sold between January '12 and March '17 must comply with current DOE standards for energy consumption, measured as kilowatts used per hour. After March, all units made and sold must comply with a new DOE energy consumption standard that is estimated to be 30% more stringent. It's all part of the Obama Administration's Climate Action Plan to cut greenhouse gas emissions by 1.9 billion metric tons through '30.
If a maker's air-screens' energy consumption is higher than the standard, the units are pulled off the market. If the agency deems that any units were sold knowingly non-compliant, the DOE levies hefty fines and the offense is made public on the DOE website.
Meanwhile, the EPA is simultaneously phasing out certain refrigerants as part of the Significant New Alternatives Policy (SNAP) Program, a subsection of the Clean Air Act intended to minimize environmental and human health impacts of substances used in industrial sectors. As a result, air-screens, which typically use either R134a or R404a refrigerants, will have to switch to R290 or another EPA-approved blend by either '19 or '20, depending on the size (Btu) of the unit.
Often the two agencies' ever-tightening standards can complicate aspects of engineering for the makers. "Whenever we've changed refrigerants in the past, it hurts efficiency on units," says Dave Briggs, Director of Healthcare Equipment at Dinex. "Very rarely are the new refrigerants better, but it looks like R290 is pretty close." Several manufacturers concur that refrigerators equipped with R290 (which is propane) actually automatically meet the reduced energy consumption levels required by the DOE.
But the switch to new refrigerants is not a simple process for manufacturers. In addition to major changes in the manufacturing process, the new regulations mean that makers are busy researching and testing new-style fan motors, updated insulation, LED lighting, expansion valves, as well as refrigerants and blends to mock up several prototypes before finding the perfect combination to pass new '17 standards while offering the same trusted performance.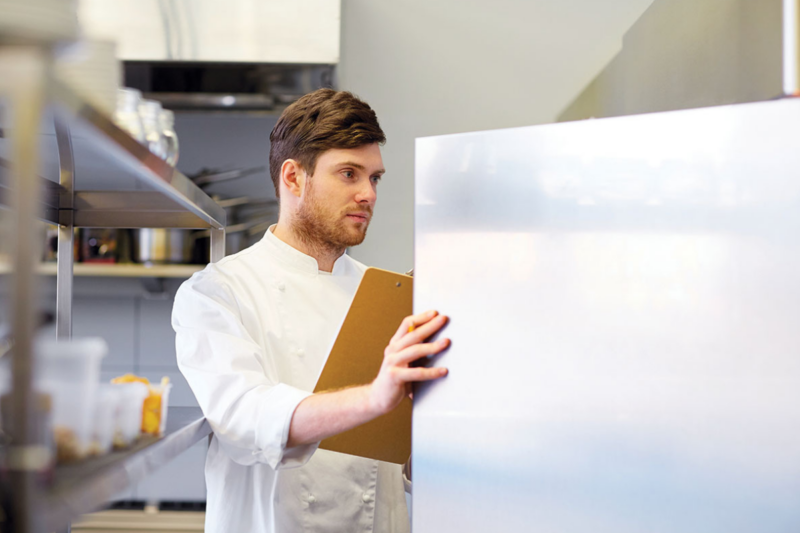 Uncategorized
RSI's Mark Montgomery's persistence and patience is key in repairing an operator's failing reach-in cooler.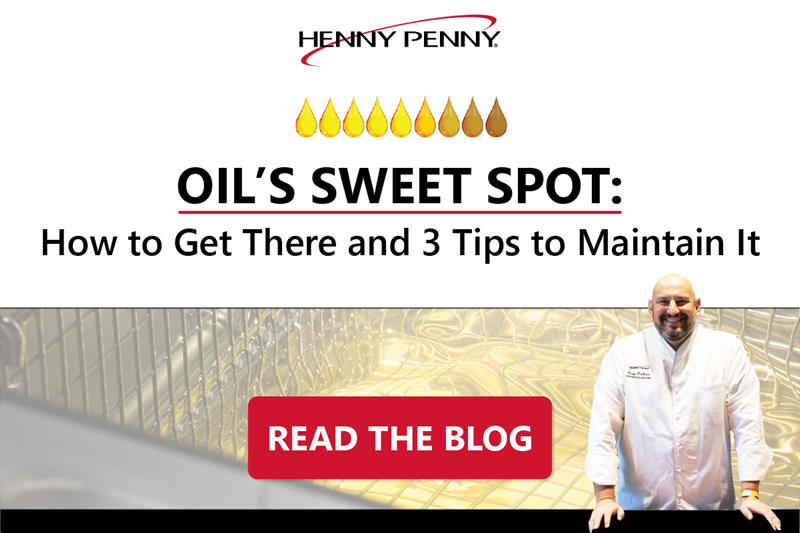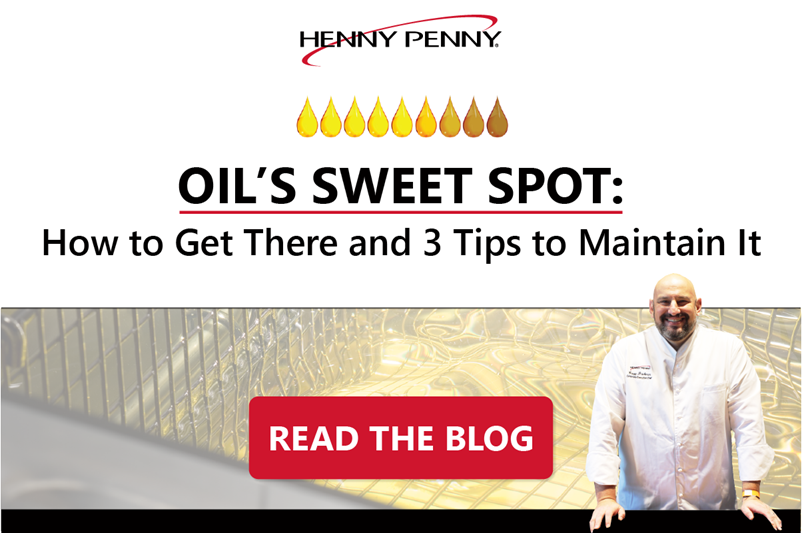 Uncategorized
Like many in the world of foodservice, you may assume that cooking oil performance is at its peak when you first start using it — but did you know there...