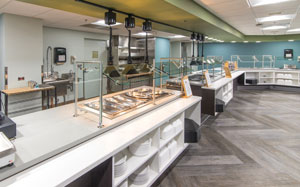 Tucked within an upscale residential neighborhood is Centra Virginia Baptist Hospital, one of two hospitals in Lynchburg, Va., that is part of Centra Health, central Virginia's largest healthcare system.
Founded in 1924, it is a 317-patient bed hospital for cancer care, women's and children's care, mental health and chemical dependency treatment, outpatient surgery and physical rehabilitation.
The facility's 68-seat Virginia Baptist Café recently underwent a three-month renovation to keep pace with customers' expectations and take advantage of equipment upgrades. The former café, originally built in the '70s and last renovated in the '90s, included a hot bar of entrées with a few sides, a small salad bar, a small beverage station, and a grill, and had limited hours. Even though there was little competition (due to a lack of restaurants nearby), the café wasn't getting a lot of business from the facility's 600 employees and 200 average daily visitors.
"Our old café was dark, old, outdated and no longer matched our customer base," says Timothy Schoonmaker, Director, Nutrition Services. "Most importantly, we were not keeping pace with foodservice trends and were falling short of customers' expectations. Even McDonald's has gone more upscale recently."
Raising The Bar
This past October, Schoonmaker and his team set to work upgrading what he calls "stale, old, regular foodservice" in the café to meet the needs of a variety of hospital visitors and staff. "One of our goals was to improve the service both in menu offerings and hours," says Schoonmaker. "With our labor and delivery unit, we have a lot of all-night, in-and-out traffi c. So instead of closing the café at 7 p.m., we wanted to close at midnight and have other items available other than just the very basic fare."
They worked with the same 4,000 sq.ft. of space taken up by the former facility but increased the food stations from four to eight. They also positioned the stations to improve fl ow as the former café lacked a clear entrance and exit path and backed most of its stations against a wall with a grill set in the center. "The old café also had '80s-era, can-style lighting so there was an unappealing 'tan' glow to the space," says Schoonmaker. "For the renovation, we made it brighter by gutting the entire serving area and replacing lightbulbs with updated LED lighting."
Explaining his inspiration for the new café space, Schoonmaker, who worked with Sodexo for 15 years, says he was always struck by the Courtyard Marriott-type café concept when he traveled. "I liked the idea of a tiny central café where you could get hot food—burgers, chicken wings, etc.—thanks to high-speed-oven technology," he says.
With that in mind, the team designed the new Virginia Baptist Café with Riverside Roasters, Centra's in-house coffee brand, as the focal point. In addition to specifying a Rosito Bisani Coffee Art Plus espresso coffee machine for coffee beverages, Schoonmaker chose a Merrychef high-speed oven to cook paninis, chicken wings, hamburgers, veggie burgers, corn dogs and French fries. "Early in the morning and late at night, we're drawing our business to Riverside Roasters," says Schoonmaker. "It's got that upscale coffee shop atmosphere like Starbucks and serves Frappuccino-type specialty beverages and grab-and-go salads as well as hot food."
At Crossroads, the café's action station that rotates menus on a two-week cycle, there are selections such as fajitas, a taco bar, buffalo chicken wraps, black and blue salads, and a baked potato bar. Blue Plate Specials is the entrée station of comfort food cooked in the back-of-house kitchen—think Salisbury steak, mashed potatoes and veggies, fried chicken, teriyaki chicken, and stuffed shells.
To transport the prepared food from the back-of-house to the servery, employees use a pass-thru refrigerator and hot box as well as carts. While the former café also used the same hot box, the team now cooks food primarily to order instead of cooking food and filling up the hot box for all-day service. "While the back kitchen was not part of the renovation, we put in a new Alto-Shaam [combi oven] there, which has allowed us to better cook our food to order. We also bought nice Hatco steam-well units for the café," says Schoonmaker. "They're versatile—able to hold items hot or cold—and have automatic fi ll for the water so we don't have to do anything with them."
The team bought a new fryer and grill for the Hill City Grill station as the existing equipment broke during renovation. "Here we serve items like hamburgers, cheeseburgers, chicken tenders, onion rings and fried green beans," says Schoonmaker. "Once a month we do an innovation special like fried avocados. We partner with US Foods so we try to use their specialty items."
For the next station, Market Deli, staff serves composite salads such as orzo and tomato salad or cucumber and onion salad, and custom-made sandwiches. Schoonmaker notes that the type of Subway-style sandwich prep table they specified for the space eliminated the need for food shields at this station.
"When we are in service, employees lift the see-through lid, which acts as the sneeze guard," says Schoonmaker. "Food and toppings are in 1/3 or 1/6 pans and in clear view of the customer. The unit also has a cutting board built in so the sandwich is made in front of the customer."
The café's new salad bar is four times what it was in the former space with different types of greens such as microgreens and kale mix, as well as 18 other fresh produce items that the department sources locally or from the hospital's on-site garden when in season. Grab-and-go items like house-made soup, oatmeal and desserts are available at the Impulse station.
Schoonmaker says the café is the first and only facility in Virginia to have a contract with Pepsi for its Spire 2.0 soda fountain of 30 varieties. The café also offers infused water with fresh ingredients such as peach and watermelon to promote healthy hydration.
Being Resourceful
To stay operational during the renovation, the team set up a temporary café in a private dining room next to the café space. "We had grab-and-go, hot meals on a steam table and a portable salad bar," says Schoonmaker. "Centra also has its own food truck called Code Fresh. During the café renovation, I parked it outside the main entrance of the hospital to grill omelets, hamburgers and fries to order. But once it got really cold in December, the food truck option wasn't viable anymore."
The team also was resourceful when it came to staffi ng the servery. "We had hoped to add additional services such as a carving station or hand-tossed salad concept, but the tight $388,000 budget meant that the café would be built full-time-employee neutral," says Schoonmaker. "We had to be creative with staffing. We rewrote some full-time employees' job flows so they would be hosts or hostesses in the morning, delivering patient trays, and then work in the café from 11 a.m. to 2 p.m., either as a cashier, runner or server. We have a majority of the staff cross-trained to be able to work in all areas of the kitchen and café for the absolute maximum flexibility."
Best Practices
The Virginia Baptist Café renovation was Schoonmaker's fifth café remodel in 15 years but his first without using a foodservice consultant or an opening team. "Other than the architect and contractor, it was myself, Managing Director Wren Roberts and my foodservice team doing everything," he says. "It is gratifying to know that what you see is yours—your vision and all your responsibility."
Schoonmaker says he came away with some best practices for renovating that include budgeting 10%-15% into renovation costs for unanticipated problems buried in old building spaces. He also recommends doing a few "open houses" where operators can do a trial run of service so the staff is comfortable with new equipment, lessening the chance of glitches on opening day. "Also, triple check your orders to ensure the equipment has the right voltage, amps, and that it fits perfectly," he says, "Because once you get the equipment in, if it does not fi t, it is costly to have to re-adjust, rewire, or re-install."
Communication is key to a successful opening, according to Schoonmaker. "I have found that it is a best practice to hold one-on-one tours with your administrative team and let them see, touch, and taste everything before you open," he says. "We also did a private showing of the café for our 'sounding board,' a team of hospital employees who solicit feedback from employees and meet monthly to discuss employee engagement. By doing this, they became our champions for the new café services."
Leading up to the opening, his team had weekly meetings that turned into daily meetings to discuss what was working and what wasn't. "For example, we had some pans that did not fit in the equipment and had to buy new ones," says Schoonmaker. "We also had to make sure that the staff knew how to clean, fill, and empty all of the equipment. After the café opened, we continued to meet to review sales, stations, trends and customer surveys."
Since opening mid-January, Schoonmaker says, the café's sales are up 15% week after week. "It's light, bright and clean and there's an improved flow to the space," says Schoonmaker. "The service feels elevated and we're able to meet a whole new set of customers' expectations."
CENTRA VIRGINIA BAPTIST HOSPITAL
VIRGINIA BAPTIST CAFE´
Lynchburg, Va.
No. of Beds: 317
Remodeled Café Opened: January 2017
No. of Seats: 68
Hours of Operation: Monday – Sunday, 6 a.m.-Midnight
Stations: Riverside Roasters, Crossroads, Blue Plate Special, Hill City Grill, Market Deli, Avenue Produce, Grab-and-Go/Impulse, Beverages
Average Check: $4.50
Cost of Project: $388,000
Annual Sales: $1 million
Nutrition Services Director: Timothy Schoonmaker, Centra Health
Project Manager: Wren Roberts, Managing Director, Support Services, Centra Health
Facility & Interior Design Consultants: Wenbren Coleman, Sr. Interior Designer/Project Manager, Centra Health; Price Studios, Richmond, Va.
Architect: Price Studios
General Contractor: Southern Air, Lynchburg, Va.
KEY EQUIPMENT
Hatco drop-in hot/cold wells, heat lamps, hot holding cabinet
True sandwich prep table w/glass lid, prep table, merchandisers
Minus Forty freezer
Victory undercounter freezer
Federal/Standex refrig. display case
Merrychef/Welbilt high-speed oven
Superior electric grill, electric fryer
Rosito Bisani Coffee Art Plus espresso coffee machine
Island Oasis ice shaver blender
Structural Concepts island grab-and-go case
Pepsi Spire 2.0 ice & beverage dispenser
Manitowoc/Welbilt ice machine
Elkay sinks
Custom serving counters
Premier Metal & Glass food shields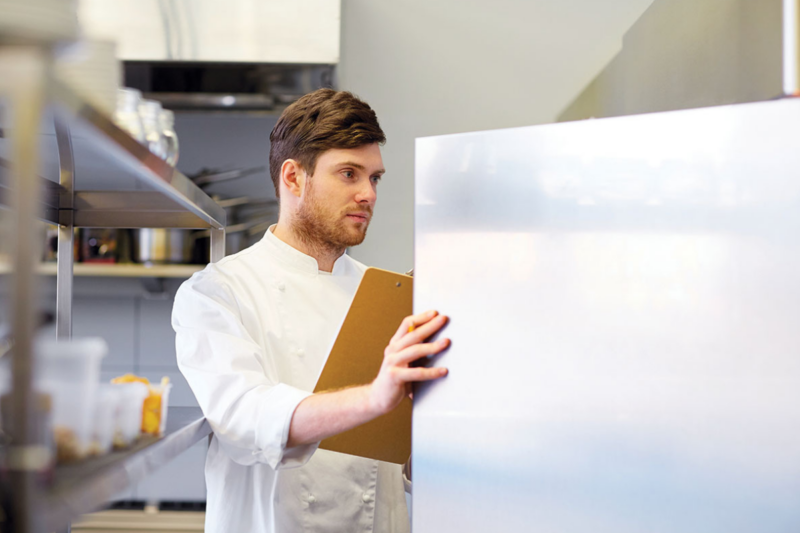 Uncategorized
RSI's Mark Montgomery's persistence and patience is key in repairing an operator's failing reach-in cooler.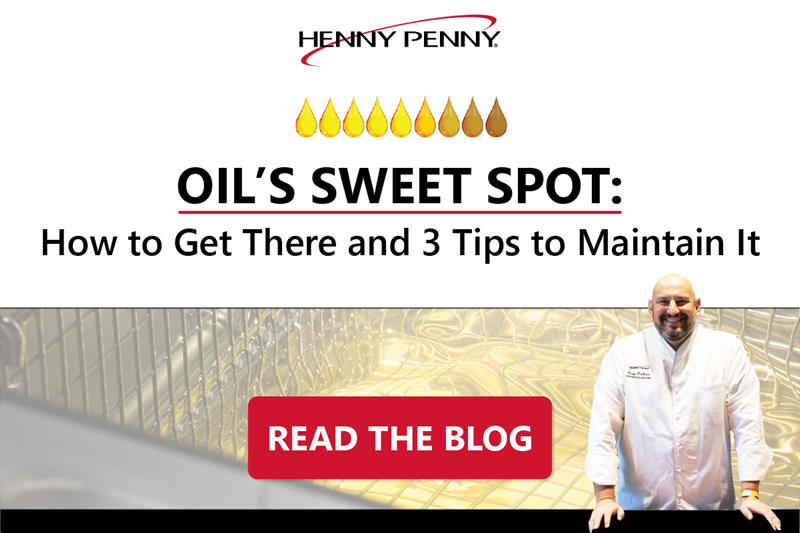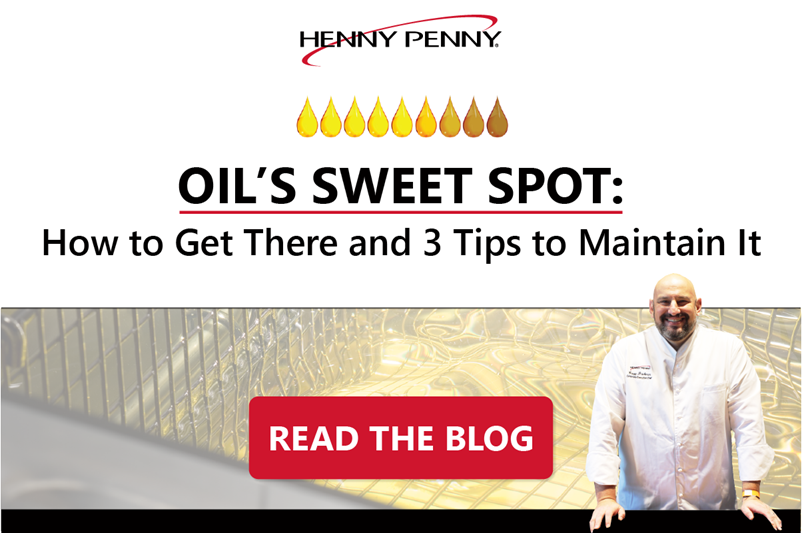 Uncategorized
Like many in the world of foodservice, you may assume that cooking oil performance is at its peak when you first start using it — but did you know there...