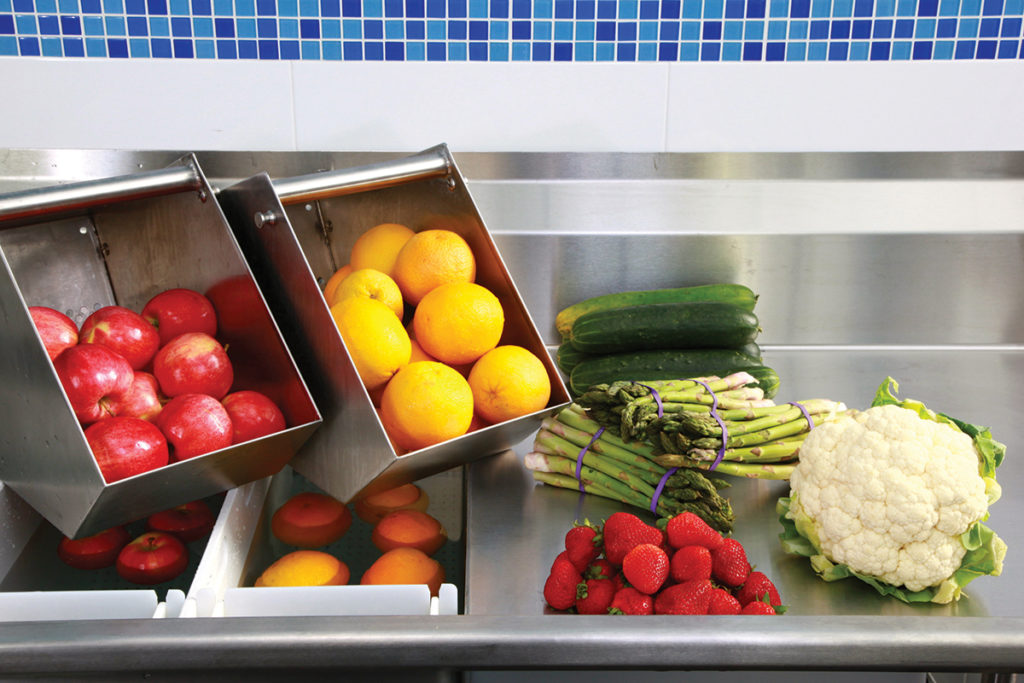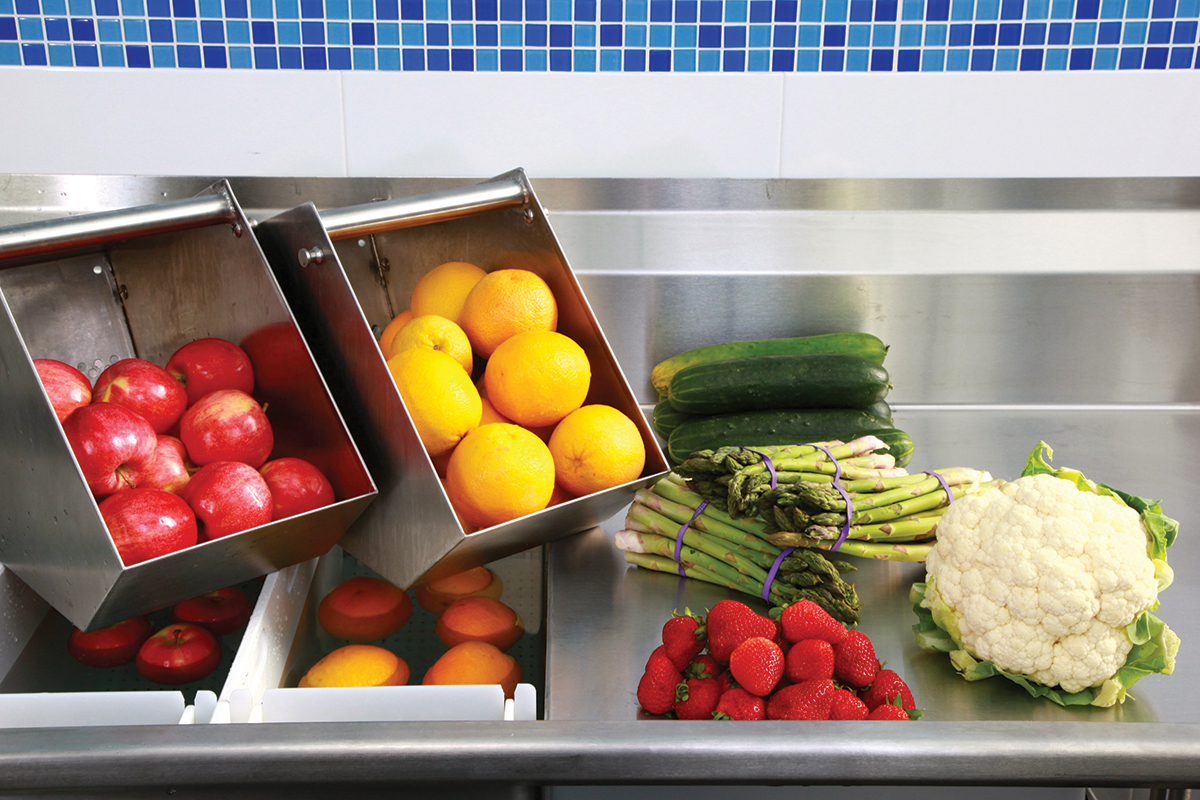 For operations that deal in large volumes of produce, hand washing everything is time consuming, labor intensive and requires a lot of water. To help cut down on all of these factors, at least two U.S. manufacturers offer powered produce wash sinks. These sinks agitate cold water to clean off produce, letting employees tackle other tasks during the cleaning cycle. A third company, based in Italy, markets vegetable washers in the states (more about these to follow).
Powered sinks work well in schools, universities, military facilities, hospitals, hotels and casinos and other high-volume operations. One manufacturer reports that juice bars are installing them as a way to show customers that the chain takes great care to ensure the produce that goes into the juices is handled safely.
Additional benefits include crispness from the cold-water wash; brighter, more colorful fruits and veggies once dirt, pesticides and biofilm are washed away; and extended shelf life (and less shrinkage) that results from rinsing off harmful bacteria.
Saving Water, Time
Operators can expect savings in water usage with powered produce wash sinks; both makers say one sink full of water is generally good for a day's washing. Exceptionally dirty produce may mean you have to drain, clean and refill the sink with fresh water, but consumption is a fraction compared to washing produce under a constantly running tap.
One maker estimates that powered produce wash sinks cut down the time it takes to wash 50 lb. of potatoes from 45 minutes to eight, 20 lb. of broccoli from nine minutes to three and 25 lb. of tomatoes from six minutes to two.
Both manufacturers' models use agitated water to gently keep produce moving around in the water, washing away dirt and other contaminants. Both offer units in different sizes to accommodate how much produce you need to wash and the space you have available.
The two main brands differ in design. With one, you place produce in a basket, lower it into the sink and the water moves through and around the contents. Baskets loaded with different ingredients wash simultaneously next to each other. With the other brand, you place your produce directly in the sink; once the contents are clean, you drop in a scoop-like basket and the water directs the produce into it for easy removal. The sink can be separated into individual bays to let you wash different fruits and veggies separately but simultaneously as well.
Cold water keeps produce crisp and crunchy. You can opt for refrigerated units to keep water cold all day or add ice to the water in non-refrigerated models to serve the same purpose.
For the most effective bacteria removal, both makers recommend adding antimicrobial produce wash to the water. One manufacturer's system automatically adds this wash to the bath and monitors the pH level of the wash solution. It also generates a storage label with such info as date, time, pH and water temperature. With the other maker's models, you manually add antimicrobial wash if desired.
One manufacturer offers on/off switches on its units, while the other provides a variety of pre-set timed wash cycles for different types of produce.
All powered sinks from both makers wash and sanitize whole produce. One of the manufacturers offers a more expensive model that handles cut, shredded and portioned fruits and veggies, such as iceberg lettuce, cut celery and peppers. In fact, the maker recommends cutting peppers prior to power washing because otherwise they float like bobbers and may not fully receive the benefits of agitated water cleaning. In addition to whole and cut produce, its top-of-the-line model quickly and safely thaws and deglazes such proteins as frozen shrimp and chicken breasts. Installation of all units requires access to power in addition to water and drains.
Automatic Vegetable Washers
Another option for cleaning and sanitizing larger batches of produce, automatic vegetable washers handle both leafy (spinach, lettuce) and heavy items (carrots, apples, oranges) at rates of up to 155 lb. per hour. Place your fruits and veggies in the machine's wash basin and the unit's pump provides gentle and constant agitation. The rate of agitation, less for lighter produce, more for heavier, is adjustable. Maximum wash cycle time is three minutes. An optional drying unit dries 10 lb. to 20 lb. of washed produce per minute. Like powered produce wash sinks, these automatic vegetable washers require only access to power, water and drainage. The tank holds 190 gal. and doesn't need refilling the rest of the day; any water lost when contaminants are drained from the bottom of the tank can be topped off throughout the day.
Outfitting Prep Sinks
Despite the features of powered produce wash sinks, many kitchens still rely on traditional prep-type sinks. What can you do to ensure you're using your sink most effectively? A few tips:
Add a strainer at the bottom of the sink, to prevent the drain from getting clogged with food debris.
Unless equipped with a disposal or grinder, produce wash sinks need to be paired with a large waste container for trimmed off pieces, stems, outer leaves, etc.
Consider perforated sink baskets; these allow water to run over and through produce to the drain but make it easy to remove produce from the sink and carry it to the cutting board.
If you have room, add counters to the left of the sink to stage unwashed produce and a drain board to the right for washed produce.
Spray faucets work well if the bulk of your produce is leafy, but standard faucets are recommended for apples, potatoes and other coated fruits or root vegetables.
Locating your sink near a walk-in cooler cuts down on traffic and labor time by reducing the amount of travel needed between the two.
Use wall shelves over the sink to store produce-processing equipment including cutting boards.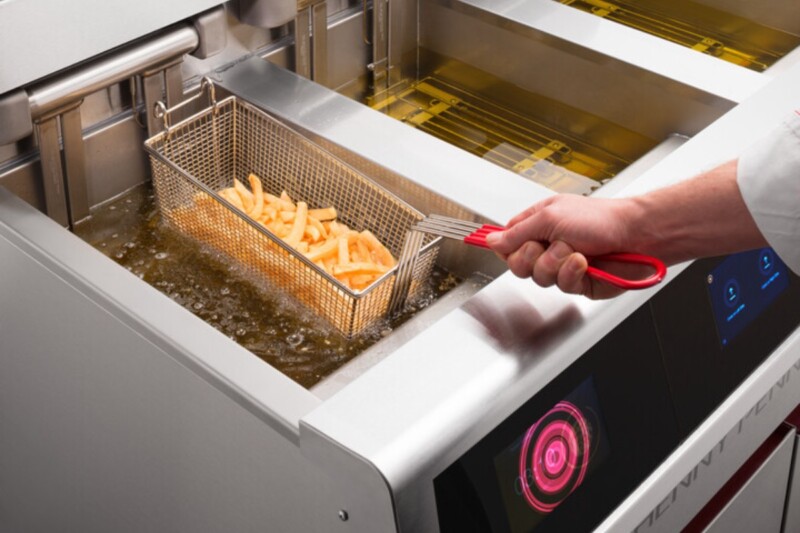 Equipment
In 2009, we introduced Evolution Elite, the industry's first reduced-oil capacity fryer. Now, we're celebrating the newest generation! Our latest low oil volume fryer, called 'F5', combines innovation and simplicity to…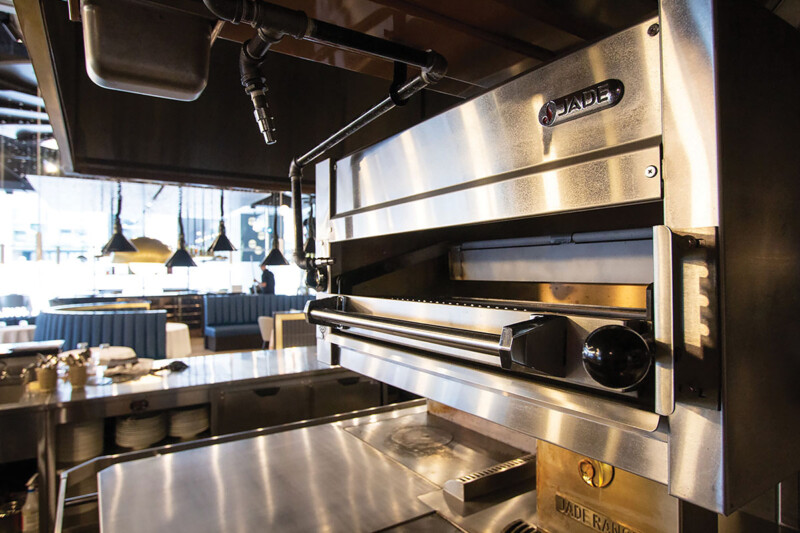 Cooking Equipment
From dinner to dessert, salamander broilers bring direct, intense heat, plus offer a vertical footprint advantage.