Special Features
Power Players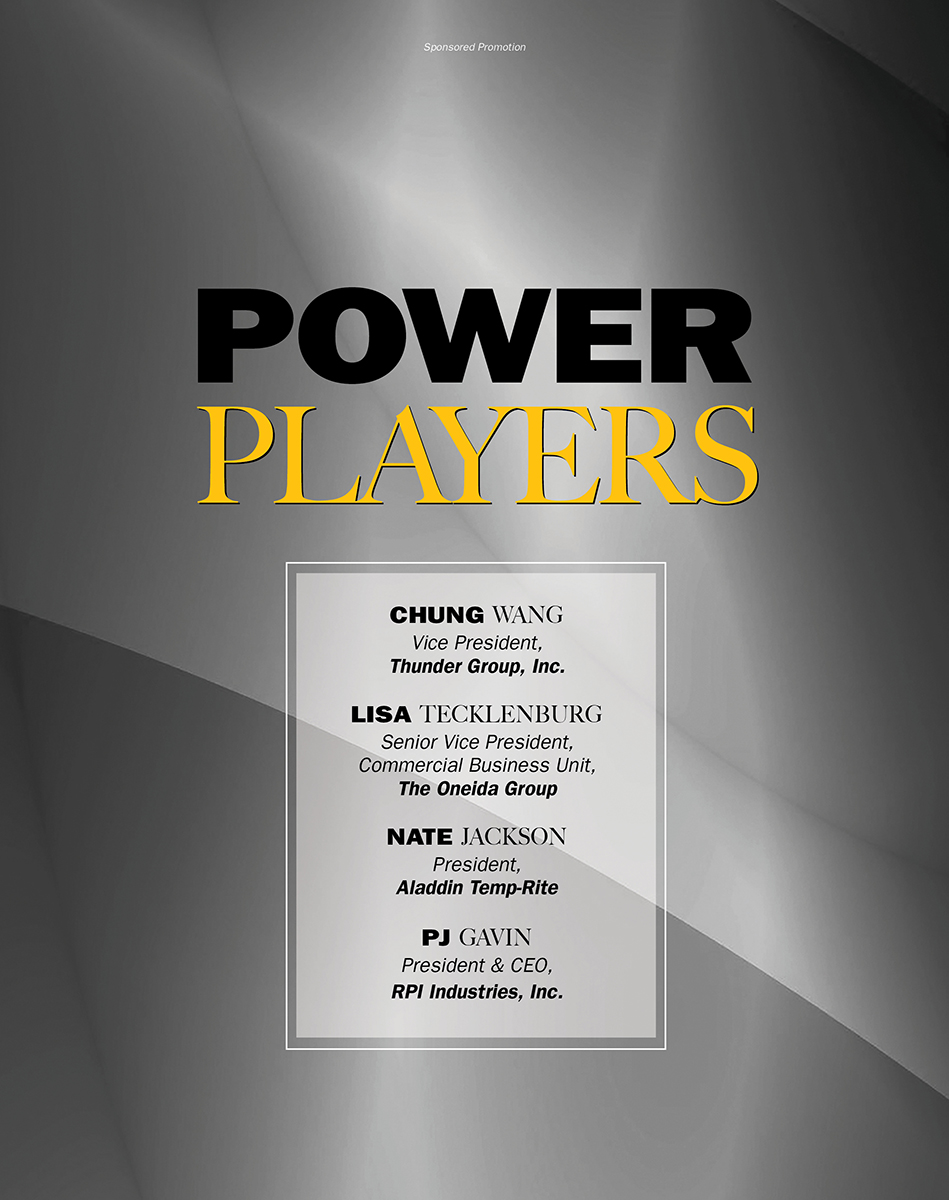 CHUNG WANG
Vice President, Thunder Group, Inc.
City of Industry, CA

Chung Wang was born in 1970 and lived in Korea and Taiwan the majority of his childhood to his late 20s. Fluent in Chinese (Mandarin, Cantonese & Taiwanese) as well as Korean and English, his facility with languages has become a very important tool in his professional life. Having worked in the Taiwanese textile industry as a broker for many years, he has traveled and conducted business extensively throughout Asia. During these years, he gained a broad spectrum of communication and negotiation techniques from doing business with some of the top-tier business owners and executives throughout Asia. He has a unique understanding of the Asian market and his experience has helped him become who he is today.
In 1998, Chung immigrated to the U.S. to expand his education. He graduated from Portland State University School of Business. After university, Chung moved to Southern California to explore career opportunities to which he could apply the expertise he developed combining his language skills, immersion in global markets and business acumen.
He began his foodservice industry career with Thunder Group, Inc. in 2001 as a sales associate and through the years was steadily promoted to regional sales manager, director of sales, then national sales manager and up to general manager of operations. Today he is Vice President of Thunder Group. In his time with the company, Chung has helped grow the maker and importer of foodservice cookware, smallwares and supplies from an $8 million company to an $80 million company. While he's found success in his professional life, his family is his priority. In his leisure time, Chung loves playing basketball with his 15-year-old son, and the two are avid fans of European football.

What do you think has changed about the industry that's changed the way you do your job?
Customers' buying habits and patterns have been changing in the past decade. We've gone from a traditional stocking business to an e-commerce business. That in turn has changed our way of doing business, from operating from one centralized warehouse to multiple locations to meet customer's order-fulfillment needs.

If you could hire an employee tomorrow, what would they do for you?
Brainstorm on marketing. A successful marketing strategy, using today's technologies in creative, impactful ways is the best way to promote brand awareness and products. Good brainstorming can always stimulate effective strategies.

What do you think will be the next big thing in the industry?
Many small- and medium-sized foodservice corporations will be either merged or procured by larger companies. We will see more conglomerates in the industry.

What do you see as potential disrupters in the industry?
The e-commerce giants and apps that connect home cooks to prep meal kits has the potential to take away foodservice (restaurant) business. The way consumers order, buy, evaluate, do practically everything has ramifications for the restaurant industry.


LISA TECKLENBURG
Senior Vice President, Commercial Business Unit, The Oneida Group
Columbus, OH

Lisa Tecklenburg joined The Oneida Group in February 2018. She has quickly developed and advanced brand strategies, improved organizational efficiencies and strengthened the company's historic and revered foodservice business. Lisa has more than 15 years of brand management experience, most recently leading the successful turnaround of a $600 million multiproduct portfolio of brands. She has broad experience in developing brand strategy, driving product development, leading advertising and communication efforts, building customer relations and importantly, training, developing and empowering her organizational teams. She has an impressive record of quickly delivering both revenue and share growth and has led several strong turnarounds. Lisa attended Indiana University and earned her MBA from the Indiana University Kelley School of Business.

What do you think will be the next big thing in the industry?
Technology is going to be a major force of change in foodservice. It will revolutionize the way operators look at innovation, the importance of it and how tabletop can influence their customers' experience. Digital tools and online ordering are going to accelerate change in the market and help operators stay fresh, relevant and grow their customer base. Oneida has already invested in new technology and will continue to do so and look to invest in strategic partnerships to drive value to the end operators through technology developments.

What is your favorite aspect of your job and why?
I thrive on being challenged. I've built my career on building brands and finding innovative ways to impress the customer. Oneida has historically been an industry leader in innovation and operator understanding. We've spent the last 2 years returning to that heritage to deliver the best possible solutions to help operators differentiate and compete in an ever-changing environment. Our team is focused on delivering new-to-market ideas and tools to our customers and we have some very exciting things in store—it is these opportunities that make my job so fulfilling.

What do you see as potential disrupters in the industry?
The foodservice industry is trailing behind other industries which have embraced new technologies and digital advancements at a faster pace. We want to drive industry disruption in this space, and we recently held a Hospitality Summit, appropriately called Disrupt or Be Disrupted, to support our customers through these critical industry changes and to aid them in getting ahead of the curve. Right now, is the opportunity for Operators to take advantage of trends in technology and innovation. We invest heavily in these areas to bring to our customers the tools they need to do their jobs well. I am also pleased to see more women entering the foodservice industry. The Oneida Group is committed to diversity.


NATE JACKSON
President, Aladdin Temp-Rite
Nashville, TN

A native of Illinois and a graduate of Illinois Wesleyan University, Nate Jackson began his foodservice career as a street salesman for a small, Chicago-based equipment distributor. He's now logged more than 20 years in the industry, including extensive experience in both distribution and manufacturing across all market segments.

Nate's established track record of success across a wide spectrum of channels, including traditional dealer distribution, global QSR chains, consultant projects and healthcare, has enabled him to see and experience the variety and distinct differences present within the global foodservice industry. This breadth of foodservice experience has helped him consistently deliver steady business growth through an emphasis on innovation, team development, and the continual avoidance of non-value-added cost activities.

Nate currently serves as the President of Aladdin Temp-Rite, an Ali Group company. Aladdin is the leading manufacturer/supplier of equipment and supplies to the healthcare foodservice industry. Prior to Aladdin, he worked for Scotsman Ice, also an Ali Group company, and one of its leading/flagship brands. Throughout his tenure with the Ali Group, Nate has helped develop and implement strategies that have generated sustained growth and improved market share, while raising the overall profitability and value of the business.

Nate consistently delivered proven results during his tenure with Marmon Group/Berkshire Hathaway's Prince Castle business, as well, specializing in developing customized solutions for global QSR chains. His experience also includes working at Standex's BKI division, where he focused on the supermarket and c-store market segments. Nate currently resides in Franklin, Tenn., just outside Nashville, with his wife and two daughters.

Have customers changed?
I believe customer decision-making is largely the same; it's driven by the assessed value provided by a supplier in relation to alternative options. But today's customer has access to vast amounts of information, and it greatly informs their buying decisions. This has accelerated the annual increase of online research, which invites online purchasing. As a result, we see the consolidation of dealer distributors, as well as their customers.

What do you see as potential disrupters in the industry?
As consumers become more comfortable with online purchasing, demand on the shipping industry has risen dramatically. As a manufacturer of foodservice equipment/supplies, we must continually examine how to address the current and future challenges of freight and installation in order to best serve our customer base.

What contributes to your success?
Aladdin has been the recognized leader in the healthcare foodservice segment for more than 50 years because of continued product innovation, continual reinvestment in its domestic manufacturing capabilities (made in the U.S.), and by remaining focused and true to our brand's core competencies, as well as opportunities that are complementary to our business.


PJ GAVIN
President & CEO, RPI Industries, Inc.
Medford, N.J.

Born and raised in Philadelphia, PJ Gavin started his career in 1977 at the age of 18 when he accepted a job with his uncle Chuck Gavin's manufacturers' rep firm in Boston. While working days, he continued his education, taking night classes at Boston College and earning a BA in Marketing. In '84, he headed back to Philly to start his own manufacturers' rep group, Gavin Associates. His agency represented several premium foodservice equipment brands. Throughout the '80s and '90s, he and his team immersed themselves in the manufacturing side of the business to enhance their rep skills. PJ says he also had the privilege of participating in many manufacturers' rep councils, and served as a Region 4 board member in the mid '90s.

This insight into manufacturing and the customer connection he gained through sales representation was instrumental in his decision to start a new company in '97 called Pinnacle Architectural Millwork. The startup succeeded and led to a second acquisition in '99, Regal Custom Store Fixture. PJ merged the two to form RPI Industries, Inc., which he was able to take to a national level very quickly thanks to his relationships with top manufacturers' rep groups throughout the country. "Our reps are our most valued asset, hands down," he says. PJ has an astute understanding of dealers' and consultants' needs as well, understanding how they are unique but synergistic. His frontline knowledge and experience with all channels proved priceless as he mapped out his new manufacturing company. With RPI's growth, PJ exited the rep business to focus 100% on the company in '05. He took on the position of V.P.-Sales & Marketing at the start to handle the manufacturing, sales and administration functions that are his specialty. When his business partner Pete Palko retired in '14, PJ became President & CEO. PJ lives in Moorestown, N.J. with his wife of 30 years, Beth, and enjoys spending time with his adult children, Matthew and Jennifer.

Have customers changed?
Yes, and they will continue to change. Our world is one of instant gratifi cation with higher demands for efficiency and value-engineered options. This includes delivering more choices, but always within a lower pricing matrix. The millennial customer is making the prior generation look easy!

What do you think will be the next big thing in our industry?
Self-service micro-markets for hot and cold graband-go products that offer automated pay options so no cashiers are necessary. It's here now, but it's only in its infancy. It will continue to grow with an even higher and more sophisticated technology component; the next-level automat. The trend has two drivers: millennials, and a labor pool diminishing in both size and enthusiasm for service jobs.

What technology or equipment has been a game changer for you?
We're refining the design of a prototype we debuted in '17 called the Cubby Cube. The system has LCD screens on the front of cubbies that identify customers who pre-order meals either from a mobile app or ordering kiosk. The customer simply orders and picks up their hot or cold meal without any customer-facing operator interaction.

Sponsored Content