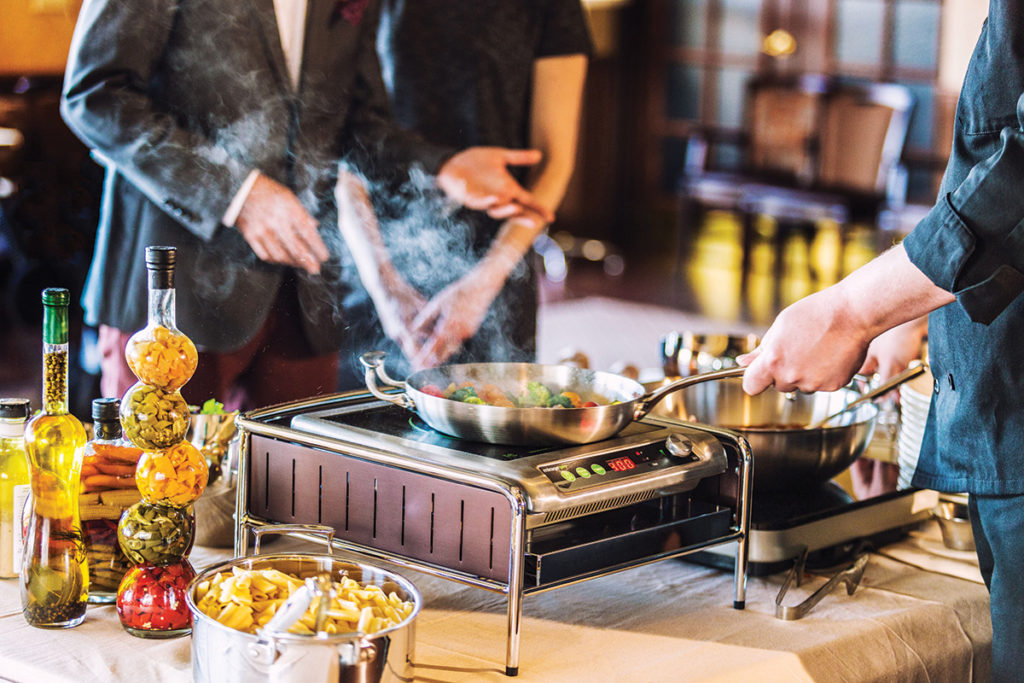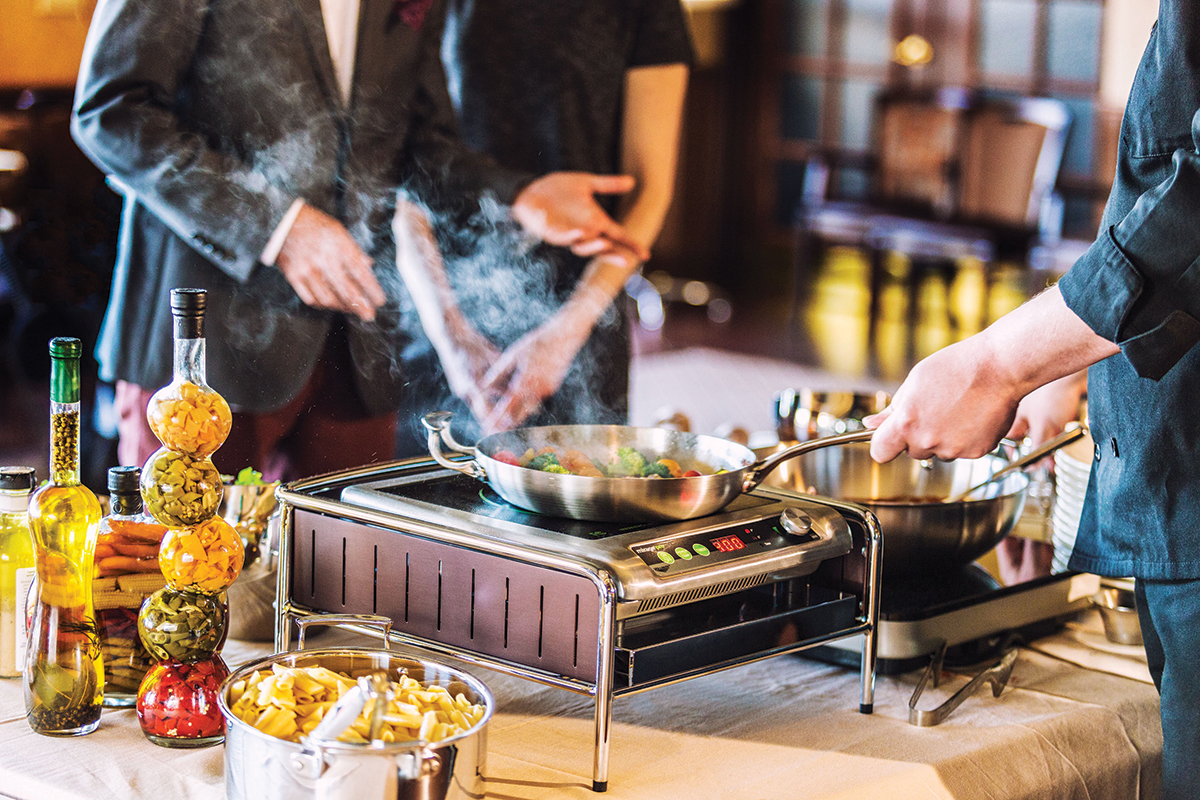 INDUCTION VS. OPEN FLAME
When it comes to cooking and warming foods at on- and off-site events, your options are open-flame (either chafing fuel or propane gas), electric burners and induction equipment. If you're working at a site with little or no access to electricity, open-flame units are the way to go. Otherwise, induction technology holds the trump card every time. Here's why:
– No open flames or hot burners around linens
– The cooktop stays cool, heating only the area where the pan or casserole rests on the surface
– Safer to use in proximity to guests
– Adds less heat to the atmosphere than open flame or electric burner
– Cooktops cool quickly, speeding up your breakdown after the event
– Induction burners bring the heat in locations that don't allow open flames
VERSATILITY MEANS OPTIONS
Look at your serving ware with a fresh eye for additional uses. For example, colorful square bowls with flat bottoms can turn upside down and stack a few high in four stacks to hold a thick glass panel on top; it provides a colorful and stable riser that gives your serving line an eye-catching appearance.
BUFFET TIPS
– Put plates at the start, cutlery at the end and napkins all along the way in case of spills.
– Put less expensive foods up front, more expensive items after.
– Use label holders and identify foods to keep the line moving.
– Tuck spare serving utensils behind servers in case one gets dropped or used for another dish.
– Include resting plates for utensils.
– Don't pair tongs and big spoons with expensive foods; use smaller utensils or use toothpicks or bite spoons for single bites.
– Use a mix of pails, baskets, bowls, trays and crates. Mix ceramics, metals, glass and wood.
– Mix the heights of offerings; make sure risers are sturdy so the dish, tray or bowl they're supporting won't tip.
– Don't serve too-tall individual items, they can topple off guests' plates.
– Separate food buffets from bars, and create a separate buffet for desserts.
– Make sure to include plenty of waste receptacles around the catering site.
PROTECT YOUR INVESTMENT
Serving platters cost money; when they chip or break, that's cash down the drain. One caterer suggests stocking up on white towels (the fluffier the better) whenever they go on sale. Layer your clean platters with fresh towels before transporting them onsite, then re-use the towels to transport the dirty platters to be washed. Bleaching the towels (which is why you buy white ones) sanitizes them for use at future events. Invest as well in sturdy plastic carriers to protect your buffetware properly through multiple transports, otherwise your good wares will get dinged, dented and scratched.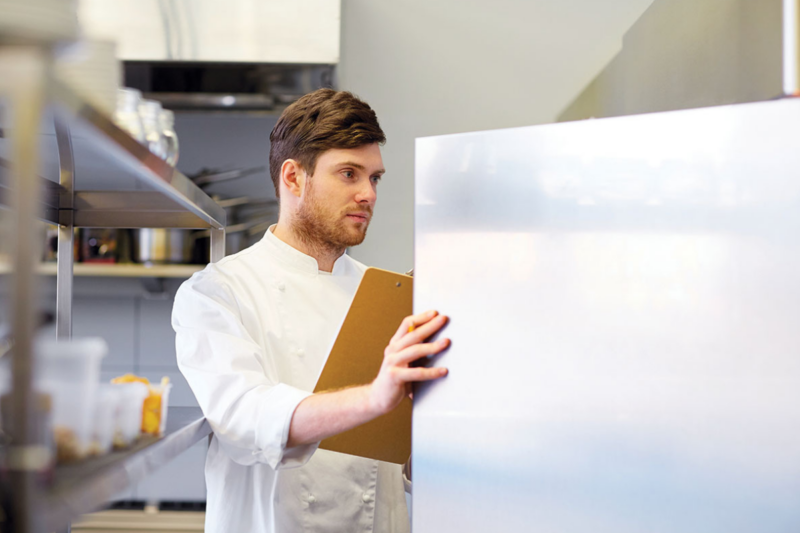 Uncategorized
RSI's Mark Montgomery's persistence and patience is key in repairing an operator's failing reach-in cooler.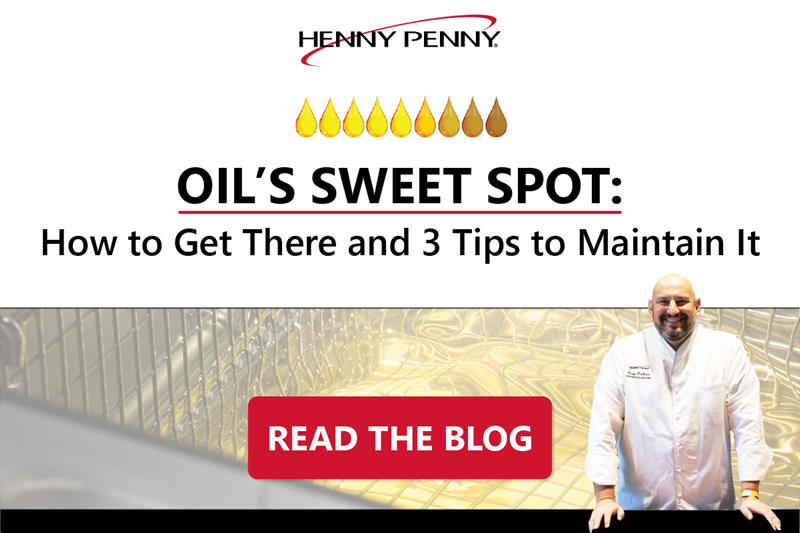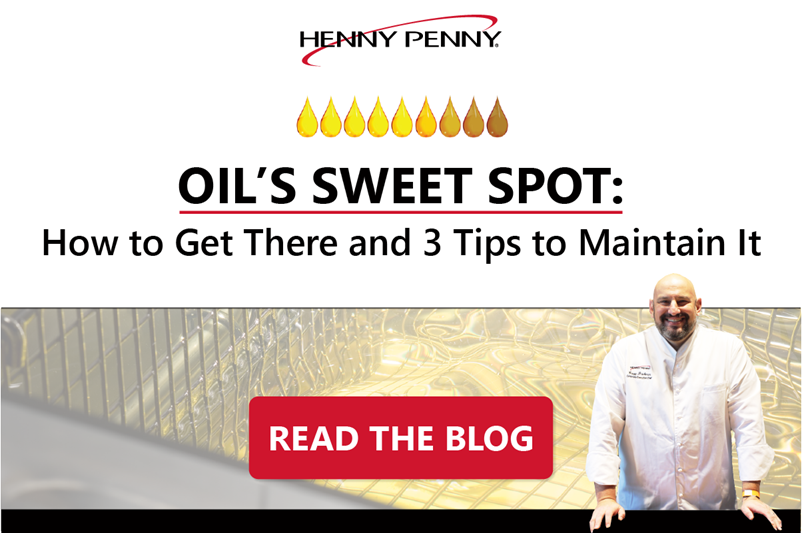 Uncategorized
Like many in the world of foodservice, you may assume that cooking oil performance is at its peak when you first start using it — but did you know there...