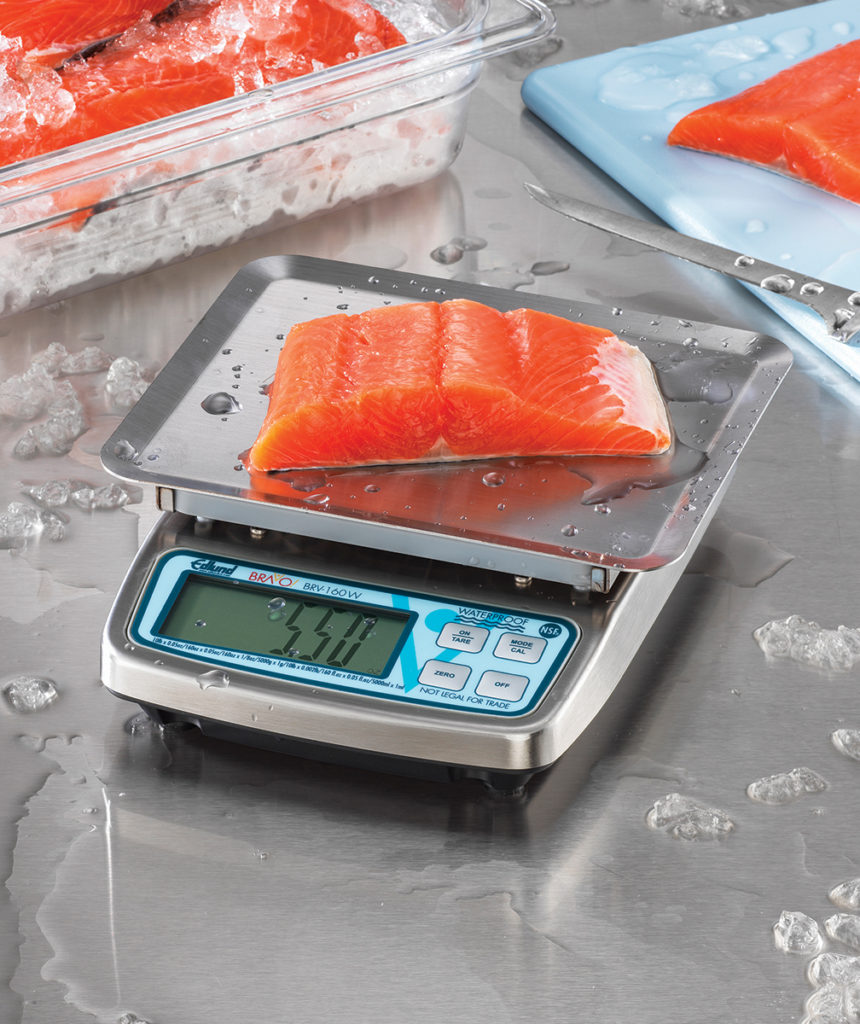 GET AN EDGE: KNIFE MAINTENANCE
Caring for knives helps maintain food and personal safety, and protects your investment. Follow these tips.
CLEANING: SIMPLE IS BEST
Clean knives every time you use them. Food particles on a knife can grow bacteria, and you can cross-contaminate if you move from cutting one food to another. Simply wash knives in warm water with a mild detergent and dry. Sanitizing systems provide an additional level of cleanliness. One option uses a liquid sanitizing tank and a rack-type drying box for safe storage after sanitation. Another system uses UV light, which kills bacteria; it's reflected throughout the knife storage case via mirrors, sterilizing every surface.
PROPER STORAGE
For on-the-wall knife storage, opt for a rack. Some models offer color-coded slots to make it easier to know which knife to put where. Locked boxes provide safe storage overnight. For counter storage, opt for a knife block that's stainless and NSF component certified. Use a UV light box to store and sanitize simultaneously.
PRO TIP:
Need to know if your knife is sharp? Cut through the edge of a sheet of regular computer paper, starting the cut with the heel of the blade and drawing through to the tip. If it doesn't slice right through easily and cleanly, it's dull.
NEVER A DULL KNIFE
You can sharpen knives with steels or stones as well as handheld or electric sharpeners. Using a handheld or electric sharpener sets the knife at the appropriate angle, taking the guesswork out of the equation. Grinding wheel accessories are replaceable.
MISTAKES TO AVOID
• Don't allow entire knives (handles and blades) to soak in chemicals or dishwater.
• Clean off all food particles before sanitizing knives.
• Running good knives through a dishmachine will dull them.
• Throwing knives all together in a drawer or wrapping them together in a towel can lead to injury and damage the blade if it scrapes and knocks against other knives.
• Improper use dulls the blade. That includes opening card board boxes and scraping grills.
• Never cut on marble, granite or stainless. Instead use cutting boards made of polypropylene, polyvinyl acetate (rubbery material) or, if local code allows, wood.
Remember, a sharp knife is a safe knife: a dull knife is a dangerous knife!
7 TIPS FOR SELECTING SCALES
1) Types of scales include the baker's beams (think scales of justice) and many prefer these because they're simple, easy to care for and reliable. Mechanical scales are simple and durable too. Digital scales provide greatest accuracy and are easiest to read quickly.
2) Think about what menu items you'll need to weigh when choosing capacity. If you're portioning peppers or onions for tacos, opt for a scale with a few-lb. capacity. Weighing entire hams or turkeys? You'll need a higher lb. capacity.
3) Many models offer tower, wired remote or wireless remote readouts in addition to traditional readouts located on the base. Tower scales are perfect when weighing large stockpots; remote options deliver plenty of space if you need to weigh large items that overhang the base, such as pizzas. Wireless units also give you the flexibility to easily move the scale around the kitchen.
4) Enhanced features worth considering include auto shut-off, protective covers to keep juices and grease off the scale and its controls, and dual functionality (switching between ounce, fractional ounce and gram selections). Waterproof scales make for extra-easy cleaning and withstand all kitchen conditions.
5) When it comes to finishes, many mechanical and digital scales sport stainless platforms and plastic bases; some are all stainless. Baker's beams offer more finishes, including epoxy powder coat, baked enamel or stainless.
6) Check with your manufacturer to find out how often you need to check your scale's accuracy (and always check it if you drop it). Some makers recommend every six months, others say once a week. To check it, use a specific weight as indicated by the manufacturer and place it in the middle of your scale. Calibrate your scale if it's not measuring at zero. Check your manual for additional steps to take.
7) Oversized platforms, French fry platforms, ice cream platforms, calibration weights and power supply options are a few accessories to think about when specifying a scale.
HOW MANY SCALES DO I NEED?
Manufacturers recommend one scale per station and at least one backup unit for the operation in case of emergencies. If a scale goes down on a Friday night without a backup, you'll end up portioning blind for a night or longer.
Note: Not all scales are field calibratable. Check the owner's manual to see if yours is.
KEEPING UP MANUAL SLICERS
8 QUESTIONS TO ASK BEFORE YOU BUY A SLICER/CHOPPER
• Can the chopper handle everything from hard root vegetables to soft fruits and vegetables (tomatoes)?
• Can the chopper handle large-and small-diameter produce?
• How deep a pan and what size pans can you fit underneath to catch the chopped items?
• Can the whole unit be washed in a commercial dishmachine as well as pot sink?
• Does it disassemble without tools? (Can pieces be misplaced?)
• Is there a wide enough assortment of cut styles and sizes for your needs?
• Is the unit anchored to the counter with suction for fast and safe operation?
• Is it NSF certified?
MANUAL CUTTER CARE
Regular cleaning keeps manual slicers in good working order. We break it down for you.
BLADE CARTRIDGES
Clean blade cartridges as soon as you're finished using them. Acidic juices (tomatoes!) can eat away at the blade edges unless they're washed off right away. Even spritzing blades with water between tasks helps.
FRAME
Some slicers are conveniently dishmachine-safe, others are not. Cast-aluminum models may pit if run through continuous dishmachine cycles, but stainless frames are safe for machine washing. You'll need a tall opening on the machine.
PUSHER
Run a butter knife or spatula tip through the pusher's grooves to clean out food debris. Don't bang it on a counter to knock particles loose; you might damage the precise alignment between the knife-set and the pusher.
FEET
Chopper feet, which should be rubber clad or end in suction cups, should be replaced if they get dry, cracked or misplaced.
LUBRICATION
If your slicer needs periodic greasing; only use food-grade lubricant and not cooking oil. Cooking oil gums up and get tacky as it dries and with friction.
PRO TIP:
Choppers boost your food-prep efficiency, speed and consistency. Keep a backup knife cartridge set and its corresponding pusher block on hand, one for each type of slicing or chopping task. You can't afford equipment downtime.
Sponsored Content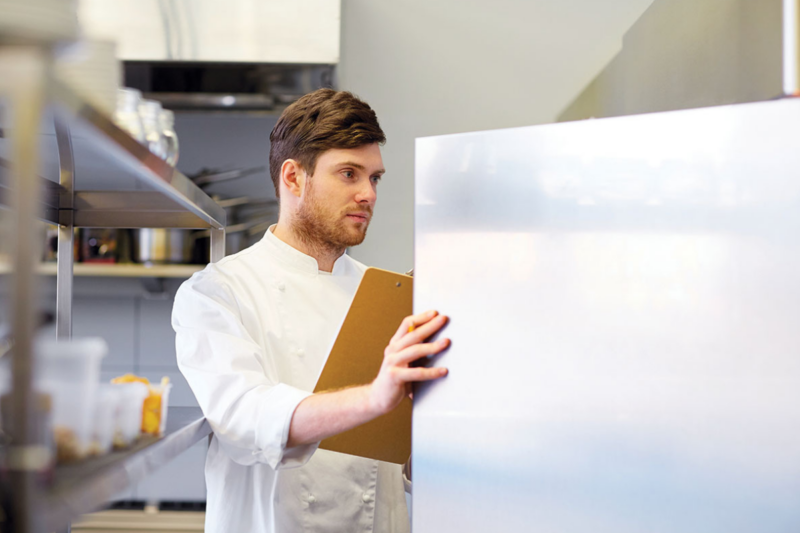 Uncategorized
RSI's Mark Montgomery's persistence and patience is key in repairing an operator's failing reach-in cooler.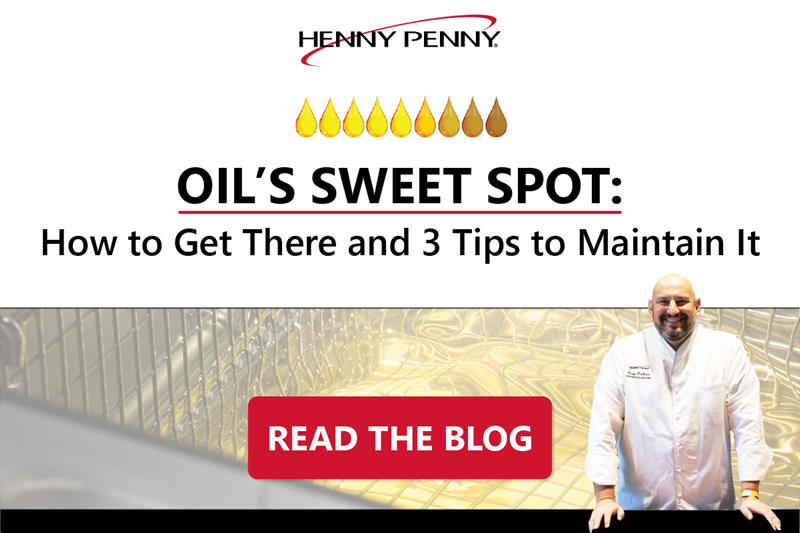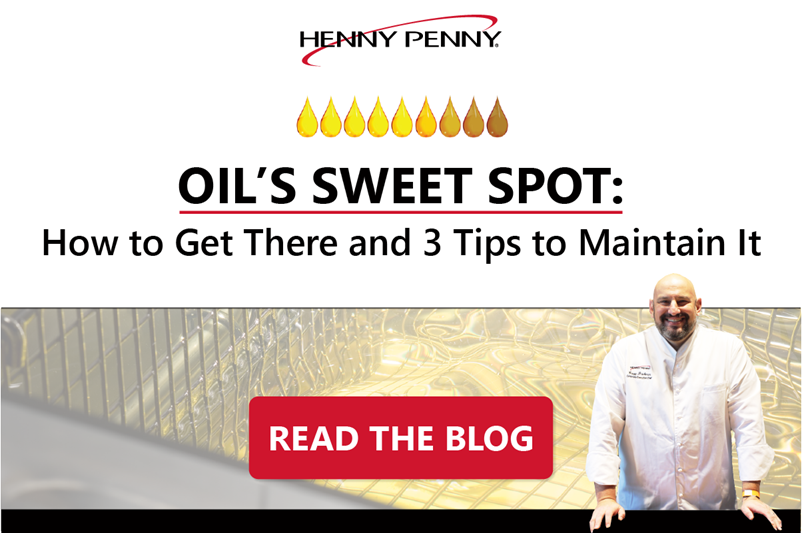 Uncategorized
Like many in the world of foodservice, you may assume that cooking oil performance is at its peak when you first start using it — but did you know there...