Features
Healthcare
How AdventHealth Apopka Offers Multiple Foodservice Options in Minimum Space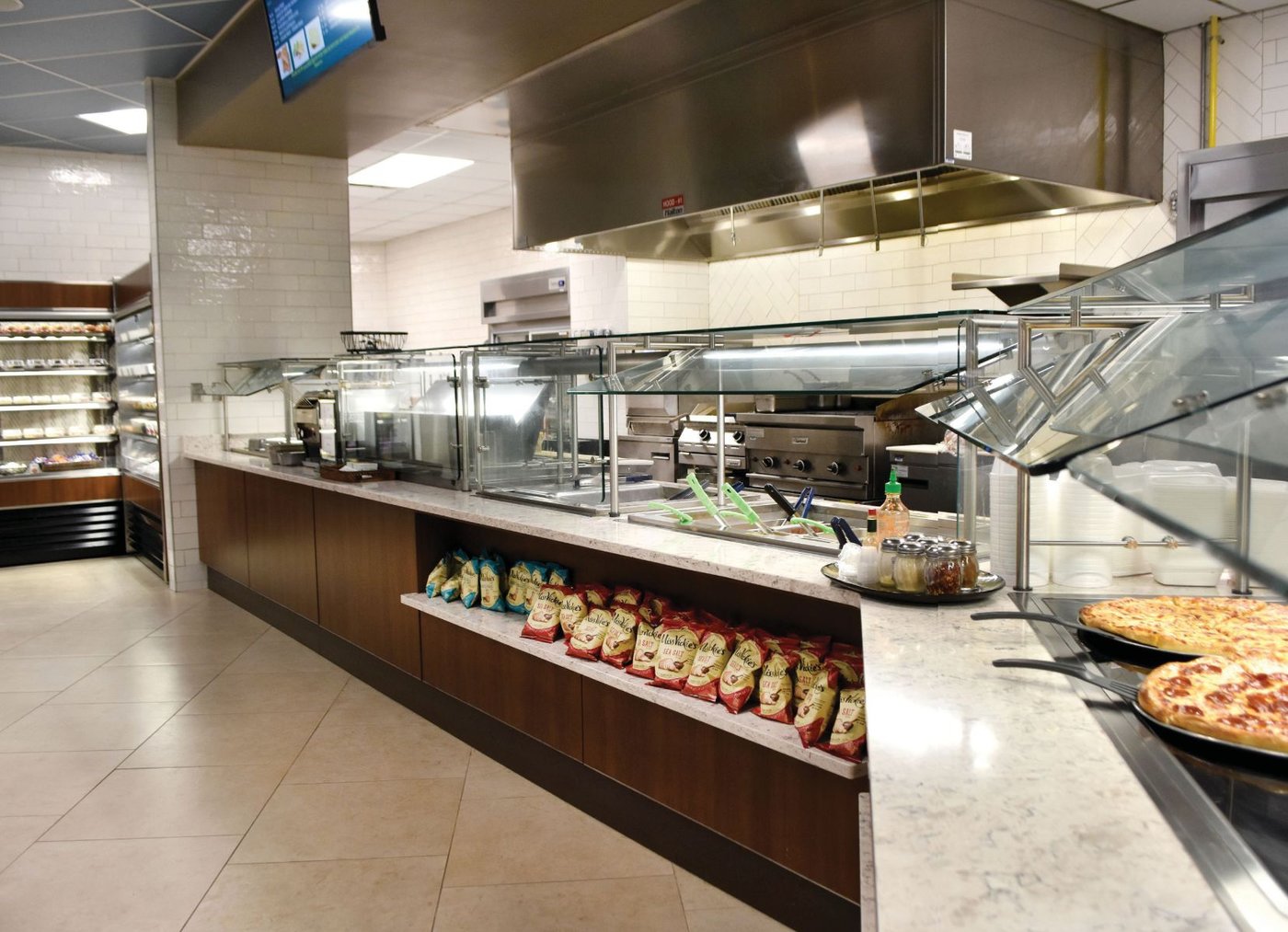 When AdventHealth Apopka, Apopka, Fla., planned to upgrade its services, it didn't just redecorate; it rebuilt the facility from the ground up. Started in early 2015, the brand-new, state-of-the-art acute care facility, previously named Florida Hospital Apopka, was ready to open by December '17. And while much of the focus was on medical equipment, hospital administrators had put enough thought into their foodservice plans to mention in press releases that they were ready to keep patients, family members, and visitors well-nourished.
Overcoming Challenges
The project faced challenges of both time and space. Raymond Moe, Senior Project Manager with AdventHealth, was responsible for overseeing the entire project. He recalls, "The time requirement for rebuilding was strenuous, as the team was working with an extremely aggressive schedule to meet the demand and needs of providing healthcare to the community." Moe explains that reducing the project transition period helped them make the schedule. To do this, they allowed the foodservice team to come in before the facility was ready to open, to fire up the new equipment and get acclimated to it and the work area.
William Inman, President of Inman Foodservices Group, Nashville, Tenn., which led the foodservice design portion of the project, relates that he and his design team "have the horsepower to take on any size project and schedule. We attended more meetings than usual, to get quicker approvals and decisions. It was a well-orchestrated project with the owners' full commitment to expedite decisions."
Asked about the vision for the overall design, Moe notes that he drew inspiration from the fact that Apopka is known as the foliage capital of the world, and he worked to pull the calmness of a greenhouse into the building. Establishing that sense of calmness in the foodservice areas fell to Inman and his team. Inman explains that the hospital wanted to meet the needs of staff on lunch breaks, but also requested a restaurant-style dining area with wait staff, where visitors could relax. Of course, they also had to offer room service for all the patients, but without using any of the circulation space specified by the architect.
Inman recalls, "It was tricky, designing a facility that provided everything requested in an efficient way without increasing the square footage and equipment cost." Inman accomplished this by creating an area that included a 2,760-sq.-ft. Food Court that could operate as a self-serve, retail café, to meet the needs of those on short breaks or just looking for a quick meal, but that also could prepare food for the adjacent 2,900-sq.-ft. sit-down restaurant. This Food Court includes multiple grab-n-go displays, coffee station, short-order cook station/grill, pizza and pasta area, entrée station, self-serve beverages, and a soup, salad, and dessert island bar. An order station in the restaurant area allows wait staff to place orders with the short-order area in the Food Court. Finally, the team created the 4,940-sq.-ft. main kitchen to both support the Food Court as needed and to supply room service for patients.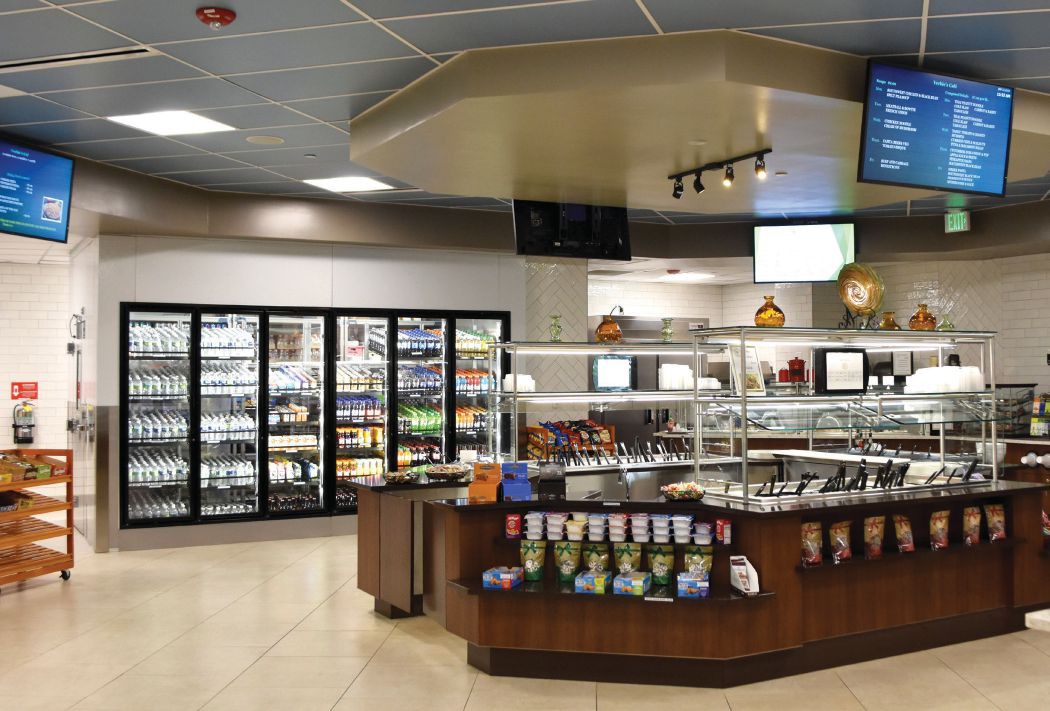 "We also always have to be conscious of staffing in the design of all our projects," Inman says. "By locating the walk-in closer to the prep areas, we minimize steps taken by staff to and from the coolers and freezer. Flow from storage through prep, cook, staging and serving (both patient and retail), if not designed efficiently, can increase not only labor but equipment needs. Quick access to walk-ins eliminated the need for multiple reach-ins throughout the prep and cooking areas."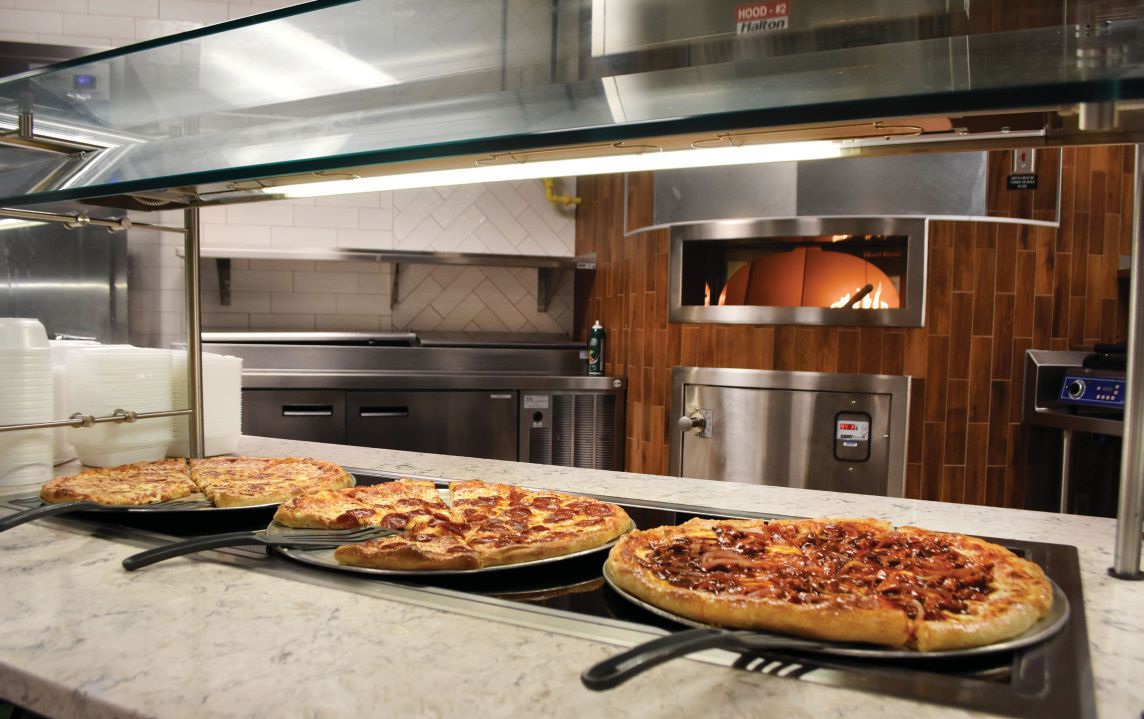 Inman continues, "Working with the architect early in the planning and design phase, and having an architect that allows you to have input into the placement of the kitchen and dining room as it relates to the overall design of the facility, makes for a successful project and an efficient facility that meets and exceeds the owners' expectations."
As it turned out, creating multiple ways to serve staff, visitors, and guests became Inman's favorite part of the project. He relates, "It was very important to the hospital administration and to the designers to provide an area that would allow staff, visitors, and guests to relax, unwind, and get away from the sometimes stressful and emotional aspects of a healthcare facility. Staff can pre-order from their computers, and both staff and visitors can pre-order from a kiosk in the entrance to the Food Court and pick up their food at a pick-up station. The seating area for the Food Court includes booths, bar-height counter seating, four tops and two tops. The restaurant-style dining area has wait staff to take guests' orders, and there is an outside dining area with covered tables and beautiful landscaping."
Grab-n-go displays and multiple POS stations help keep traffic moving in the Food Court. It is the restaurant area that allows people to slow down. Inman relates that, in addition to wait staff and nicer seating, the restaurant area is differentiated by the use of china, while disposable ware is used in the Food Court.
The Right Stuff
No matter how lovely the design, how serene the surroundings, or how efficient the flow, eventually, you have to prepare and serve food. Ranging from prep to serving to cleanup, the selection of foodservice equipment is a key element of reaching an operation's objectives. Inman is enthusiastic about everything they've installed, but identifies some of the equipment that he considers most important to the facility's successful operation.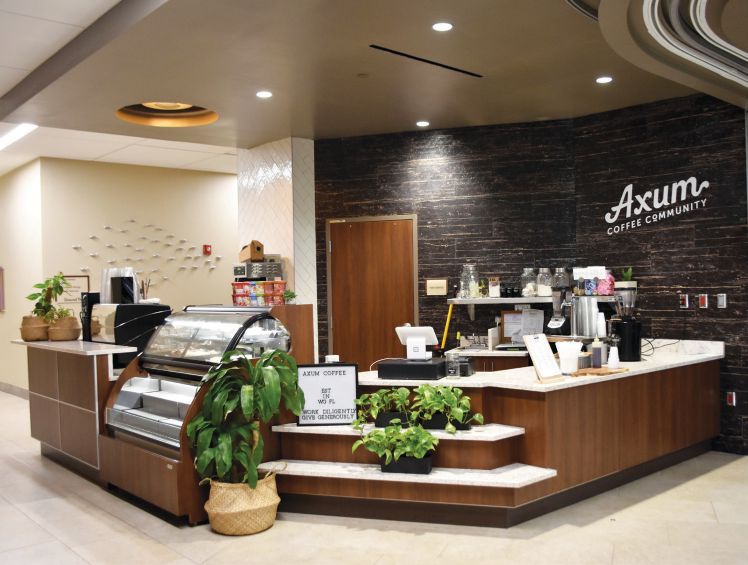 Using a combination of convection heat, impingement air, and microwave energy, the Merrychef e4 high-speed oven can prepare foods up to 15 times faster than conventional ovens. Inman notes, "Used in both the room service area and short-order grill, this oven allows for quickly cooking food to the perfect texture, moisture, and flavor. The e4 features six 10-minute cooking stages and advanced technology to produce quality results at top speeds. This allows you to prepare and cook food as it is ordered, which will reduce waste and costs."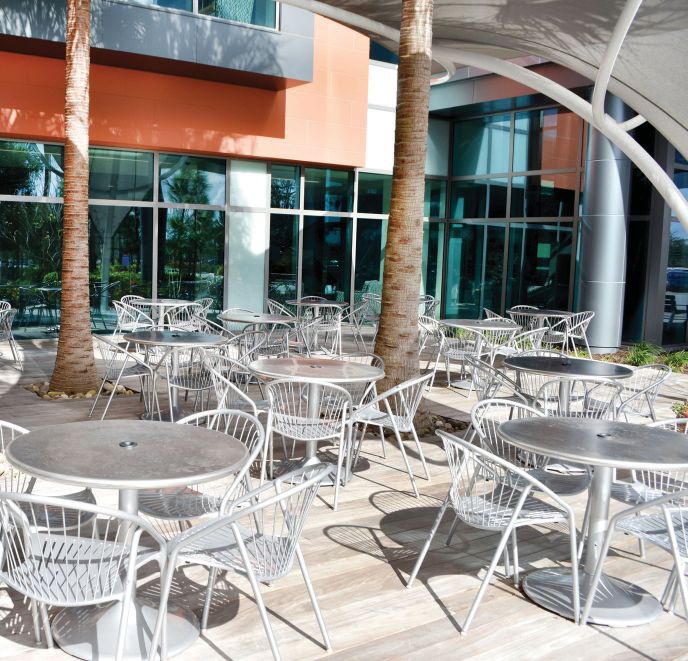 The Wood Stone pizza oven in the Food Court offers visual appeal, with its dancing flames, but it also produces high-quality pizza, toasty subs, and a variety of other products. The WMF 1500 S is a reliable, user-friendly espresso/cappuccino maker that offers an array of specialties that are consistently high quality with an excellent price-performance ratio.
In the kitchen, Inman points to the Halton exhaust hoods, stating, "This demand-controlled ventilation system is really flexible. Combined with Capture Jet technology, these hoods can save up to 50% in galley energy consumption." He also mentions the E-Control Systems monitors in the walk-ins, which provide constant temperature monitoring.
So, working together, hospital personnel, architects, and foodservice professionals have created an array of dining options that fit both the space available and the foodservice needs of the new hospital. Moe states, "The foodservice component is a critical part of the healing process. This design has allowed us to create an experience that embraces service and quality for spectacular meals."
AdventHealth Apopka
---
Apopka, Fla.
Type of Facility: Acute care hospital
No. of Beds: 120
Opened: December 13, 2017
No. of Seats: 120
Hours of Operation: M-F, 7 a.m.-8 p.m.; holidays and weekends, 7 a.m.-7 p.m.
Station Sampler: Short-Order Grill, Pizza/Pasta, Grab & Go, Entrée, Soup/ Salad/Dessert, Beverages
Average Check: $5.16
Cost of Project: $207 million project costs, including $147 million construction cost and FS equipment budget of $1.6 million
Annual Sales: $816,570
AdventHealth: June Flowers, MS, RD, LD/N, Nutrition Services Director; Raymond Moe, Senior Project Manager, Office of Design and Construction
Foodservice Design: William Inman, Principal-Design Consultant; Frank Flowers, Project Mgr.; John Caldwell, Construction Project Mgr., Inman Foodservices Group, Nashville, Tenn.
Interior Design/Architect: Earl Swensson, Associates Interior Design, Nashville, Tenn.
Equipment Vendor/Installer: Clark Food Service Equipment, Bradenton, Fla.
Fabricator: Florida Stainless Fabricators, Oviedo, Fla.
EQUIPMENT
---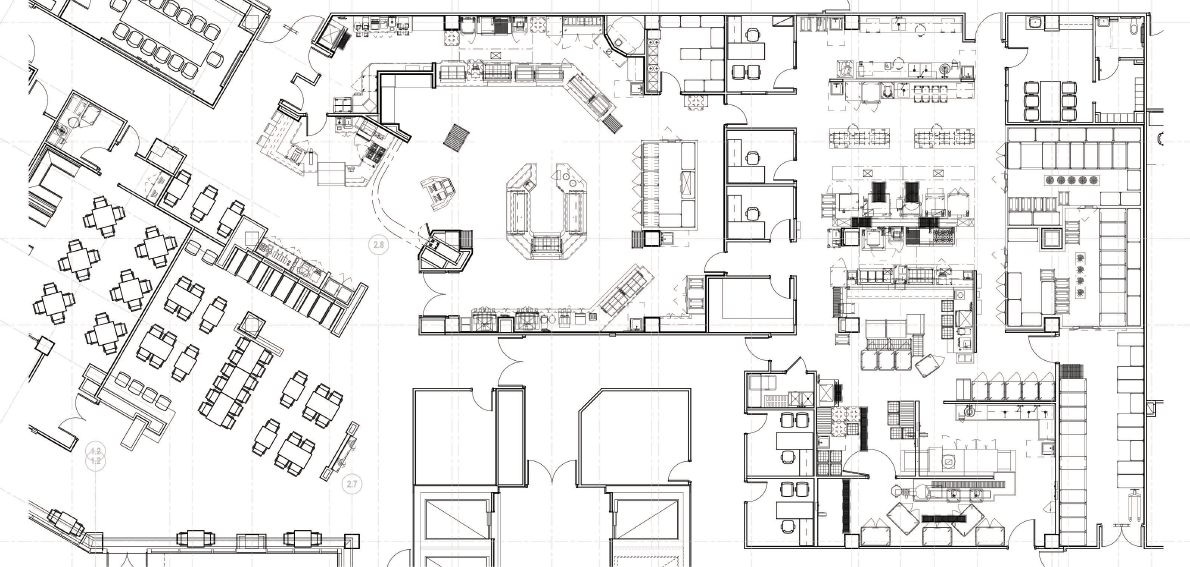 WAIT STATION
Halton VFD control panel w/enclosure box
Manitowoc/Welbilt ice storage bin, cube ice maker
Delfield/Welbilt upright refrig., mobile dipping cabinet, u/c freezer
AllPoints dipper well assembly
GRAB-N-GO
Structural Concepts refrig. display case
Kolpak/Welbilt grab-n-go cooler, shelving, glass doors, blower coil
Metro/Ali Group refrig. shelving
SHORT ORDER/COOK/GRILL
Delfield/Welbilt 3-well hot food unit, 2-well hot/cold food unit, 3-well hot/ cold food unit, freezers, refrig. equipment stand, worktop refrig.
Metro/Ali Group mobile dish dolly
Hatco conveyor toaster
Dormont wheel position devices
Merrychef/Welbilt high-speed oven
Garland/Welbilt griddle, charbroiler
Globe/Middleby panini press
PIZZA/PASTA
Delfield/Welbilt refrig. pizza prep unit, 2-well hot/cold food unit
Halton exhaust hood
Wood Stone pizza oven
Hatco heated shelf
PICK-UP/COFFEE/PASTRY
San Jamar cup dispenser
WMF espresso/cappuccino maker
Structural Concepts refrig./ dry display case
Delfield/Welbilt drop-in ice station, u/c freezer, salad top refrig., u/c refrig.
Hamilton Beach blenders
DELI/SOUP/SALAD/DESSERT
Delfield/Welbilt refrig. cold pans
Infinity drop-in hand sink
Wells/Middleby drop-in soup wells
CONDIMENTS
Hatco conveyor toaster
Server condiment station
San Jamar cup dispenser, napkin dispenser
BEVERAGES
San Jamar cup dispensers
Manitowoc/Welbilt cube ice maker
ENTRÉE
Vollrath bakery case
Delfield/Welbilt 3-well hot food unit, roll-in hot box
Hatco toaster
DRY STORAGE/NON-FOOD/ PAPER STORAGE
Metro/Ali Group can rack with casters, dry storage track shelving, dry storage shelving, mobile dish dolly
CATERING PREP
InSinkErator/Emerson disposer w/control
T&S Brass pre-rinse unit
Globe/Middleby slicer
BUNN hot water dispenser
Robot Coupe food processor
KITCHEN-PREP
Delfield/Welbilt freezer
Metro/Ali Group mobile heater/proofer
Globe/Middleby 20-qt. mixer
Rubbermaid mobile ingredient bins
KITCHEN-COOK
Kolpak/Welbilt remote condensing unit
Halton exhaust hood, VFD control panels w/enclosure boxes
Cleveland/Welbilt 40-gal. tilt skillet, 40-gal. tilt kettle
Garland/Welbilt hot top w/oven, double convection oven, 6-burner range, griddle, charbroiler
Dormont wheel position devices
T&S Brass hose reel w/mixing cabinet
Convotherm/Welbilt combi oven, double combi oven
Merrychef/Welbilt high-speed ovens
Globe/Middleby panini press
Delfield work-top refrig., u/c refrig., refrig. sandwich unit, mobile 4-well hot food unit, freezer, refrig. equipment stand
Hatco conveyor toaster, heat lamp
Dinex/Carlisle mobile heated plate dispensers
Advanced Tabco ticket minder
GENERAL COOLER/FREEZER
Kolpak/Welbilt cooler/freezer assembly, cooler/freezer glass doors, blower coils
ROOM SERVICE
Halton M.A.R.V.E.L. control panel
Metro/Ali Group mobile starter station, mobile dish cart
Dinex/Carlisle mobile tray dispenser, base activator, mobile dome drying rack
Manitowoc/Welbilt cube ice maker, ice storage bin
FWE mobile tray delivery cart
Structural Concepts grab-n-go refrig.
POT/WARE/CART WASH
T&S Brass hose reel w/mixing cabinet, pre-rinse unit, ceiling-mounted hose reel
InSinkErator/Emerson disposer w/controls
Power Soak/Unified Brands pot/pan wash
Metro/Ali Group mobile pot/pan rack
Hobart/ITW FEG flight-type dishmachine, pulper/extractor
Halton condensation hood
Aerowerks soiled dish table w/rollers
FWE soiled tray return cart
BUS STATION
T&S Brass pre-rinse unit
FWE soiled transport cart
InSinkErator/Emerson disposer w/controls
THROUGHOUT
Custom counters, tables, shelves, stands, sinks
Amana/Ali Group microwave ovens
Hubert display units
IMC Teddy s/s floor troughs w/grates, hand sinks
Premier food shields w/lights, food shields w/lights & heat lamps
Ansul fire suppression systems