Equipment Comparisons
Heavy Cooking Equipment
What to Consider When Choosing a Hearth Oven for Your Operation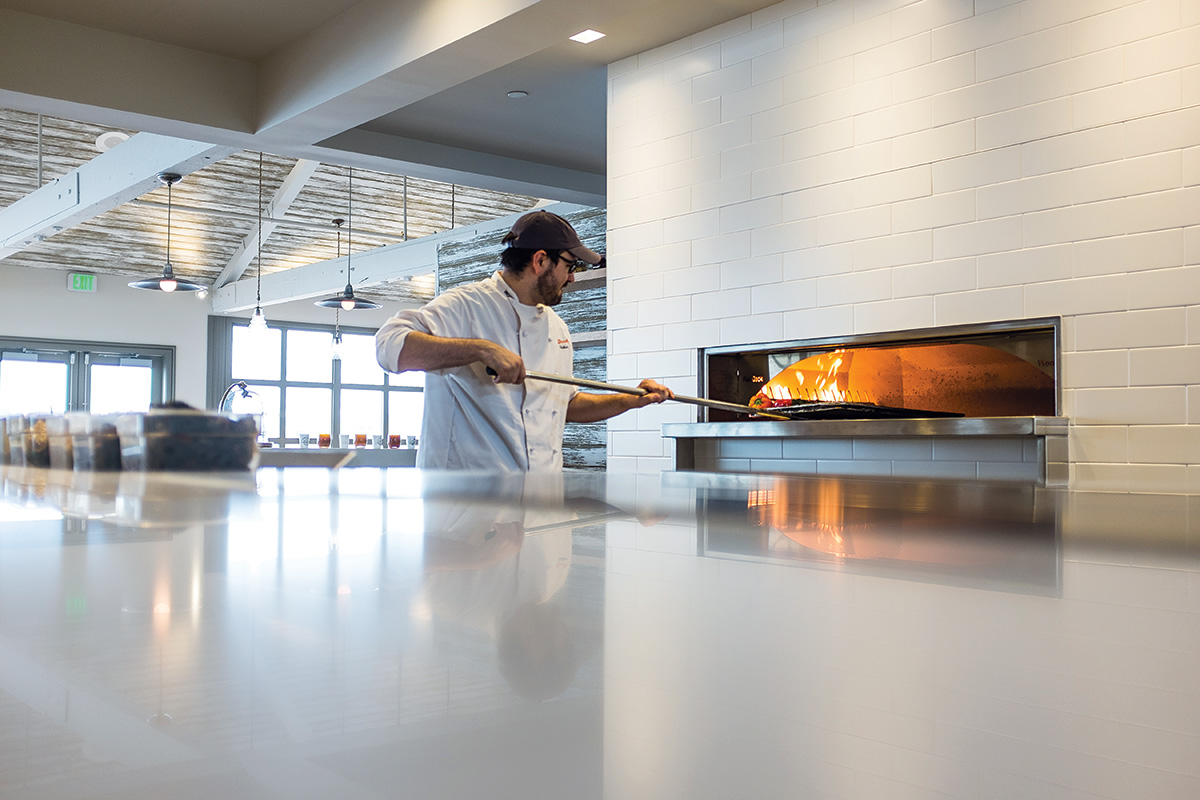 It used to be you'd find hearth ovens only in pizzerias. These days, operators—from full- to limited-service—use them in a range of applications to roast and sear chicken wings, steaks and burgers as well as bake pretzels, bagels and flatbreads, in addition to plenty of pizza. Hearth cooking is an age-old technique, but a new crop of hearth ovens is making the old-world method more efficient and user-friendly.
Old Technique, New Tools
Some recent hearth oven designs have labor-saving features that lessen the chance of human error and provide more consistent results. To start, touchscreen panels (with multiple language options) display preset user recipes, time and temperature settings, burner controls and high/low flame indicators.
Another newer feature on hearth ovens is rotating decks. Instead of staff moving pies around between hot and cool zones of the oven for even baking, they can program speed, direction and bake cycles of an electrically powered rotating floor.
Other features have made it easier for staff to manage oven temperatures. Smart oven technology in gas-fired models, for instance, provides consistency via strategically placed temperature sensors that modulate the oven's radiant flames and underfloor burners.
Models with in-floor electric heating elements mark another new development and are ideal for operations in locations where gas, wood and coal are prohibited as a result of fire safety and air quality concerns.
Beyond these updated features, here are other factors to weigh when choosing a hearth oven for your kitchen.
Capacity Considerations
To figure out what capacity your operation requires in a hearth oven, consider how much of your menu the oven will cook, the size of the food, its bake time and your maximum output needs, making sure to account for takeout and delivery orders. If you'll be baking a high volume in the oven, you might want to consider models that have multiple openings instead of one to expedite how food is passed into and out of the oven.
Specify a model that has about a 15% larger capacity than your current output needs so that your operation has room to expand in quantity and menu versatility. Otherwise, if you overload certain hearth ovens past their capacity, you could potentially slow down the bake time as the cold food draws heat out of the hearth floor, ultimately lowering cooking temperature. That said, hearth ovens are large pieces so you may have to balance your capacity needs with the physical space available for the oven and any required venting.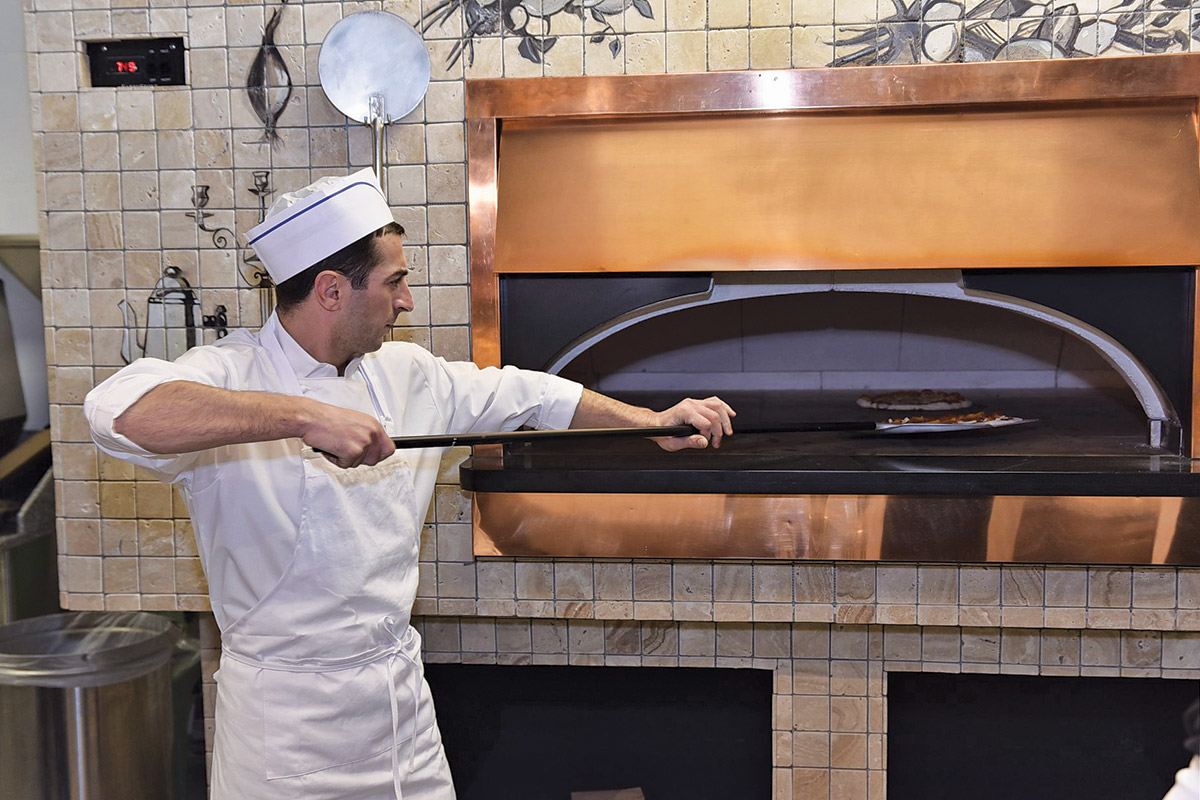 Find Your Fuel
While electric hearth ovens have their advantages, you may find that another fuel source makes more sense for your operation. Traditionally, hearth ovens used wood, which is still the preferred choice for purists who use aromatic hardwoods such as fruit tree woods, oak and mesquite for flavoring. Before specifying a wood-fired hearth oven, however, note that this fuel type requires having employees with fire-tending skills to maintain the oven temperatures, sourcing and storing wood and cleaning soot from the oven. Ovens that use solid fuel such as wood also must have a dedicated Type I hood and a fire suppression system.
Meanwhile, other pizza-making aficionados may prefer to bake their pies over the burning embers of coal. This solid fuel poses many of the same storage and ventilation issues as wood. "Another challenge in an oven fueled only with coal is lighting it and keeping it lit, because coal requires a much higher temperature of 800°F to ignite, while wood lights at 400°F," says one manufacturer.
Gas-fired hearth ovens gained popularity in the early 1990s as some municipalities banned the use of wood and coal as part of stringent fire safety regulations. These ovens offer consistent heat, require no storage and can easily turn off and on. Many operations prefer a gas/wood or gas/coal combination for the ease of startup while having the aroma and visual allure of a solid-fuel-burning fire.
Yet, using solid fuel in gas-fired ovens also can create challenges such as ash getting into the gas burners. "We have designed a tube burner that rises above the floor about 8 inches," says one manufacturer. "This allows for the operator to build a fire around the tube but does not allow the ashes to fall into the burner."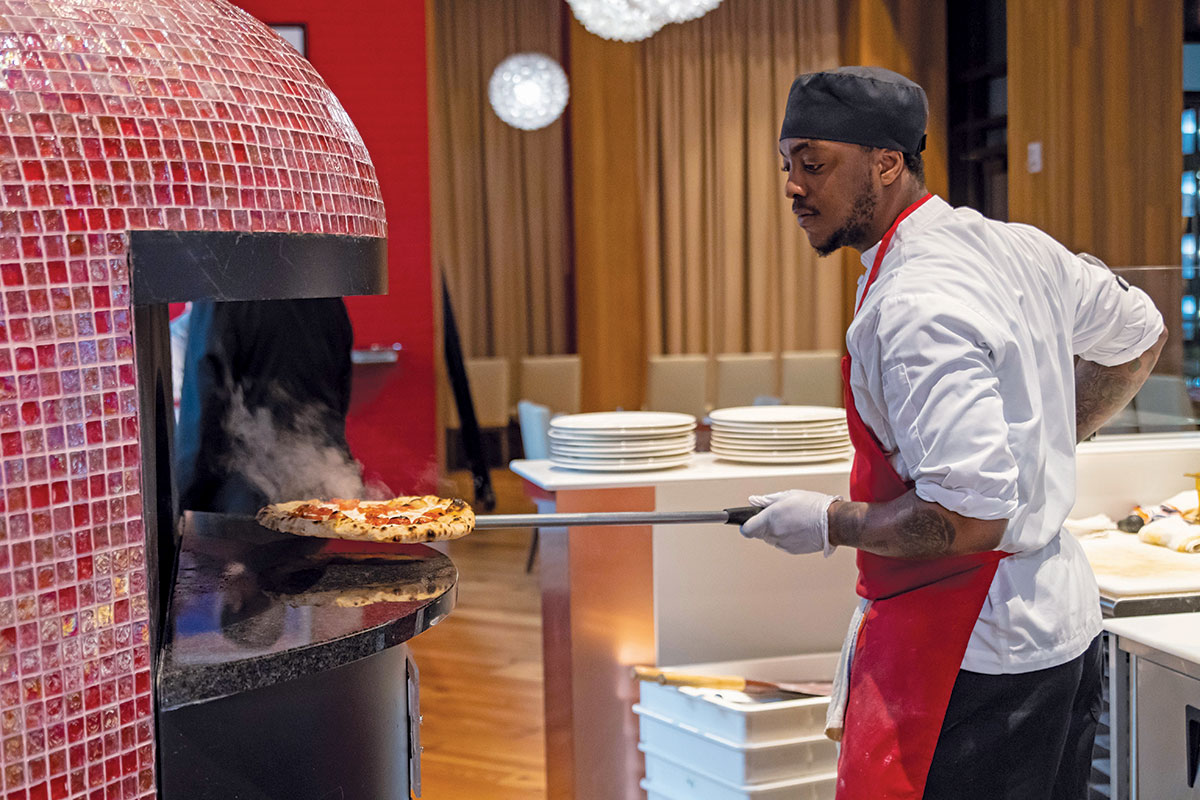 Construction Materials
How an oven is constructed impacts its ability to retain heat and provide consistent cooking temperatures. That's because, in hearth ovens, food cooks in direct contact with the oven floor.
A brick-and-mortar design is traditional, but newer models may be constructed of ceramic materials to optimize heat retention. For instance, one model uses industrial baker's hearth tiles for the oven floor that have been "ceramitized," that is, processed to retain more heat than brick.
Some hearth ovens offer a single piece of material as the oven floor to provide a more uniform thermal mass because heat works like electricity in that any gaps in material interrupt the passage of heat. These units often arrive in multiple pieces for ease of installation.
Floor thickness also comes into play in heat retention. Typically, floor thickness ranges from 2 inches to 4 inches. "The thickness of the reservoir of heat below the pizza determines how long the floor can cook a consistent pizza," explains one manufacturer. "After several pizza rotations, cold pizzas draw substantial heat out of thinner floors, resulting in cooked tops and undercooked bottoms."
In large hearth ovens needed in operations that cook more than 30 pizzas an hour, some manufacturers use underfloor infrared burners to maintain a consistent floor temperature regardless of production demands.
As another way to retain heat, some models offer aluminum doors that can be closed overnight to prevent excessive cooling. However, the oven "mouths" must be kept open during cooking as oxygen must be present to turn the combustible fuel into fire.
Newer models with multiple openings may be equipped with forced-air burners and air screens so that heat remains inside the oven instead of escaping through the oven mouths, helping maintain a standard oven temperature.
By researching what features matter most to your operation, along with capacity needs, fuel types and construction, you're sure to select a model that employees can manage to deliver hearth-baked menu favorites.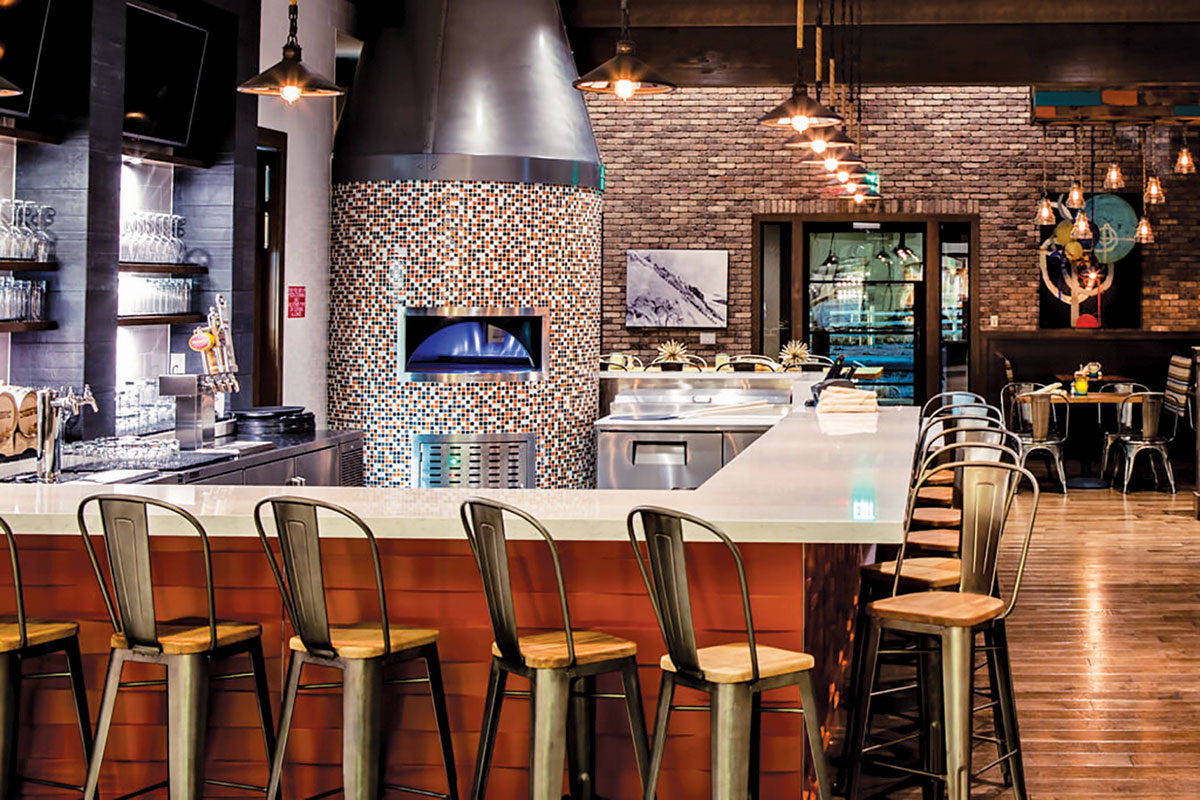 Finishing the Look
Many operators make visually appealing hearth ovens the star of display kitchens. Here are some options to think about if you plan to place the equipment in the front-of-house.
A blank slate: Some makers offer facade extensions to the oven to make room for custom designs such as logos and text. Others will install ovens as facade-ready with noncombustible cement board attached directly to the oven. Once installed, a contractor can apply the desired surface using a high-temperature adhesive.
Go sleek: Simple facades may be powder-coated with colors of your choice. Finished metals of stainless, copper and iron are popular alternatives, as well.
Mosaic appeal: Stone, tile and brick all are options for matching the oven to an operation's interior design elements.
Viewing window: Glass-covered openings on the sides of the oven can retain necessary heat while providing customers with a visual of the flames and food.
Hearth Oven Gallery