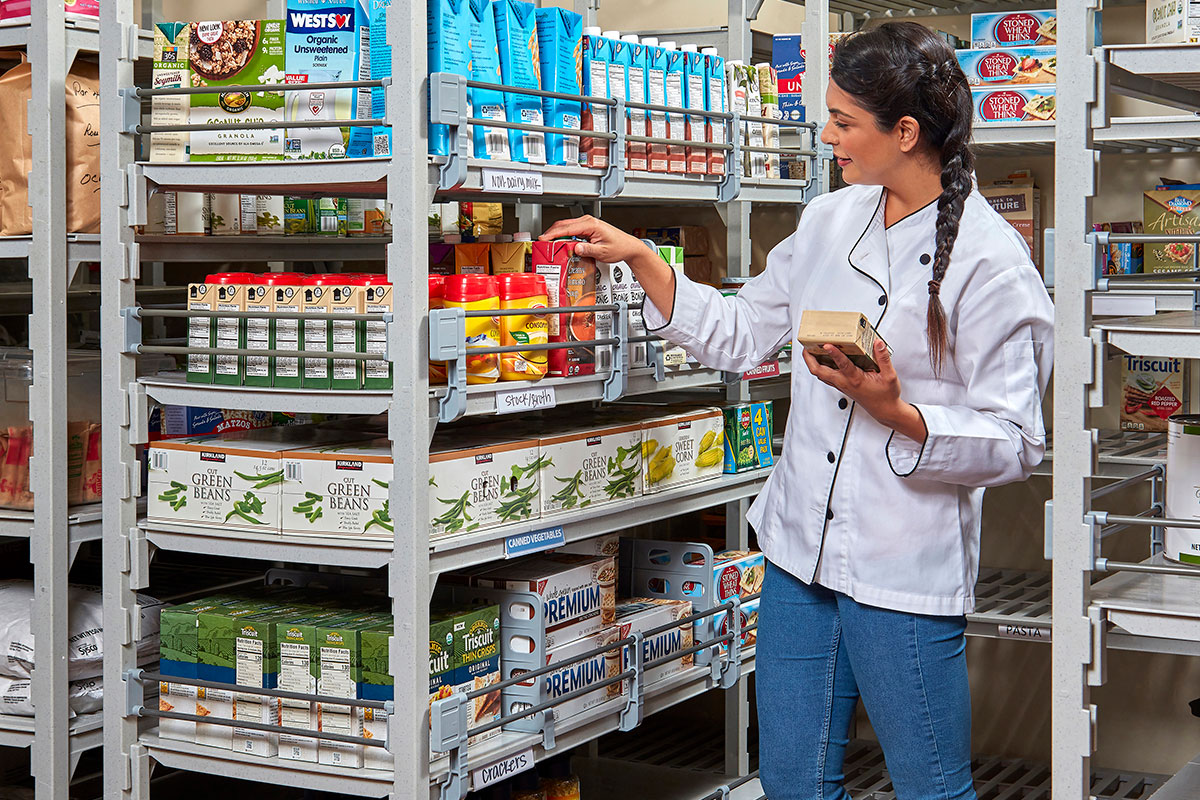 With footprints constantly shrinking, kitchens never seem to have enough storage. It's hard enough to find space in the walk-in when deliveries of produce or fresh meats arrive. But it's just as challenging when dry goods come through the door to find places to store things out of the way or keep them handy when and where they're needed.
Finding space for dry food ingredients, paper goods and supplies can be a lot easier with the right shelving. Manufacturers continue to design products and systems that add more usable storage to existing spaces, organize it more efficiently or put storage in spaces you never may have thought of.
While shelving used in walk-in refrigeration equipment typically has some limitations—it must resist corrosion from humidity and spills, and should be slotted or gridded to allow ventilation— your options for dry storage applications are limited only by your imagination. Just make sure that you buy from a reputable manufacturer of commercial foodservice shelving for two reasons: it will be designed and made for the heavy-duty applications of a foodservice kitchen, and it should bear an NSF seal certifying it's built to safety and sanitation standards.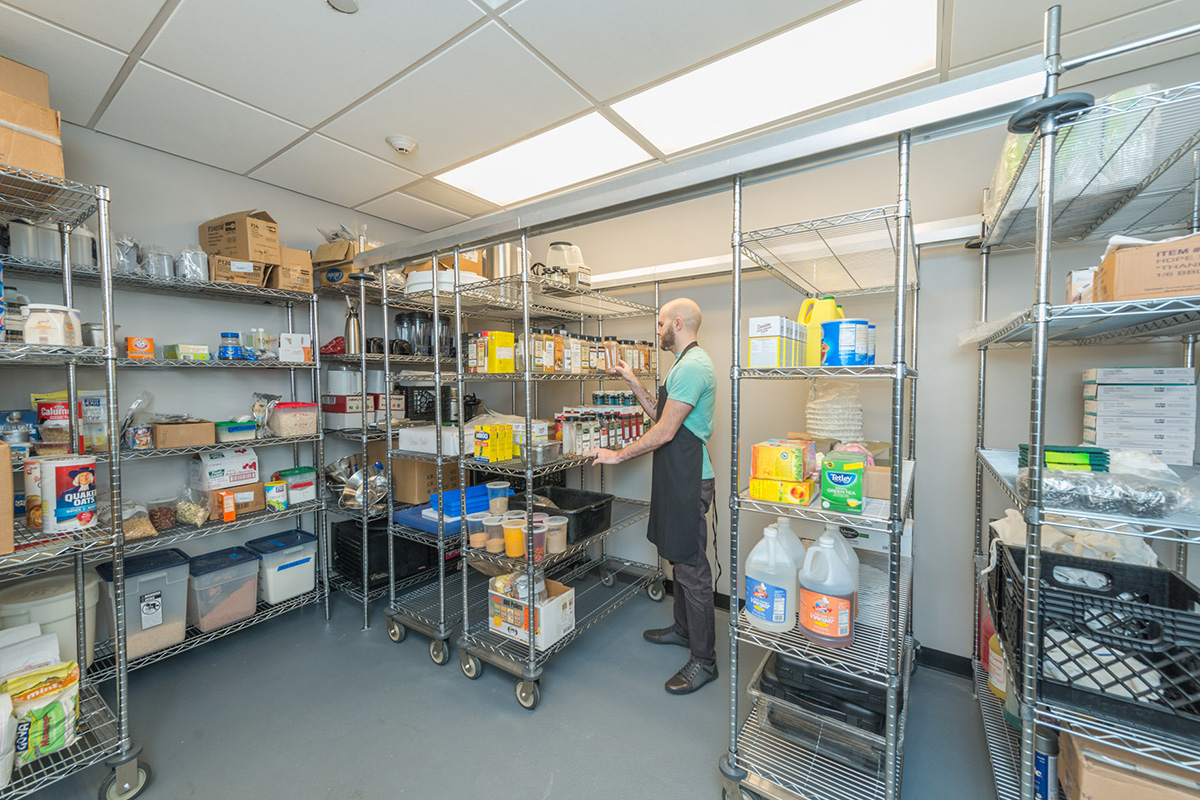 Made to Move
Shelf units can be stationary or mobile. Stationary shelf units have four posts sitting on plastic or metal feet. Shelving on casters is useful where you need to do a lot of cleaning or need to move shelves out of the way to create more space. Stationary shelf units are often used in dry storerooms where there's less likelihood of messy (or wet) spills.
Most shelf systems are adjustable; shelves can be moved up or down on the posts to create more or less room between shelves. Different manufacturers use different locking methods. For example, one manufacturer uses set screws at each shelf corner that tighten it to the post. Many use split sleeves that clamp onto grooves in the posts (set at 1-inch increments), and the shelf corners slide onto the sleeves. Another option uses metal clips that fit into slots cut into the posts. Other makers use some variation of these. For security (in prisons or to lock up valuable items), or very heavy-duty applications, however, you also can get welded steel shelf units, which obviously are not adjustable.
Even if you decide on ventilated shelving, you always can add a shelf mat, creating a solid shelf for small items or products that might spill.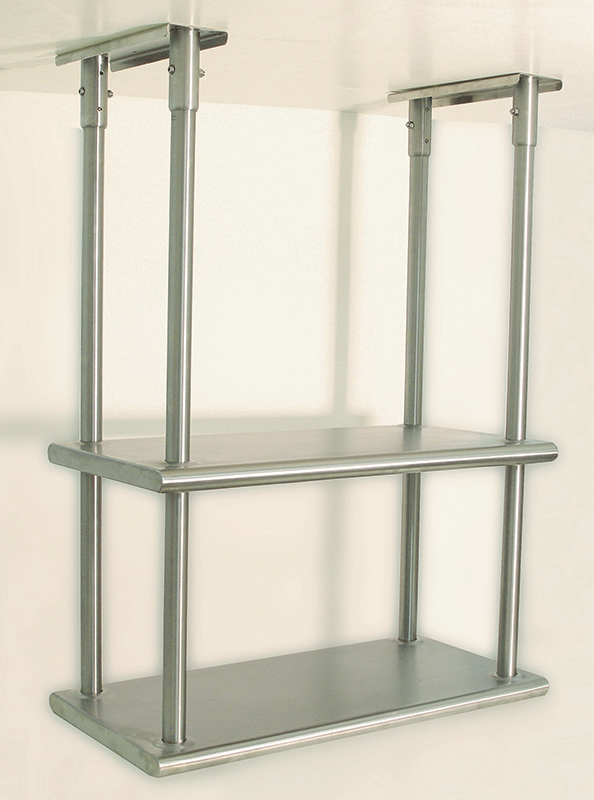 Solid Vs. Ventilated
In general, shelves can be ventilated or solid. Solid shelves are easier to simply wipe clean, so they are more typically used on the prep and cooking lines or where things get messy, like dishrooms.
Ventilated shelves allow air movement to reach whatever's on the shelf, and are typically lighter in weight, making adjustment easier. While ventilated shelves are recommended for walk-ins, they're often found in storerooms or drier areas of the kitchen as well.
Slotted shelving uses slats instead of crosshatched wires, so it presents more of a flat surface while providing ventilation, but like other ventilated wire shelving, it's more difficult to clean than solid shelving.
Even if you decide on ventilated shelving, you always can add a shelf mat, creating a solid shelf for small items or products that might spill (think leaky bags of sugar or flour). Or you can match the shelf grid with a mat in the same pattern that removes easily for cleaning. Usually made of polypropylene, mats also may be antimicrobial.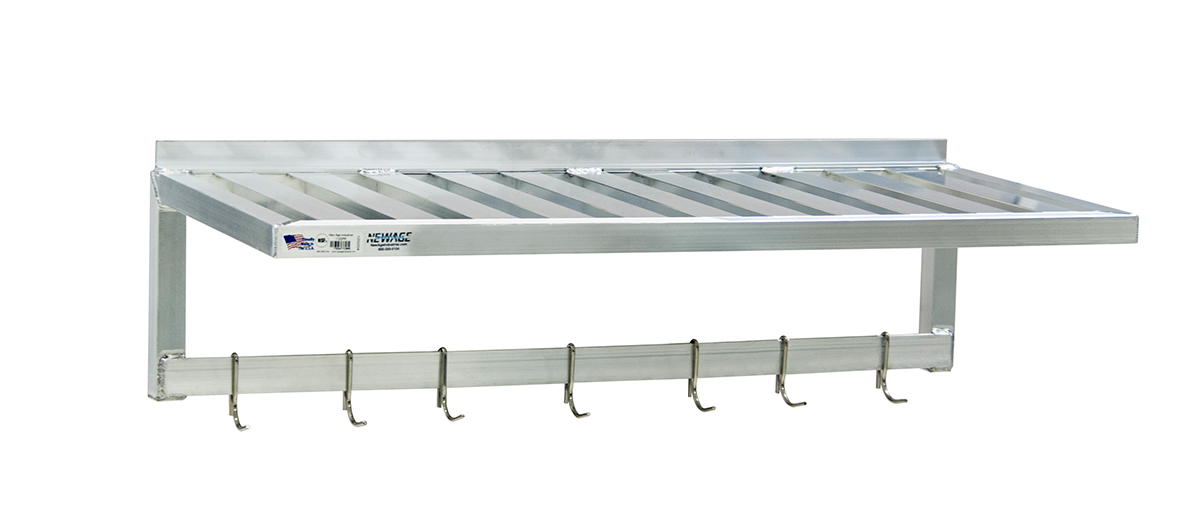 What It's Made Of
The most common for dry storage, wire shelving units are made with a variety of materials. The base metal wire is usually 14-, 16- or 18-gauge, with 14-gauge for very heavy-duty use and 18-gauge in more common applications.
CHROME or ZINC-COATED WIRE shelving is great in dry, heated environments like storerooms, but can corrode or rust in humid areas. Some models are available with a clear epoxy coating to make them more corrosion-resistant.
EPOXY-COATED WIRE shelving is more durable in wet environments, and comes in a variety of colors.
POLYMER- or POLYPROPYLENE-COATED METAL shelving units are as strong as metal units but highly resistant to moisture, even salty sea air, and the shelves can easily be wiped clean or run through a dishmachine.
ANTIMICROBIAL shelves are coated with an additive such as Microban to prevent bacteria, mold, mildew and fungi from growing on the surface. They're helpful in humid kitchens or operations like pizza restaurants more susceptible to this type of contamination.
STAINLESS is one of the most versatile and durable types of wire shelving. Both 304 and 430 stainless materials are used depending on the application (430 has less nickel in the alloy, so is less resistant to corrosion).
COMPOSITE shelving is made with glass fibers (such as Fiberglass) added to plastic material to make it more resistant to chips, cracks, dents and breaks.
POLYMER or POLYPROPYLENE shelving by itself (not as a coating for metal) is lightweight and will never rust or corrode, but is only for light-duty applications.
Solid shelving is available in the same materials noted above.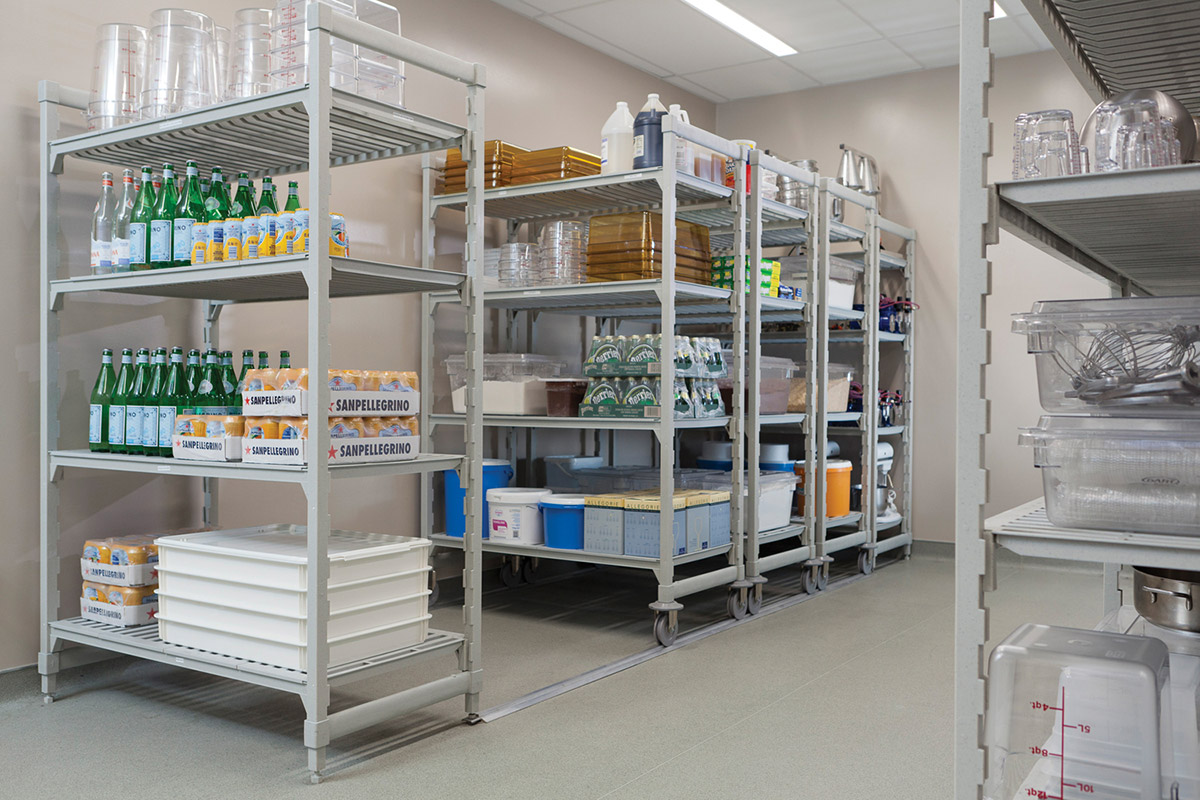 Saving Space
Manufacturers have come up with a few space-saving designs when your operation is short on room for storage.
TRACK SHELVING SYSTEMS put your shelves on wheels in a row, so you don't need aisles. Instead, you create an aisle between two rows when you slide one set of shelves to the side. Makers say it can put the same storage capacity in up to 40% less space. These systems can be bottom-mounted with the track on the floor, or have a top-mounted track, both with stationary shelf units at each end. The former is good for even floors, but the tracks make it a little more difficult to clean, so shouldn't be used anywhere there are lots of spills.
CANTILEVER SHELVING DESIGNS use freestanding uprights at the rear to hold shelves. Makers say the absence of front posts provides 30% more storage space per shelf.
Look for the NSF seal that certifies the shelving meets safety and sanitation standards.
Look Up and Down
When you have no more room in your kitchen footprint to store things, consider putting shelves over prep tables, cooking stations, serving areas, cashier's stations, drive-thru stations or bussing stations by hanging them on walls or from the ceiling. Most manufacturers make these types of shelves, and because of the way they're mounted, they don't take up space where actual work is being done.
Sweat the Details
Little things can make a big difference when it comes to shelving. Do your homework. For example, look for the NSF seal to make sure the manufacturer has constructed the unit to sanitation standards. Next, note how easily the shelves adjust. Shelf height in some shelving systems is easier to adjust than in others. See what fits your needs and applications.
Check for compatibility. Some—but not all—manufacturers' parts are interchangeable. If you're adding shelving or storage accessories, buy from the same manufacturer or make sure the components are compatible with what you have already. Additionally, pay attention to warranties. They vary widely, from 90 days to five years against material defects and workmanship, and from a few years to lifetime guarantees against corrosion.
Measure Twice, Install Once
When you install shelving, particularly in an enclosed space like a storeroom, several factors can affect both length and depth of the shelves you spec. Measure carefully and check for the following:
Baseboards and cornice or coving.
These protrude and can throw off your measurements.
Electrical panels, switch plates and wall outlets.
Shelving should never cover panels; switches and outlets should be accessible and not in the way.
Pipes and drains.
Pipes can get in the way of posts and shelves. Floor drains might sit where you planned a shelf post, throwing it off level.
Ductwork and vents.
Make sure shelving does not get in way.
Aisle width.
Too much shelf depth might leave little room to maneuver.
Product or item size.
A shelf depth of 18 inches may be sufficient in storerooms for boxes, etc., instead of 21 inches or 24 inches. A 12-inch shelf may be large enough over a stovetop to hold plates or saute pans.
---
Shelf Research
Makers offer a wide array of shelving units suitable for storing dry goods and other supplies. Here are some of the latest options: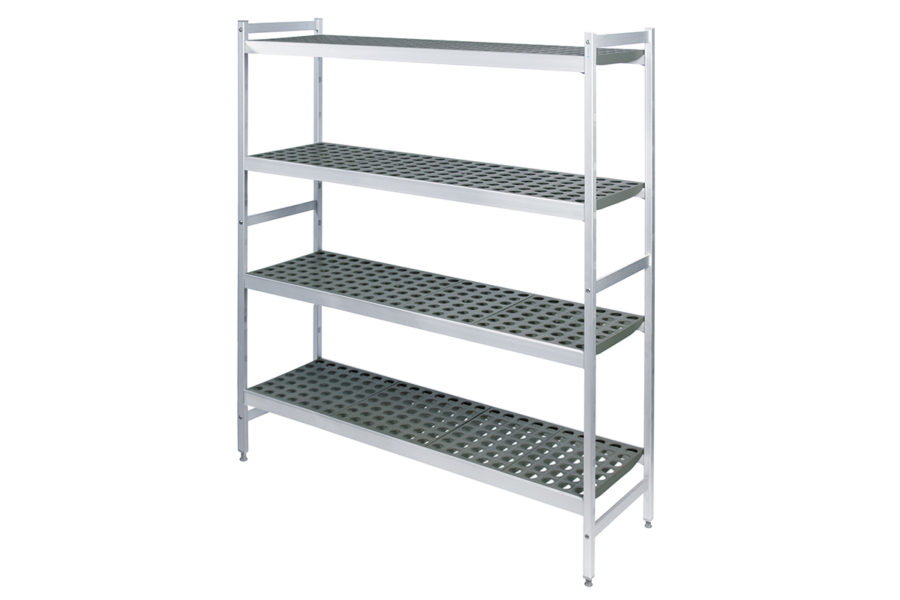 Fermod Inc.
MODEL: 6611 Series
SHELVING TYPE: Modular shelving with vented inserts
MATERIALS: Aluminum, polymer
DIMENSIONS: Varies but typically 47-in.W x 22-in.D x 71-in.H
SPECIAL FEATURES: Inserts are dishwasher-cleanable, open corner and interconnected configurations possible
WARRANTY: Lifetime warranty against rust and corrosion
WEBSITE: fermod.com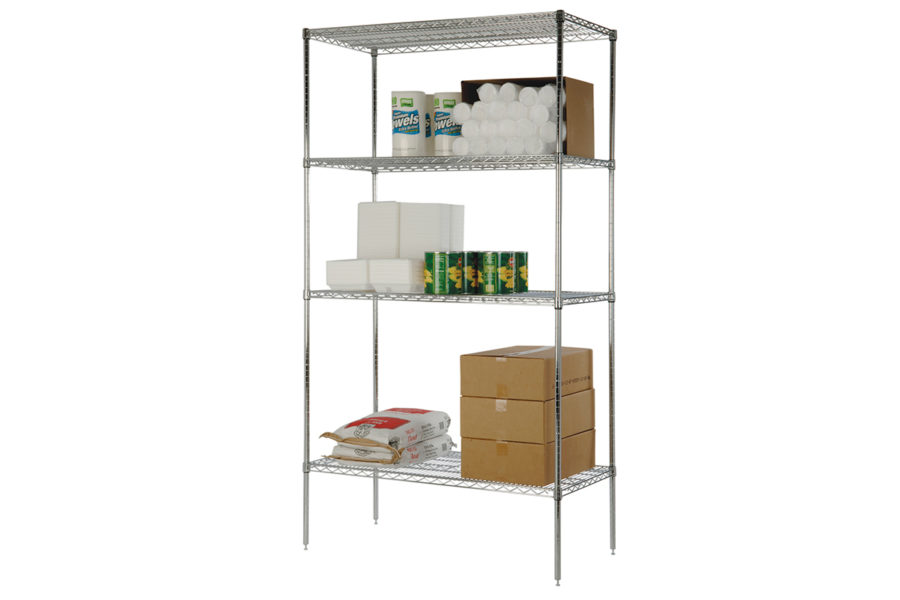 Crown Brands
MODEL: FK244874CH
SHELVING TYPE: Chromate shelving kit
MATERIALS: Steel wire with zinc plating
DIMENSIONS: 48-in.W x 24-in.D x 74-in.H
SPECIAL FEATURES: Kit includes four shelves and four split posts
WARRANTY: One-year limited warranty on chromate finish shelves and posts against rust or corrosion under general condition usage
WEBSITE: crown-brands.com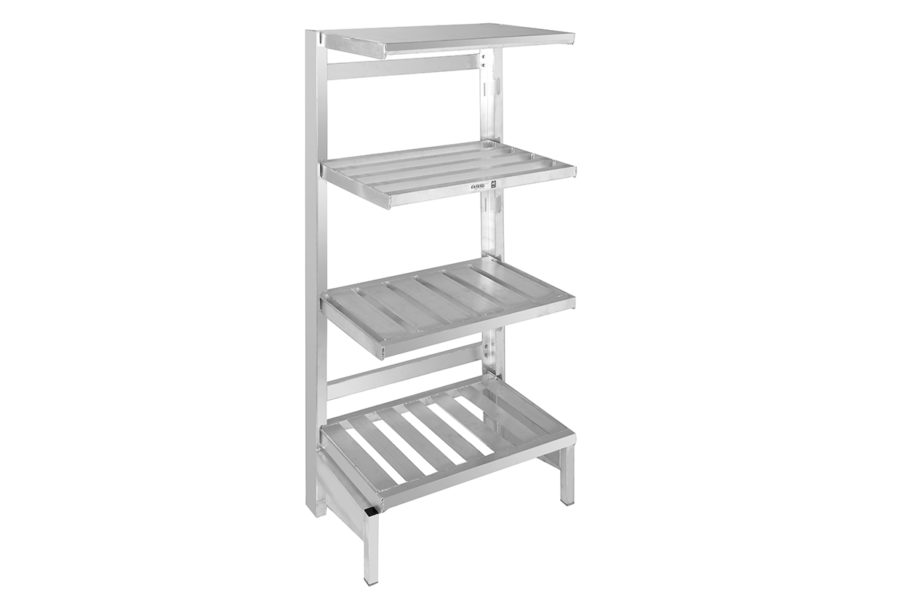 Channel Mfg.
MODEL: SC2036, TT2036, ECC2436 and BA2436
SHELVING TYPE: Cantilever shelving
MATERIALS: Aluminum
DIMENSIONS: 36-in.W x (20-in.D or 24-in.D) x 72-in.H
SPECIAL FEATURES: Cantilever shelving allows for unobstructed storage, stocking and display of product; accommodates 700 lb.-1,000 lb. per shelf
WARRANTY: Five years
WEBSITE: channelmfg.com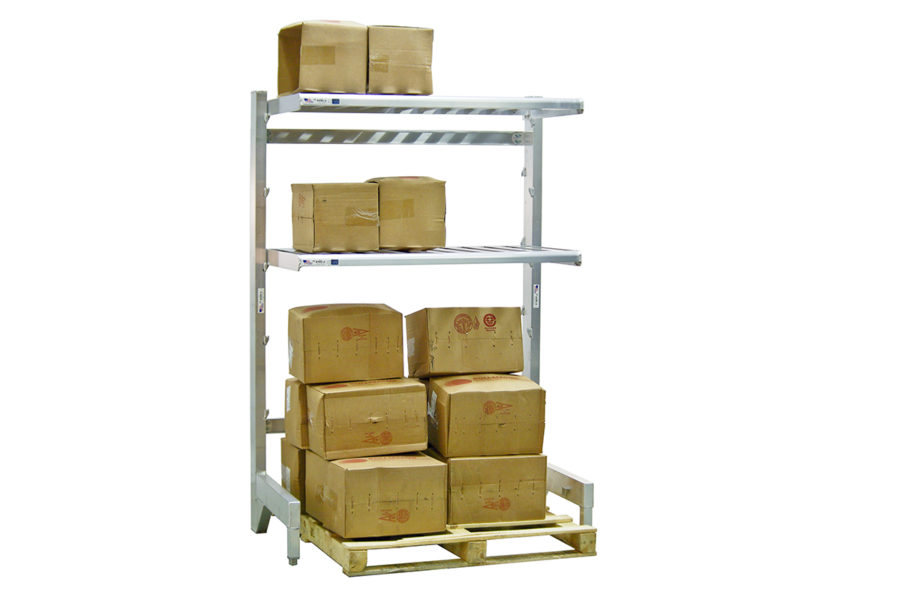 New Age Industrial
MODEL: Quick Change Cantilever Shelving
SHELVING TYPE: Cantilever shelving
MATERIALS: Aluminum
DIMENSIONS: 36-in.W x 18-in.D x 72-in.H (H.D. Bar Shelf Model 2501)
SPECIAL FEATURES: Provides 30% more storage space per shelf because there are no front posts; easy-to-adjust shelves
WARRANTY: Five-year guarantee against defects; lifetime warranty against rust and corrosion
WEBSITE: newageindustrial.com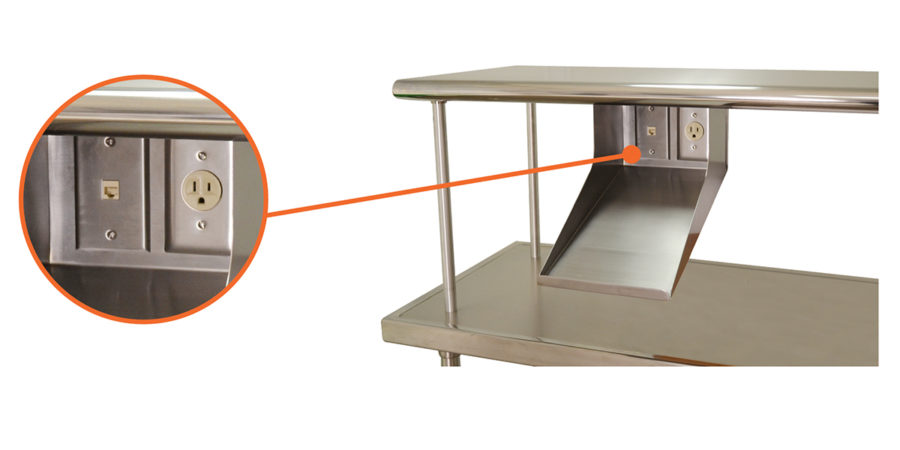 Advance Tabco
MODEL: PRT-1
SHELVING TYPE: Printer shelf
MATERIALS: 18-ga. stainless
DIMENSIONS: About 8-in.W x 15 11⁄16-in.D x 15-in.H
SPECIAL FEATURES: Data port receptacle, electrical receptacle
WARRANTY: 90-day free from manufacturer defect
WEBSITE: advancetabco.com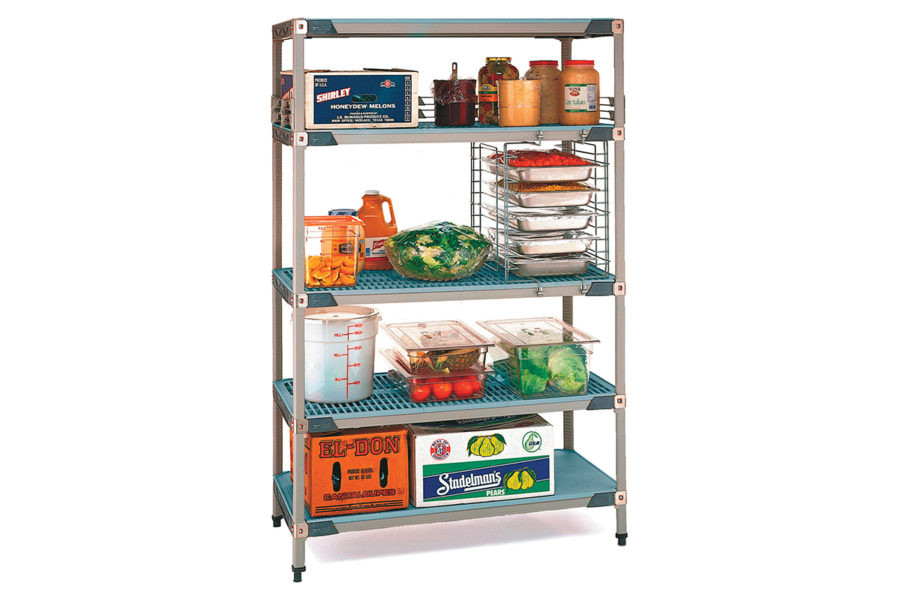 Metro
MODEL: MetroMax 4
SHELVING TYPE: Shelving with removable open grid or solid shelf mat sections
MATERIALS: Polymer
DIMENSIONS: 24-in.W x 18-in.D x 743⁄16-in.H (MAX4- 1824G shelf w/MX74P post)
SPECIAL FEATURES: Built-in Microban antimicrobial protection, easy assembly, adjustable shelves come with smooth, protective surfaces
WARRANTY: Lifetime warranty against rust and corrosion
WEBSITE: metro.com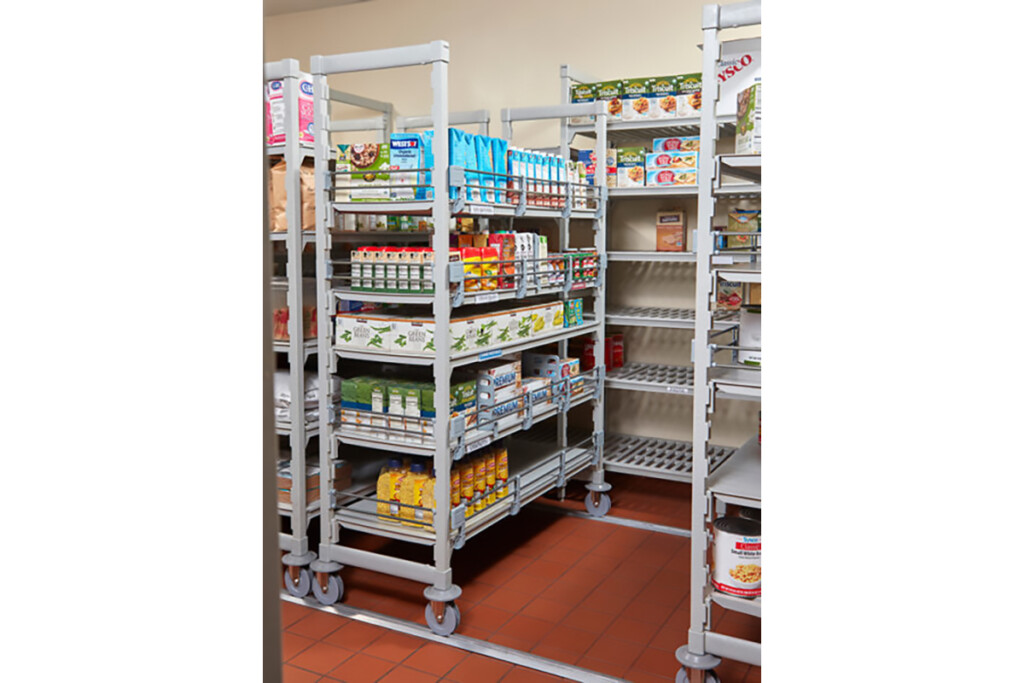 Cambro
MODEL: Camshelving Premium Series
SHELVING TYPE: Track shelving with vented or solid shelf plates
MATERIALS: Polypropylene
DIMENSIONS: (36-in.W, 42-in.W or 48-in.W) x 24-in.D x 64-in.H
SPECIAL FEATURES: System increases storage capacity by 30%-40%; easy-to-install track requires no drilling or gluing
WARRANTY: Lifetime warranty against rust and corrosion
WEBSITE: cambro.com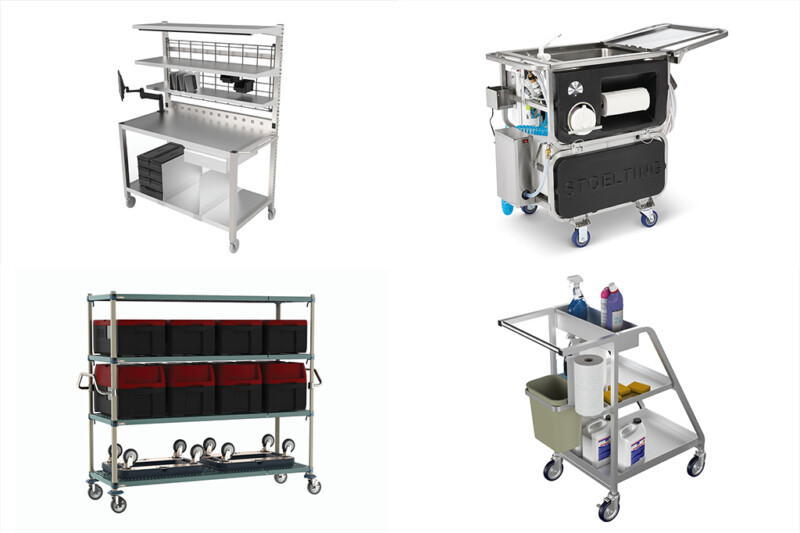 Carts
Today's carts for foodservice meet the needs of operators during the pandemic and beyond.