An Exclusive Look At Purdue University's Renovated Dining Hall
The hall gains new concepts, including a halal eatery and the campus' first full-service bar, while still preserving traditional elements.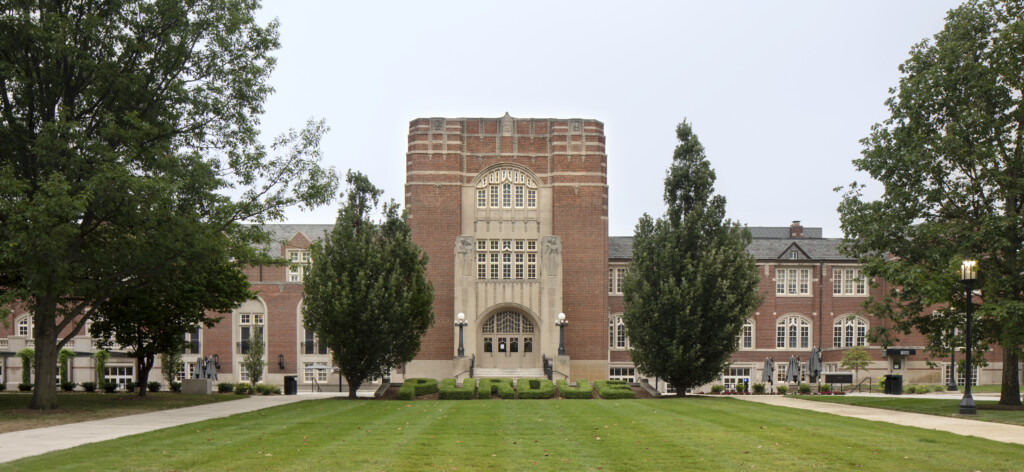 When leaders at Purdue University in West Lafayette, Ind., began planning in early 2020 to renovate Purdue Memorial Union, their vision for its future ground floor was partially inspired by Time Out Market Chicago, a food hall in a repurposed warehouse building on Chicago's west side.
However, PMU's existing ground floor­—with eight dining concepts tucked away a half-level below grade within a maze of walls and support columns, low ceilings and very little natural light—was a far cry from the wide-open food hall. On top of that, it was important to the university that historical aspects of the nearly 100-year-old building be preserved.
Thanks to a team effort between Purdue, Workshop Architects, Milwaukee, foodservice management company Aramark and foodservice design firms Tipton Associates, Baton Rouge, La., and Cini-Little Int'l., Atlanta, the all-new Atlas Family Marketplace debuted in January 2022. The $47 million, 67,000-square-foot space has a whole new look and taste. Concepts include Walk-On's Sports Bistreaux, the first campus location for the Baton Rouge, La.-based sports bar chain; a halal platform with two tandoor ovens in full view of guests; and five concepts developed by Chicago-based Cornerstone Restaurant Group, to name a few. Also on the same level: four performance stages, a fireplace lounge, study areas, 900 indoor seats and (importantly for students) plenty of outlets for charging devices. The addition of outdoor terraces adjacent to Walk-On's provide direct access to the renovated space while adding much-needed natural light.
The Atlas Family Marketplace saw immediate success during its first semester of operations. "Before the renovation, the eight dining concepts averaged 4,700 visitors per day," says Purdue Senior Director of Auxiliary Services and PMU Director Zane Reif. "We now have 12 concepts and are seeing about 8,500 people per day [during the school year], about 85% of whom are students. Between January and May 2022, we had more than a million visitors to the ground floor alone."
Alert visitors will find Purdue's Boilermaker memorabilia woven throughout the marketplace, including original windows and architectural details from the 1924 building construction, and original exterior walls uncovered during demolition. Unexpected touches add interest. A 150-year-old street car rail, excavated near the building, serves as a footrest at Walk-On's bar; a limestone sign, previously positioned outside PMU, was moved indoors to the foot of the main stairs and paired with a stained glass window; and a revamped 1927 campus plan map gained a new purpose as art.
"Our overall philosophy was to create a food hall-type space, with the atmosphere, excitement, variety, freshness and quality of foods," says Darrin Badon, senior architect at Tipton Associates.
And from a design standpoint, "the [foodservice] space had to be a little modern, fun and colorful to contrast with the historic setting around us," adds Liz Dyer Spedale, Tipton's project architect.
In deciding on food hall-friendly concepts, Purdue and Aramark focused mainly on regional brands. The company partnered with Cornerstone Restaurant Group to create five chef-curated kiosks: Chef Bill Kim's, Fresh Fare, Latin Inspired by John Manion, Pizza & Parm Shop and Sol Toro. For Walk-On's, which operates 50-plus locations (with more in the pipeline), the connection came through NFL All-Pro quarterback and co-owner Drew Brees, a Purdue alumnus. Aatish Halal—the campus' first halal eatery that was strongly requested by students—is the creation of Ilias Pappas, CEO of Athenian Grill in Lexington, Ky. Starbucks was already part of the mix and remains a popular destination. Sushi Boss and Zen are run by companies out of Indianapolis and Lexington, Ky., respectively, while the Boilermaker Marketplace convenience store and Barbecue District are Aramark concepts.
Layout challenges, supply chain issues and simultaneous renovations made life interesting for planners, designers and engineers.
Designers' largest difficulty at Atlas Family Marketplace was low ceiling heights, with some areas dipping as low as 8 feet.
For starters, the half-basement setting for Purdue's retail dining posed challenges. "Probably 90% of our difficulties were due to the low ceiling heights (averaging 11 feet, with areas as low as 8 feet), along with the layout conflicts that occur at the ceiling level where HVAC, exhaust and sprinkler plumbing [share space]," Badon says. "The exhaust also had to weave its way up vertical chases to the roof two floor levels above."
One way the team offset the low ceilings in the front-of-house, for example, was by minimizing ceiling elements and using large wall expanses for branding, Spedale adds.
When it came to laying out concepts, the space had a plethora of support columns to work around, leading to patchwork-style platforms with walls in unusual spots. "To overcome this hurdle, we strategically located all concepts and back-of-house areas to maximize sight lines and enable the best way-finding possible," Badon notes.
The pandemic caused more complications. "Equipment lead times went from, say, eight weeks up to 20 weeks, and certain key materials were not available," Badon recalls. "Our contractor did an incredible job of finding workarounds. And Aramark was able to bring in equipment from other locations on campus. In my career, I've never seen those kinds of equipment and materials delays."
One additional challenge: "The project was so large that there were two general contractors and two architects working on [different parts of] the renovation at the same time," Badon says. The larger, overall building renovation was designed by Workshop Architects and constructed by Shiel Sexton, with Cini-Little taking the lead on the back-of-house kitchen design. The smaller dining renovation project was designed by Tipton Associates and constructed by Rycon Construction, with Tipton handling the front-of-house design.
"Teams had to work closely with one another for the project to be completed on time," adds Badon, who said close communication was key.
Creating Flow
The foodservice design for Atlas Family Marketplace focused on making individual stations as self-supporting as possible. The final layout includes two freestanding platforms supporting three concepts each, surrounded by four additional eateries. The platforms include efficient back-of-house kitchens with warewashing, ice and walk-in cooler/freezer space. Starbucks and Walk-On's have their own back-of-house support spaces.
To maximize throughput at each venue, Badon says they held "many meetings to understand the flow of each concept," and used queuing diagrams to show how students move through the space. They also took note of which operations offer customizable food.
Further, to carve out space for additional concepts and increased seating, designers downsized and relocated a large, underused catering kitchen. The smaller kitchen's new spot near loading docks and elevators gives quick access for deliveries within the building and to additional dry storage and walk-in coolers.
During off-peak hours, digital menus display concepts' hours and logos.
To avoid security grilles, the equipment in the front-of-house comes equipped with locks and lockable covers. "This system avoids that half-closed feeling when some concepts are not operating," Spedale says. "Cabinets can lock as well as the doors to the center kitchens. The kiosks are designed for quick-service without a lot of merchandising. Most paper goods are pulled to the back, while everything perishable gets pulled at the end of a shift."
The Lineup
Equipment highlights from some of the concepts include the following:
Walk-On's Sports Bistreaux, the full-service bar and restaurant covering 4,800-plus square feet, serves as the ground floor's anchor.
In a nod to Purdue tradition, the equipment lineup includes blenders needed to serve a popular specialty milkshake created by Pappy's Sweet Shop, which previously occupied the footprint.
The tandoor ovens at Aatish are in full view behind glass walls. By positioning the ovens at the corner of two popular concepts, customers can see the freshness of kebab skewers and homemade naan bread going in and out of the oven. "It's been simply amazing to see the reaction to this concept," Reif says.
Chef Bill Kim's specializes in Asian fusion, especially dumplings and bowls. The equipment lineup of a rice cooker, griddle, pasta cooker, induction range and fryers invite variety. "The menu is always evolving as Chef Kim tests new recipes," Reif notes.
Barbecue District has two back-to-back smokers that use combustible chips to impart a wood-smoke flavor.
A through line in the design of Atlas Family Marketplace is future flexibility. "We wanted each to be unique, but also be tied together visually," Spedale says. "When brands eventually want to refresh, they will be able to do so and still fit into the ground floor's look and feel."
---
FACTS
ATLAS FAMILY MARKETPLACE AT PURDUE UNIVERSITY
WEST LAFAYETTE, IND.

MENU/SEGMENT: College/university foodservice
OPENED: January 2022
CAMPUS POPULATION: 41,000
OVERALL SIZE: 67,000 square feet
SERVERY + BOH SIZE: 18,000 square feet
NO. OF CONCEPTS: 12
SEATING: 1,044 seats (900 indoors)
PURDUE UNIVERSITY: Michael Gulich, director of campus master planning and sustainability; Don Peterson, project executive; Zane Reif, senior director of auxiliary services and PMU director; Luke Versprille, director of PMU facilities and operations; Jay Wasson, associate vice president of administration operations; Rob Wynkoop, assistant vice president of administrative operations
ARAMARK: Joanna Boulanger, resident district manager
FOODSERVICE DESIGN & ARCHITECT: Darrin Badon, senior architect; Kayla Calongne, interior designer; Liz Dyer Spedale, project architect, Tipton Associates, Baton Rouge, La.
BOH KITCHEN FOODSERVICE CONSULTANT: Kip Serfozo, project manager, Cini-Little Int'l., Atlanta
DEALER: Scott May, senior design consultant, TriMark SS Kemp, Pittsburgh
FOODSERVICE GENERAL CONTRACTOR: Rycon Construction, Pittsburgh
MAIN ARCHITECT: Workshop Architects, Milwaukee
WEBSITE: union.purdue.edu
---
EQUIPMENT
Throughout
• Advance Tabco worktables, hand sinks
• T&S Brass faucets
• Cornelius soda/ice dispensers
• Follett ice machines
• Hatco heat lamps
• Structural Concepts refrig. merchandisers
• CaptiveAire hoods
• BSI food shields
Latin Inspired
• True mega-top prep table, u/c freezer, u/c refrig., reach-in refrig. and freezer, refrig. chef base
• Wood Stone gas griddle
• Garland six-burner hot top, cheese-melter broilers
• Frymaster fryers, dump station
• Victory freezer base
• Winston drawer warmer
Sol Toro
• Star tortilla warmer
• True mega-top prep table, refrig. base
• Advance Tabco food wells
• Winston drawer warmer
• Frymaster fryers, dump station
• Garland six-burner hot top
• Wood Stone gas griddle
• Town rice cooker
• Hatco nacho chip warmer
Pizza & Parm Shop
• True refrig. mega-top prep table, u/c refrig.
• Hatco heated shelves
• TurboChef conveyor oven
• Victory freezer base
• Garland double stack convection oven, six-burner hot top
• Frymaster fryers, dump station
• Desco pasta cooker
• Vollrath food warmer
Sushi Boss
• True reach-in freezer, u/c refrig.
• Vollrath induction hot plate
• Everest mega-top prep tables
• Delfield hot food well
• Autec rice sheeter
• Panasonic rice cooker
• TurboChef rapid cook oven
• Perfect Fry ventless deep fryer
Chef Bill Kim's
• True reach-in refrig., mega-top prep tables, refrig. base
• Town rice cooker
• Garland four-burner hot plate, two-burner hot plate
• Desco pasta cooker
• Alto-Shaam combi oven
• Spring USA countertop induction range
• Wood Stone gas griddle
• Delfield freezer base
• Frymaster fryers, dump station
• Hatco hot water dispenser
Aatish Halal
• Wood Stone round tandoor ovens
• True reach-in refrig., u/c freezer, mega-top prep table, worktop refrig.
• Hobart 60-qt. mixer
• Delfield food wells
• Garland four-burner ranges w/oven base, charbroiler
• Cleveland Range 40-gal. tilt skillet
• Frymaster fryers, dump station
• Alto-Shaam hot holding cabinets
Zen
• Panasonic rice cooker
• True mega-top prep tables, u/c refrig. and freezer
• Wells-Bloomfield food warmer
• Rational combi oven
• Bunn tea brewer
• Scotsman u/c ice maker
• Hobart u/c dishmachine
Fresh Fare
• True reach-in refrig., worktop refrig., mega-top prep table, refrig. base
• Winston cook and hold cabinet
• Spring USA countertop induction range
• Hatco cold well
• TurboChef ventless conveyor oven
Barbecue District
• Southern Pride smoker
• Delfield hot/cold wells
• Game Changer smoker oven
• Alto-Shaam hot holding cabinet, combi ovens w/stand
• Frymaster fryers, dump station
• True u/c refrig., reach-in refrig.
Editor's note: Equipment for Walk On's Sports Bistreaux, Boilermaker Market and Starbucks not listed. Also, this story was updated since it appeared in the print magazine.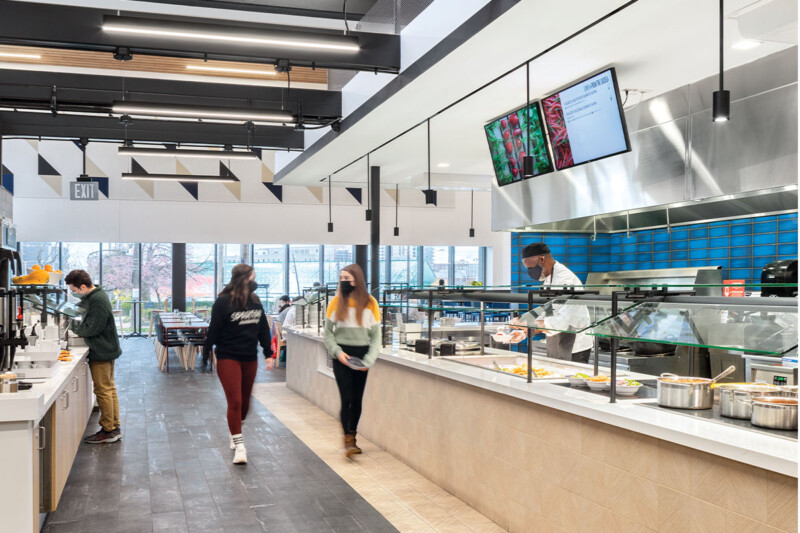 Kitchen Design
At Case Western Reserve University in Cleveland, a $19 million renovation has put Fribley Commons squarely back on the campus dining map. A few things that set Fribley apart in…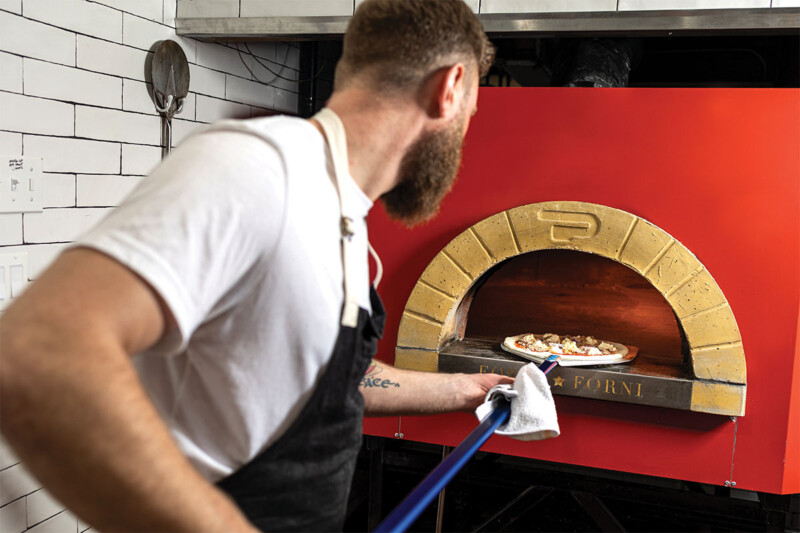 Kitchen Design
When the restaurant formerly known as Francesca's Fiore reopened as Fiore Pizzeria & Bakery, the businesses under one roof tripled. Instead of a full-service Italian trattoria, the new Francesca's sister…