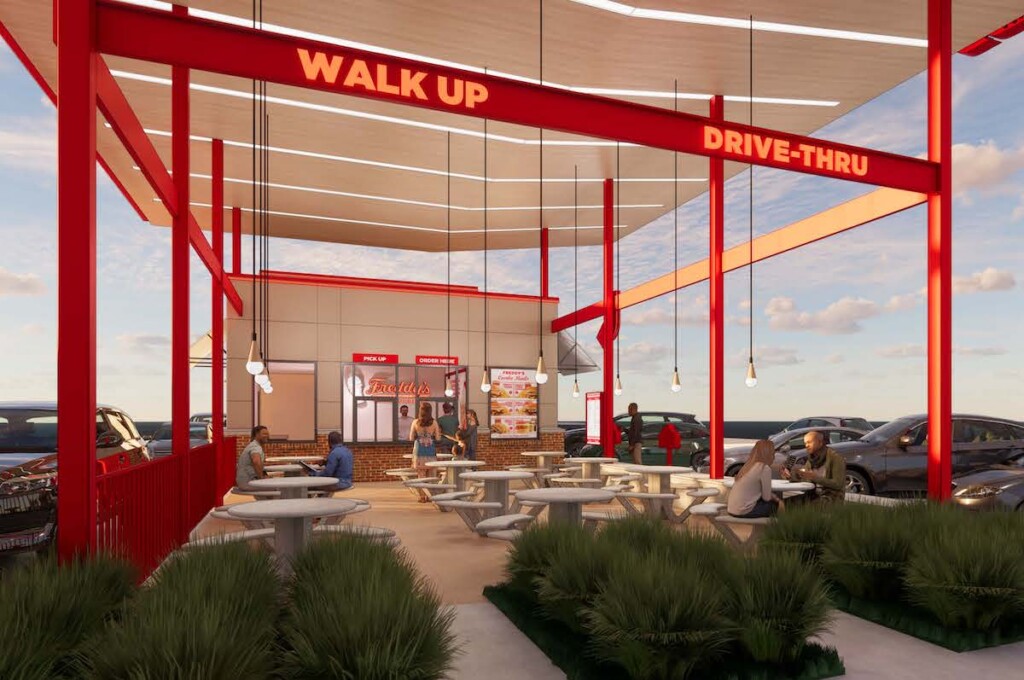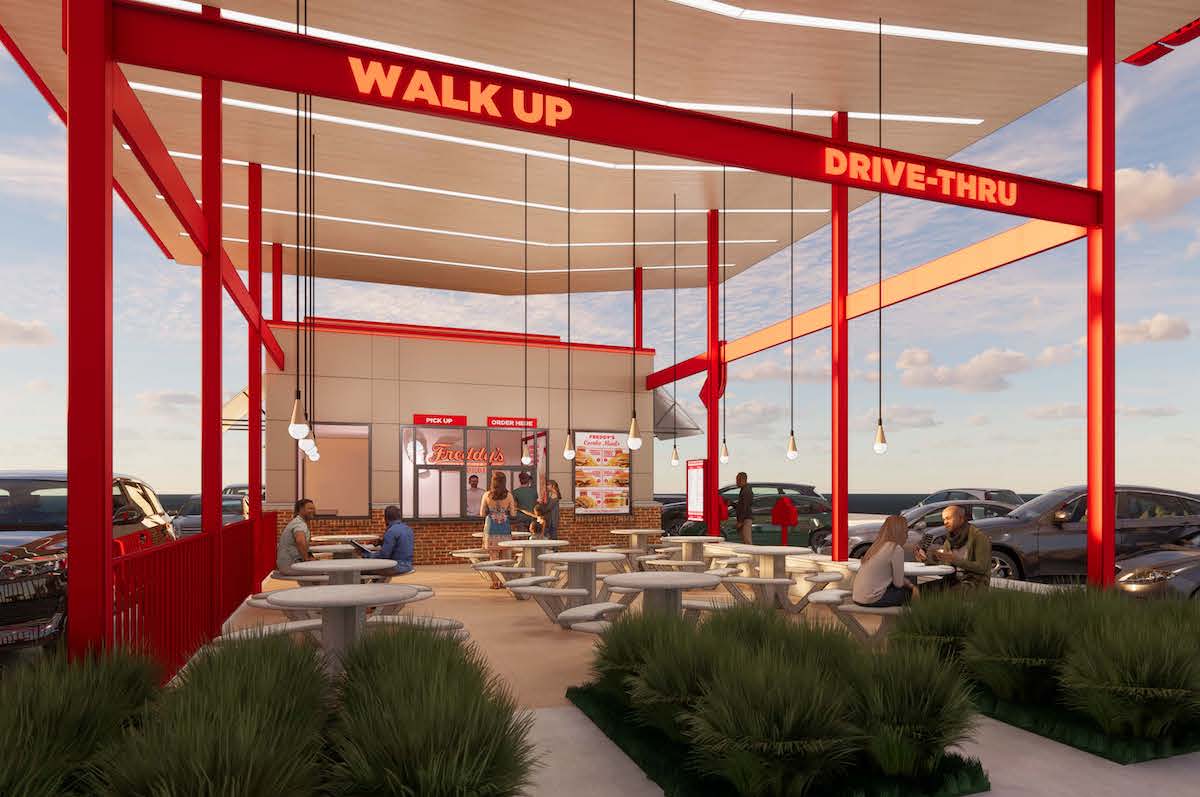 This August, Freddy's Frozen Custard & Steakburgers expects to open its first model without a dining room in Salina, Kan.
Instead, the new concept will feature a double drive-thru, patio seating, parking for curbside pickup and a walk-up ordering station. Freddy's said it conducted a brand study on drive-thru operations and guest habits which informed the new design.
Freddy's expects to open upwards of 45 restaurants in 2021, with future openings set for El Paso, Texas; Durango, Colo.; Florence, S.C.; Streetsboro, Ohio; Lexington, Ky.; and Newton, Kan. The company did not indicate if any of those locations, too, may be sans dining room.
This year, Freddy's also expects to expand to its 33rd state, New Jersey, and to open a nontraditional location in the Wichita Wind Surge Minor League Baseball stadium in Wichita, Kan.—the city where the brand got its start in 2002.
Freddy's was acquired by private equity firm Thompson Street Capital Partners in March, and has since named Chris Dull as its new CEO.
Dull said the new off-premise prototype is "will cater to the growing number of [Freddy's] on-the-go guests who are mobile-minded and benefit from the ease and convenience of this prototype's features."
He added, "This new restaurant design option will fit seamlessly with our existing drive-thru and mobile ordering capabilities."
Though the worst of the pandemic appears to be in the rearview, chains continue to innovate in anticipation of lingering consumer preferences formed amid the pandemic. Some, like Freddy's and Taco Bell are ditching the dining room, to an extent, while others, like Panera Bread, are debuting new prototypes that cater to both indoor dine-in and off-premise needs. And then there's a slew of virtual restaurant brands—even big names like NASCAR are getting in on that trend—that cater to the consumers seeking food delivery while maintaining a lower overhead.
Increasingly, capacity limitations are easing and U.S. restaurants are returning to dine-in service, but, as many chains' recent innovations seem to suggest, the future of dining just may look a little different.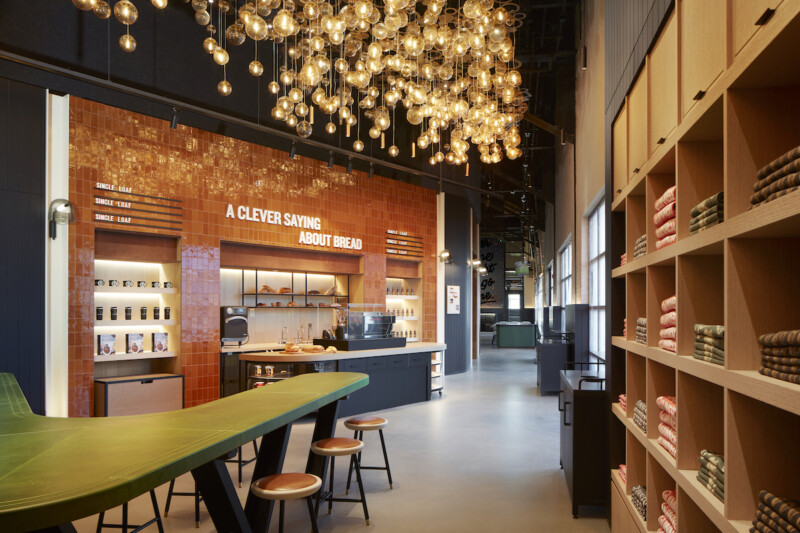 Company News
The all-new Chicago location—complete with a bakery and cafe, restaurant, private dining and more—opens this Thursday, Sept. 28.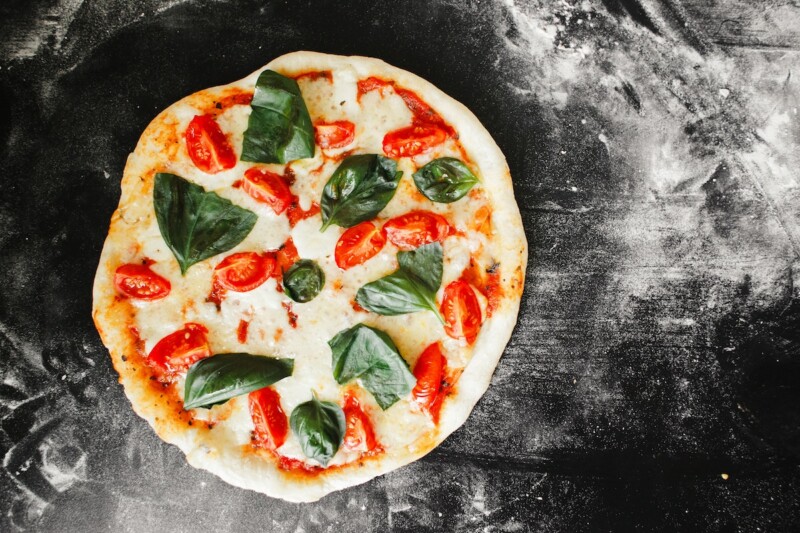 Company News
An online parts store is in development, but service calls can now be requested at the company's website.