This year marks the 10th anniversary of the National Restaurant Association Kitchen Innovations Awards. Mary Pat Heftman, executive v.p., convention and strategic alliances at NRA, along with Alan Plassche and Jeff Berlind, foodservice veterans and KI Awards program co-founders, launched the concept in 2004. Their goal was to strengthen the foodservice equipment category at the annual NRA Restaurant, Hotel-Motel Show.
In the past decade, the program, which recognizes bold advances in equipment and technology, has grown from an original display of 15 kitchen innovations in the back of the NRA Show exhibit hall to an interactive, centrally located pavilion showcasing 24 awardees in 2014.
"It has become a destination at the NRA Show," Plassche says. "Restaurant operators in particular were so thankful that we had collected the innovations in one central pavilion. It saves them time and energy at the show."
The nine independent judges who choose the award recipients are a crucial element of the program, Plassche says. The judges, many of whom have volunteered since 2004, are internationally recognized food-facilities consultants, multiunit restaurant executives and design experts.
"The credibility, expertise, commitment and time they devote to the judging process—it's unbelievable," he says.
Over the past decade, the Internet has played a key role in propelling the program forward. "There are operators who can't get to the show. With the Internet, they can go to the show website and look at the innovations," Plassche says.
The Internet has made a positive impact on the award recipients as well. "Ten years ago, before KI, before the Internet really kicked in, if you were a manufacturer and you came out with a new innovation, it could be years before you got the product in front of a broad segment of the industry," he says. "Now, it's absolutely overnight."
He adds that the program has created opportunities for smaller companies to gain credible, industry-wide visibility. Leading manufacturers have acquired several award recipients over the years.
The 2014 KI Awards program recognizes a fair mix of large and small manufacturers, and the innovations offer an ever-growing range of benefits, Plassche says. Check out the pavilion at the NRA Show, May 17-20 in Chicago.
The 2014 KI Awards judges are:
Dan Bendall, FCSI, principal, FoodStrategy Inc., Rockville, Md.
Martin Cowley, sr. manager, design and standards, Walt Disney Parks and Resorts, Anaheim, Calif.
William Eaton, FFCSI, chairman of the board, Cini-Little International Inc., Germantown, Md.
Robert Forrester, principal, Restaurant Industry Solutions, Emporia, Kan.
Foster Frable Jr., FCSI, founding partner, Clevenger Frable LaVallee, White Plains, N.Y.
Jim Krueger Jr., CMCE, chief, F&B research and business development, Air Force Personnel Center, Services Directorate, San Antonio
Aaron LaMotte, director, Sodexo Performance Interiors, Gaithersburg, Md.
Robert Marshall, v.p., U.S. operations, McDonald's Corp., Oak Brook, Ill.
Kathleen Seelye, FFSCI, LEED AP, managing partner, Ricca Newmark Design, Greenwood Village, Colo.
The 2014 KI Awards recipients are:
Alto-Shaam: CT PROformance Combitherm Oven
This combitherm oven combines multiple cooking functions, including steam, convection and rethermalization, into a single appliance. It delivers an instant boost of heat to accelerate production up to 20% faster than other combi ovens and uses up to 80% less water than conventional cooking technologies. The zero-clearance design lets you place the oven next to any piece of equipment on your cooking line, while a smaller footprint saves valuable floor and hood space. Simple, one-touch cooking on the large PROtouch control makes it easy to standardize food quality and consistency.
alto-shaam.com
BioZone Scientific Int'l.: IceZone X Sanitation System
Compatible with most ice machines, this sanitation system automatically cleans and prevents contamination using ultraviolet light oxidation. The system prevents slime, mold, bacteria, viruses, fungi and yeast from growing on the surfaces of ice machines. An independent third-party test proved it eliminated more than 99% of surface micro-contamination. The system comes with a universal installation kit, requiring 30 minutes or less to complete, and is UL and NSF listed and HACCP certified.
biozonescientific.com
BKON: Craft Brewer
This craft brewer allows baristas to effortlessly target and optimally craft any loose-leaf tea or coffee beverage as well as made-to-order infused cocktails. The brewer is powered by Reverse Atmospheric INfusion (RAIN) technology, which controls the atmospheric pressure variables during the extraction process to draw out soluble flavor elements and natural sugars. The unit brews more than 60 cups an hour and stores 90-plus recipes; the brew chamber self-cleans at the end of each cycle. Franke Coffee Systems Americas, based in Smyrna, Tenn., covers service and warranty on the unit.
bkonbrew.com
Champion Industries/Ali Group: Dry Assist Technology
Dry Assist thermal technology removes excess moisture quickly, speeding dish drying and reducing dish turnaround time. Cool, dry air, introduced through a duct, moves up and through the rack of sanitized wares, removing moisture quickly. The patent-pending technology collects heat and moisture to be recycled back into the rinse water or removed from the room depending on customer preference and machine type. Dry Assist is currently available on Champion's door-type machines and UH330 undercounter high-temperature dishmachine.
championindustries.com
Edlund Co.: KSUV-18 Knife Sterilizer Cabinet
This ultraviolet-light sterilizing cabinet contains a non-filtering, clear, slotted knife holder and mirrored interior walls that eliminate shadows on knife surfaces that could prevent complete sterilization. You can set the timer for up to 15 minutes, but the unit will safely sterilize knives in as few as 3 minutes with 99% efficacy, according to the company. Constructed of stainless, the cabinet holds up to 12 knives and has two larger slots for cleavers. LEDs indicate when the lockable Plexiglass door is closed and sterilization is in process.
edlundco.com
Environmental Products & Services: GreaseShield ECO 1850
GreaseShield is a fully automated grease trap that connects to combi ovens, sinks, warewashers, wok ranges, pot sinks and more with flexible plumbing to collect emulsified fats, oils and grease (FOG). It uses waste thermal energy to keep FOGs liquid so they can't solidify before recycling/discarding. Solid organic waste contained in the FOG effluent is diverted to a dewatering section and collects in a separate bin on the unit. The GreaseShield is self-cleaning.
epas-ltd.com
Fired Up Kitchens: Smoke Zapper
This ventilation system eliminates soot and grease particulate discharged through the flue of a wood- or coal-burning pizza oven (which should be direct-vented), preventing atmospheric pollution and eliminating the risk of a chimney fire. The smoke passes through a water-nozzle unit that filters 95% of particulate matter, which continues into a recycle tank to be discharged with drain water. The purified and cooled fumes then release into the atmosphere as white steam. The system installs on a kitchen wall or on the roof.
firedupkitchens.com
Garland Group/Manitowoc Foodservice: Induction FlexiHob Technology
Ideal for the à la carte kitchen, this energy-saving technology for your induction cooktop automatically reduces power by half when small pans are placed on one or the other side of a single hob. The coils are available in the company's Module Line series with single, dual or quad cooktops.
garland-group.com
Henny Penny Corp.: Velocity Series Pressure Fryer
Compared with previous models, this pressure fryer uses 25% less oil to cook the same 24 lb. of food product in a single load. With less oil to heat, the immersed heating elements recover temperature faster and offer energy savings. The automatic filtration system uses swirling jets of oil in the bottom of the pot to create a vortex that washes food particles down the drain and filters the oil after every load without operator participation. The low-oil volume combined with automatic oil top-off and filtration system extend the life of the oil by at least 300% and provide up to 80% oil savings.
hennypenny.com
Industrial Skins: Bio-Tile Ceiling Tile Application
Adhere this multiple-layer ceiling tile to your existing or new ceiling tiles and, once worn, simply peel away one of the five layers to reveal a contamination-free surface. The process takes about 15 seconds per tile. The recyclable tile eliminates the need for labor-intensive cleaning with hazardous chemicals and reduces landfill waste that results when used ceiling tiles are discarded. Each tile replaces 5 periodic cleanings over the life of the application. In a typical work environment, the company recommends peeling back a clean layer every 3 months.
industrialskins.com
Manitowoc Beverage Systems/Manitowoc Foodservice: Multiplex Blend-in-Cup Workstation
Speed up your service with this automated mixing station for blended drinks. The unit blends a variety of beverages, including fruit smoothies, frappes, blended-ice drinks, cocktails and milkshakes, and directly dispenses each drink into a single-serve cup. The unit rinses the blend chamber after each drink. An onboard nugget ice machine ensures ice supply, and you can add candy bits or other mix-ins during product creation. The base unit accommodates 8 flavor bins, each holding one 2-gal. bag. The intuitive touch-screen control features operating, recipe, inventory, maintenance and data-collection software.
manitowocbeverage.com
Nieco Corp.: BroilVection Technology
The burner system in this broiler captures waste heat and redirects it back into the products being broiled, using both radiant and forced-air convection heat modes to speed cooking. The company's JF62 broiler currently sports the technology and has shown energy reductions of 44% when compared with broiler models not outfitted with the system.
nieco.com
Novothermic Technologies: NVX 2060 Heat Recovery System
Fitting most dishmachines, this self-contained heat exchanger recovers otherwise wasted heat from drained hot water and uses it to warm incoming fresh water, saving up to 50% on water-heating costs. The double-walled unit comes with stainless panels and electronic controls that measure and display savings.
novothermic.com
Ovention: Shuttle Oven
This ventless impingement oven boasts two modes: conveyor and shuttle. During peak periods, when you're cooking a high volume of similar menu items, the oven can operate like a traditional conveyor for maximum throughput. With the touch of a button, you can switch the oven to shuttle mode, customizing the oven temperature, cook time and independent top and bottom blower speeds for individual menu items. The unit stores up to 1,000 menu-item cook cycles on an intuitive one-touch display. Other features include a front-panel cooling system, 3 catalytic converters and a USB port.
oventionovens.com
Pearl City Mfg.: Convection Gas Fryer
This large open-vat fryer continually recirculates oil through a heat exchanger underneath the fry tank, then disperses it back into the tank. This allows for instant temperature recovery even under heavy fry loads. There are no heat tubes or elements inside, under or on the outside of the tank. The unit is a low-oil-volume fryer that achieves 70.6% energy efficiency. It comes with a built-in oil-filtration system for automatic filtering, even while frying.
pearlcitymanufacturing.com
Rational USA: VarioSmoker
This small plug-and-play mobile smoker unit comes as an accessory on almost any Rational combi steamer built since 1997. The unit allows you to cook and smoke meat, fish and vegetables to achieve a natural smoked flavor without having to buy a separate smoker. It works with conventional smoke materials, such as wood chips or pellets, and fits on the top rack of the cooking cabinet.
rational-online.com
Star Mfg.: Holman Impingement Conveyor Toaster
This conveyor toaster combines radiant heat with impingement by recirculating heated, high-speed air over bread and other food products for efficient, even toasting.
star-mfg.com
ThermalRite: CypenVac Technology
This vacuum technology substantially increases the thermal resistance of insulation panels used in blast chillers and other insulated cabinets and, when coupled with conventional polyurethane insulation, reduces energy consumption up to 43%. The technology comes standard on 5 of ThermalRite's reach-in models and is optional on the 3 larger roll-in models.
thermalrite.com
Turbo Coil Refrigeration Systems: Turbo Coil
Several key differences make Turbo Coil unique. Instead of aluminum, Turbo Coils are made from high-quality stainless for a longer lifespan. The state-of-the-art blower system is patented. The unit integrates a breakaway fan assembly that can be replaced with ease as well as a removable/replaceable core. According to the company, this is one of the most significant differentiating factors; when the core fails, most coils—as well as the core—have to be replaced, which can cost more than $1,000. While the average lifespan for standard coils is about 5 years, the Turbo Coil can last for up to 15 years with minor maintenance. The coil is compatible with water, Freon or glycol refrigeration systems.
tcrefsystems.com
TurboChef Technologies/Middleby: TurboChef Fire
Plug in this 70-lb. countertop convection oven and start dishing out artisan-quality, hearth-style pizzas. Heating up to 800°F, the oven cooks 14-in. fresh-dough pizzas in less than 90 seconds. The oven is ventless, so you can place it virtually anywhere without Type I or Type II ventilation. Standard features include top and bottom fan motors, electronic controls with up to 6 timer settings and a removable bottom-access panel for easy cleaning. The double-wall insulation keeps external temperatures 140°F or cooler.
turbochef.com
The Vollrath Co.: Downdraft Vent Module
Functional and aesthetically pleasing, this front-of-house cooking station with 1 or 2 energy-efficient induction cooktops includes a downdraft venting system, integrated fire-suppression system and fire-containment food shield, all housed in either a Vollrath V-Class or Signature Server base. Standard features include 5-in. swivel/locking casters and a food shield with stainless supports. Choose a stainless, quartz, Corian or laminate countertop.
vollrath.com
Vulcan/ITW FEG: PowerFry5 Fryer
This Energy Star-qualified, high-efficiency fryer sports the company's Five-Pass heat-transfer system, which circulates heat 5 times through the oil in the fry tank. Flue exhaust temperatures are less than 500°F with a full load because the heat stays in the oil. The fryer substantially reduces ventilation-hood and air-conditioning operating costs, and its low idle rate reduces gas consumption and saves energy. The SoftStart ignition system helps heat cold oil gently, extending the oil life as well. Solid-state analog, solid-state digital or programmable computer controls are available.
vulcanequipment.com
Wicked Edge: Professional Series Sharpener
Easily maintain professional-grade sharpness on your kitchen cutlery with this angle-controlled knife sharpener. Constructed of machine aluminum and stainless, the U.S.-made sharpener boasts a self-centering knife clamp, along with floating jaws that conform to your knives' geometry. Mount your knife in one easy step. The unit includes a locking storage cabinet.
wickededgeusa.com
Wilbur Curtis Co.: Wireless Freshness Monitoring System
The FMS helps ensure foodservice operations have fresh coffee ready to serve by wirelessly tracking the coffee's hold time and volume in Wilbur Curtis Thermal FreshTrac units and coffee brewers. Now, through a joint venture with Renau Electronic Laboratories, the FMS has applications far beyond coffee. Collecting data from up to 100 sensors on soups, hot and cold foods and other beverages, FMS relays the information wirelessly to a single interface. Communicating with the operator, the monitoring system records HACCP and other food quality/safety processes and records.
wilburcurtis.com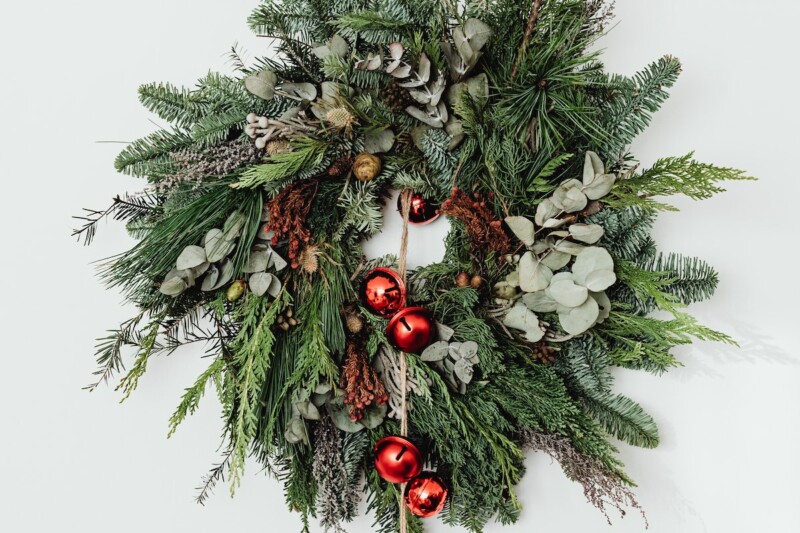 Uncategorized
Very best wishes for a safe and happy holiday season and a prosperous year ahead.