We bring you 10 models in our coverage of double-sided cooking units, both standalone grills and countertop sandwich presses.
Double-Sided Cooker Gallery
Welcome to our coverage of double-sided cooking units, both standalone grills and countertop sandwich presses. During the month of February we invited the top makers of double-sided cooking units to submit products for your review. The companies below sent materials.
Note: Two companies did not to send submissions because their newest products aren't quite ready for unveiling. The NRA Show next month should produce at least two more units that we'll check out and write up in future issues.
For now, take a look at the equipment below. You can also consult our online Buyers Guide for additional suppliers.
Note: Supplier statements are not to be taken as editorial endorsements.
AMERICAN GRIDDLE
Overview: The Steam Shell from American Griddle combines a griddle surface with a closed steam-injection lid for all-over cooking at once.
Features:
Available in 2′, 3′ and 4′ models.

Units come standard with 18″ or 24″ lids, with other dimensions available upon specification.

Max operation temp: 365°F.
Supplier statement: American Griddle's patented Steam Shell technology combines a steam-heated griddle surface with a steam-injection lid system to provide fast, consistent, good-tasting food. The Steam Shell Griddle maintains perfect uniform temperatures across the entire cooking surface, says American Griddle, which means hot or cold spots are never present and results are always the same, regardless of where food is placed on the surface. Plus, with the Steam Shell lid, foods are cooked from the top and bottom at the same time, so they retain moisture and cook times are reduced by up to 50%.
www.americangriddle.com
DOUGHPRO
Overview: The CS1500PA Panini Grill from Doughpro comes with a lifetime warranty.
Features:
Heavy-duty aluminum platens with cast-in heating elements.

Grease trough located in the back feeds to a large grease drawer.

Wiring is run through the handle to eliminate conduits.
Supplier statement: Backed by a lifetime warranty, Doughpro Panini Grills feature heating elements that are built to last. Consistent and even heat throughout the grilling surface is provided by heating elements that are embedded into the surface. A patented hinging mechanism ensures even grilling on products up to 4″ thick. Doughpro says the grills are ideal for high-volume operations because they keep the heat coming during rush periods. The units also feature grease troughs, temperature control knobs and programmable digital timers. Doughpro also offers a high-production two-sided split grill.
www.doughpro.com
ELECTROLUX
Overview: The Panini Grill Series from Electrolux offers models in 10″, 15″ and 20″ widths.
Features:
Stainless steel chassis and front panel.

Cast-iron plates enhanced with a coating of vitreous enamel for scratch and rust resistance.

Plates available as smooth, ribbed or a mixed surface smooth/ribbed combination.
Supplier statement: With the ability to be plugged in anywhere, the European-inspired Panini Grill allows you to turn any available space into a profit area for serving grilled sandwiches, vegetables and more. All models have been enhanced with a completely stainless steel chassis and front panel. Electrolux Panini Grills feature durable cast-iron plates that are treated with verified food enamel to guarantee hygienic cooking conditions and resistance to acids, salts and oxidation processes. The plates on all Panini Grills also have been enhanced with a coating of vitreous enamel, making them scratch and rust proof. Plates are available as smooth, ribbed or a mixed combination.
www.electroluxusa.com/professional
EQUIPEX
Overview: The Panini grill line from Equipex includes several single and double models.
Features:
Fine-grain cast-iron grooved and smooth plates.

Adjustable spring-counter-balanced top.

Detachable front drip tray and scraper.

Even heat distribution through top and bottom plates.
Supplier statement: In addition to offering a wide variety of cast-iron Panini grill models, Equipex also offers vitroceramic Panini grills. Cast-iron models are available in five different footprints and any combination of grooved and smooth surfaces with thick cast-iron platens, which offer heat retention, durability and energy savings. Cast iron allows the grills to reach high temperatures of up to 570°F. Vitroceramic Panini grills can often be used for presentation cooking purposes as well as to offer easier cleaning and portability. Recognizing the growing need for menu innovation and common lack of countertop space, Equipex continues to offer a variety of operator-friendly, energy-efficient Panini grills.
www.equipex.com
GARLAND
Overview: The Garland Xpress Grill was honored with a Kitchen Innovations award in 2009.
Features:
Machine-ground, polished 3/4″ carbon steel griddle plate.

Die-cast aluminum electric top heaters automatically lift and lower.

Separate, programmable controller for each 12″ section.

Available in gas or electric, 24″ and 36″ widths.

Stainless steel front, top and sides.
Supplier statement: With years of experience developing two-sided grilling for quick service, Garland offers the Xpress Grill for high-volume, high-efficiency grilling. The carbon steel plates promote fast recovery and even heat distribution, says Garland, and separate, programmable controllers allow different products to be grilled at the same time. You can choose from natural or propane gas models, or electric in 208V, 240V or 400V (for export). Available widths of 24″ and 36″ allow you to adapt two-sided grilling in both small and large operations. Stainless steel top, front and sides offer years of durability, says Garland.
www.garland-group.com
HOBART
Overview: Hobart offers the HCG Series Convenient Grill in single or double models.
Features:
Fine grain cast-iron grooved and smooth plates.

On/off switch and pilot lights for convenience.
Supplier statement: Hobart grills offer large nonstick cast-iron plates, stainless steel base, durable hinges and springs to keep the top open even after years of use, and a sturdy and flexible power supply cable to the upper platen that ensures it reaches operating temperatures quickly every time. Hobart grills reach temperatures of 570°F. Even heat distribution and fast recovery time give each grill cooking consistency with a quick turnaround, and a built-in timer eliminates guesswork. A detachable front drip tray and dense grain cast-iron grill surface make each grill easy to clean.
www.hobartcorp.com
KEATING
Overview: Keating offers the Top-Side Cooker as an add-on to its Miraclean griddle.
Features:
Height adjustment up to 1½" above the griddle plate.

Comes with a proprietary, USDA-approved reversible cooking sheet made of polymer-coated material.

Built-in electronic thermostat.

Can be installed on gas or electric Miraclean models.
Supplier statement: The Keating Top-Side Cooking head features a patented Miraclean surface made of energy-conserving trivalent chromium. An exclusive nonstick cooking sheet made from a special polymer-coated material attaches to this surface. These sheets are reversible and clean up with a damp cloth. The Top-Side heads cover a griddle surface area of 10½" x 20″, enough to cook eight quarter-pound hamburgers at once and do so in 30 secs. The optional Auto-Lift heads come with a programmable timer for up to three of your most popular products. When the timer beeps, the head automatically raises. Ideal products for the Top-Side cooker include hamburgers, boneless chicken breasts, sausage, bacon, grilled sandwiches, boneless steaks, omelets and hash browns.
www.keatingofchicago.com
LANG/MIDDLEBY
Overview: Lang offers the new PaneBella Fresco Toaster line.
Features:
Cast-iron toasting surface retains heat for high-volume applications.

Temperature range: 200°F to 500°F.

Grooved or smooth surfaces available.

Special cleaning tool provided with grooved units

6′ cord and plug provided
Supplier statement: Freshly toasted hot sandwiches and wraps are growing in popularity. A PaneBella Fresco Panini-style sandwich toaster can enhance menu variety and boost perceived value of your daily sandwich offerings, says Lang, while adding appetizing grill marks. PaneBella Fresco Toaster models are available in single 10″, 14″ or dual 10″ toasting surfaces. The PaneBella Fresco features independent thermostat controls for each side. All models fit perfectly on a countertop with a full-width crumb tray and individually controlled platens for flawless toasting of sandwiches, tortillas, wraps, vegetables and more!
www.langworld.com
STAR/MIDDLEBY
Overview: The newly introduced Pro-Max Sandwich Grill line offers three models.
Features:
Heavy-duty cast-iron or aluminum platens.

Counter-balance hinge system provides safe, easy operation of top platen.

Electronic programmable timer with LED display.

On/off three-position switch.

Thermostat temps: 175°F to 550°F.

Front grease trough and drawer.
Supplier statement: Star's Pro-Max sandwich grills are designed for high-volume use. These grills are used in every market category from fast food to fine dining and everything in between. Available with a smooth cooking surface, ideal for serving quesadillas or a breakfast menu, or a grooved surface to deliver double-sided searing that adds visual appeal while sealing in the natural flavor of meat, seafood or sandwiches. The Pro-Lift hinge requires minimal effort to operate, says Star, plus the design features a true, level floating top platen to provide maximum space and quality toasting performance. Pro-Max Sandwich Grills are available with 10″-, 14″- and 28″- width platens for any size operation.
www.star-mfg.com
TAYLOR
Overview: Taylor offers the Crown Series C810 Electric Two-Sided Grill.
Features:
One-touch menu selection automatically provides accurate time, temp and gap settings for each product.

Upper platens close automatically to the preset gap setting with the touch of a button.

Three separately controlled cooking positions with independent heating elements in the lower cooking surface, two in the upper platen.

Patty cooking position etched into lower cooking surface as a guide.
Supplier statement: The C810 grill offers two-sided cooking with a consistent heat profile across the entire 36″ cooking surface, says Taylor. Once time, temperature and gap have been programmed, the total cooking cycle is as simple as touching one button. Place the food on the grill, press the selected product button and the platen automatically closes and starts cooking. Three independently controlled heaters for every 12″ of cooking width assure fast recovery and cook to the proper internal temperature every time. At the end of the programmed time, the platen opens, alerting you to serve the product.
www.taylor-company.com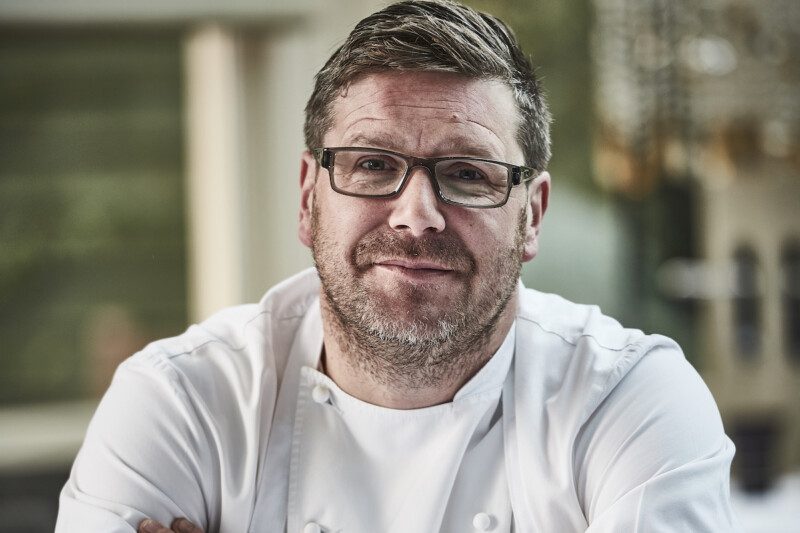 Uncategorized
Esteemed chefs and foodservice industry leaders from the U.K. will partake in a vNEXT virtual event on March 17. The online trade show—hosted by specification platform provider Specifi (whose parent…