FER's 2015 Management Excellence Awards
Six outstanding companies and organizations have garnered the highest level of respect and admiration from a very tough group of critics: their customers. The criteria for selecting the recipients of FER's Management Excellence Awards were developed with the help of extremely knowledgeable manufacturers, operators, dealers and consultants and are very detailed (for a full list of the criteria, contact Robin Ashton at rashton@fermag.com).
The criteria are tailored to each recipient's category: a large and a small chain operation, a large and a small dealership, a noncommercial foodservice operation and a foodservice consultancy. Criteria highlights provide a good idea of what it takes to be selected. In all categories, the nominee must exhibit:
• Honesty, transparency and integrity in dealing with employees, suppliers and customers.
• Deeply knowledgeable management and personnel.
• Consistency and excellence in equipment and supply function execution.
• Consistent revenue and profit growth (where known and applicable).
• Creativity and innovation.
Additionally, the candidate must make a significant contribution to the industry.
Unlike the Young Lion Awards and Industry Service Awards recipients, who are selected by their association boards—the Foodservice Equipment Distributors Association, the Foodservice Consultants Society Int'l., the Manufacturers' Agents Association for the Foodservice Industry and the Commercial Food Equipment Service Association—our Management Excellence Awards winners are nominated and selected by Awards Selection Advisory Boards.
Made up of 34 judges, the boards are separated into three panels: one to choose the chains, one to determine the noncommercial operator and consultancy and one to pick the dealers. Our judges were chosen for their broad experience and knowledge of the players in the segments they were considering.
Through a series of very lively conference calls, the judges vetted more than 30 companies and organizations as candidates for the 2015 Management Excellence Awards. With lots of commentary, justifications, anecdotes and reasoning, the boards agreed on the recipients.
As you read through our profiles, you'll see that our winners—Chick-fil-A, Smashburger, Reitano Design Group, Miami-Dade County Public Schools, Hockenbergs Food Service Equipment & Supply and Rapids Wholesale Equipment—share some common approaches to business. For example:
• The customer—who is not always right—comes first, no matter what.
• We are in a service industry.
• The people who work for us are our greatest assets.
• The people who supply and support us in our businesses are our partners. We cannot succeed without them.
Throughout the interview process, in which our writers spoke to not only the award winners but industry peers who know and work with them, we learned wonderful stories about how these groups operate; we also gained insight into why they are so highly regarded and successful.
They are good at what they do. They understand the importance of bringing all stakeholders into the decision-making process. They are collaborative in their dealings, deliberate and thoughtful in their decisions and passionate about their business; they also embrace the Golden Rule.
They understand that their customers are not just people who buy their products or services, but their own employees and suppliers as well. And they take care of their customers at all costs.
Obviously, these are companies and organizations from which to learn and to emulate. It is intentional that our awards recipients, who come from all of our industry's channels, are selected by boards and judging panels that also represent a cross-section of our industry. All of us in the foodservice equipment and supply business understand the symbiotic nature of our industry: None of our channels can operate or succeed without the others.
We hope you'll enjoy reading more about each of these organizations in the pages that follow. FER wishes to thank all of those who helped with this process. It is so important to recognize excellence.
We hope many of you can join us as we honor the Management Excellence, Young Lion and Industry Service Awards winners at our Industry Excellence Awards Gala during The NAFEM Show on Feb. 20 at the Anaheim Marriott, Anaheim, Calif. For details and to purchase tickets, go to bit.ly/1t96MTW.
Management Excellence—Operator
Chick-fil-A
No. of Supply-Chain Employees: 45
No. of Equipment-Purchasing
Employees: 2
No. of Units: 1,865
2013 Sales: $5 billion
Company Motto: "Be 'REMARK'able."
Anyone who thinks nice guys finish last has never dealt with or worked for Chick-fil-A Inc., Atlanta. An extraordinary company in any sense, from its faith-based corporate purpose to its strong sense of social responsibility, Chick-fil-A fosters a corporate culture that employees and the people who work with the company appreciate.
"We're a very flat organization," says Chase Green, product leader of equipment and smallwares for Chick-fil-A. "From [President and COO] Dan Cathy on down, we understand that our mission—and our culture—among the equipment team mirrors the company's culture. We're all working toward one end goal, and we speak with one voice. There are no silos here."
While the company as a whole serves a higher purpose that is firmly faith-based but also endeavors "to have a positive influence on all who come in contact with Chick-fil-A," the corporate headquarters staff has a more singular purpose: to support the restaurants. "The saying around here," Green says, "is if you're not selling chicken, you should be supporting those who do."
The company's end goal is satisfying customers, and it has encapsulated what it strives for in its motto, "Be 'REMARK'able." Just as restaurant owners/operators strive to provide remarkable food and quality customer experiences, corporate strives to be remarkable in the services it provides to the restaurants.
Improvements in the restaurants' offerings come from ideas generated by owners/operators and corporate staff. Departments meet with operator panels from different regions every month to discuss opportunities and challenges. And internal project teams meet weekly to prioritize what needs to be done and make sure everyone is on the same page.
"Product design [menu, décor or equipment] may be born at the home office," Green says, "but even if a project starts here, we take it to operators to get feedback and capture the impact to operations. And our internal team meetings help prevent silos from forming. Each sub-department has its own responsibilities, and we have the latitude to make decisions, but we have to get consensus from all the other teams to make sure we get it right before we move forward."
Any new idea must go through five "innovation design thinking steps" before it rolls out to the entire system: understand the problem, need or opportunity; imagine what form the solution might take; develop a prototype; validate the solution by testing it in a store, market or region; and plan the launch so the product or service has the support it needs. For example, the company spent 11 years developing the grill it now uses for grilled chicken.
"When we rolled out grilled chicken recently," Green says, "my role was to source the equipment we needed along with any utensils and smallwares, negotiate supplier contracts and so forth. The team approach really helps because we can line up suppliers before we even get to the prototype stage, especially if it looks like the equipment may need customization."
The company challenges suppliers to bring in solutions and works to establish long term relationships with those who do. "We need partners who will tell us when we may be able to avoid problems or meet new challenges or opportunities we haven't even thought of," Green says.
"The company is open to discuss things, whether it's a new product I want to present or concerns they may have," says Ed Wright, national account manager for ITW FEG, Troy, Ohio. "Issues arise occasionally, and they expect us to deal with them, but they're always professional and give us time to fix problems."
While Chick-fil-A works to negotiate the best value for its restaurant owners/operators, the company also understands the needs of its suppliers. "Chick-fil-A is not just concerned with driving great results within the company," says Ryan Kutter, director of strategic accounts for Henny Penny, Eaton, Ohio. "They genuinely care for the [financial] health of their suppliers and understand that we need to be profitable in order to help them. They're crystal clear in their direction and goals and are great at communicating with their partners to ensure we're moving in the same direction."
"They sit down with us to do a review on an annual basis to discuss strengths and weaknesses of the relationship from both their perspective and ours," Wright says. "They really listen."
The company's strong culture serves as a touchstone in its relationships with outside vendors and internally as it grows and adds staff. The company has been opening about 85 restaurants annually for the past few years, expanding beyond its base in the Southeast and Texas to the Midwest and Northeast. That creates a need for additional support staff.
"As we grow, we want to maintain our culture," Green says. "The philosophy here is, 'Hire to retire.' There's a real family atmosphere here. [Chick-fil-A is family-owned and operated.] My responsibility to the people in my department when I'm ready to hire is looking for individuals who will not only meet the requirements of the job but fit well into the team."
Continuity in the way the company conducts business is important to suppliers, too. "Managing a long-term business relationship can be difficult for a purchasing organization or department," Kutter says. "Balancing the loyalty and trust of a legacy partner while at the same time driving for competitive pricing and added value may seem mutually exclusive. Chase—and Mike Walpole [currently manager of supply chain purchasing] before him—execute that balance very well. They do their jobs by challenging us to improve in all ways as a supplier, but they also respect and value the length of our relationship."
"Everybody talks about partnership," Wright agrees, "but at Chick-fil-A, they live it."
Management Excellence—Operator
Smashburger
No. of Employees: 3,000
No. of Units: 300 (160 corporate, 140 franchise)
2014 Sales: $300 million (est.)
Company Motto: "Smashed fresh, served delicious."
While Smashburger's focus on premium "smashed to order" burgers, quality fries and hand-spun shakes has modernized the way people think about burgers, the real success story is the Denver-based chain's behind-scenes insistence on building the absolute best kitchens, supply chains and operational models.
"From the executive team on down, Smashburger has been focused on the food, and that's what sets their burgers apart," observes Chris Kannawin, v.p. of national accounts for The RedStone Group, the Denver-based foodservice equipment manufacturer's rep who has worked with the restaurant company since its inception.
John Elkjer, principal of equipment distributor Taylor of the Rockies, Englewood, Colo., (which supplies Smashburger) agrees. "The Smashburger team looks at their how their systems and processes drive a product, then make sure it's all in sync," Elkjer says. "They analyze how much a new item will cost and how much profit it will bring in. They think everything through to the end, and that's what makes them better."
"Continuous improvement is a constant element at Smashburger," says Smashburger Chief Development Officer David Biederman.
The nearly 300-unit better-burger concept has earned many industry accolades since its founding in 2007. Forbes has consistently tapped Smashburger as one of America's Most Promising Companies; Certified Angus Beef named the company Restaurant Chain Marketer of the Year (Specialty Item) in '14.
Smashburger fans have propelled sales this year to an estimated $300 million, up from $228 million in 2013. Steady demand has fueled expansion as well as sales. In '15, Smashburger expects to open 80 units across the country. For '16 and beyond, the goal is 90-100 new restaurants per year. More than 450 future locations are in the franchisee pipeline.
At Smashburger headquarters, V.P. of Operations, Platform and Engineering Laura Spoor and Director of Procurement and Facilities Cha Nye Farley constantly monitor equipment technology and operations to ensure restaurant operators have access to the best possible equipment.
Few things sum up the company's laser-focus on excellence than Smashburger's attention to equipment detail.
"In the past year, we've changed griddle specifications," Biederman says. "From an operational perspective, the upgrade has made production times about three times faster than before."
Tripling burger production speed meant the rest of the cookline had to be tweaked to keep up. Smashburger did extensive testing with its equipment partners—including recreating a full Smashburger kitchen at a supplier's facility—to reconfigure the cookline for maximum efficiency. Today, "the griddle is part of all new Smashburger locations," Biederman says. "We've retrofitted about 30 of our corporate locations and are offering the upgrade package to franchisees."
These days, Farley and Spoor are working on updating specifications for fryers and fry warmers as well as how the new equipment will integrate into existing kitchens. The "just do it" team culture at Smashburger is so empowering that when they learn about promising new pieces of equipment that could potentially save time and money or increase worker safety and efficiency, they have the items brought to Denver for testing.
Examples of Farley and Spoor's progressive equipment thinking can be found in Smashburger's current choice of fryers, walk-in coolers, beverage stations and even the front-of-house design. Smashburger specifies high-efficiency fryers with built-in oil filtration and automatic rotation to extend oil life and quality and, in the process, make life easier for kitchen employees. The walk-ins feature a smart temperature sensor (instead of the standard mechanical timer), so defrost cycles take place only when needed. "That's eliminated probably 75% of unnecessary defrosts," Kannawin says. The point-of-sale beverage station, formerly an ice bath offering cans and bottles, has been upgraded to a lighted, reach-in grab-and-go merchandiser.
To better track utilities use, Smashburger in '14 tested a web-based energy management system to help pinpoint cost savings. The system, made by EnTouch Controls, Richardson, Texas, focuses on facility HVAC use. The system synchronizes operations across multiple units, controls timing and tracks usage data via a command center that monitors HVAC systems, refrigeration units and lighting around the clock. After the initial test run at two stores in Houston netted significant energy savings, Smashburger will be deploying EnTouch at most of its corporate stores and including it in specifications for new locations.
And, despite Smashburger's relative youth, a complete front-of-house makeover was rolled out in '13 to all stores in their fifth year of operations, rather than the usual seventh year. And the numbers are good. "Customer research showed the guest experience improved by double digits, and the average ticket time fell significantly," Biederman says. "And the overall cost of Smashburger's buildout beat the target cost by 20%."
Given its culinary success backed by solid research and continuous improvements from headquarters, Smashburger has begun to expand into nontraditional locations, such as airports, sports venues and universities. This year and next, Smashburger will have opened in airports in Dallas; Newark, N.J.; Phoenix; Salt Lake City; San Juan, Puerto Rico; and Washington, D.C. Last year saw Smashburger's first casino location open in Durant, Okla.; its first college venue was Texas A&M University, College Station, Texas.
"Our mission is twofold," Biederman sums up. "First is with operations and culinary: to deliver our product the way operators need it. The second is to enable growth through a supply chain that is steady, consistent and state-of-the-art."
Management Excellence—Consultant
Reitano Design Group
No. of Employees: 5
Portfolio Highlights: Ivy Tech Community College, Indianapolis; Indiana University, Bloomington, Ind.; Lancaster City Schools, Lancaster, Ohio; Shawnee Mission Medical Center, Shawnee Mission, Kan.
Design Segments: Schools, Colleges, B&I, Healthcare
Company Motto: "We take care of people."
Ten years ago, Scott Reitano, sr. assoc. FCSI, made a leap of faith. In 2004, Reitano found out his wife was unexpectedly pregnant. He knew he wanted to be around to watch his little girl grow up. So, after nearly two decades as an equipment manufacturers' rep, Reitano walked away from a leadership role and into his own foodservice design firm, now called Reitano Design Group, Indianapolis.
With no previous experience or drafting skills, Reitano decided he could offer something not every foodservice consultancy had: outstanding client service.
"I don't draw lines on paper," he says, "but as a rep I was in a lot of kitchens, and I did a lot of listening."
Reitano wanted to build his business on two principles: being Christ-centered and client-focused. "We strive to work with passion and compassion and to serve our clients in all we do. Our goal is to treat others well and do what is in the best interest of the client in all circumstances. It may sound crazy, but our team is 'all in.' We desire to play at a high level and to evolve our organization, but always with our guiding principles as the cornerstone."
Reitano's principles initially helped him win business in the school market, a segment in which the group quickly built a strong reputation.
"Scott and Reitano Design Group are the only ones doing what they do the way they're doing it," says Lindsey Hill, director of school nutrition services, South Madison Community School Corp., Pendleton, Ind. "They listen to clients, and most importantly, they are very transparent in the recommendations that they make. Sure, certain brands are suggested, but they're based on knowledge and experience, not on relationships or financial advantage to them. And RDG is not afraid to think outside of traditional methods if it means the best experience for their clients."
When the Great Recession hit a few years after Reitano started the company, school projects in Indiana slowed considerably. But his ability to listen helped Reitano and his team expand into other foodservice segments, including healthcare foodservice, corporate dining and higher education. With this, the company's reputation for client service grew.
Martha Rardin, director of nutrition and dietetics, Hendricks Regional Health, Danville, Ind., hired RDG to design a brand new kitchen. "I knew Scott when he was an equipment rep," she says. "I often feel like consultants don't give us enough time, but Scott's company makes me feel like I'm their only client.
"We sketched out on paper a first-in, first-out system of how we wanted food to flow in the new kitchen. Scott listened, talked to staff and observed employees and how our old kitchen worked or didn't work. Then he offered lots of possible solutions, so we could pick what worked best for us. He also went to bat for us in construction meetings regarding both the design and equipment decisions we made. His heart is in the right place, and when it's the right thing to do he's willing to fight."
RDG's entire staff exhibits the same attentiveness and level of service. Everyone on the small staff has a role to play, and they all complement one another. In addition to Reitano, the staff includes Design Principal Jeremy Welu (he recently left the industry), who participated in concept development; Project Manager Jim Kessenich, who puts the project puzzle pieces together; and Julie Sullivan, the firm's project coordinator who leads the budgeting and internal quality-control process. Katie Rogers, a 17-year school foodservice veteran, is the subject-matter expert.
"Nobody owns the job," Reitano says. "Everybody wears a lot of hats, and we're very collaborative, including our clients. We tell clients they're part of the design team, too. We try to involve them at every level."
RDG has partnered with the architectural firm Schmidt Associates, Indianapolis, on several designs. Kevin Shelley, a principal with the firm, echoes what a lot of Reitano's clients have to say.
"What makes Scott and his team unique," he says, "is their leadership attitude toward projects. Service always comes first, and they listen beyond the requirements of the project to serve the needs of the client. We've worked with several consultants, but he's at another level, service-wise."
For example, if he calls RDG and Reitano is out of the office, "the next thing I know, he'll show up on our doorstep and ask, 'How can I help?'"
Reitano's helpful attitude, which grows out of his guiding principles, goes beyond his business relationships. He's also active in local charities, including Second Helpings, a program that rescues prepared and perishable food from wholesalers, retailers and restaurants to create thousands of meals that are distributed to social-service agencies that feed people in need throughout central Indiana.
"Our biggest challenge is keeping the pipeline filled while we give a high level of service to current clients and work on projects we have in house," Reitano says. "The other piece is what we want to be when we grow up. We need to keep an eye on our vision."
As other types of firms, such as equipment distributors and architectural firms, consolidate, grow and offer similar services, foodservice consultants increasingly are becoming niche players, Reitano says. For him, that trend simply emphasizes the need for firms like his that have ethics, high standards and add value.
Management Excellence—Noncommercial Operator
Miami-Dade County Public Schools
No. of Employees: 3,000 in the Department of Food and Nutrition
No. of Foodservice Facilities in District: 351-plus serving 300,000 students
No. of Meals Served Annually: 49 million
Annual Equipment Budget: $3 million-$4 million
Department Motto: "Eating healthy every day."
Some people live for great foodservice equipment. Thomas Holmberg, director of facilities, Miami-Dade County Public Schools (M-DCPS) Department of Food and Nutrition, is one of those people.
Holmberg oversees all of the equipment and supplies purchases, maintenance and repairs, among other duties, for the K-12 school district, the fourth largest in the U.S., which serves 49 million breakfasts and lunches annually through 351-plus foodservice facilities. He leads a group of 41 employees, including 31 transport specialists, who make up the Facilities Department within the Department of Food and Nutrition, which employs 3,000 individuals.
"New equipment excites me," Holmberg says. "I like to keep up with the latest items and be the first on the block to use them and use them successfully. Green initiatives, energy efficiency, cost savings—those things motivate me."
Collaborating with other leaders in the Department of Food and Nutrition, Holmberg, who has been with the district for 21 years, has helped raise the standards for school foodservice.
"School foodservice used to have a bad rap, and we've eliminated that stigma," he says.
Holmberg has designed and spearheaded the launch of a district-wide food-truck program. Colorfully wrapped with images of fruits and vegetables, a food truck enables the department staff to put a trendy twist on serving hundreds of children healthy breakfasts and lunches during the school year. As an added bonus, staff used the air-conditioned truck, outfitted with a grill, refrigerators and prep tables, to feed students when an elementary school lost power in November. Administrators purchased the truck for $185,000 in 2014.
Penny Parham, administrative director of the Department of Food and Nutrition, says Holmberg's leadership abilities and willingness to be a team player resulted in what has become a successful food-truck program. Before buying the truck, the department had rented a different food truck and outsourced a driver and chef to prepare meals.
"We reached the end of the contract after six months, sat down with each other and wondered why we were outsourcing the food truck," Parham recalls. "Tom did the math, laid the numbers out on a spreadsheet and showed us that if we purchased a truck, by the end of a full school year we could pay ourselves back and even make a little revenue.
"It was one example of how Tom takes leadership and develops our bids or our requests for proposals to get us the best service from vendors and to ensure the initiative fits our operation," she says. "A team player, he brought school-district chefs into the truck during the design stage and asked them for help in choosing where to place equipment."
Driven to revamp the district's cafeteria serving lines, Holmberg regularly attends industry tradeshows for ideas. In 2012, he came across a low-lying, curved ice-cream freezer with removable doors and thought it would make for a more attractive, user-friendly beverage case than the stainless milk coolers currently in the cafeterias.
"I spoke to the manufacturers, had them adjust the case temperature from below freezing to 40°F, and now we use about 100 of them throughout the district," Holmberg says, adding that the cases equal less than half of the purchase price of the milk coolers.
"We've also had tremendous success with the refrigerated display cases we put in our newly built serving lines," he says. "They are rear-loaded and sport clear shelves so students can easily see the fruit cups and prepackaged salads inside. They're similar to the display cases you see in delis, so when the kids come in, they feel like they're in a special place." Previously, the team used cold drop-ins on the serving line to hold the products.
The v.p. of foodservice sales and marketing at the company that provided the cases says Holmberg and his team were methodical about understanding the equipment they were considering.
"They were looking at the cases from the eyes of the student—how they would interact with the equipment and what features would improve accessibility and speed of service," the v.p. says. "They were extremely hands-on, and it's refreshing to encounter such passion and care in what they do."
Along with new equipment, Holmberg brings to the department more appealing and less costly packaging for food products. Olga Botero, RD, executive director for the Department of Food and Nutrition, recalls an event in 2013 at Sun Life Stadium, Miami Gardens, Fla., when the department served lunch to 900 students.
"We had to look for a container that could hold all the lunch items, yet still look appealing to the students when they received it at the stadium," Botero says. "Tom found a box that was just the right size and that could keep cold items from deteriorating out of refrigeration. We froze the juice so it would act as a cold pack. Tom even looked for a waxed-paper liner that was not only appealing, like a picnic table cloth, but protected the bottom of the box from moisture."
Behind the scenes, Holmberg recently managed the opening of a call center within the Facilities Department to field maintenance requests from operators. Keeping equipment working at hundreds of foodservice facilities is one of the department's biggest challenges.
"Instead of calling the Maintenance Department directly, operators now call us and we place the repair order and then follow up on it," Holmberg explains. Separate from the Facilities Department, the Maintenance Department has five locations throughout the district. The call center is a way to centralize and keep track of all service calls, and it allows Holmberg to prioritize critical repair needs within the district.
The facilities team also works to replace old equipment. "We had situations where the maintenance crew was going out to repair 35-year-old refrigerators, and I asked, 'Why are we wasting our time?'" he says, noting he ordered $3 million worth of new equipment in 2013. "The bottom line is getting the schools what they need to operate efficiently."
Outside of the district, M-DCPS serves as a founding member of the Urban School Food Alliance, a cooperative buying group, along with the New York City Department of Education, Los Angeles Unified School District, Chicago Public Schools, Dallas Independent School District and Orange County Public Schools in Orlando, Fla.
"Our team wrote the specifications for a compostable plate that the alliance recently bid out," Holmberg says. "We also wrote specifications for compostable cutlery to eventually bid out. Both products support the alliance's 'going green' initiative."
At the end of the day, Holmberg says, the secret to changing school foodservice starts with a positive, effective department and the right leader. "Penny continues to develop a great team and does not hesitate to recognize even the general workers in our department," he says. "She knows how to keep us active, growing and inspired, which in a district this size and with all the politics, is really amazing."
Management Excellence—Dealer
Hockenbergs Food Service Equipment & Supply
No. of Employees: 218
No. of Units: 9
2014 Sales: $145 million
Company Motto: "Insist on customer satisfaction. Period."
Knowledge. Integrity. Thoroughness. Respect. Everyone we interviewed about Hockenbergs Food Service Equipment & Supply—including an operator, two manufacturers and a manufacturers' rep—brought up similar glowing words when we asked about their experiences with the Omaha, Neb.-based foodservice equipment dealer.
Hockenbergs was founded in 1908. But the company embarked on its current path to nationwide prominence when Tom Schrack, Sr., became the majority partner in the business in 1985. Non-stop hard work paired with constant attention to customer satisfaction has kept the family-owned and run company on track to rack up about $145 million in sales in 2014, well above its $82 million in sales in 2010.
In the interview for this article, Hockenbergs President Tom Schrack, Jr., proved the importance of family by including three key people—and relatives: former president and patriarch Tom Schrack, Sr.; V.P. of Purchasing Tim Schrack, Tom Sr.'s son; and V.P. of Contract Sales Paul Parr, Tom Sr.'s son-in-law.
"We are geared 100% toward customer service," says Tom Jr. "Anything a customer needs—changes on orders, special items, last-minute changes right before opening—we make it a priority to satisfy them. Our field teams have standing orders to do what the customer asks."
Valerie Hogan, equipment-purchasing manager for Minneapolis-based Buffalo Wild Wings, agrees; BWW relies on Hockenbergs as a valued partner. "We're moving at a fast pace," Hogan says of the more than 1,000-unit chain. "We're rolling out a new prototype, plus we're expanding into Mexico, and we've got a brand new concept, PizzaRev. That's a lot of moving parts to keep track of. We kept throwing one project after another at Hockenbergs. They accomplished them all on time and accurately.
"I deal with a lot of vendors every day," Hogan adds. "I look for those who add value and who return calls and emails quickly. Hockenbergs earned a five out of five on BWW's annual business review for responsiveness."
Hockenbergs also earned BWW's 2013 Vendor of Excellence award—making them only the second equipment company to receive this honor in recent years.
Hockenbergs supports customers even when they aren't right. "At one job we were working on, the contractor asked our equipment installer to hang up a large sign," Tom Jr. says. "The wall turned out to be too weak to hold the weight, and the sign fell and cracked. The customer asked us to replace the sign. Even though we'd been going above and beyond in the first place, and you could argue that it wasn't our responsibility, we went ahead and replaced it. That's how much we value long-term relationships with our customers."
In another example of going above and beyond, Hockenbergs made up for an online equipment dealer's shortcomings. "We'd supplied equipment to a local restaurant job, and the customer also had ordered some equipment from the Internet," says Tim Schrack. "Turns out, the refrigerator they'd ordered online was not what they wanted. The online dealer was going to charge them restocking, crating and shipping fees to return the unit. When our rep heard about the situation, he offered to take the refrigerator back to our store and give the customer full credit."
"Our employees know they have the support of the ownership to do what needs to be done to support our customers," Tom Jr. says.
Manufacturers also applaud Hockenbergs for their "urgency and passion to take care of customers at any cost," observes Unified Brands President Bill Strenglis (who retired in December); he partnered with the dealer for the past 10 years. "Hockenbergs is a class operation from the top down. They've been a strategic partner with Unified Brands since 2005. The collaboration and amount of transparency between our two companies has been remarkable."
Hockenbergs puts high value on making all of their partners successful, from manufacturer to operator. "One of Hockenbergs' QSR customers learned that a key equipment supplier that made the special prep table they needed had gone out of business," Strenglis says. "The team at Hockenbergs didn't wait for the restaurant company to find a new supplier. Instead they reached out to people in our Randell/Unified Brands line for a solution. We developed and tested a custom prep table for the chain, which was well received. When we started to roll it out to their restaurants, an unforeseen issue developed with a few of the units. Hockenbergs helped us through that and stayed loyal as we came up with a solution. They have a passion for the customer that transmits to all their partners."
Longtime manufacturers' rep Gary Wilbers, a principal of Apex Commercial Kitchen, Kansas City, Mo., values Hockenbergs' work ethic as well. "With Hockenbergs, they seek and use technology as well as anyone to get jobs done—but where they really excel is in follow-through. They won't let the transaction stop until all parties are satisfied."
Employees tend to stay with the company; that longevity helped Hockenbergs survive the economic downturn. "We have a veteran, seasoned staff who've all been in the industry for a long time," Tom Jr. says. "They helped us pull through by working a little harder to get the business. And we had loyal customers who stuck by us."
The tightly knit, family-run equipment dealer also believes in giving back. Hockenbergs' annual charity golf tournament last year raised $27,000 for the American Cancer Society and provided $2,500 in culinary scholarships.
Never one to rest on current laurels, team Hockenbergs has been busy growing in new directions.
"We just launched a new e-commerce site that's been a couple years in the making," Parr says. "And we've opened three branches in the past two years. The newest one opened in Plymouth, Minn., in February '14." Going forward, all signs point to more growth.
Management Excellence—DealerRapids Wholesale EquipmentNo. of Employees: 54No. of Locations: 42014 Sales: $18 millionCompany Motto: "Our customers' bottom line is our top priority."
Rapids Wholesale Equipment's management team understands taking care of their customers starts with taking care of their employees. It's this philosophy that has helped the team—President Joe Schmitt, Executive V.P. Joe Dodds and their spouses, V.P. Geri Schmitt and V.P. Diane Dodds—turn a $5 million print-catalog business that they purchased in 1992 into an $18 million, highly diversified dealership.
Since taking ownership, the management team, which employs 54 individuals, has kept the print catalog and opened contract and design groups at their home base in Marion, Iowa, as well as in Greensboro, N.C.; St. Louis; and St. Paul, Minn., where in 2013, they added their first equipment cash-and-carry facility.
Remarking on Rapids' new business, Jack Lewis, CEO of Mission Restaurant Supply, San Antonio, says he was impressed by how research- and customer-focused the team was when planning its cash-and-carry business. "They came and toured all of our facilities and other friends' facilities, took what they felt were the best parts of what everybody does and opened their own cash-and-carry," he says.
In 2004, the team also launched an affiliate company, Chain Restaurant Solutions, Marion, Iowa, to provide ongoing equipment- and facility-management assistance to multi-unit operators. Most recently, the company enhanced its website by adding among other features—a reordering tool for existing customers to expedite repurchasing of smallwares and supplies.
"We continuously try to evolve our business to meet trends we see coming and to avoid issues we anticipate if we don't change," Joe Schmitt says. "What we had with the catalog business was profitable, but it wasn't going to last for the foreseeable future. As the industry changed, we knew we had to grow the business to stay competitive."
Schmitt says empowering employees to take care of customers immediately has helped grow the dealership. "Sometimes that requires they ask for forgiveness instead of permission when they make a decision," he laughs, noting sales staff often spends a little more to keep a project on schedule and a customer happy. "At the end of the day, they understand it's the customers who are allowing them the opportunity to do what they enjoy."
To groom good employees, the management team commits to ongoing training. "We invest a lot of time and energy in training our folks because to educate them well pays dividends for us and helps satisfy them because they know we're investing in their career development," Schmitt says.
Staff members regularly attend The NAFEM Show as well as the annual University of Innovative Distribution, an educational program focused on wholesale distribution. Currently, 12 employees are preparing for the Certified Foodservice Professional certification through the North American Association of Food Equipment Manufacturers. Ten staff members already have earned the designation.
Additionally, employees undergo training with manufacturers during lunch-and-learn sessions held at Rapids' dealership's offices or by visiting manufacturers' factories.
Michael Whiteley, CFSP, v.p. of sales and marketing for Hatco Corp., Milwaukee, says, "The Rapids team consistently sends people to our factory training school and that has translated into strong product knowledge throughout their organization, leading to significant year-over-year sales growth."
He adds, "Many dealers struggle to send their people to factory training because they say they can't afford to have them out of the office. But those who do make this investment reap strong rewards in terms of product knowledge, customer support and ultimately sales."
The Rapids management team sets aside time to create strategic plans for employees who want to develop their careers. One employee, who currently works as a project coordinator, started with the dealership in the collections group and now wants to learn computer-aided design.
"We're not afraid to reach out to employees who have a desire to improve their lot in life," Schmitt says. "We'll help them set up a path to get there. That's part of what makes us different."
In day-to-day office life, the management team cares for employees by understanding family comes first. Everyone pulls together when someone is out of the office, and they work as a cohesive team.
Schmitt says the team's management style comes from having purchased the dealership in their early 30s while raising young children and without knowing a thing about the business. They gained respect from their employees by asking a lot of questions. "We recognized that the four of us as individuals were not as knowledgeable as all of our employees when we purchased the company, and we've managed that way ever since," he says, noting many employees stayed with the company after they took ownership.
David Stafford, Sr., CEO of Stafford-Smith Inc., Kalamazoo, Mich., works with the Schmitt and Dodds families through the Channel Partners Group Buying Group and considers them good friends.
"Rapids Wholesale seems to operate with a positive ray of light that shines throughout their total organization," Stafford says. "The two Joes and spouses do the heavy lifting in making this happen as demonstrated in the company-wide trust in how they go to market, with each key person providing autonomous control of their responsibility. Their competitive spirit and willingness to be innovative has made the dealership a respected force in their market."
Along with the CPG Buying Group, the management team actively participates in the Foodservice Equipment Distributors Association. Schmitt serves as the association's 2014-2015 v.p. and will step into the role of president in March 2016.
Mission's Lewis was assistant chairperson for the 2013 FEDA Annual Convention when Schmitt served as chairperson. "Joe has a unique way of sitting back, soaking in all the facts and then coming to the right conclusion," Lewis says. "He's a good listener, and I thought his convention was one of the best in years."
By holding employees accountable and encouraging their career growth, the Rapids management team has created a crew of employees that consistently treats customers and manufacturers fairly, resulting in a growing business. "We constantly ask employees, 'If you were in our customers' shoes or our suppliers' shoes, what do you think is fair and reasonable?'" Schmitt says. Being open and honest goes a long way in building lasting relationships.
FER 2015 Management Excellence Awards Selection Advisory Boards
Chains:
Dave Brewer, Middleby Corp.
Mike Whiteley and Lou Anich, Hatco Corp.
Chuck Quinn, Oneida/EveryWare (formerly with Cambro Mfg.)
Jason Prondzinski, True Mfg. (formerly with ITW FEG)
Lyall Newby, Electrolux Professional
Tim Crammer, Henny Penny
Gerry Kenlon, Metro
Rick Caron, Manitowoc Foodservice
Keith Kelly, Ice-O-Matic/Ali Group
Kevin Clark, Standex Food Service
Paul Egbert, The Vollrath Co.
Tom Krisch, A.J. Antunes
Dealers:
Dennis Park, The Vollrath Co.
Mark Pumphret, Hatco Corp.
Gary Dykstra, Manitowoc Foodservice
Rich Packer, American Metalcraft
Mark Brenner, Eagle Group
Tom Donovan, Unified Brands
Todd Griffith, Alto-Shaam
Greg Fischer, Cambro Mfg.
Penny Hutner, Advance Tabco
Jeff Duncan, American Panel
Pat Kill, True Mfg.
Noncommercial Operator/Consultancy:
Rod Collins, Rod Collins Associates
Rob Geile, Ali Group
Keith Carpenter, Wood Stone Corp.
Jack Scott, Alto-Shaam
Terry Hoelle, Franke Foodservice
Nancy Fera, Metro
Teri Brewer, Thermo-Kool/Midsouth Industries
George Campise, Unified Brands
David Ciampoli, MEIKO USA
Danielle McMiller, Structural Concepts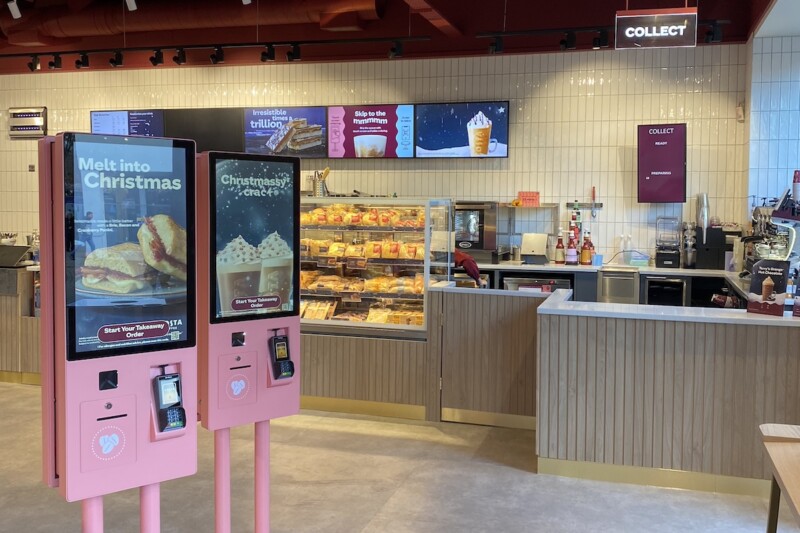 International News
Customers gain ordering avenues, more at the 4,000-plus unit chain's recently updated store in England.