UC San Diego Health, La Jolla, Calif., will add 245 beds to serve the community with the upcoming opening of the Jacobs Medical Center, which will offer advanced surgical, cancer and women and infant care. As a result, the adjacent Thornton Hospital's main kitchen recently underwent a $26 million renovation and expansion to handle the expected 40% increase in foodservice production and storage needed to accommodate patients in the new tower.
The original kitchen on the La Jolla campus, built in the 1990s, served Thornton Hospital as since 2011, when foodservice department staffers produced all patient meals at the health system's Hillcrest campus and then reheated it after transport. Before that, the La Jolla kitchen was a cook/serve operation; the space eventually was no longer adequate to serve the number of beds.
The original kitchen also had existing storage issues, according to Jill Uhlman, Assistant Director of Nutrition Services at UC San Diego Health. "We were cramped with four walk-in coolers, which meant we had to break everything down by dairy, meat, etc.," she explains. "We also had a small freezer space where we couldn't store anything long term. We were constantly thawing food to make room and ordering more." Considering these storage issues—plus the addition of the new tower—hospital administrators set out to upgrade the La Jolla kitchen.
Phasing Construction
"To add the needed space for an operation that serves upwards of 900 patient meals a day, the team had to break through the outer structural walls, so we coordinated with the trades to see how that impacted all the current systems," says Carri Sullens, Senior Associate, Cini-Little Int'l., Los Angeles, who served as project manager.
Although project leaders began planning the renovated kitchen in '09, the design switched gears in '12 when the donors of the new tower expressed a desire for a room-service meal delivery program for patients. Of course, switching from cook/chill to cook/serve meant a total overhaul of food production stations and equipment specifications to facilitate Executive Chef Rodney Fry, who joined the healthcare system in '12.
One challenge the team faced was keeping the kitchen operational during construction, which began in '14 but was broken down into four phases so that the cook/chill program could continue to provide patient meals. Although the team didn't complete phase four until July '16, the kitchen was able to roll out its cook/serve program in October '15.
"We had a two-week period where we were operating both cook/ chill and cook/serve as we transitioned to the room-service model for patients," says Chris McCracken, Director of Nutrition Services at UC San Diego Health.
Thanks to the team at Cini-Little Int'l. and architects at Cannon Design, the renovated kitchen has doubled in size when compared with the original space, comes equipped to handle on-demand cooking, has adequate storage and satisfies a myriad of California regulations.
Cooking On Demand
As part of the new foodservice operation, room-service attendants take patients' orders via iPads that send the ticket directly down to the kitchen. Patients have their choice of a standard a la carte menu of individual pizza options, deli sandwiches, grilled items, soups, salads, four everyday entrees, and eight sides as well as a menu for daily specials.
Lunch and dinner entrees may include blueberry- braised short ribs; grilled swordfish with mango salsa; or hoisin-glazed salmon with apple chipotle chutney, complete with an edible orchid garnish. "One of the biggest things we've done is go more local. Now 50% of our produce comes from within 250 miles of the facility," says McCracken.
Once kitchen employees receive the digital order, the production line operates much like a hotel or restaurant, with an expeditor calling out menu items and cooks preparing nearly everything to order. Employees rely on a range with an oven base, griddle, charbroiler, twin countertop kettles and other key equipment on the cookline.
While McCracken says the kitchen staffers limit how much pre-cooking they do to ensure the freshest quality, they do use a blast chiller to assist in prep work, such as cooling cooked chicken breast for cold salads, freezing bulk soup bases or keeping noodles al dente to add to soups.
"In the new kitchen, there's a whole cookline behind the chef's counter with a roller table opposite it," says Sullens. "The southern wall is where the cooking happens. It feeds onto a chef's table that is adjacent to a roller table."
"The new combi ovens have been huge for us, we use them for everything—for steaming, roasting, baking or broiling menu items," says Uhlman. "Another big help has been the one large bulk-prep area that we use for both the retail-dining and patient-meal cooking." Equipment highlights in the bulk-prep area include the blast chiller as well as a mixer, slicer and food processor.
Once cooks prepare menu items and send them down the assembly line, employees load trays onto carts according to zones of floors and deliver trays within a 45-min.-guaranteed window. Since moving from a cook/chill program to a room-service model in the fall of '15, the foodservice department leaders note, patient satisfaction scores at La Jolla have gone up considerably. The food quality rating increased by 76%, food temperature satisfaction went up 60% and server courtesy is now in the 94th percentile.
State Regulations
California projects work under the Office of Statewide Health Planning and Development, which oversees hospital foodservice and has regulations that are stricter than the health departments, Sullens explains, including a mandate for separate soiled and clean routes for meal-delivery carts.
"As part of the expansion, crews had to build a tunnel between the main kitchen at Thornton and the new tower," says Sullens. "Runners take food-loaded trays through the tunnel and bring back soiled trays through elevators to get to the dishroom that is right off the elevator bank."
As the clean and soiled carts can't cross paths, Sullens and her team had to take extensive measures to keep the areas separate. "The coolest part of the design is how the dishroom splits with one half for soiled and one half for clean. There's even a wall that crews built all the way up to the flight dishmachine. Employees send dirty dishes in one end, they travel through a wall and come out the other side clean. It's unusual—maybe overkill for a lot of places that aren't in California—but a really good solution for projects in this state."
There's also a pass-through cart-wash machine that sends carts through a wall opening from the soiled dishroom into the clean tray make-up area. "In addition, we had to completely separate the dry storage and the coolers by a corridor," she adds, "and there's some cost to doing that."
"That's perhaps the biggest lesson we learned," says Sullens, "to approach such a project with clean/ soiled routes in mind from the get-go. Because trying to create these clean/soiled corridors once you're past schematics is tricky."
In accordance with other California regulations, the renovated kitchen also includes a dedicated deboxing area so that employees can unpack food deliveries, rinse produce (using a Nilma vegetable wash machine), and then break down boxes and send them back downstairs without entering other spaces in the kitchen. Sullens says the state agency also requires the kitchen include enough room for emergency food storage in case of a foodservice interruption, and anchored shelving in case of an earthquake.
UC San Diego Health Thornton Hospital
La Jolla, Calif.
Facility: Main Production Kitchen
Opened: July 2016
Budget: $26 million
UC San Diego Health: Chris McCracken, Director of Nutrition Services, Jill Uhlman, Assistant Director of Nutrition Services, La Jolla, Calif.
Kitchen Design Consultants: Cini-Little Int'l., Los Angeles: Carri Sullens, Senior Associate; Don Beckendorf, Senior Associate (retired); Lily Gin, Project Coordinator
Architect: Cannon Design, Los Angeles
Equipment Consultant/Contractor: Kamran and Co., Santa Barbara, Calif.
KEY EQUIPMENT
Cold Storage
Refrigeration Design Technologies remote refrig. system, evaporator coil
ThermalRite walk-ins
Selecto water filter
Dry Storage
Metro/Ali Group mobile shelving, dry storage, pan rack, dunnage rack
Win-Holt can rack
Utility Refrig. roll-in refrig., roll-in freezer
Receiving/Deboxing/Washing
Advance Tabco hand sink w/soap dispenser
Custom receiving worktable, wall shelf, prep table, utility table, overshelf, pot rack
Detecto/Cardinal bench scale
Nilma vegetable wash machine
Bulk Prep
Manitowoc ice machine, ice bin
Alto-Shaam blast chiller
Advance Tabco hand sink w/soap dispenser
Globe mixer, slicer
Electrolux food processor
Cambro mobile ingredient bin
Ansul remote pull station
Room Service
Halton exhaust hood, UV control panel
Electrical drop cord, printer
Ansul fire suppression system
Cleveland/Manitowoc 40-gal. kettle, braising pan, combi oven, twin countertop kettles, countertop steamer
Convotherm/Manitowoc combi ovens
Jade/Middleby 6-burner range w/oven base, modular griddle, gas griddle, charbroiler, refrig. base
Utility Refrig. reach-in freezer
AutoFry fryer
Frymaster/Manitowoc fryer, dump station w/ heat lamp
Hatco heat lamp
Merrychef/Manitowoc accelerated oven Wells/Middleby hot food unit
Custom plating table, hot food table, beverage counter
Dinex/Carlisle pellet warmer, hot cold transport cart, mobile tray dispenser, gravity shelf cart, refrig. slider table, air curtain refrig., bin cart, coffee cart, heated plate dispenser
Fetco tea brewer, coffee brewer
Win-Holt room service cart
Lakeside breakfast cart, mobile heated plate dispenser
Warewashing/Pot Wash
Alvey cart wash machine
Fisher hose reel
Advance Tabco mop sink
Rubbermaid trash tilt truck
Custom 3-comp. sink, vent cowl, pot/utensil rack, rack overshelf, soiled dish table
T&S Brass pre-rinse faucet
InSinkErator/Emerson WasteXpress system
Stero/ITW FEG flight dishmachine
Metro/Ali Group dish dolly, rack dolly
Throughout
Rubbermaid trash containers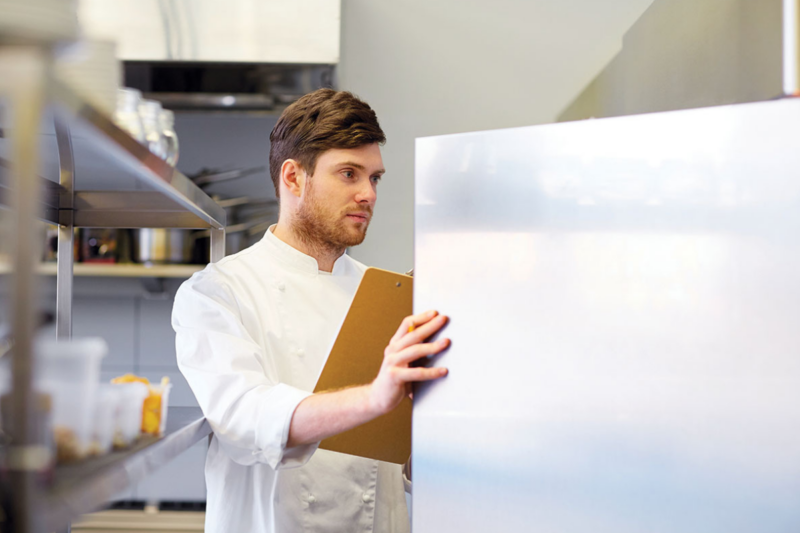 Uncategorized
RSI's Mark Montgomery's persistence and patience is key in repairing an operator's failing reach-in cooler.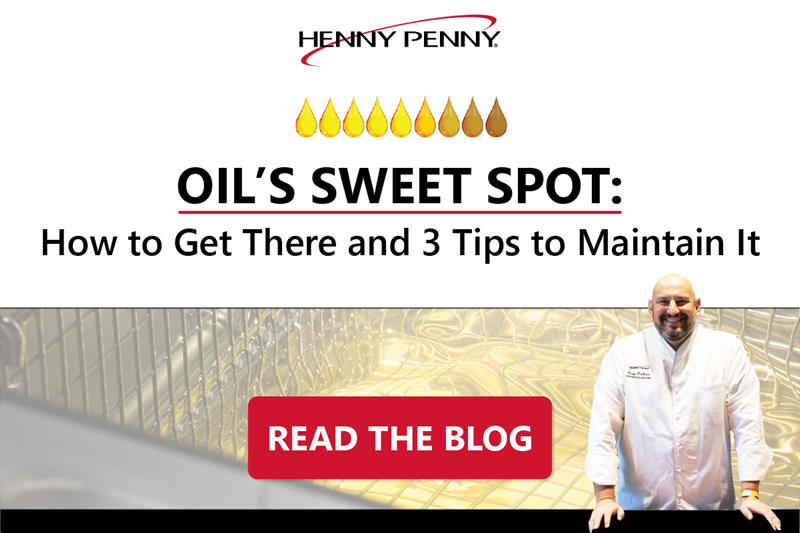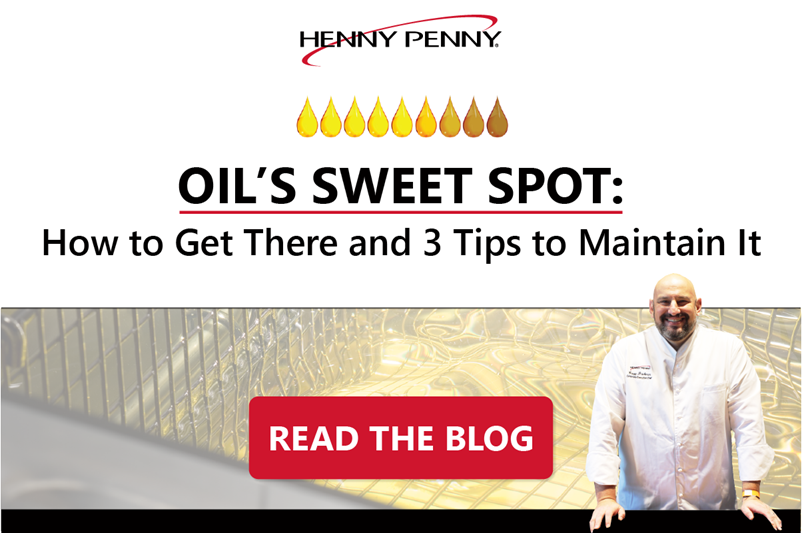 Uncategorized
Like many in the world of foodservice, you may assume that cooking oil performance is at its peak when you first start using it — but did you know there...