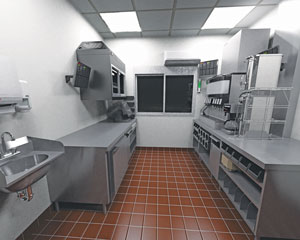 Drive-thru interiors pack a lot of foodservice action into a small footprint. To learn what equipment goes where in a well-designed drive-thru, we called on specialty fabricator Franke Foodservice Solutions, Smyrna, Tenn. Jonathan Hood, V.P.-Strategic Solutions, says, "create really organized layouts and keep everything off of the countertop, like your own kitchen. Everything should be in its own place." And, "always save steps—and subsequently, time—where you can." Hood recommends even video-monitoring what employees use to assemble orders and then adding equipment and supplies to match those needs. Plus, avoid anchoring most things because menu demands constantly change. By paying attention to workflow and ergonomics, you'll create a high-speed drive-thru with productive, comfortable employees, and ultimately, satisfied customers.
Wall-mounted bottled-beverage refrigerators, as well as monitors and shelving, maximize vertical space.
Equip the drive-thru station with a small hand sink so that employees can use it frequently. Keep it clear.
Put in undercounter refrigerators or freezers to store milk, ice cream, salads and desserts.
Devote space to condiments, cups, lids, paper bags, etc.; everything must have a place and all supplies must be easy to access. Leave countertops free of clutter.
Specify an ice machine, not a bin. Refilling a bin is disruptive and delays service.
In a one-window situation, face the POS system toward approaching customers. In a two-window set-up (shown) where cash exchanges at the first window and the second window is food pickup only, face the beverage station in the direction of customers.
Consider ergonomics when situating monitors. A poor angle leads to employee discomfort.
Put popular condiments close to the window for easy access.
Opt for a very good-quality window that is hands-free, secure and provides ample visibility. Install an air curtain to keep interior air conditioned and to keep out pests.
Dedicate one employee to the beverage station during peak periods; a second employee typically can grab and bag foods and handle customers.
Run power, soda or water lines through a chase so you can easily make changes in the future.
Build trash into the station rather than taking up space with a trash can.
Staging areas for foods and beverages are key. Keep employees at their station by placing everything in reach.