Anatomy of a Well-Designed Dock
A residence hall's dock meets a university's demands, from recycling to security.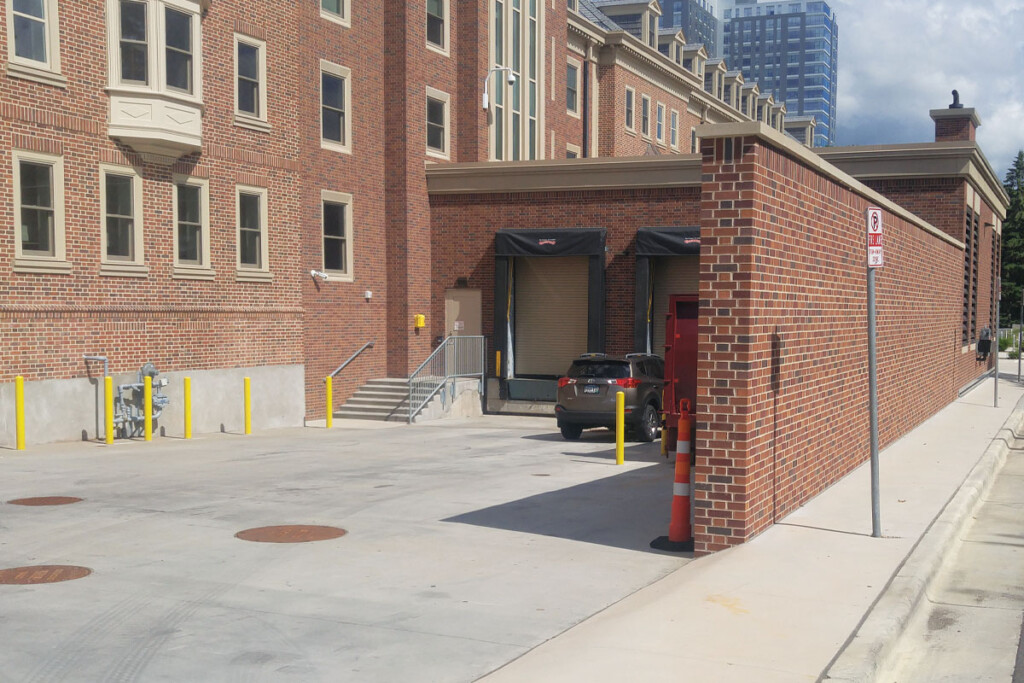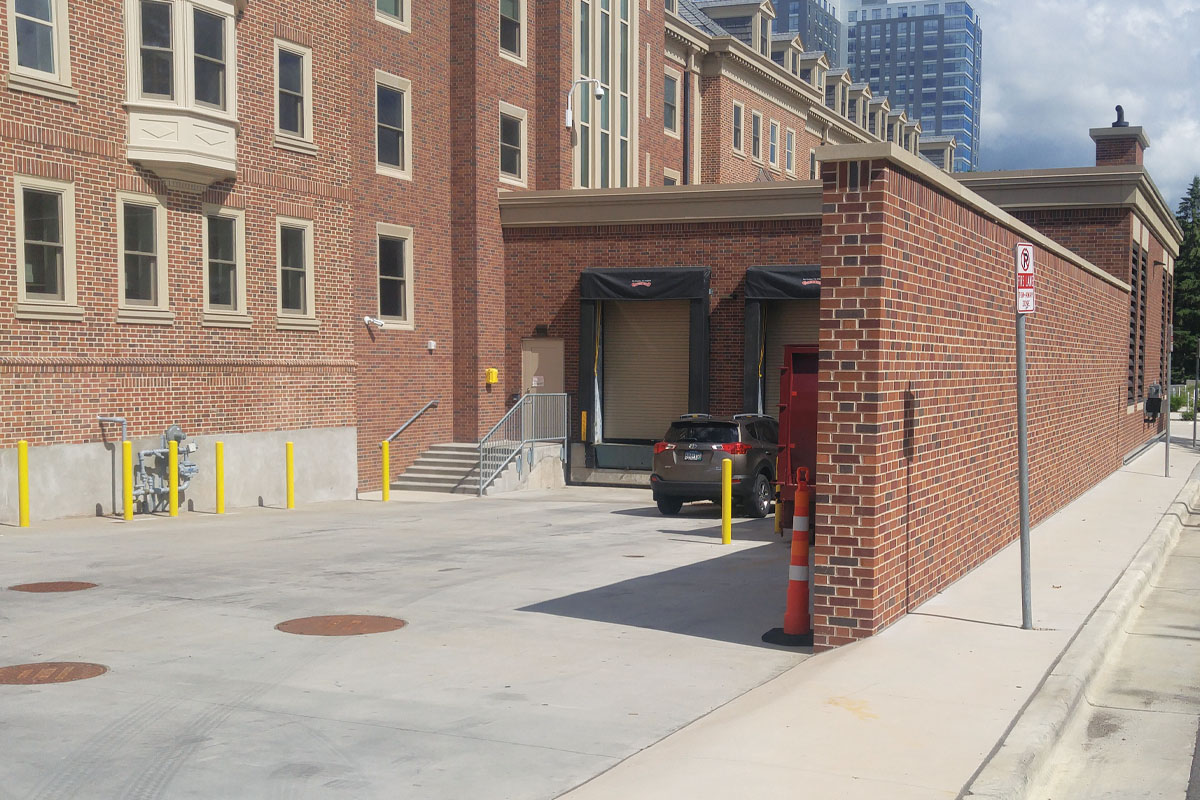 A loading dock's ability to take in food while sending out various waste products in a safe, efficient and discreet manner is especially crucial when the facility is a multiuse operation, such as a residence hall, hospital or hotel.
Pioneer Hall, the newest and largest residence hall at the University of Minnesota, Minneapolis, serves (prepandemic) about 2,800 students daily. Supporting operations for this massive building is a state-of-the-art loading dock.
Dock design advisor Nelson Hard, U of M's assistant director of contract management, took into account the space's storage needs (for pallets, carts, bins, dollies, hand trucks, compacter, empty delivery containers, etc.); flexibility requirements (to be able to accept various delivery truck sizes in a way that saves time for delivery drivers and department employees); and material-handling demands (to promote worker safety, food safety and overall security).
U of M's commitment to recycling also impacted design and equipment choices. This commitment led to the inclusion of a cardboard baler, bin-washing station and climate-controlled compost holding room, among other things.
Supporting the dock's layout are dock protocols and exterior traffic flows. "In multiuse operations such as ours, protocols must be developed to determine who does what [when]," Hard says. "Setting up protocols for safe, separate flows of incoming product versus outgoing waste is critical."
The campus's urban setting required planning adequate space for trucks to maneuver and enhanced security features.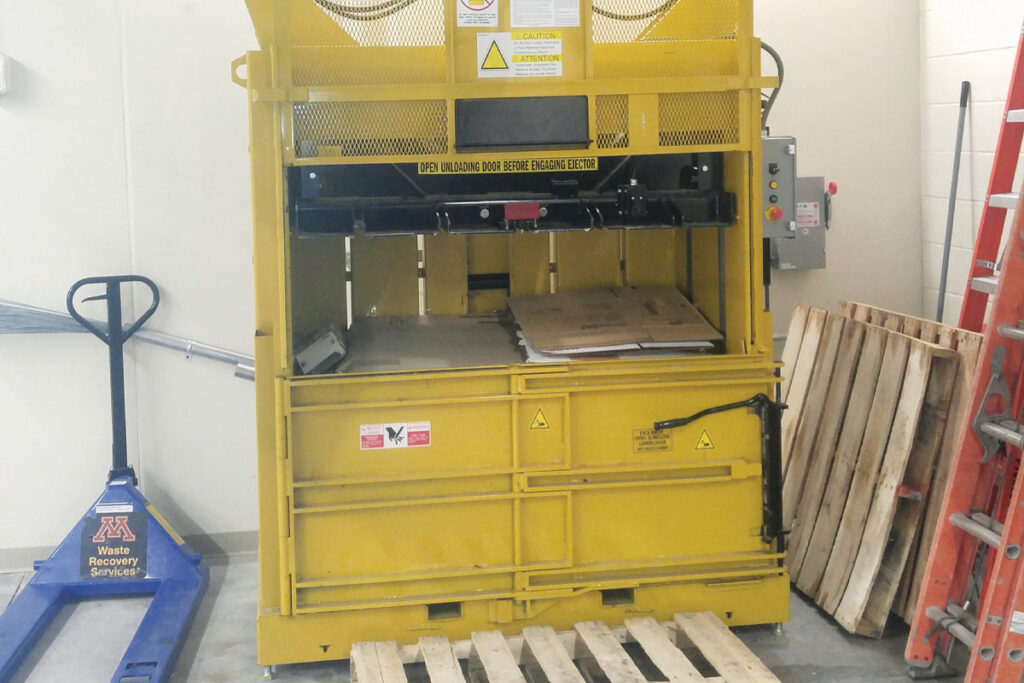 FLATTENING CARDBOARD BOXES
The university's commitment to recycling led to the inclusion of a cardboard baling machine, which compresses boxes into bales weighing up to 180 lb. Employees place bales on pallets and move them with a pallet jack to the front of the dock for the recycling truck. "Probably 90% of the cardboard comes from dining services in this residence hall," Hard says. Installation tip: A baler needs ceilings high enough to accommodate its hydraulic press.
---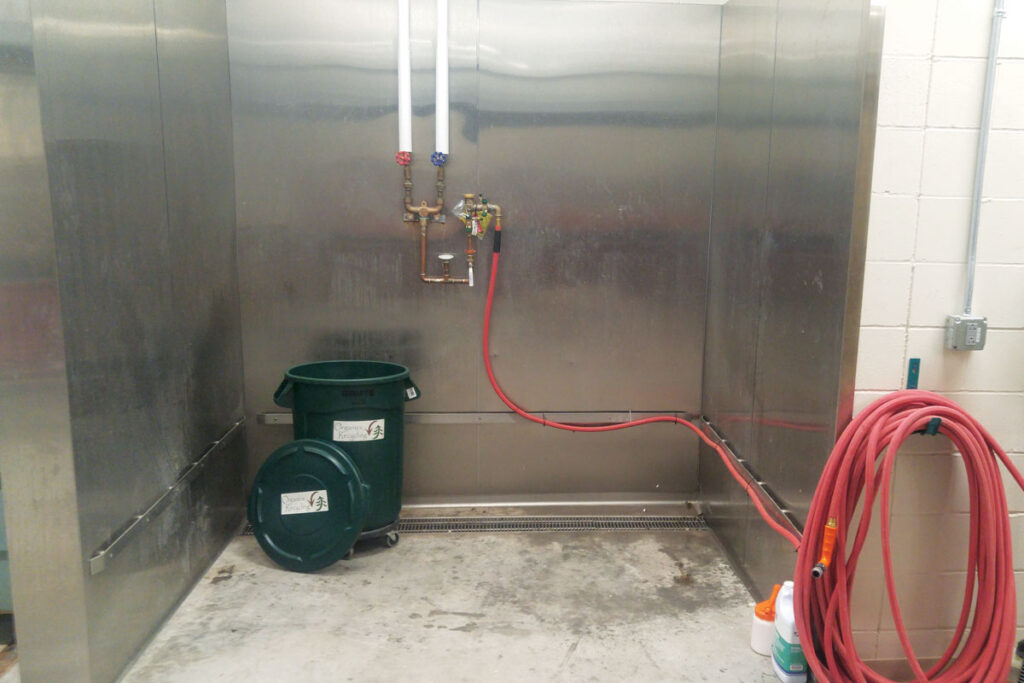 WASHING BINS
The school's recycling and composting program leads to many collection bins filled with potentially sticky, smelly contents. The dock's dedicated washing area, with its hot and cold spigots, help keep these receptacles clean. Design feature: The floor's slight downward slope sends water toward the drain at the back, and the stainless walls help contain the spray.
---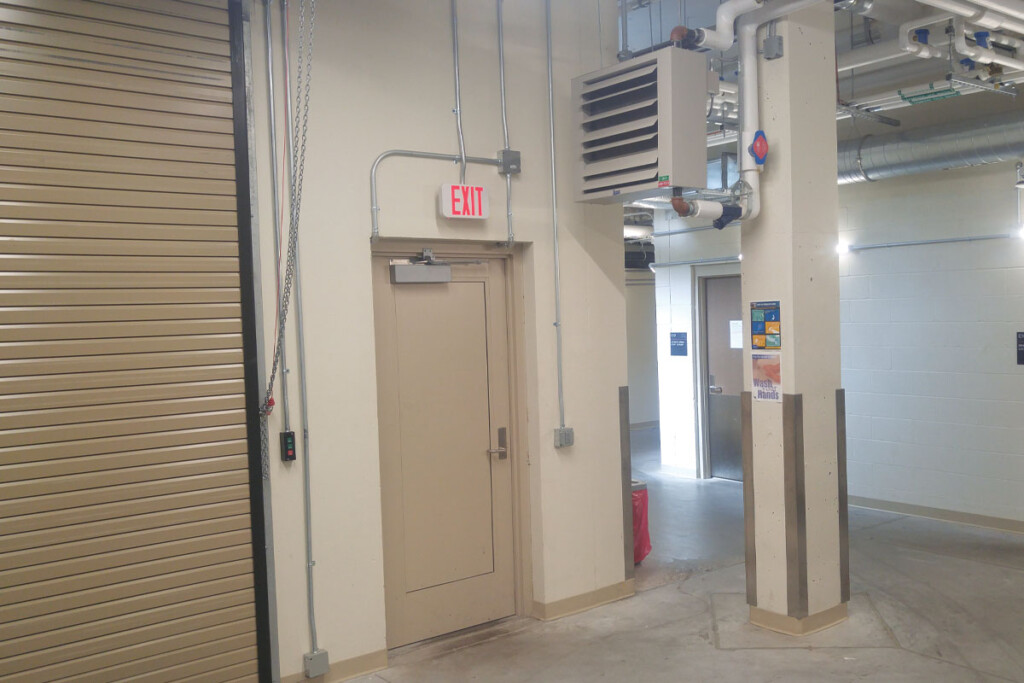 CONTROLLING ENTRY
The entrance to the dock requires a key card for entry; outside, a security camera watches the door and a phone allows drivers to alert employees to their arrival. "This is a residence hall in an urban area," Hard says. "The dock is a semipublic area, so it's critical to control who is coming through."
---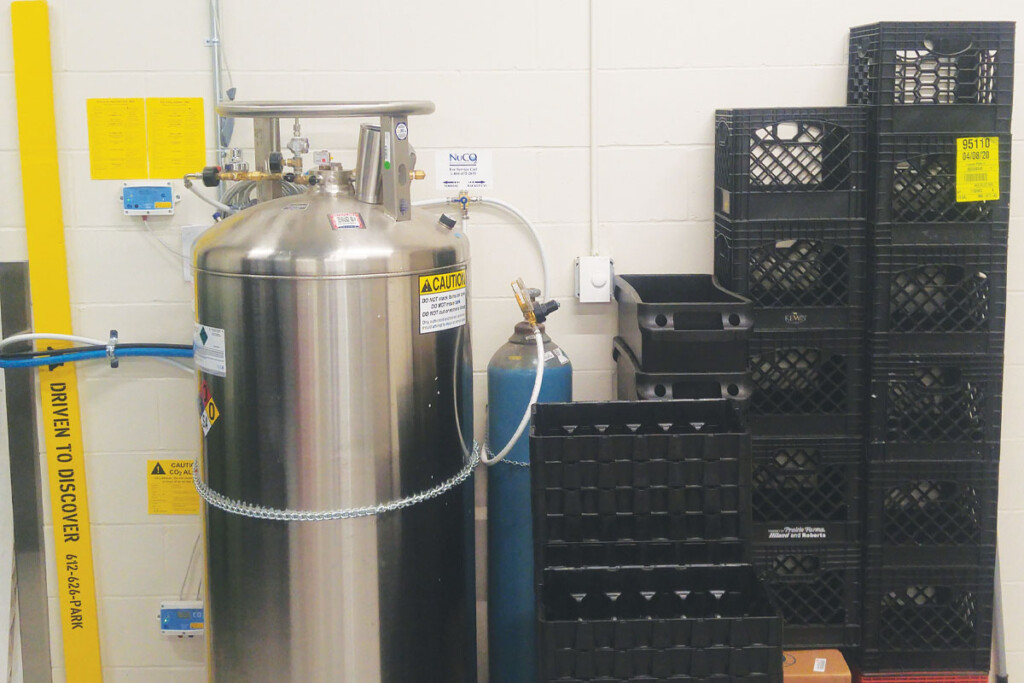 STORING REUSABLE CONTAINERS
Calculations for dock design need to take into account storage for delivery containers. "Our 5-gal. bags of milk come in crates, produce and linens come in bins, and so on," Hard says. "All of these reusable containers need a designated spot to await pickup." The CO2 canister (for beverages) sits next to an outer wall. Design feature: A hose from the tank runs through the wall to a port so the CO2 delivery truck can refill the tank from the street, without entering the dock.
---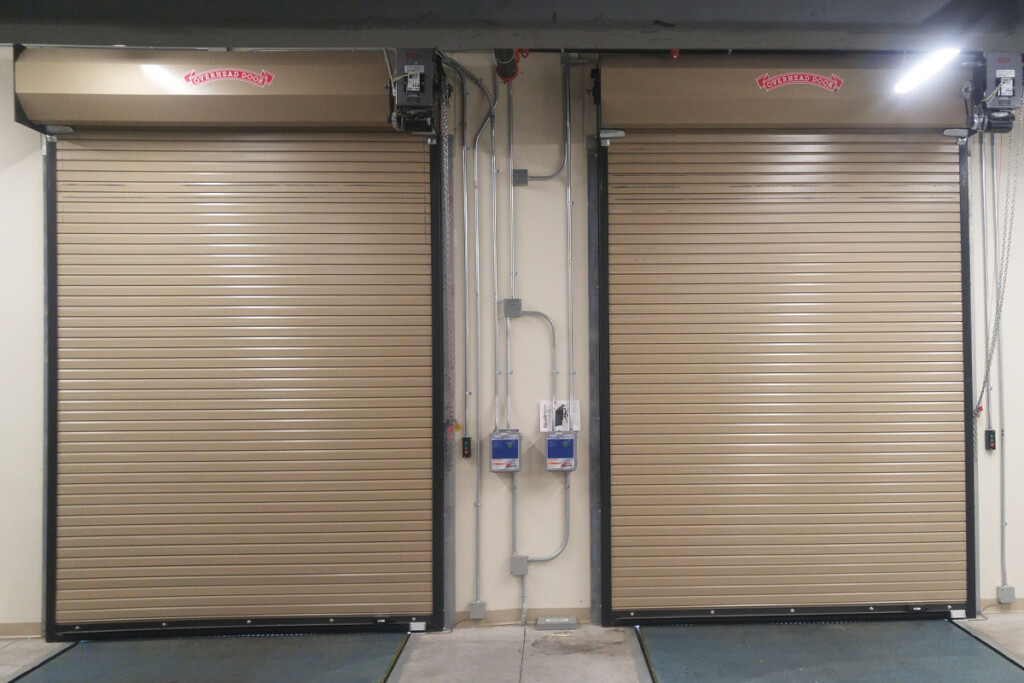 MOVING IN AND OUT
Two adjustable dock levelers allow any size of delivery truck to use either bay, reducing wait times. "It's more than just a courtesy for our delivery people," Hard says. "You want them to get in and out quickly so as not to block others. The levelers help reduce injury that sometimes comes with pushing carts up ramps." Design feature: Perfectly level floors—no lintels, sills or divots—allow pallet jacks to move smoothly from truck to storage.
---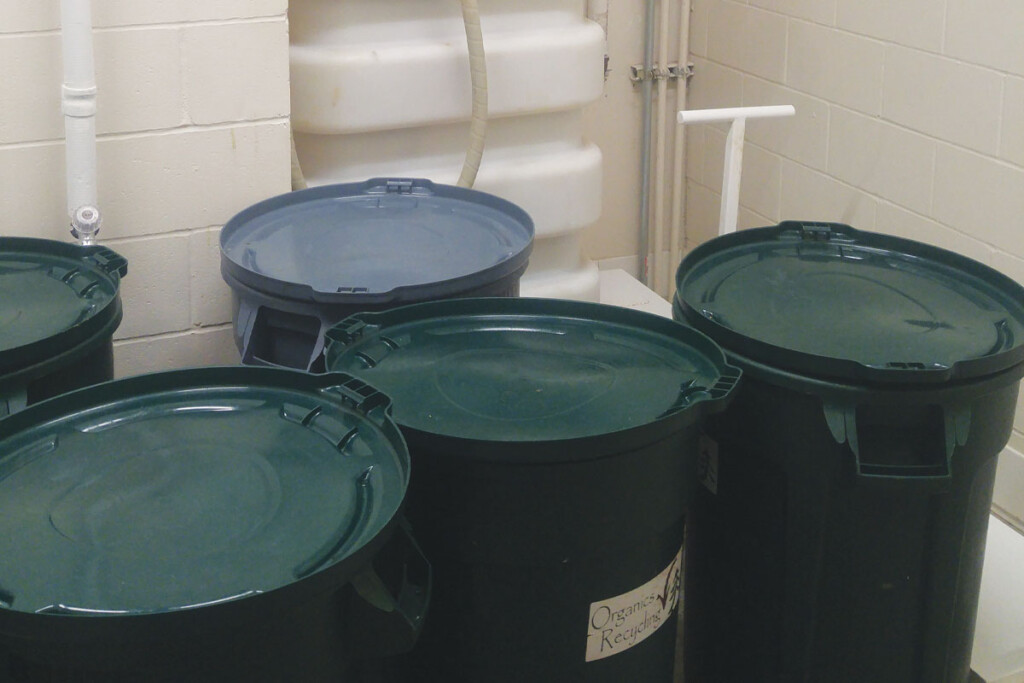 TEMPERATURE MATTERS
The department stores food waste for composting and used grease in a climate-controlled enclosed area. The cool holding temperature (about 50°F) reduces odors and slows microbial action in compost barrels while they await pickup. The waste oil collection tank, positioned next to an external wall, includes a port that enables a service truck to drain it from the outside. "In older docks, oil would be stored in barrels on dollies," Hard says. "On hot days, you would sometimes see the grease starting to bubble."
---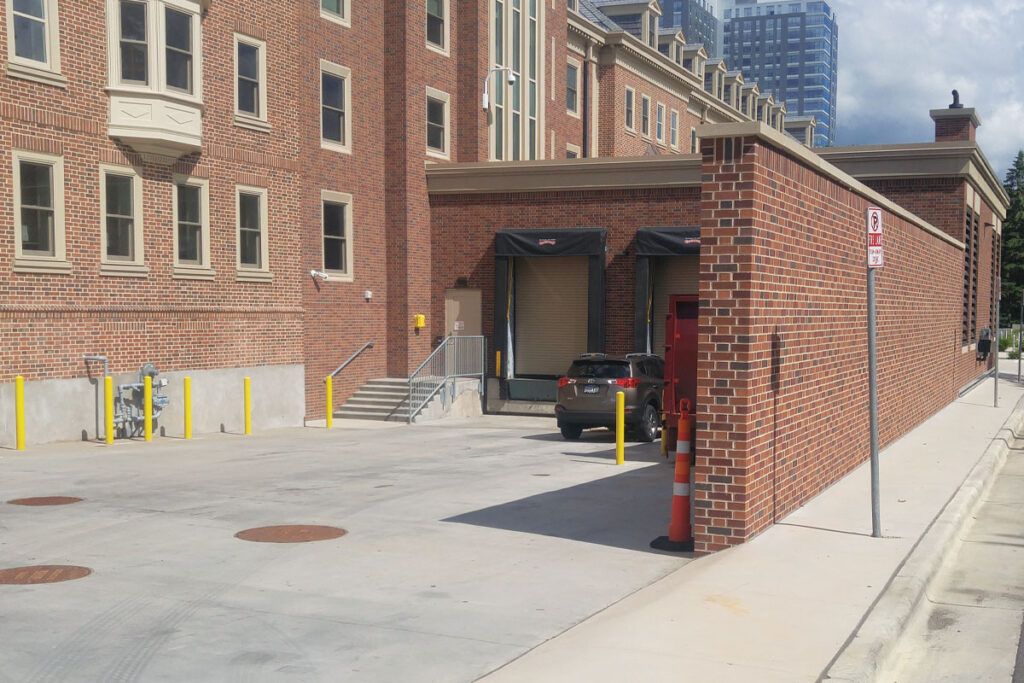 MANAGING AIR QUALITY FOR RESIDENTS AND DINERS
Since residence hall and dining hall windows overlook the dock, employees keep the area clutter free. Also, "we were careful to position air intake ducts nowhere near here so as not to suck in engine exhaust fumes," Hard says. Design feature: Grates in the wall along the sidewalk allow air to leave the dock, well away from windows.
---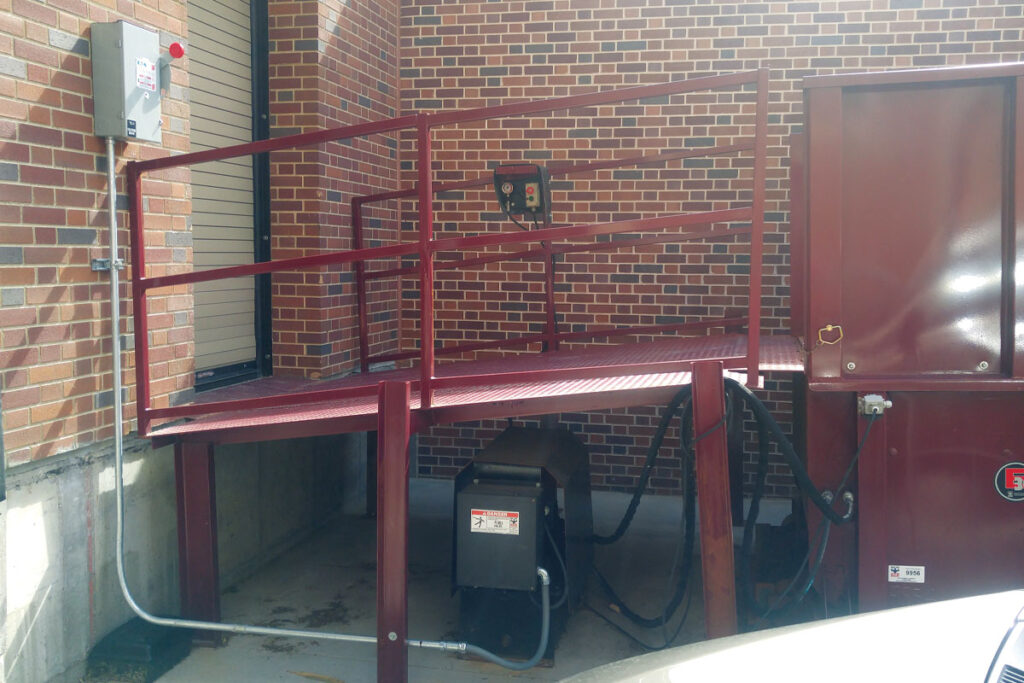 TAKING OUT THE TRASH
The ramp to the trash compacter allows employees to wheel up carts of trash bags and tip them in all at once. "The person disposing of trash should not have to lift and toss individual bags," Hard notes.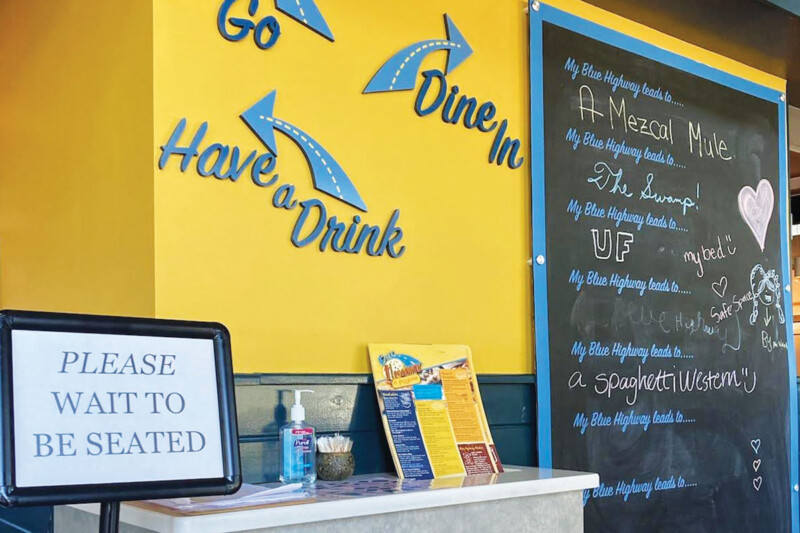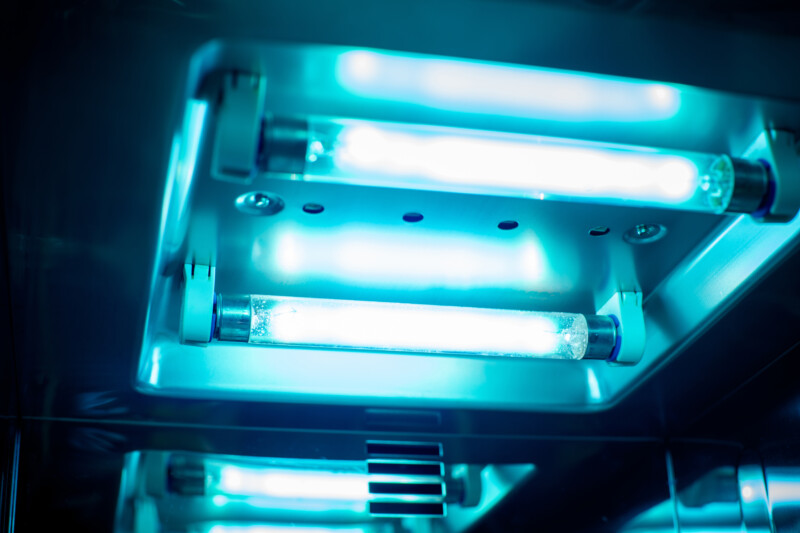 Maintenance
For years, ultraviolet light has been integrated into foodservice equipment. Now its getting a second look as a tool for fighting COVID-19.