It's no secret that fountain-beverage sales are hugely profitable. In noncommercial cafeterias like those in healthcare facilities, fountain beverages also are key players in any meal-bundle value deals that customers expect.
With fountain beverages comes ice. While some operators purchase fountain setups with integral ice makers on top, many others prefer to put a high-volume ice maker in a remote spot and transport ice to a bin on top of the beverage dispenser. Health codes require that all ice be dispensed automatically—to keep hands off—but ice production and storage capacities often can't keep up with peak-period demand. When supplies run out, it seems it's always at the wrong time. Despite the fact that wheeling an ice caddy or carrying ice pails through a lunch crowd can be inconvenient, it's a necessity for plenty of cafeterias where ice must be physically transported from a remote ice maker to ice-dispenser bins throughout the day.
Depending on the size and age of a facility, the operating environment and the space/equipment available, it's fair to say that nearly every situation is unique. But moving ice from Point A to Point B is a shared challenge for most operators. Following are samples of what healthcare operators and others say are the best ways to deal with ice transport.
The Pickle-Bucket Problem
"If you're in a manual-load situation, what you most want to avoid is the use of 5-gal. 'pickle buckets,'" says Maria DeNicola, RD, a former healthcare foodservice director who is now a healthcare specialist for Gordon Food Service's Plant City, Fla., branch.
"Filled with ice, they're too heavy to lift overhead, and they tend to scatter cubes when you pour from them. Also, employees tend to nest those buckets for storage, and you never know what one was used for last. Cross-contamination is a real problem, and using general-purpose buckets for ice transport just isn't good practice."
Specially designed ice totes that can't be over-filled, don't nest and feature ergonomic lifting and pouring designs are essential, DeNicola says.
Another huge issue in manual-load practices is the trail of drips and puddles created by dropped ice when it's carried out to the servery," says Mike Folino, RD, Assistant Director-Food and Nutrition Services at The Ohio State University Wexner Medical Center, Columbus, Ohio. Puddles on the floor are a huge safety hazard.
"There's also the possibility of cross-contamination if employees carry open containers of ice through public spaces. It's critical to keep lids on," he says. The top of the ice-dispenser bin that's paired with the beverage fountain should always be covered as well, he adds, because "that's where dust tends to build up."
"Hospital inspectors have been paying a lot more attention to ice-machine sanitation," adds Michael Atanasio, Manager-Food, Nutrition and Patient Transport for Overlook Hospital, part of the Atlantic Health System in Summit, N.J. "Operators need to make sure they follow cleaning and maintenance regimes and keep service logs to show that line flushes, filter changes and bin cleanings on the dispensing equipment all take place as scheduled."
On the worker-safety front, he suggests operators purchase caddies with edges that can be placed as close as possible to the lip of the ice-maker bin so ice doesn't drop on its way from the ice maker to the caddy. He also suggests heavy, grated rubber mats be situated in front of ice machines if they're not located near floor drains so any dropped ice will melt between the mat grates.
When Atanasio replaced some manual-load equipment at a beverage station recently, he relocated the station to a corner with rear access. Now employees can load ice safely from behind the dispensers instead of in front where customers congregate.
Ice-Maker Protocols
If you're filling ice manually, make sure you have protocols in place to ensure there's always a proper ice scoop available—next to the ice maker and with the transport tote or caddy—and employees never leave the scoops in the bins. Employees should never scoop ice using the ice tote itself or a breakable item such as a glass.
Some ice makers gravity-feed ice directly into waiting caddies or containers, which helps keep the ice-transport process clean and sanitary. Ice makers with gravity feeds can deliver a quick payback in terms of labor savings; they also help reduce the likelihood of spilled cubes as well as the wet floors, slips and falls that can follow.
"Ice makers that dispense from the bottom also provide 'first in/first out' dispensing, which promotes the delivery of cleaner ice," says a Director-Product Development at one ice-machine manufacturing company. He also suggests making sure that caddies and totes are easy to clean and sanitize.
Peak-Demand Pressure
Even if a dispenser is outfitted with its own ice maker and a properly sized storage bin, "it's best to spec units that still have a manual-load option if you run out from unexpectedly high demand," DeNicola says.
Lots of healthcare retail serveries are located in spaces with low ceilings, and they might not have the headroom necessary for top-mounted ice makers. Or the space is too confined to accommodate the heat and noise of an ice maker.
Another option is a beverage dispenser with an undercounter ice-storage bin that employees manually load through an opening under the beverage dispenser's drain grate. The system uses an auger to push the ice through a tube to the dispenser chute in the beverage dispenser above. At the Inglis House, a nursing-home facility in Philadelphia, Director-Dining Experience Tom Cooley has this type of unit in his dining-room facilities and notes it's important to keep the supply ice fresh and cold so it travels through the tube easily without melting, which can cause cubes to combine and create blockages in the tube.
Alternately, some operators install countertop ice makers and beverage-dispensing machines separately. That's the approach used at Robert Wood Johnson University Hospital, New Brunswick, N.J., a $5 million-plus retail operation where Director-Food and Nutrition Tony Almeida oversees about 4,000 retail transactions daily.
Almeida's operation sells close to 1,400 beverages every day; his customers prefer cube ice. "When we designed the servery, we put in two dedicated ice machines, the biggest ones we could fit. The first one customers see gets the most use and runs out of ice occasionally; when that happens we have a way to direct customers to the second ice machine." The system also provides redundancy in case one unit goes down.
Two additional ice machines, which make 500 lb. each of ice per day, are located in the kitchen and a back room. They provide ice for the operation's 24-ft.-long salad bar and the many catering functions the foodservice department handles. Employees use large, wheeled caddies to transport ice from these high-production units.
Get A Quote On Remotes
To avoid manual loading, the risk of cross-contamination and too little storage, you can opt for an ice maker that produces large quantities of ice remotely and transports it through a closed tube system directly to the beverage machine. This also keeps compressor noise and heat out of the retail area.
The most commonly used ice maker that takes this approach—a Follett unit—pushes soft or chewable ice with an auger through a tube. The tube can be routed through a wall or ceiling. Pressure sensors sense when the bin is full and shut office delivery. The tubes can run up to 75 ft., and they need a certain degree of "drop" or decline for the ice to transport smoothly.
When OSU's Wexner Medical Center was planning its servery renovation, which was completed last year, it installed this style of ice maker to eliminate the manual-fill approach of its prior operation. The facility also specified the ice maker/tube system to be water-cooled rather than air-cooled. Most ice makers are air-cooled, dispensing exhaust heat into the air around the machine. If you can connect an ice machine to a closed-loop water system, which the Wexner facility has, you can run not only ice makers but all refrigeration equipment off of the water line and eliminate warm exhaust. The water-cooled option increases the system's efficiency and reduces energy costs, according to John Egnor, Principal at Pleasantville, N.J.-based JME Hospitality, who designed the installation.
Egnor says smaller hospitals looking to replace manual-load equipment with such systems need to position the associated capital request properly, quantifying benefits such as labor, energy and operational savings as well as the decreased risk of slips and falls.
Going The Distance
For greater ice demands, a pneumatic tube-conveyor system like that offered by Ice Link offers all of the advantages of remote ice delivery plus a few additional features that give it a real edge under the right circumstances.
First, it rapidly can deliver up to 900 lb. of ice per hour from a main ice maker to as many as four remote locations or bins, enabling the higher production and energy efficiency that comes with scale. It also matches the all-day—sometimes 24-hours a-day—demand of truly high-volume operations, such as very large healthcare facilities, universities, hotels and casinos.
The pneumatic approach also has two other key advantages: It can handle several types of ice, from cubes to crushed ice, and is compatible with any brand of ice maker. It also can carry the ice significantly long distances—up to 500 ft. horizontally and up to 40 ft. vertically—allowing you to install the volume ice maker some distance from the ice-distribution points, even on another floor. Finally, Ice Link features a programmable, automatic cleaning system that can be scheduled in off hours and run without oversight.
ICE-TRANSPORT TIPS
• Use "wet floor" signs when loading ice into bins.
• Require the use of dedicated, ergonomically designed ice totes and caddies with lids; do not permit staff to use general-purpose containers to tote ice.
• Require employees to wipe up any puddles from ice melt and pick up dropped cubes from the floor.
• Keep appropriately sized stepladders nearby and ready for use. Don't permit workers to stand on milk boxes, chairs or similar items while loading ice.
• If there are no floor drains in front of ice machines, employ "grated," nonslip rubber mats to trap ice melt and help prevent slips and falls.
• If you do install grated mats and happen to use carts, choose mats with narrow grates to keep wheels from getting caught.
• Schedule ice fills just before peak-demand periods when access to beverage stations is clear.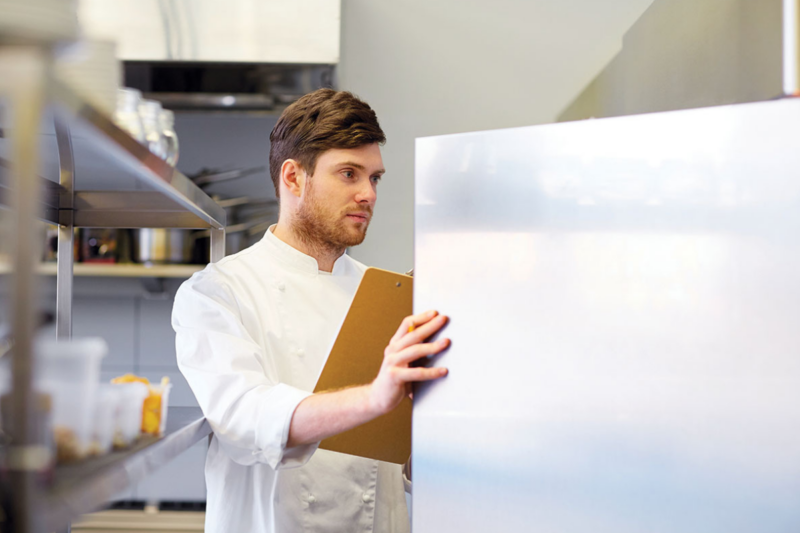 Uncategorized
RSI's Mark Montgomery's persistence and patience is key in repairing an operator's failing reach-in cooler.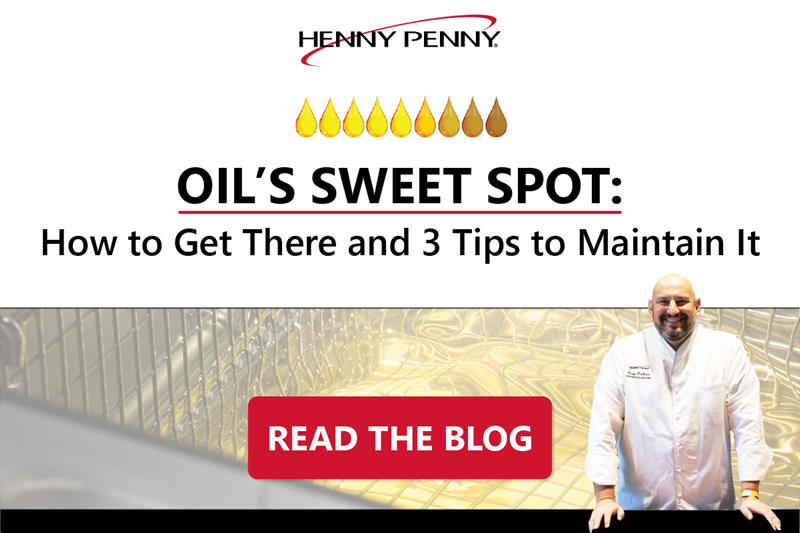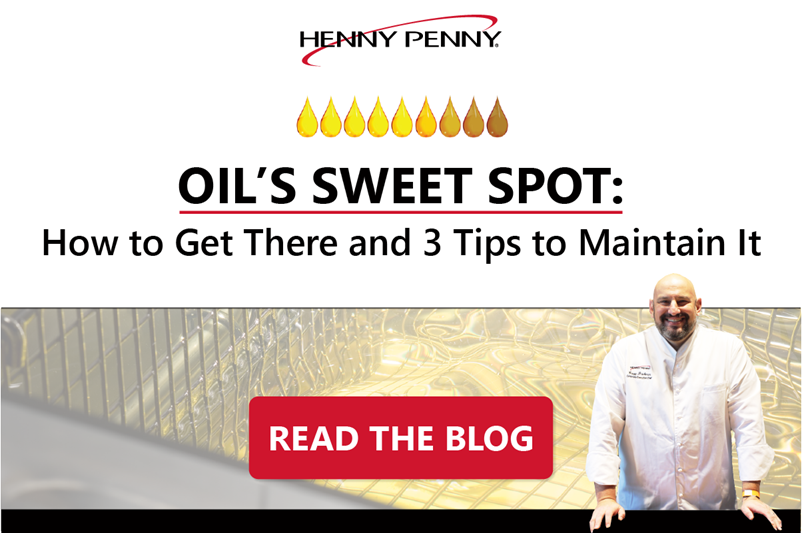 Uncategorized
Like many in the world of foodservice, you may assume that cooking oil performance is at its peak when you first start using it — but did you know there...