If you're a Baby Boomer, you know your parents (or grandparents) grew up in a culture where one accepted what was offered. In long-term-care foodservice, it's likely the deprivations of the Depression era and the war years shaped an attitude of gratitude for good, basic nourishment, even if it was served without too many frills.
"As a new generation of residents begins to occupy our beds, we're seeing a demand for a much more personal approach to meal service and much higher expectations in quality and selection," says Leisa Bryant, RD, CDN, CSG, director of food and nutrition services at Cobble Hill Health Center, Brooklyn, N.Y. "Our residents want to have a say about when, where and what they eat right at meal times, and we want to accommodate them."
That was easier said than done at the 364-licensed-bed facility, which houses five long-term-care units, a rehabilitation unit, two sub-acute-care areas, and a dementia unit, as well as a 70-guest daycare unit two miles away. Each of these units has its own dining area. "We have one large, very gracious dining room that's open to residents from all the units," Bryant says. "Many of them look forward to coming to the main dining room to socialize at meal time, but others remain on their units, sometimes, in their rooms."
For years, Cobble Hill's meal service was produced off a traditional, straight tray line. Employees plated meals, loaded trays into in carts and sent them off to the various destinations throughout the facility. Under the old system, the nursing staff was in charge of passing trays to residents on the units. In the grand dining room, a team of Cobble Hill foodservices and nursing staff served residents their meals at the tables.
"Our residents were not able choose their food at the time of the meal service," Bryant explains. "We planned menus in monthly cycles and served the residents based on preferences they submitted when they were admitted."
Another issue was logistics. Cobble Hill residents' abilities run a range. Some are ambulatory, others are not. Some are able to feed themselves while others need assistance. With so many levels of care in so many separate areas, the one-size-fits-all approach to meal service was less than ideal, Bryant says. Often, by the time the trays were delivered and distributed to the units, the food had cooled and was not appetizing. "We needed to find a better way to serve our residents," she says.
Onsite Solution
Cobble Hill's monthly meal cycle offers numerous choices for breakfast, lunch and dinner, but residents only received what they pre-selected. "Ideally, we wanted to let them see everything that's offered to make their choice right then and there," she explains. That meant some sort of decentralized food preparation, but administrators ruled out an option to install kitchenettes on each unit due to the age and layout of the facility, and the increased labor kitchenettes would require.
"We needed a system where good variety of food in ample supply could be kept hot or cold as needed, ready to be served as soon as the guest requests it," Bryant explains.
After some research, she found the solution in compact, bulk-food serving carts. Several companies were invited to pilot their carts, and Bryant ended up selecting models from Burlodge USA. The company's Multigen IIs hold seven hotel pans hot (>140°F) on one side and seven pans or trays of chilled items on the cold side (<40°F). Multigens are capable of rethermalizing foods from a chilled or frozen state when necessary, as well. Bryant purchased 11 of the carts, one for each unit, one for the dining room, and one for the offsite daycare facility. Each cart yields about 40 meals.
In choosing a bulk-food serving cart, Bryant and her team looked for a unit that holds foods hot and cold, is compatible with the electrical supply throughout the facility (a couple of 110V, 20-amp., 1-phase outlets had to be installed), has a generous serving area to plate up individual servings, features plenty of storage space for condiments, napkins and utensils, and is easy to maneuver. "The Multigen IIs had all the features we were looking for and they're attractive units, as well," she says. "They even have a nice, glass viewing partition through which our guests can see the food to make their choices."
Sensory Sensation
Typically, breakfast includes a choice of items—eggs or omelets one day, pancakes or waffles another—and breakfast meats. Staff also prepares cereal and other continental items for lighter appetites. Lunch and dinner is a choice of soup, main entrée, a vegetable, starch and a bread or roll. Salads, fruits and desserts arrive chilled. Residents can mix and match the selections, and all of the food is served at proper temperatures, hot or cold. The carts also allow foodservices to serve occasional treats, such as pizza and hot apple pie, temperatures of which would have been difficult to maintain under the tray-line system. The hot side of the cart is truly an oven, so servers can bake items such as cookies onsite, as well, sending out a tantalizing aroma. "That's a program we're planning in the near future," Bryant says.
"When you can see the food, smell the food, watch as your plate is prepared just as you asked—and the food is hot—that has a tremendous effect on appetite," she adds. "Our residents' nutritional intake has improved."
A New Attitude
Bryant and her team had a good idea that residents would be pleased with the new approach to foodservice, "but I was really surprised and pleased by my staff's response," she says.
Under the old system, she explains, some of the team members who worked in the kitchen never had any interaction with their "customers," the residents for whom they prepared meals. Under the new system, the foodservice staff is responsible both for preparing the food and helping to serve it to residents throughout the facility, including on the unit floors. Not only do they prepare and serve the menu, they help plan it as well. Cobble Hill has a committee comprised of residents, their family members and nutritional professionals to plan out each month's selections. During meal service, staff can quickly identify the most popular and least popular menu items and adjust future menus accordingly. Service and response is personal and immediate.
"My staff members know all the residents now, their stories, their families, their likes and dislikes," Bryant explains. "That interaction has had an incredible effect on the quality of our food and our service. Our employees fully realize that they are providing care and they take great pride in that." Several associates have told her they never want to work a tray line again.
Kitchen Overhaul
Under the new system, they won't have to. With the purchase of the Multigen IIs, the old, straight tray line was obsolete. Administration granted Bryant a budget to renovate the kitchen to accommodate the new, cart meal service and the renovation started with the removal of the tray line. With the help of equipment and supplies dealer/consultant Lenny Teller of E. Friedman Co., the department purchased the equipment it would need to freshly prepare the daily menus. In addition to a huge order of new pans, the equipment roster included a Groen steamer, a Hobart Legacy 60-qt. mixer and a Hobart slicer, a couple of Emerson insulated warming cabinets, reach-in refrigerators from Traulsen, and a Panasonic commercial microwave. The new, heavy-duty cook line came from Vulcan and includes a gas fryer, gas range, double-deck convection ovens, 12- and 50-gal. steam kettles and a 40-gal., tilting braising pan.
Another big change is coming this year: a switch to permanent ware. Prior to the new system, Cobble Hill residents' food was served on disposable ware, mostly polystyrene foam. "We now offer a selection of 12 to 15 patterns in a durable melamine, and each unit's selection committee gets to vote on the pattern it would like for its dining room," Bryant says. "We were able to also redo the dish room during our renovation and purchased a Hobart dish machine to accommodate the nice dishware."
Improvement in the foodservice at Cobble Hill Health Center is nothing short of dramatic. By delivering food at the point of service, residents are empowered, their senses are engaged, the food is at proper temperature, appetites and, subsequently, nourishment improve, and staff and guests build relationships that benefit the quality of the foodservice as well as the residents' quality of life.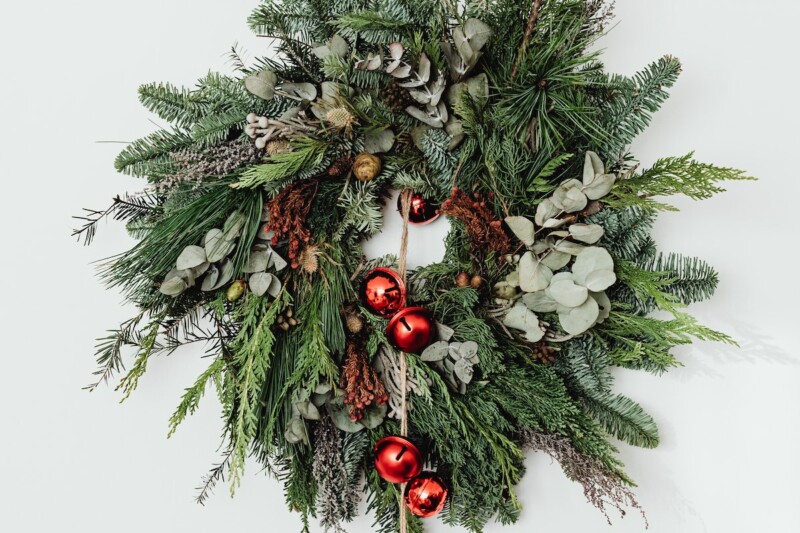 Uncategorized
Very best wishes for a safe and happy holiday season and a prosperous year ahead.