Good Sense: How to Specify Condiment Dispensers
The pandemic jump-started innovation for condiment dispensers, bringing touchless models to market.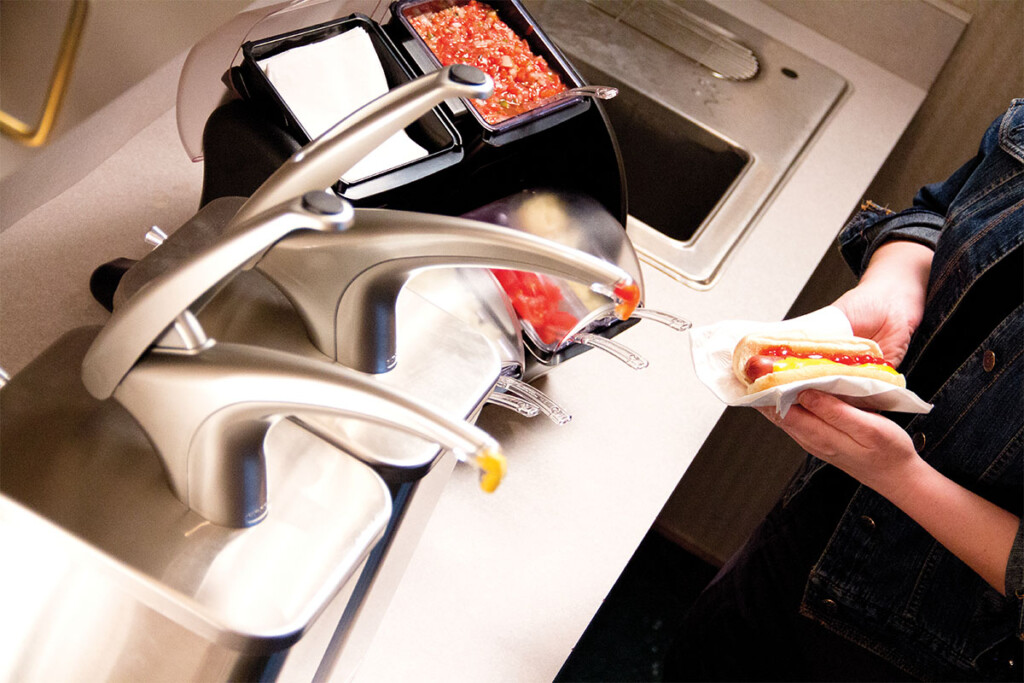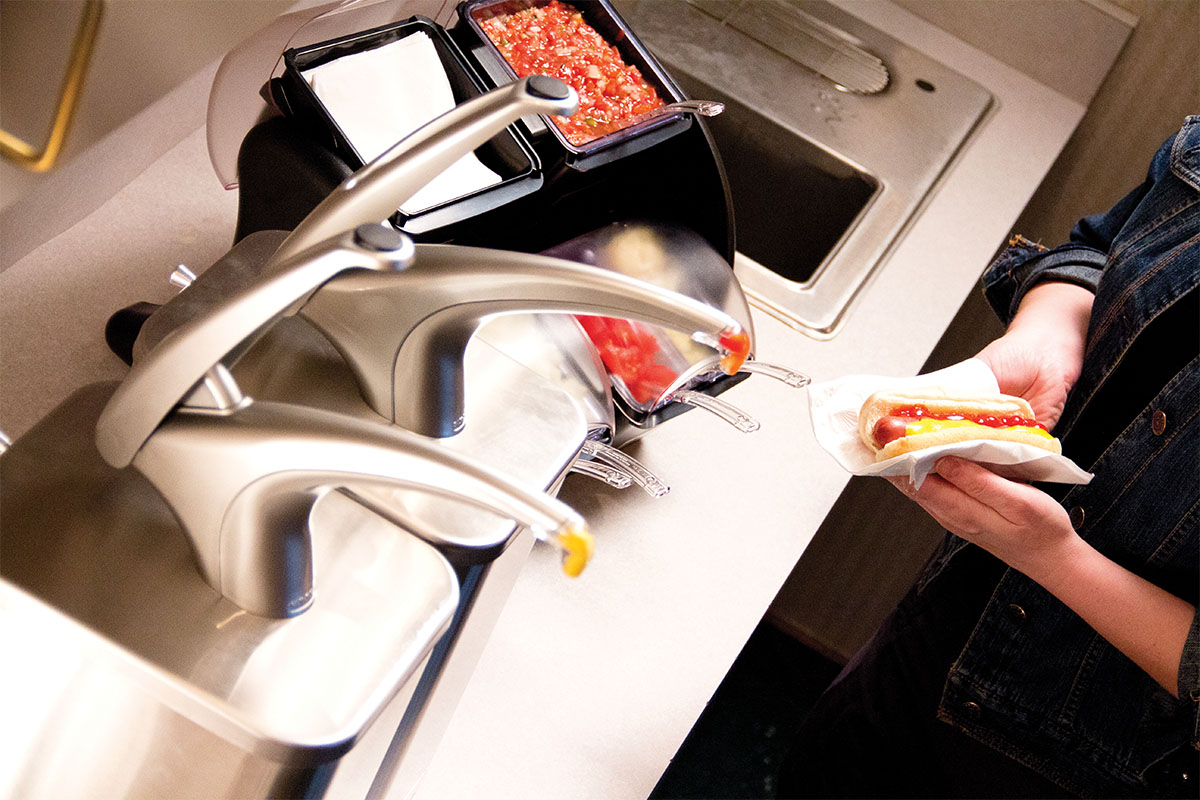 Condiment dispensers have long given customers free rein to dress their meals how they see fit with a simple push (or two) of a pump. But the last two years have been hard on the otherwise innocuous equipment, with the pandemic forcing operators to pull them from their lobbies and replace them with packets or prefilled sauce cups.
While operators had their condiment dispensers on hold, manufacturers were hard at work, reimagining different front-of-house dispensers that could withstand a pandemic. Manufacturers began pumping out new touchless solutions, from those that use motion sensors to dispense the product to another that uses a foot pump. And they sold. Some of the biggest customers were in education and healthcare, say two manufacturers of the equipment, as they remained open, while many restaurant operators were forced to close their dining rooms.
But as dining rooms reopened and pandemic-related concerns waned, restaurant operators generally returned their tried-and-true, no-frills condiment dispensers to customers' hands. While not early adopters of the contactless, automatic tech, operators undeniably have more innovative options at their fingertips now, should they upgrade their equipment.
Here's a look at some of the newest condiment dispensers on the market and tips for specifying.
TOUCHLESS IS MORE
Different contactless condiment dispensers were developed over the last two years to eliminate touchpoints in foodservice and prevent the spread of germs. At least two manufacturers developed motion-activated dispensers that use sensors to pour condiments.
One of the manufacturers offers three motion-activated models. Two—a countertop unit and a drop-in unit—dispense from 1 1/2-gallon condiment pouches, and one countertop unit dispenses from a fountain jar with a capacity of 1 3/10 gallons or 3 gallons. The units dispense 1-ounce servings—or less if the customer removes their hand before it's done—and are available in single, triple and quintuple dispensing stations, each with a single power cord.
The manufacturer says the precise sensor field prevents dispensing during surface sanitizing or pass-by activity. The units are touted as simple, only needing to be loaded, sanitized and plugged into an outlet.
For operators looking to turn their standard dispensers into contactless models, another manufacturer developed a hands-free, no-power-required condiment dispensing station that holds certain manufacturers' pumps. They're activated when a customer presses down on a foot pedal. Stations are available to hold one, two, three or four pumps.
While manufacturers agree these options add a level of cleanliness and give customers peace of mind, some say it might be a while before they're widely used. "Like with any new technology or any new thing, it takes a while to sort of catch on, and the price will dictate that a lot until something else forces it, like with what we saw in 2020," says one maker. "So, I think for right now … it's an option that's available for people, but we probably won't see it widely adopted for some time."
DIPPING INTO IT
While condiment dispensers are simpler than some types of foodservice equipment, they still require thought when selecting a model. "Choosing a dispenser is actually kind of difficult," says one maker. "Everything about liquid dispensing is a little bit different. People put pumps in different locations. They're looking for different portions, and different pumps work for different products."
To narrow down your focus, first understand what you want to dispense. Smooth condiments like ketchup, mustard and mayonnaise will dispense from most models (including plastic economy pumps). But when dispensing thicker condiments—think chocolate syrup or strawberry sauce—or condiments with particulates—like tartar sauce and relish—be sure the model is designed for it, as many models aren't one-size-fits-all. However, some manufacturers do offer more versatile models that can dispense thin, thick and thicker condiments. Stainless is the material of choice for pumps dispensing condiments with stronger force requirements, says one maker.
Next, understand your volume. One manufacturer recommends determining how much of each condiment you go through in a day to decide what size condiment dispenser is best. Choosing a condiment dispenser that's too small will result in employees having to continually refill it—an extra task in an already short-staffed industry. Ideally, an operator would want to get through at least an entire day before having to refill, says one manufacturer.
To keep your purchasing the same, consider how you buy your condiments now to find a model that works with it, whether that's, for instance, a 1 1/2-gallon pouch, a 3-gallon bulk pack or a 1-gallon fountain jar.
Space is another consideration. Decide where the dispenser will go and how many condiments you will dispense based on your footprint. Manufacturers offer single-pump models up to five-pump models. To prevent the need to refill more often, one maker says some operators opt for dispensers with more pumps to double up on condiments. And, remember, if you're choosing an automatic, touchless model, make sure you have a power supply available.
Also, decide if you want a countertop or drop-in model, the latter of which requires cutting into a countertop for a low-profile look. Be sure your station meets ADA requirements.
PLAIN AND SIMPLE
When it comes down to what manufacturers compete on the most, at least three say it's simplicity and offering models with as few parts as possible. In today's climate, with especially high turnover (hello, Great Resignation) and a tight labor force, makers say equipment that's easy to use and clean is more important than ever as it will allow for quick employee training and maintenance.
A simplified design also reduces the number of parts that can fail, which could be potentially challenging to replace due to ongoing supply chain issues. A maker says one of its models uses less than a third of the parts found in alternative models on the market, making cleaning and reassembly easier and faster.
A telltale way to determine how simple or complex a model is, says one manufacturer, is to check the manual's cleaning instructions. "If there's an exploded view with 16 parts on it, there's a lot of parts," they say. "Where if the exploded view has few parts, you know it's a pretty simple pump to take care of."
ON THE HORIZON
While touchless models are the latest innovation in front-of-house dispensing, touch screens are expected to come next. One maker is developing an IoT-enabled touch-screen dispensing platform that can deliver real-time data via Wi-Fi or Bluetooth. The maker says field data is being collected now so design modifications can be made before launch.
Pump It Up
A few features are worth considering when selecting a model that can reduce waste and improve the customer experience.
Looking to offer smaller portion sizes? No problem. While most condiment dispensers typically dispense 1-ounce servings, some models allow you to adjust portions to offer smaller servings. These models feature adjustable portion settings of ¾, ½, and ¼ of an ounce. That can come in handy, says one maker, when dispensing condiments like hot sauce, for which a 1-ounce serving might be too much.
Operators also can opt for branded dispensers that identify which condiment is inside or color-coded knobs for easy product identification. Transparent nozzles are another option that allow customers to quickly ID the product.
---
All Dressed Up
FRONT-OF-HOUSE CONDIMENT DISPENSERS ARE BACK IN THE PUBLIC EYE POST-PANDEMIC, WITH AT LEAST TWO MAKERS GOING TOUCHLESS.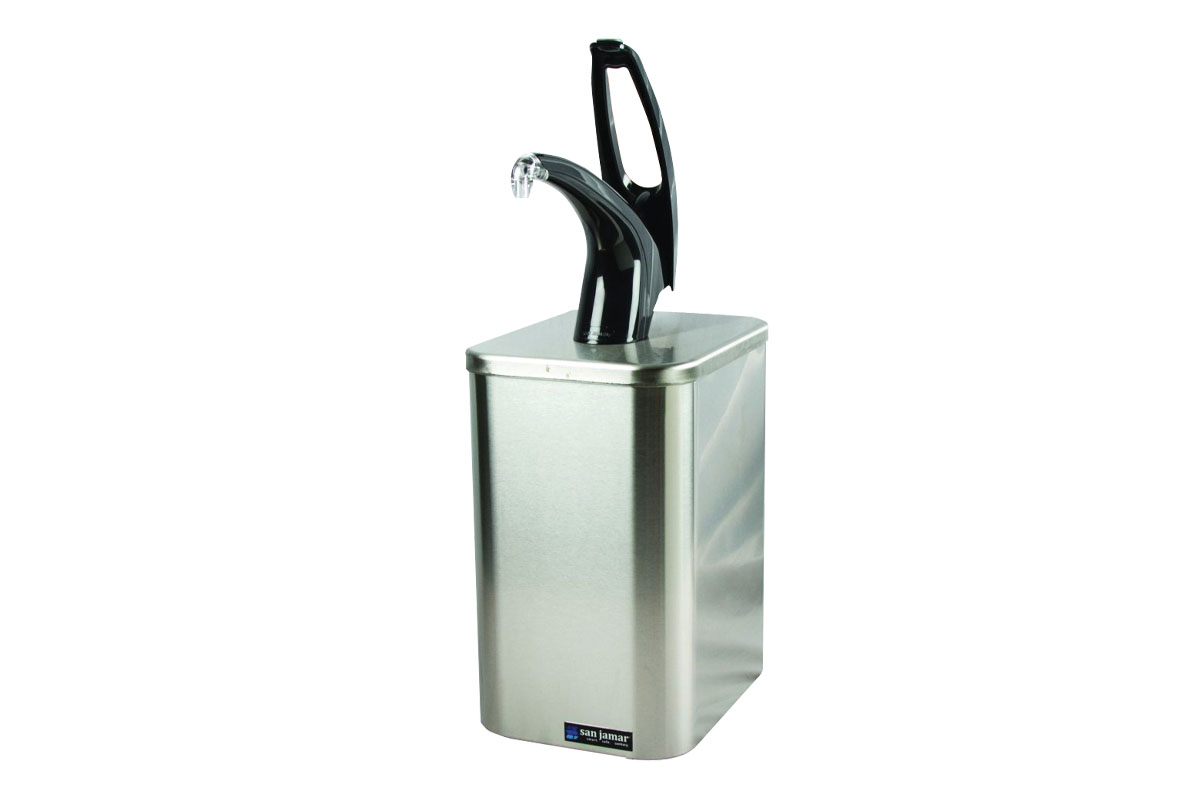 San Jamar
MODEL: Frontline P4900BK
---
SERVING SIZE: 1 fl. oz.
---
FEATURES: This stainless, countertop system can handle condiments with particulates up to ⅛, in., such as tartar sauce. The pump is compatible with a 1½-gal. sauce bag, 1-gal. jar, No. 10 jar or can, or poured condiments/sauces.
---
WEBSITE: sanjamar.com
---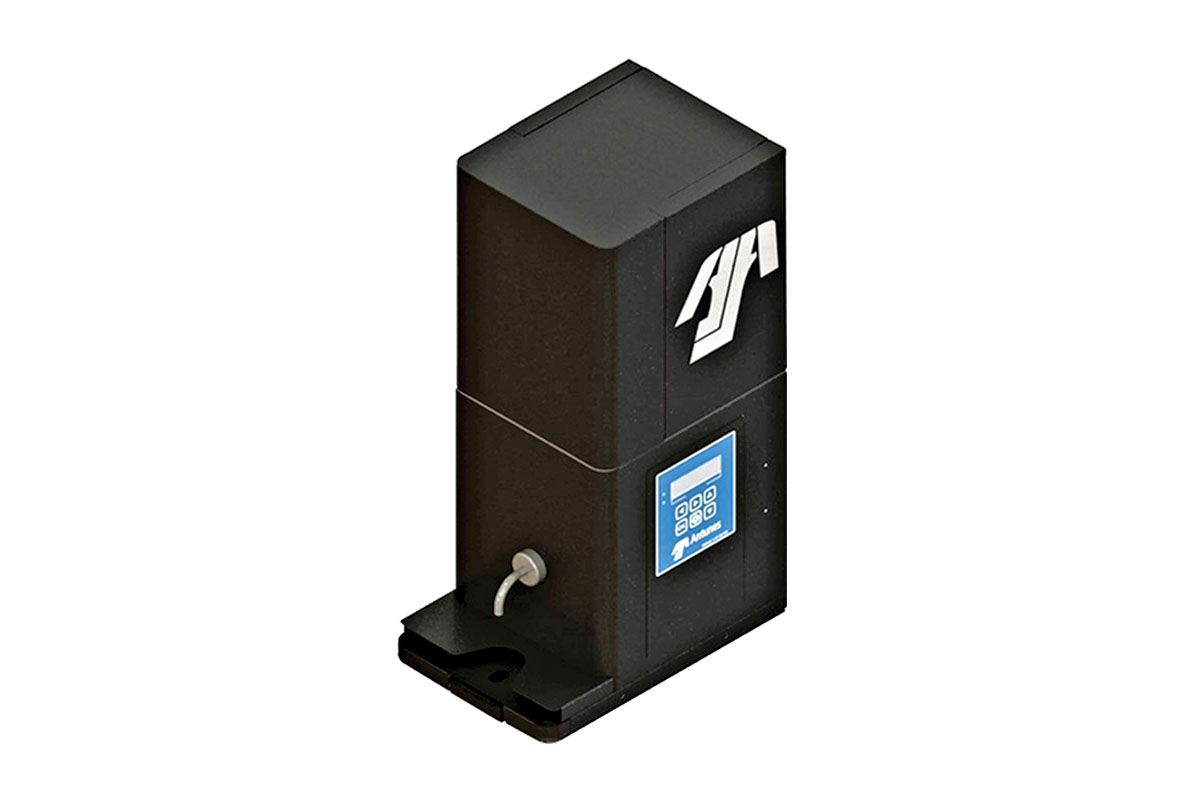 Antunes
MODEL: TSD Touchless Dispenser
---
SERVING SIZE: Customizable
---
FEATURES: A cup under the nozzle triggers this touchless unit, which can dispense thick and thin sauces. Dispense from a canister, or choose from 16-mm or 38-mm fitments for sealed sauce bags.
---
WEBSITE: antunes.com
---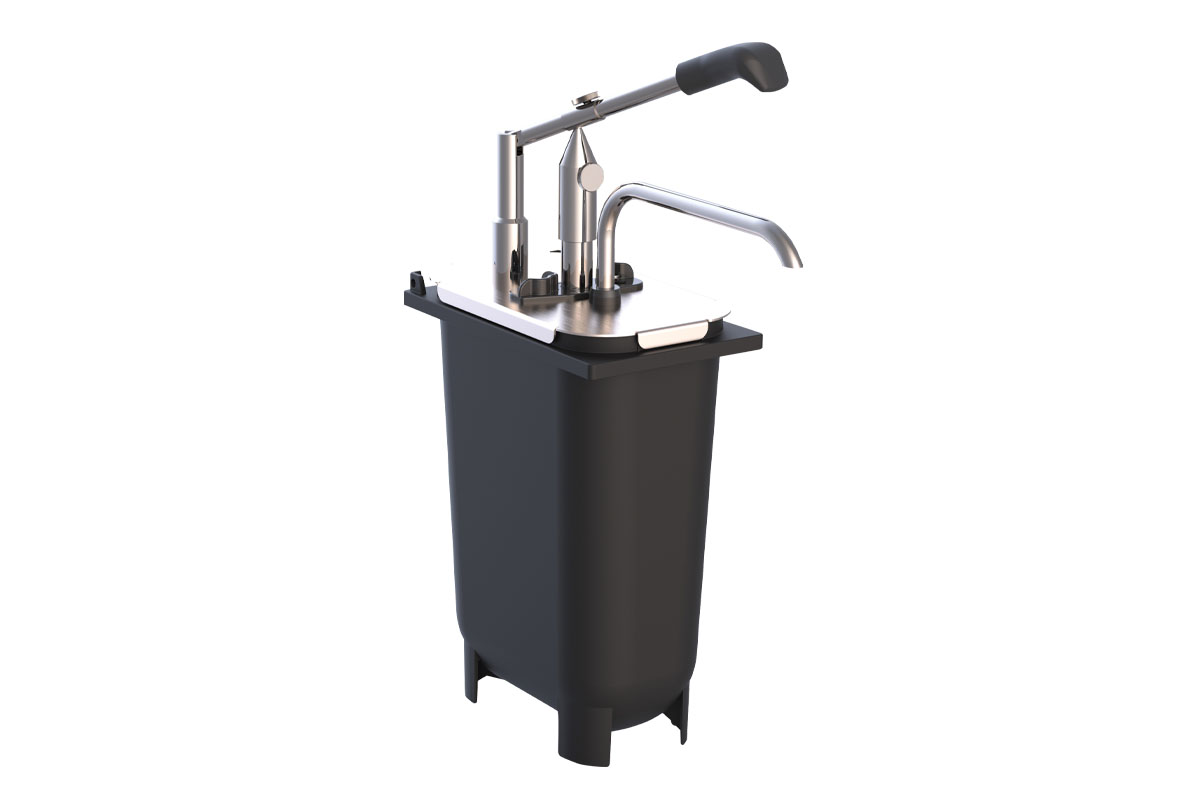 Asept
MODEL: Lever Action Pump
---
SERVING SIZE: Adjustable between ¼, ½, ¾ and 1 fl. oz.
---
FEATURES: This stainless pump, with various lid and container configurations, can handle anything from ketchup to fudge, and parts are dishwasher-safe.
---
WEBSITE: asept.com
---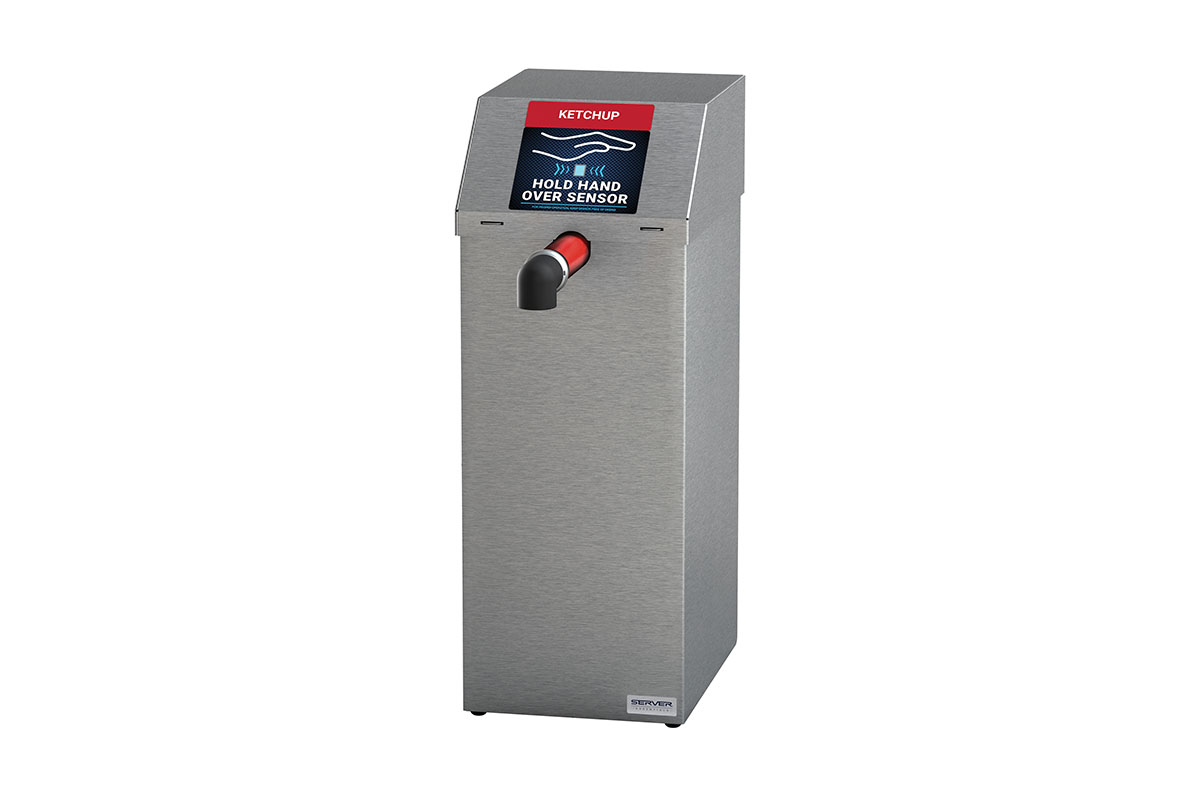 Server
MODEL: SE-SS-T
---
SERVING SIZE: 1 fl. oz. (or less, if hand is removed before cycle completes)
---
FEATURES: This plug-in unit touchlessly dispenses condiments with a sensor eye that detects a hand that is held within 1 to 3 in. of it. Choose from small, medium and large discharge fitting options to match your product's consistency.
---
WEBSITE: server-products.com
---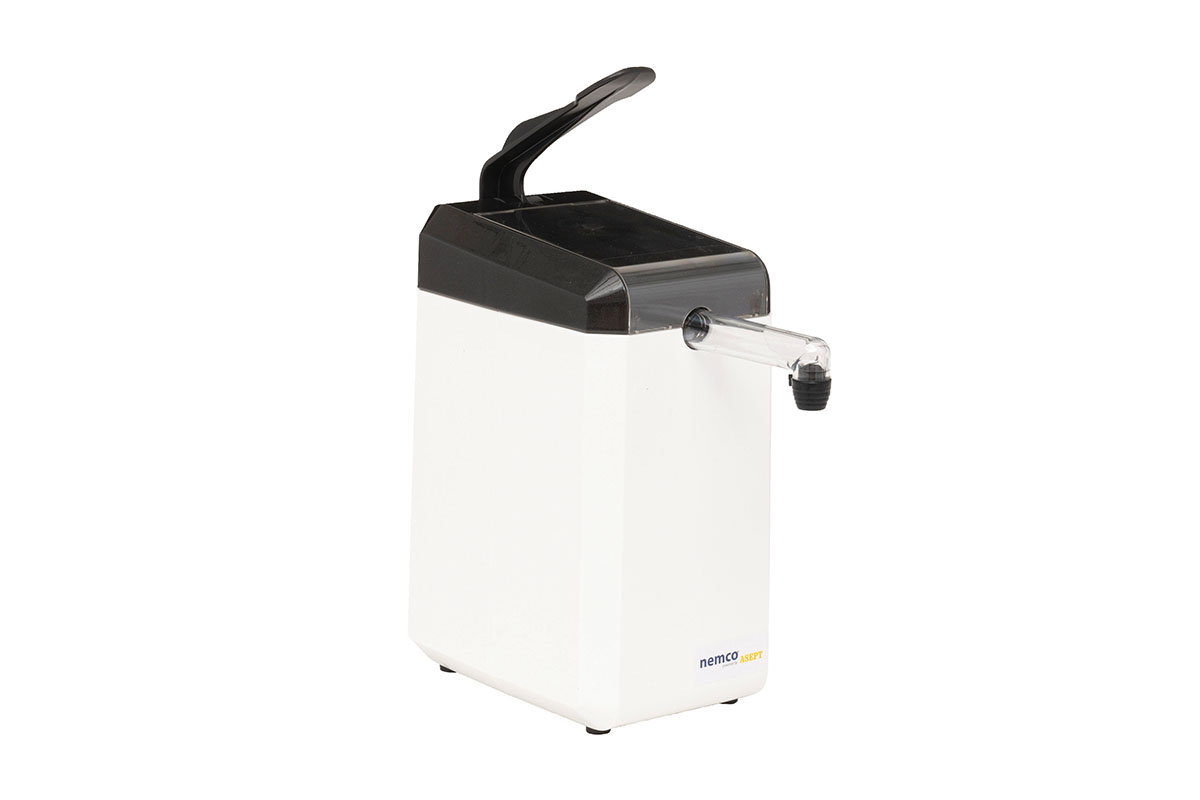 Nemco
MODEL: 10951
---
SERVING SIZE: 1¼ fl. oz. comes standard; can change to 1¾ fl. oz. or ¾ fl. oz.
---
FEATURES: On this single, countertop unit, a transparent nozzle delivers a set portion of the condiment, sauce or dressing of your choice from a standard 1½-gal. pouch. Add your own paper label to the lid's built-in panel for swift product identification.
---
WEBSITE: nemcofoodequip.com
---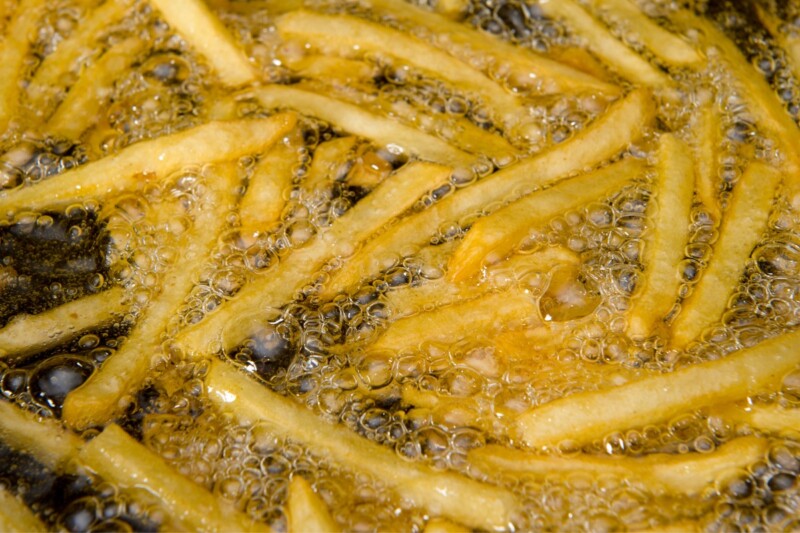 Equipment
Frying oil is a precious commodity in any commercial kitchen, especially in the world of deep-frying. To keep your cooking oil in optimal condition and ensure delicious taste and texture…