How To Specify a Cocktail Station
Efficient, ergonomic cocktail stations can boost throughput, quality, customer satisfaction and profit.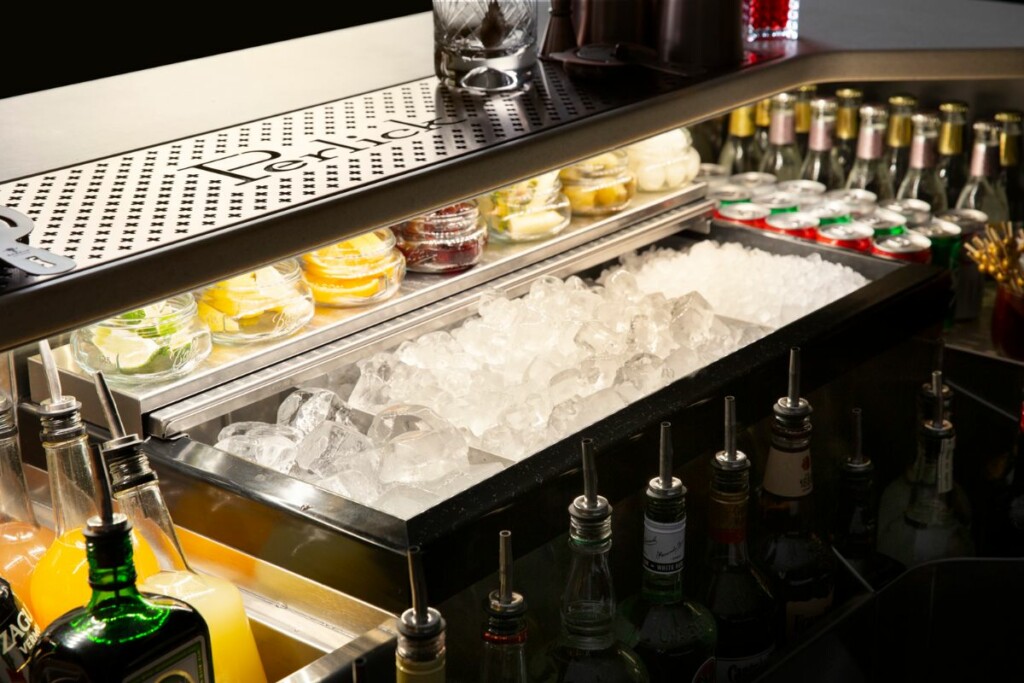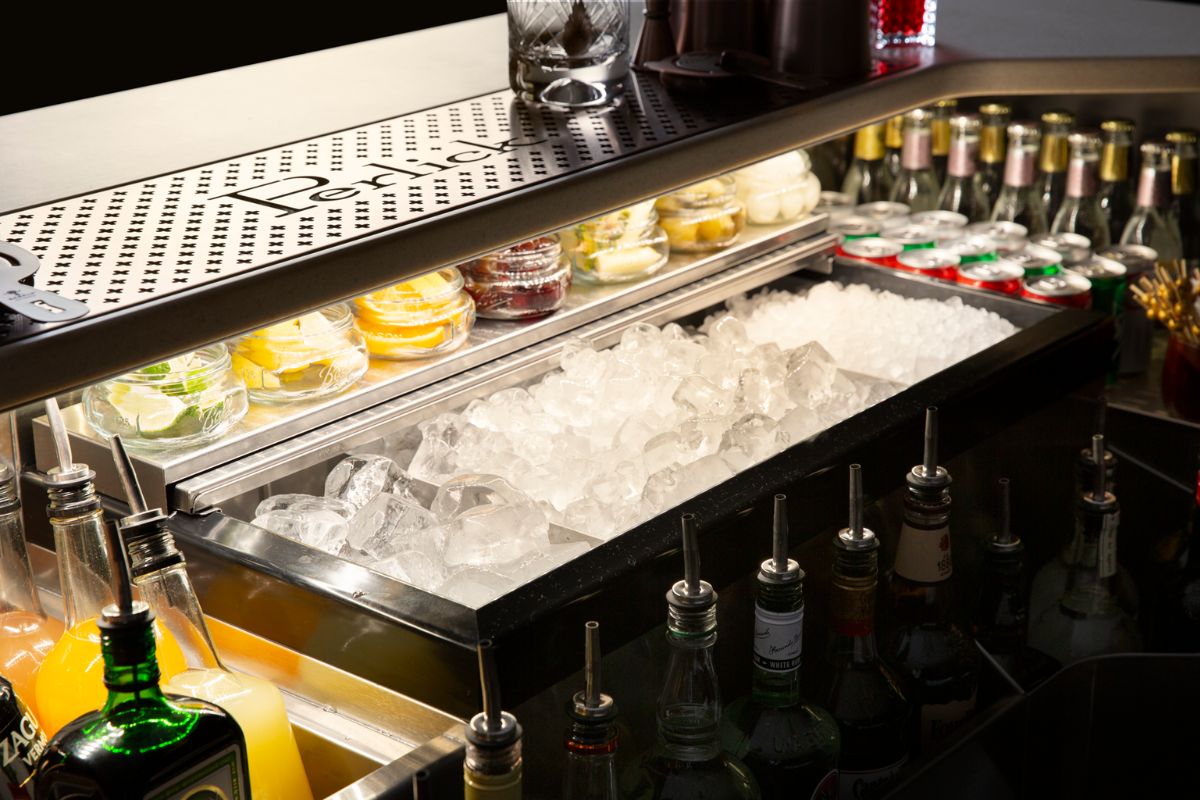 Handcrafted cocktails offer operators a high-profit opportunity and the chance to set themselves apart from the competition. In July, P.F. Chang's introduced four drinks—Lychee Cosmo and Jade Mojito included—to celebrate its birthday. Thirteen-unit Puttshack, soon opening in Dallas and Nashville, Tenn., serves handcrafted cocktails and a dining menu to go along with mini golf.
Operators planning to offer cocktails made by hand, versus canned versions, will want a cocktail station, aka mixology station. Made up of an ice bin, speed rail and sink in its more basic form, the station puts everything a bartender needs to create a drink within reach.
"The No. 1 thing that a cocktail station can do is make a bar more money," says one manufacturer, pointing to how the stations help bartenders make higher-quality drinks faster, satisfying more customers. (The alternative? Insufficient equipment scattered about the bar.)
Take a look at some of the latest product releases, certain component features and a few big-picture points, like sales support, when specifying a cocktail station.
Making Debuts
Manufacturers that specialize in bar equipment, the focus of this story and the product gallery below, offer everything from preconfigured cocktail stations, which streamline the specification process, to custom-built bars. Companies have recently introduced multiple products in the category; highlights include the following:
Preconfigured setups. One manufacturer launched a preconfigured cocktail station at The NAFEM Show 2023 that packs plenty of equipment in a compact footprint; there is no dead space. A few standout features include Bluetooth compatibility to automate soda gun cleaning and a liquid glass froster. Another manufacturer's preconfigured setup now comes on locking wheels, ideal for service at banquets or poolside.
Bartender prep sinks. Last fall, one manufacturer released a line of prep sinks featuring seven configurations for design flexibility. The sinks measure anywhere from 8 inches wide to 24 inches wide. The same manufacturer also came out with a leg kit, allowing install crews to shift the legs on underbar equipment if needed to avoid things like floor drains.
Augmented reality. The experience allows operators to visualize on a smartphone or tablet the layout of the equipment in the existing space before it arrives on-site. The same manufacturer also offers virtual reality as part of its design process.
Cocktail prep coolers. Also released at The NAFEM Show, one manufacturer's newest cooler holds bottles and garnishes on top outside of the unit as well as in a bottom drawer for easy access, compared with a door.
---
Beverage alcohol represents an average of 21% of total sales among full-service restaurants.
– National Restaurant Association
---
Features To Note
What components make up your cocktail station will depend on your concept and menu. An everyday casual pub serving gin and tonics will have a different lineup than an entertainment venue or casino with five-ingredient martinis. Piece to piece, aim for smart design and quality construction.
On the cold side of things, search for ice bins that have the highest-rated foamed-in-place polyurethane walls because it makes a difference in keeping the ice as cold as possible. If you're serving gourmet cubes, like 2 inch x 2 inch cubes for an old-fashioned, you'll want refrigeration to store it at the point of service.
Speed rails, which sit front and center and hold the most popular liquors, should come with a sound deadening feature. At least one manufacturer uses plastic extrusion to reduce noise when bartenders return bottles to the rail. Some speed rails come curved for better ergonomics and to hold larger liquor bottles.
Off to the side, at least one maker's liquor step, aka liquor rack, which holds additional liquors and modifiers, situates bottles at an angle for easy in and out. Another maker touts as many as five steps for operators looking for as much storage as possible.
Looking at dump sinks, find one with a strainer to prevent the drain from backing up with straws or fruits when the bartenders dispose of drinks. Check for anticorrosive properties—like 304 stainless—that can stand up to acidic fruits. Coved corners in the sink bowl help make cleaning easy.
Other pieces to think about include a dipper well if your bartenders will have tools, like strainers and long-handled spoons, to avoid cross contamination of flavors; a cutting board to prep garnishes and a spot to store them; and a cocktail shaker rinser to quickly rinse tins and mixing glasses.
Big-Picture Points
Stepping back, look at the overall structure of the station, as well as what kind of sales support and lead times the manufacturer offers.
Consider modular bar die, versus equipment on legs, for new builds or renovations, as it reduces installation time and prevents debris from building up under the bar. These preassembled units come with built-in utility chase ways and stainless panels (versus legs) that sit flush with the floor.
Look for stainless (not galvanized) material, welded (not bolted) joints and NSF certification.
As for sales support, you'll want a maker that asks a lot of questions, like what cocktails are on the menu, how many menu ingredients there are and the number of guests you're serving. At least one company has a program with a handful of mixologists and bartenders who provide consulting services. They help operators work through their drink program and then convey details to the equipment designers so they can create the most efficient bar.
Ask about lead times. Makers typically don't build to stock because many operators design their own stations.
"Far too often the bar is an afterthought by either the architect or interior designer and really, this is where the profit is made in just about any foodservice operation," says a manufacturer. "It's important to start early."
---
Dimension Details
A bar's dimensions play a big part in the overall performance of the bartenders working it. Design for efficiency by keeping in mind the following measurements, courtesy of Perlick.
Behind-bar equipment depth: 24 to 28 inches
Bar depth: 18 to 24 inches, with a maximum of 10 inches on the bartender side
Bar height: 42 to 45 inches
Behind bar traffic area width: 36 to 40 inches
Back bar height: 36 to 42 inches
Back bar depth: 24 to 26 inches
Back wall shelf height: 60 to 69 inches
---
Shake, Stir, Pour
The latest cocktail-geared equipment, from manufacturers focused on bars, aims to help bartenders efficiently create quality drinks.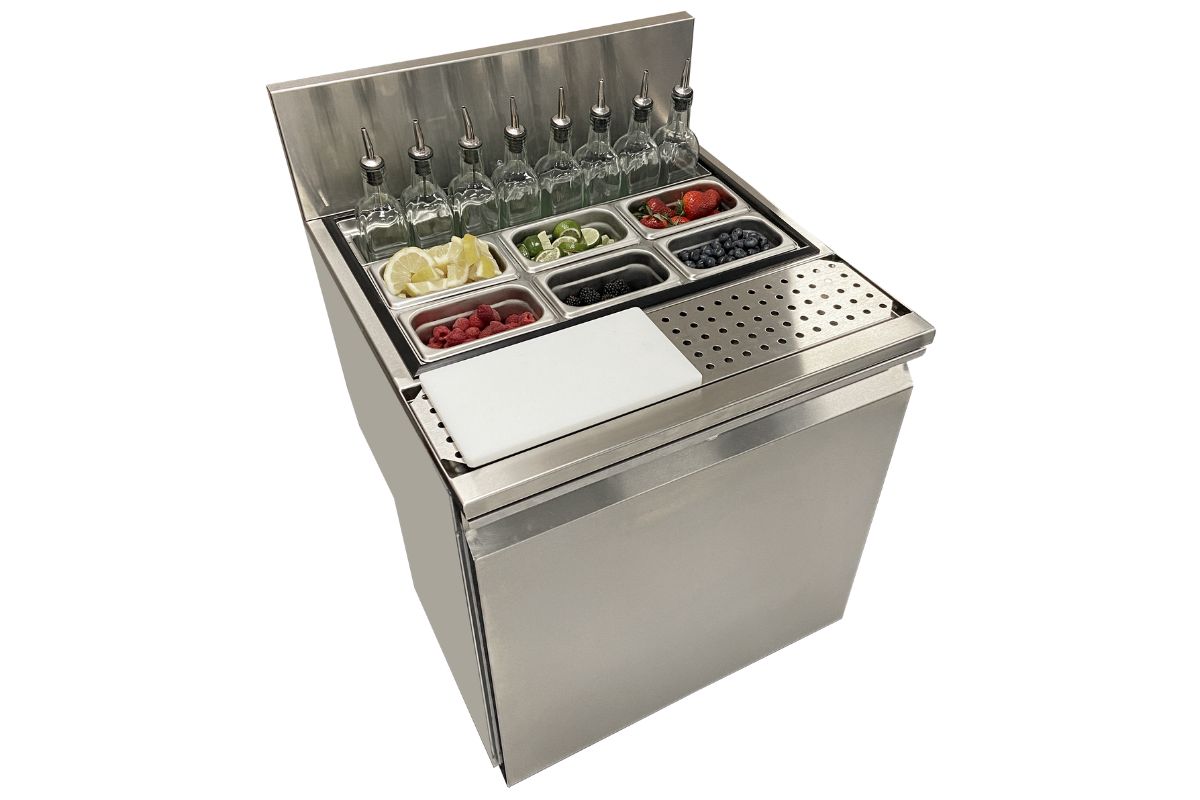 Glastender
Model: CPC24 Cocktail Prep Cooler
Features: Bartenders can efficiently access garnishes and bottles by opening the drawer (versus door) on this refrigerated unit. It can hold 12 1/9-size garnish pans, eight 480-ml bottles up top and 21 750-ml bottles in the drawer.
Website: glastender.com
---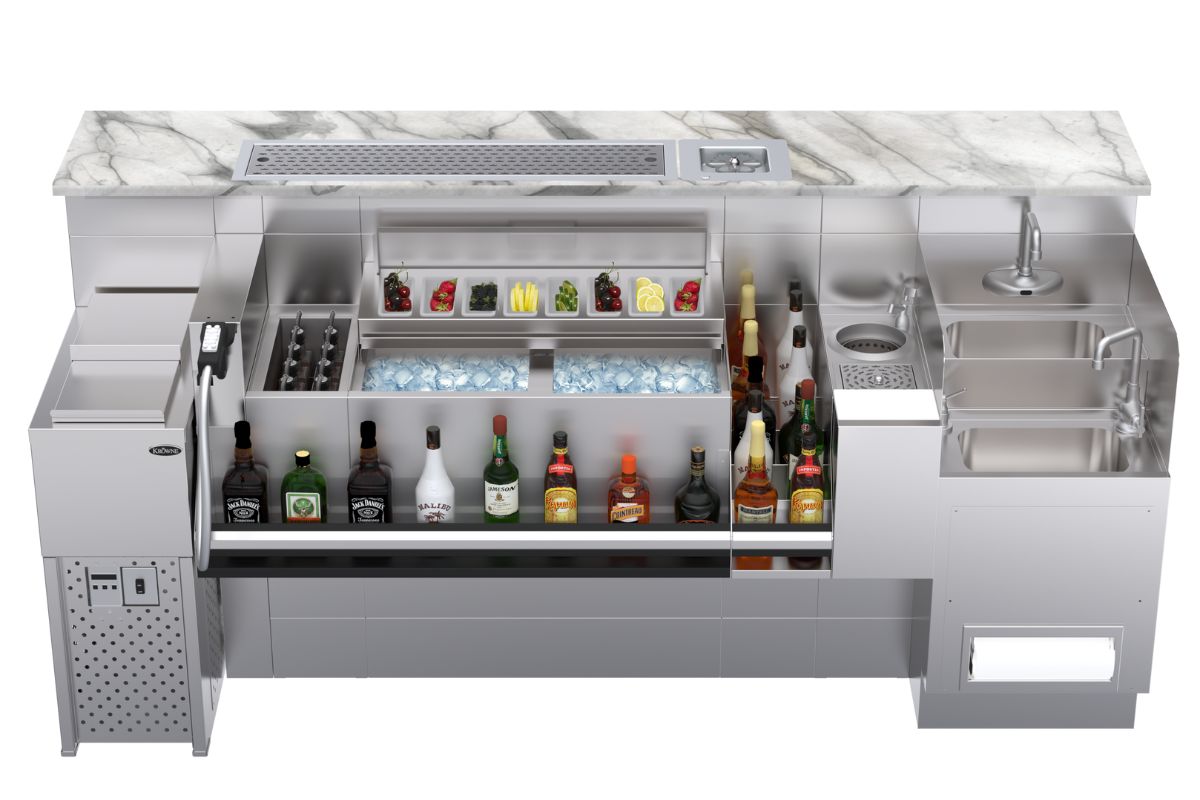 Krowne
Model: Taffer Command Station
Features: Equipment highlights include Bluetooth compatibility to automate soda gun cleaning, freezer storage for large craft ice, and a dual sink for touchless hand-washing and glass dumping. A flush-mounted liquid CO2 glass froster also is available.
Website: krowne.com
---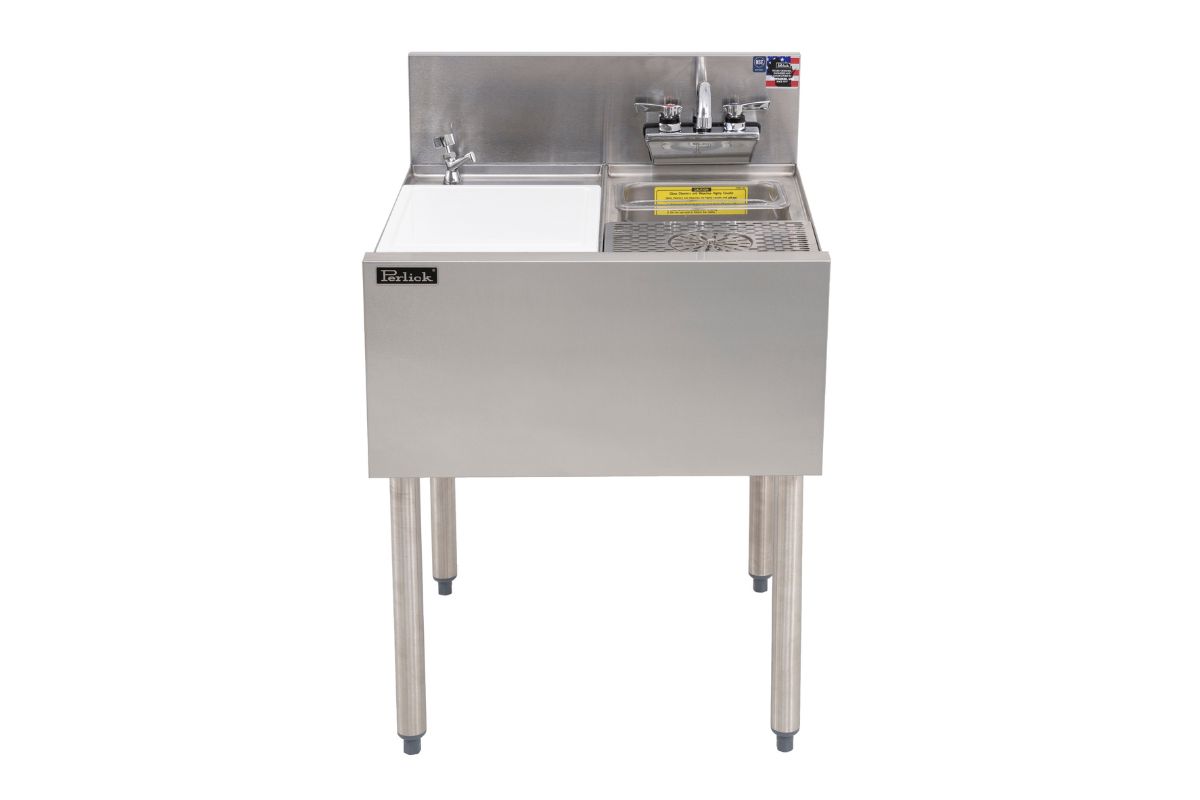 Perlick
Model: Bartender Prep Sinks
Features: This line of prep sinks offers seven different models, 8-in.W to 24-in.W, to fit an operation's design and bartender needs. The sinks feature all-stainless construction for durability and rust resistance. Use a relocation kit to shift the sink's legs if needed at installation.
Website: perlick.com
---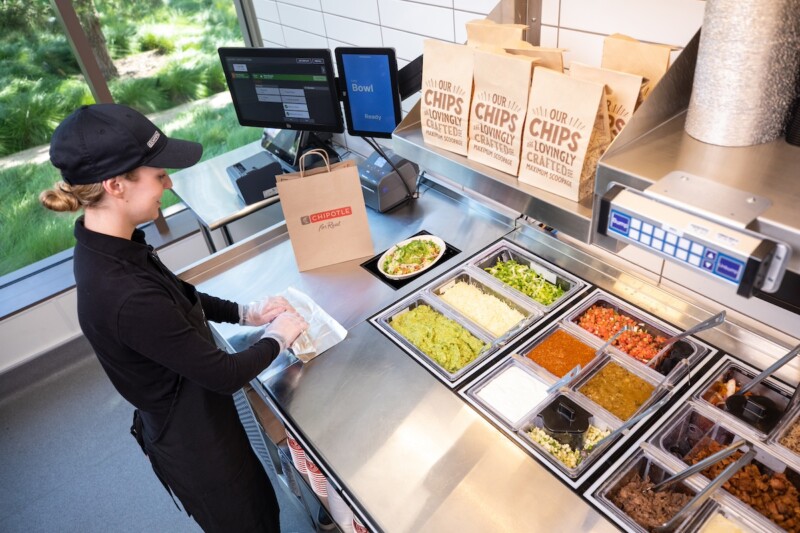 Company News
The latest collaborative robot could improve digital order capacity and accuracy, as well as free up employees, the brand says.