It was just three years ago that Chef Eddie Lakin opened Edzo's Burger Shop in Evanston, Ill., a north suburb of Chicago. Since then, the restaurant has built a solid fan base—the line often stretches out the door—and received local and national media attention for serving great burgers at reasonable prices. In the fall, Lakin was scheduled to open a second Edzo's in Chicago's Lincoln Park neighborhood.
With such buzz surrounding Edzo's, it's easy to see why organizers of Lollapalooza, a three-day annual music festival held in Chicago's Grant Park, invited the restaurant to serve food at the sold-out event.
Lollapalooza, held Aug. 3-5, attracted 100,000 music fans each day. Eight stages featured nearly 120 bands including headliners Red Hot Chili Peppers, Black Keys, Black Sabbath and Jack White.
"On multiple levels, it's just such a cool opportunity," Lakin says. "I'm a big music fan. It's an opportunity to sell a billion burgers and fries. It's an opportunity to push the brand out there—publicize everything a little bit. It's a win on all fronts."
Lakin, a veteran line cook and culinary-school graduate, opened Edzo's after deciding he had worked in too many fine-dining kitchens and instead wanted to offer stellar quick-service food and still be home for dinner with his young family.
Edzo's seats 50 and serves 4-oz. grilled burgers and 8-oz. charbroiled burgers made of fresh-ground beef from local farms, hand-cut fries and creamy, hand-dipped milkshakes. The restaurant operates from 10:30 a.m. to 4 p.m., Tuesday through Sunday.
We visited with Lakin and his team in Grant Park the day before Lollapalooza and during the event to find out how a bricks-and-mortar restaurant serves food to a massive crowd at an outdoor music festival.
Lakin talked about the equipment, menu selection and food production and transportation. He also explained how he staffed the booth and how his team handled the festival's first-ever evacuation caused by a thunderstorm.
Booth Setup
Lollapalooza marked the first time Edzo's participated in an outdoor music festival. Lakin spent weeks planning for the event. He sought advice from fellow operators who had previously participated in the festival, ordered equipment and ironed out the logistics of delivering smallwares and other supplies. The day before the event started, he watched his hard work pay off as Edzo's 20′ x 20′ booth transformed into a working kitchen.
Networking with fellow operators was a key element in preparing for the event, Lakin says.
"I know how to make food. I know what gear I need to make food," he says. "The rest of it has been a learning process. It's been about me calling people and saying, 'How do I do this?' I've used the resources of a lot of people who've done this before."
Along with fellow operators, Lakin also worked closely with contacts for Lollapalooza organizers Graham Elliot and C3 Presents. Plus, he participated in several informational meetings held in Chicago prior to the event.
"They're there for questions," he says about the organizers. "They're really helpful."
The day before Lollapalooza, Lakin and his team set up Edzo's booth in one of the festival's two Chow Towns, rows of booths featuring Chicago-based restaurants.
That morning, Chow Town was nothing more than pavement and steel posts holding canopies. Blue and orange menu boards stretched across the front of the canopies indicated where each restaurant was located. Staff bustled around in golf carts. Truck engines hummed as crews unloaded pallets of canned beer, equipment and supplies.
Behind the booths, organizers provided three large propane tanks for gas, a generator for electricity and a fenced area with several outhouses and hand-washing stations for Chow Town participants only.
There also was a refrigerated truck where operators could store a minimum amount of food throughout the event. Organizer asked operators to keep the bulk of their food in their own refrigerated trucks parked around the street corner. Operators could drive the trucks up to the booths for deliveries from 7 to 9 a.m. every morning. The festival was open to attendees from 11 a.m. to 10 p.m.
To help set up, Lakin and his team drove their cars to the booth and unloaded trunks filled with condiments such as mustard, ketchup, Ketchapeno (ketchup with jalapeno peppers) and sea salt, fryer oil, cleaning and sanitizing supplies and plastic bags filled with aprons and towels.
The team also delivered smallwares, including pans for the hot holding cabinets, knives, burger smashers, grill scrappers, tongs, condiment pumps, can openers, scissors and digital timers.
An hour later, a truck carrying the rented equipment arrived. Equipment included two Turbo Air Radiance griddles, four Elite fryers, two tall Carter-Hoffmann hot holding cabinets, one Turbo Air refrigerated tabletop, one Centaur refrigerated tabletop, one 36″ work table and four 30″ work tables. Lakin provided his own Nemco Food Equipment heat lamps.
Other supplies included floor fans and coolers holding bottled water and ice. Chicago produced 90˚F hot and humid weather throughout the festival, and staff worked to stay comfortable and hydrated. Organizers provided bagged ice as needed throughout the event.
As for safety, Lakin kept three fire extinguishers in the booth. Lollapalooza also ran a first-aid station in the park for staff and attendees.
With the equipment and supplies in place, Lakin stood back and took it all in.
"The equipment being here is the best and most important part," he says. He noted that he wished the prep counters were 50% larger to allow for more building space. He used work tables to extend the counters.
Lakin also noticed a neighboring operator with a table that featured a pass-through window with heat lamps and a cool shelf above. He made a note to order one for his booth next year instead of using a table and heat lamps.
"It just gives you the ability to put more food out," he says about the pass-through window.
Menu Planning
Along with the equipment and supplies, Lakin had to plan a menu for Lollapalooza and figure out how to deliver food to the booth. He also had to choose serving ware that was convenient for walking customers.
When designing the menu, Lakin chose items that were quick to produce and affordable to fans. He also wanted a menu that represented what Edzo's offers in the restaurant.
"We wanted to translate what we do in the restaurant as closely as we could to the experience (at Lollapalooza)," he says.
The menu was a classic cheeseburger ($6) with ketchup, mustard and pickle; Wisconsin bacon-cheddar burger ($8) with Merkts cheddar cheese, bacon, grilled onions, Ketchapeno and pickled banana peppers; fresh-cut fries with sea salt ($4); and truffle-parmesan fries ($7).
For the burgers, Lakin used one of his usual beef suppliers, Slagel Family Farm in Fairbury, Ill. The farm sells natural, hormone-free beef certified by the U.S. Department of Agriculture. Lakin typically grinds the beef at the restaurant, but for Lollapalooza, he hired Slagel to grind the beef at its onsite grinding facility.
"We wanted our beef to be freshly ground because that's what we do in the restaurant," Lakin explains.
Lakin ordered 4,000 to 6,000 lb. of beef for the event. He estimated he would sell 5,000 burgers a day. Slagel agreed to grind the beef the day before the event and then deliver the first shipment to Grant Park that evening. Staff moved the beef from the farm's refrigerated truck to Lakin's rented refrigerated truck using rolling carts. A second delivery of beef arrived the next evening.
Northbrook, Ill.-based Highland Baking Co., another regular supplier for Edzo's, delivered fresh buns all three mornings.
During the festival, staff smeared the buns with a Merkts cheddar cheese spread mixed with bacon and grilled onions for the Wisconsin bacon-cheddar burger.
"It saves me some steps," Lakin says about the spread. "It's three ingredients in one smear on the bun. It's a soft spread so we don't have to deal with putting the cheese on the burger on the griddle."
Staff also didn't melt the American cheese for the classic cheeseburger on the griddle. Instead, the team let the cheese melt on the burger while it sat in the hot holding cabinets.
In fact, Lollapalooza was one of the first times Lakin ever used hot holding cabinets. The cabinets held 30 to 40 burgers per tray for about a half hour or less.
"No chefs of reputable restaurants ever want to use hot boxes," he says. "It can compromise your finished product."
But almost immediately after agreeing to participate in Lollapalooza, Lakin recalls, organizers said hot holding cabinets were the only way to successfully serve such a huge crowd.
Lakin agreed because he hoped fans would understand the circumstances.
"People's expectations are lower when they see you in the middle of a festival," he says. "They know it's not the same as your restaurant. As long as it represents the restaurant pretty well, I'll be happy with it. We're not using frozen fries out of box. We're not using frozen burger patties."
For the fries, Lakin ordered 15,000 to 17,000 lb. of potatoes and hired EZ Spuds Inc. in Evanston to prepare them. Staff at Edzo's typically cuts potatoes into fries and then blanches them. But for Lollapalooza, Lakin had to find another approach.
"I didn't want to do it on my hand-cutting machine," he says. "I just don't have the space in my restaurant for that."
EZ Spuds washed the potatoes, cut them to specifications and then bagged them into 30-lb. bags. Staff drove the rented refrigerated truck to the factory the first morning of the event, loaded it with pallets of fries and then delivered them to the booth.
Lakin says that while his restaurant often serves fries with saucy ingredients, such as Italian beef gravy or chili, he chose truffle-parmesan fries for the festival because they involved only two simple, dry ingredients: truffle salt and parmesan cheese.
Staff served burgers in wrap sheets and fries in a bright yellow cardboard cone sporting Edzo's logo. The cone had a lip that opened to hold ketchup.
"You can hold it and eat, and you can dip fries in your ketchup, and it's logistically easy to work with when you're walking," Lakin says.
Let The Show Begin
With the equipment and food in place, Edzo's was ready to rock and roll. Restaurant staff and volunteers were on hand to serve attendees. Halfway through the event, the team encountered an unexpected challenge: the festival's first-ever evacuation.
To staff the booth, Lakin was able to hire many restaurant employees because Lollapalooza conveniently took place while Edzo's was closed for its annual two-week summer vacation. Two staff members worked the fryers while another two ran the griddles. Four people assembled burgers and dished up fries.
As many as 40 volunteers, many of whom were friends, also helped run the booth over the course of three days. The volunteers mainly served as points of sale. Organizers required booths to have at least six points of sale. Instead of cash registers, staff wore aprons holding cash and used cheat sheets to quickly figure the math.
Staff and volunteers wore red, white and blue headbands and T-shirts, both featuring Edzo's logo.
At the end the day, staff cleaned up their stations and covered equipment.
Lakin says one of the biggest challenges during the event was the evacuation the second day. A threatening thunderstorm forced organizers to close Grant Park for the first time in the festival's history. Attendees found shelter inside underground garages, nearby hotel lobbies and restaurants.
Before evacuating, Lakin and his team turned off all the equipment. They wrapped electrical boxes inside the booth in plastic and set them on top of cardboard boxes to keep them away from rainwater.
"We lost two and a half to three hours of prime business time between the afternoon shows and the headlining act," Lakin says. "We get busy from 2:30 p.m. to 6:30 p.m. We were out from 3:30 p.m. and opened back up about 5 p.m."
He adds, "It cost me some money because we would've sold about $12,000 to $15,000 worth of food in that time period. But we don't want anyone to get hurt."
When Lakin returned to Grant Park, he said he found a freestanding, 10′ x 10′ canopy tent that the wind picked up and dropped on power lines just a few booths down.
At the close of Lollapalooza, Lakin says he sold closer to 2,500 to 3,000 burgers a day instead of the 5,000 he expected. But still, compared to the 300 to 500 burgers a day he sells at the Evanston restaurant, it was huge business for him. Plus, he publicized Edzo's brand and even got to see a few bands play.
"It was totally worth it, from an experiential perspective and from a financial one," Lakin says. "I would do it again, and I look forward to it."
Next time, he plans to add two more deep fryers to keep up with the demand for fries. He also will add more counter space to assemble menu items.
"Overall, it went really well," Lakin says. "There were no major issues. The food went out quickly and the level of quality of the finished product was really high."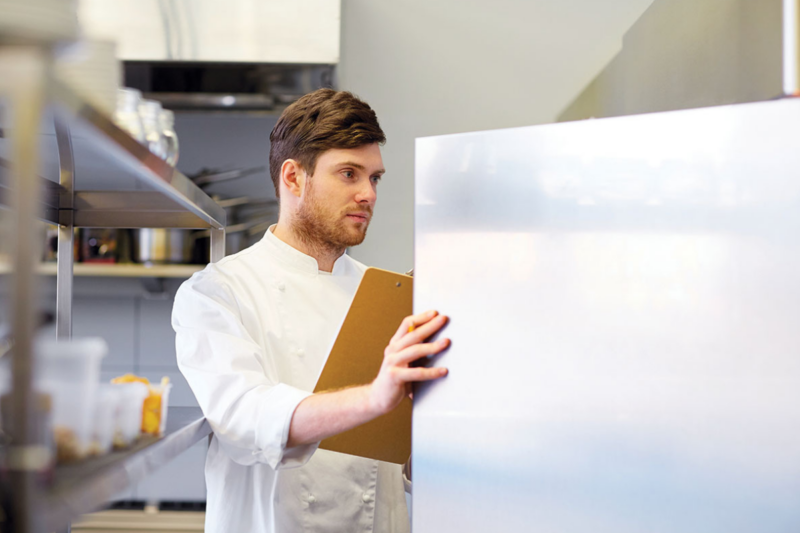 Uncategorized
RSI's Mark Montgomery's persistence and patience is key in repairing an operator's failing reach-in cooler.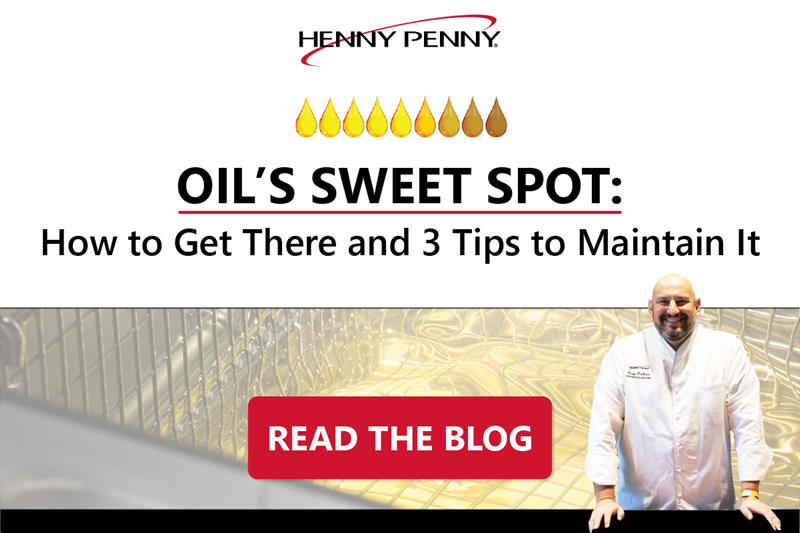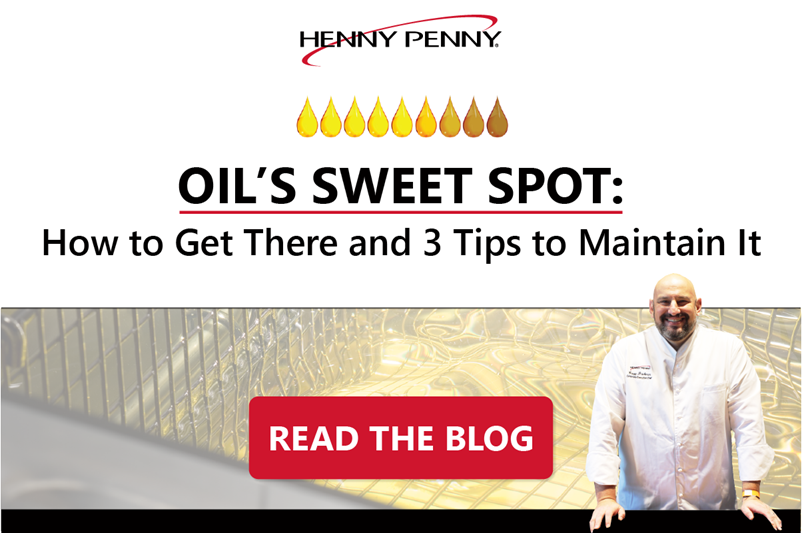 Uncategorized
Like many in the world of foodservice, you may assume that cooking oil performance is at its peak when you first start using it — but did you know there...