Now here's a project: Completely renovate a 60-year old foodservice facility that serves 4,400 midshipmen residents 10,000 meals per day on tight meal periods. Oh, and you can't disrupt service at any point during the process.
That was the mission at the U.S. Naval Academy in Annapolis, Md., and clearly it required a radical approach. In fact, it would require building an entirely new, yet temporary, kitchen next door to the dining hall.
Originally built in 1952, the King Hall galley was last modified in the mid-'90s when it underwent a partial renovation that upgraded electrical, mechanical and drainage systems. Aside from reconfiguration to the freezer and storage facilities, no kitchen equipment was replaced and no major architectural work was done at that time. Updates were overdue.
"The existing galley was severely outdated, and the galley's plumbing, electric, steam and interior finishes were on their last legs," says Ralph Goldbeck, partner for Kitchens To Go, the Naperville, Ill.-based firm which, together with sister company Carlin Mfg., was hired by general contractor Barton Malow to design and build the resulting solution.
Not only was the equipment due for a serious technology update, but the layout itself was a challenge. The historic building's kitchen was fragmented compared to modern foodservice facilities, with many small spaces clustered around the main cooking area. No part of this project would be easy.
USNA foodservice personnel, led by Chief Joe Janosik, conducted a conceptual study to review galley processes and equipment. The findings pointed squarely to a total gut-and-reno. They considered outsourcing foodservice to caterers or running a phased-construction approach, but each plan was deemed logistically impractical and costly.
The team finally decided that a fully operational temporary kitchen would be the best solution. Under Barton Malow, Kitchens To Go oversaw the design and building of the campus's temporary kitchen complex. Work started in late December and finished on time 78 days later in March—despite not one but three blizzards that dumped more than three feet of snow on Annapolis and complicated the work. So seamless was the transition that not a single midshipman missed a meal—the old galley closed for renovation the day the temporary galley opened, on March 13, the first day of spring break.
The Structure
"Our charge was to keep life as normal as possible for the midshipmen," Goldbeck says. "We needed to replicate the flow of the existing operation while implementing some of the new cooking equipment that would be rolled out to the renovated galley in '11."
The resulting modular kitchen complex is set in East and West Smoke Court on either side of King Hall, the main dining facility. All functions of the foodservice operation, from receiving and storage to prep, cooking and pot-washing, are housed under a tension-membrane structure supplied by Sprung Instant Structures.
The 14,100-sq.-ft. main structure, on the east side of King Hall, consists of two layers of white weatherproof Tedlar membrane sandwiching an 8″-thick layer of insulation (with an R28 rating), anchored around a series of 50′-high aluminum ribs mounted atop a poured concrete base. The building- and health-code compliant structure features the full complement of electric, plumbing, HVAC and ventilation.
Complicating the layout and planning was the presence of a large tree in the upper left quadrant, near the scullery. Somewhat ironically, the tree eventually proved an asset in developing the circular work path for the fleet of carts transporting cooked food into King Hall and for a second fleet moving soiled pans and dishes to the dishroom.
On the west side of King Hall is a smaller 7,875-sq.-ft. complex housing administrative offices, Navy personnel and civilians who support the kitchen. It also holds locker rooms, showers and bathrooms for the USNA's nearly 100 kitchen employees.
Meet The Modules
The temporary galley was created by linking together some 12 prefabricated modules. The units, built in Fort Wayne, Ind., measure about 12′ x 56'and require special permits to be moved by tractor-trailers along public roads. Once on site, they are put into place by crane or forklift. Interior walls are then removed to create open work spaces, and the units are linked together into a single, weatherproof structure.
The cooking modules come with utilities—plumbing, electrical and exhaust—already in place. They also feature seamless floors and washable walls and ceilings made of fiberglass reinforced plastic panels. "One nice thing about the FRP walls is that employees can use them as giant whiteboards and write notes or inventory reminders," Goldbeck says.
Big Form Follows Big Function
Product in King Hall's temporary galley flows in a roughly circular path from delivery dock to warehouse, prep, cooking, dining hall and warewashing.
Delivery trucks unload food and supplies at the covered dock on the south end of the facility (#1 and #2 on the floorplan). Product then is moved to either dry or cold storage and stacked on pallet racks up to three-high by pallet carts. Goldbeck notes vertical, warehouse-style storage was the only way to meet the Academy's requirement for seven days' storage in tight space constraints.
Every morning food supplies for upcoming meal periods that day are pulled from the main storage and moved into the day-issue area (#8 and #9 on the floorplan). The day-issue area includes four sections: one for dry goods, two separate 34[deg]F tempering rooms for poultry and meat, and a refrigerated bread storage room.
From day issue, food and supplies move to the prep area as needed, and then up into the cooking area. The entire space requires 10 cooking and panning modules, Goldbeck says. The bulk cooking area turns out aircraft-carrier-quantities of food using a fleet of equipment that will later be transferred to the new galley upon completion. The main cooking lineup includes four clamshell griddles, 12 roll-in combi ovens and six 80-gal. steam kettles.
The temporary galley is also equipped with pieces from the old facility, such as the six-burner range and convection ovens, assorted smallwares and countertop equipment, transport carts, and so on.
"The new galley will be built to current standards, spec'ing Energy Star equipment where possible," Goldbeck says. "But it made economic sense to reuse many of the existing items."
The cooked and prepared food is then moved to the panning module (#12), where food is placed into serving pans that are in turn slid into heated or ambient-temperature carts as needed. Carts are wheeled through the corridors (#17) to the dining area, where workers place pans on tables in advance of the midshipmen's rapid-fire meal period.
This being a military operation, the entire USNA Brigade, or student body, eats during 30-minute meal periods in the 55,000-sq.-ft. King Hall dining area. Food is served family style for breakfast and lunch, Monday through Friday, and on Sunday night dinners. All other meals are served buffet style. The typical daily diet adds up to about 4,000 calories and includes such dishes as steak, spiced shrimp, Mexican cuisine and home-baked pastries.
After the meal comes the almost-as-rapid cleanup. Food pans, now empty, continue on by cart to one of two ware-washing modules (#14). China and glassware are washed in the two existing sculleries. Waste and recycling are collected in the trash room (#15), then transferred around the outside of the structure to the compactors and dumpsters (#18).
"Everything moves in a big circle," Goldbeck says. "We worked hard to make sure there was no cross-traffic."
The USNA foodservice employees were given training on the new workflow and also for new equipment such as the 12 combi ovens.
"The staff had some trepidation about moving to the new setup, which is natural since they don't know what to expect," Goldbeck says. "Once they saw the facility and realized it looks and functions like any other commercial kitchen, they adapted quickly."
What Lies Ahead
The USNA's new permanent galley is slated to open in December '11. In addition to making use of the cooking equipment currently in place in the temporary structure, it will add a cook-chill component to further improve efficiency.
To see a time-lapse photography video detailing the creation of USNA's temporary galley, point your browser at this link:
kitchens-2-go.com/mobile-kitchen-videos.aspx"""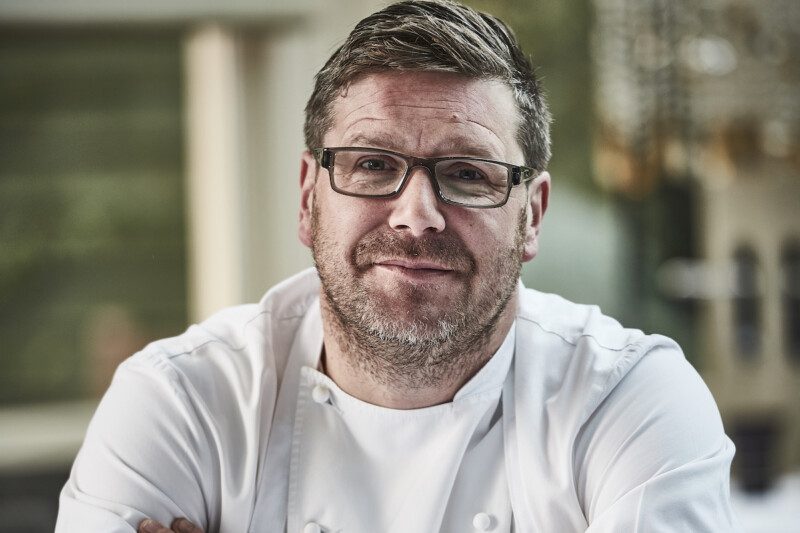 Uncategorized
Esteemed chefs and foodservice industry leaders from the U.K. will partake in a vNEXT virtual event on March 17. The online trade show—hosted by specification platform provider Specifi (whose parent…