Walk Into A Wintery Wonderland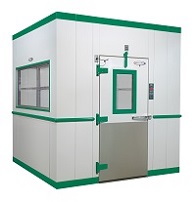 American Panel fabricates walk-in cold rooms that are custom designed to satisfy exacting job site conditions. Choose from a large selection of metal finishes, walk-in accessories, and custom-engineered refrigeration systems. Proprietary monitoring systems offer peace of mind that food product is kept at the desired temperature. American Panel offers the largest line of blast chillers and shock freezers on the market.

American Panel Corp.