Find Your Double-Sided Grill
Double-sided grills speed throughput compared with traditional models. Learn the latest happenings in the category.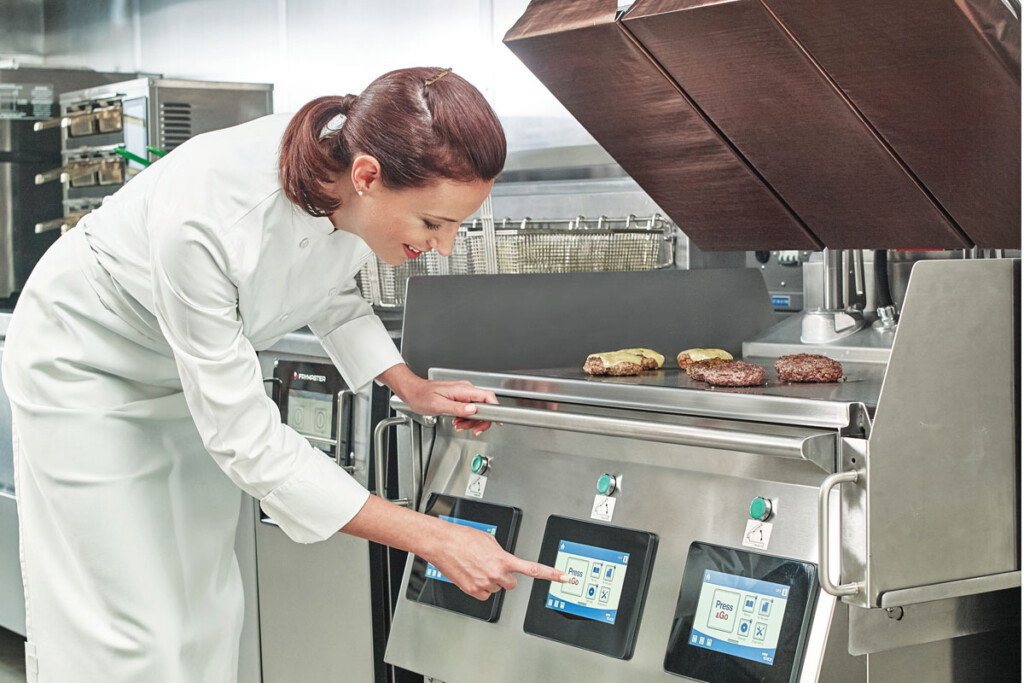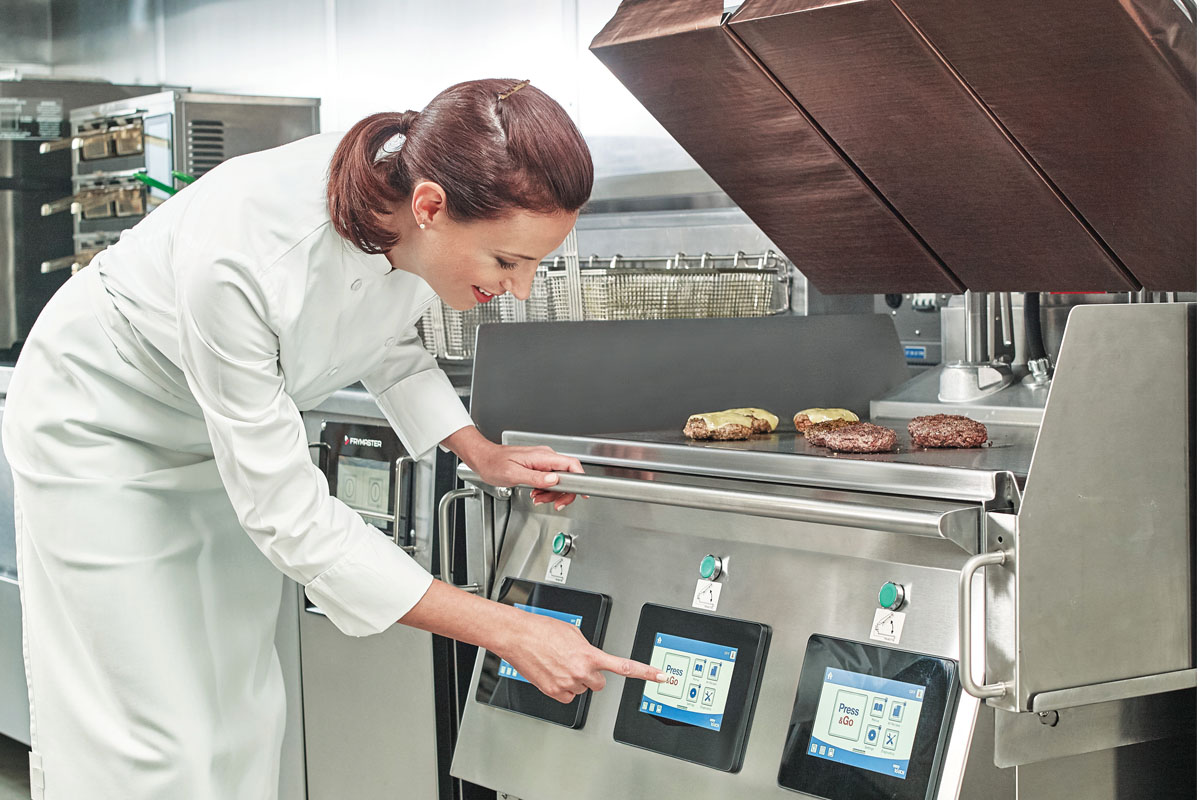 Usually cooking speed is associated with fast food, but things are changing. COVID-19 restrictions on dining rooms have more guests opting for drive-thru, takeout and delivery options, accelerating the pace of change that was already afoot in the industry. "The days of someone coming in to place a takeout order and then sitting at the bar with a drink while they wait for the food to be prepared are gone," says one manufacturer. "Now people order online and come in for a quick pickup, or delivery drivers come in for five to 10 orders at a time."
Double-sided grills, also called clamshell grills, cook food from both sides at once, speeding up throughput. Today's models offer user-friendly interfaces to help make for a smooth operation; they also boast a handful of energy-efficient features. Note what features matter most to your operation, along with your volume and menu requirements, when selecting a model.
Set the Recipe
Some newer double-sided grills offer the ability to program recipes with three factors: the temperature of the lower plate and platen (the top cooking surface), cook time and cooking gap (the space between the lower plate and platen). This programmability allows you to load recipes to the processor from a thumb drive via a USB port, providing menu consistency from batch to batch and store to store.
Once recipes are loaded, touchscreen interfaces make operation simple. These interfaces also make it easy to train new employees, allowing them to cook food at the touch of a button. Some newer models boast Wi-Fi connection abilities. This technology enables you to share not only recipes from one store to another, but to access in real time information such as how much a grill is used, whether the load is full or partial and if a cook cycle was interrupted. Monitoring this type of information could help improve productivity and energy consumption, by adjusting processes for better overall efficiency.
Conserving Energy
Manufacturer claims for double-sided grills show improved cook times of anywhere from twice as fast to four times faster than a traditional grill depending on the product and desired results. Less time on a hot surface equates to less energy consumption, but other features on double-sided grills help improve energy efficiency, such as the following:
• ZONE COOKING. On some models, the lower plate is zone-heated to correspond with each platen. With each zone on a different control, operators can shut off parts of the grill that aren't in use to save energy. One grill coming soon to the market takes this a step further, cutting the plate itself into different sections to eliminate any temperature bleed from one zone to another, allowing the zone that's on to work at optimal efficiency.
• INDIVIDUAL CIRCUITS: Engineering the grill so that each zone is on its own circuit helped one manufacturer achieve Energy Star rating.
• THERMOSTAT: A thermostat (versus manual controls) maintains a certain temperature and only pulls power when needed.
• RAPID RECOVERY PLATE: An aluminum core and a stainless outer surface for the plate of one manufacturer's double-sided grill has five times the heat transfer rate of a standard steel plate. The faster a plate can heat up, the less energy it has to pull.
• ENERGY CONSERVATION MODE: When the grill hasn't been used for 30 seconds, one model will automatically close the top to conserve energy and put less heat into the kitchen environment.
Single Versus Double-Sided
Not all operations will benefit from a double-sided grill so, do your homework first. "One of the biggest mistakes I see is an operator who has enough money to purchase a double-sided grill, but once installed, they aren't cooking enough product to make efficient use of this equipment," says one manufacturer.
Volume is a key factor in choosing whether to purchase a single grill or a double-sided grill. Study your busiest times of day, how many customers you serve, current turnaround time and your goals for improving it. There's no hard and fast formula, but knowing these numbers will help a manufacturer provide guidance on whether the operation would benefit from a single or double-sided grill.
If a double-sided grill makes sense, considering the type of food you plan to cook, and the texture you want to achieve, mark some of the first steps in the specification process. Double-sided grills transfer heat through direct contact or noncontact radiant heat. Direct-contact platens work well for products that are the same thickness, while the radiant type accommodate products of varying depths. Direct contact produces a smooth texture while radiant allows for more variation. Some models can automatically lift the platens while others are manual. Automatic lifters work well in operations with high turnover and inexperienced employees because it reduces guesswork and improves menu consistency. But certain chefs appreciate the flexibility of manual grills.
Along with your menu requirements, consider the size of your kitchen and how much flexibility you need now and in the future. Some operators choose a grill with a platen on one side, and the other side left as a single-surface plate. As volume increases, you can add more platens if the grill allows for field installation. (Not all manufacturers offer this option.) This type of grill also offers flexibility in kitchen design, with the option to move the platen from one side of the grill to another to improve work flow. No matter what double-sided grill you choose, take advantage of the manufacturer's training to help program recipes before use. With so many considerations, including different temperature settings for the plate and the platen and setting the proper gap, an expert's advice helps ensure success. "I'm always amazed at what's being prepared on these grills," says one manufacturer. "It's not just burgers anymore, we're seeing shrimp skewers, Chinese dumplings and Monte Cristo sandwiches."

Keeping Food Safe
Double-sided grills improve food safety compliance by:
• Setting recipes with consistent cook times to get food to the proper internal temperature
• Eliminating the need for flipping chicken and beef in the middle of the cook cycle, as well as possible cross contamination with raw and cooked foods
• Improving production speed to lessen the time your operation holds product both before and after cooking.
Fast and Smart
Speed up production with the latest round of double-sided grills from five manufacturers.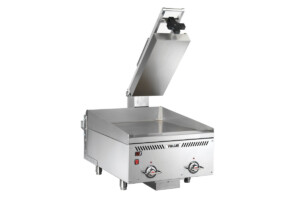 Vulcan
MODEL: VMCS Heavy Duty Electric Griddle Top
CAPABILITIES: Rapid recovery plate provides fast temperature recovery and even heating; high-efficiency flat bar heating elements boost production volume and reduce energy use.
PLATEN COOKING SURFACE: 10 2/5-in.W x 23-in.D
WEBSITE: vulcanequipment.com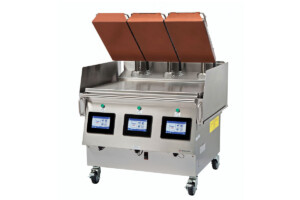 Garland
MODEL: Master Series Gas Xpress Grill XPG36
CAPABILITIES: Program each lane to automatically lift and lower platen and enter the desired cooking time and gap; the touch-screen controls are intuitive; turn off a lane when not in use to conserve energy; use the USB port to update menus.
PLATEN COOKING SURFACE: 11¼-in.W x 19¾ -in.D
WEBSITE: garland-group.com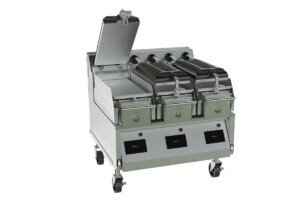 Taylor
MODEL: L858 Electric Three-Platen, Two-Sided Grill
CAPABILITIES: The grill features separate lower plates to eliminate any temperature bleed from one zone to another.
PLATEN COOKING SURFACE: TBD
WEBSITE: taylor-company.com
NOTE: This model is coming soon.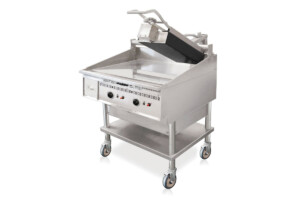 Keating of Chicago
MODEL: Top Side Miraclean Cooking Head
CAPABILITIES: The freestanding remote control panel includes an on/off switch, "element on" indicating light, and an adjusting knob to select the desired temperature.
PLATEN COOKING SURFACE: 10½-in.W x 20-in.D
WEBSITE: keatingofchicago.com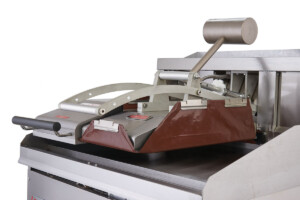 Lang
MODEL: Electric Radiant Clamshell CSE12AG
CAPABILITIES: Three-inch clearance between lower plate and platen handles various product thicknesses; unit instantly turns on when lowered, and moves to standby mode when lifted.
PLATEN COOKING SURFACE: 11-in.W x 25½-in.D
WEBSITE: langworld.com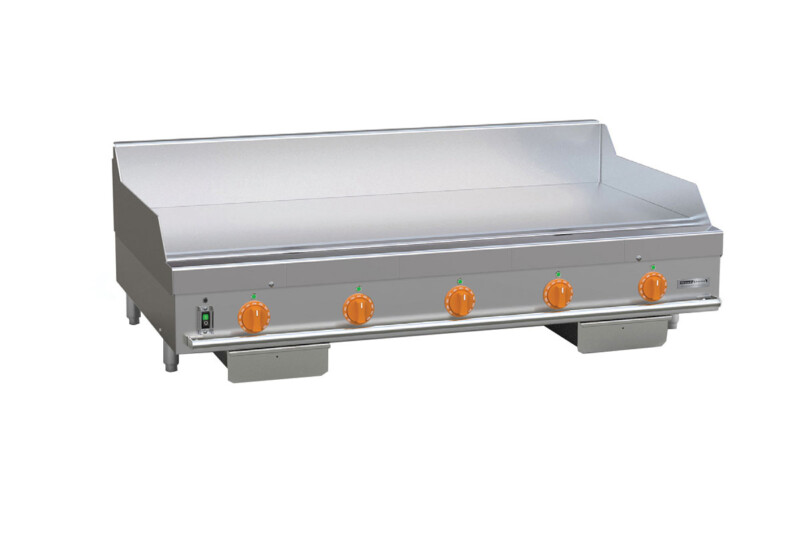 Cooking Equipment
Planchas, though convincing clones of their better-known sister product the griddle, quickly set themselves apart.