Rising Up to Conquer CKV Challenges
Take stock of how today's CKV systems have met diverse operators' needs—and learn how to frame your distinctive search.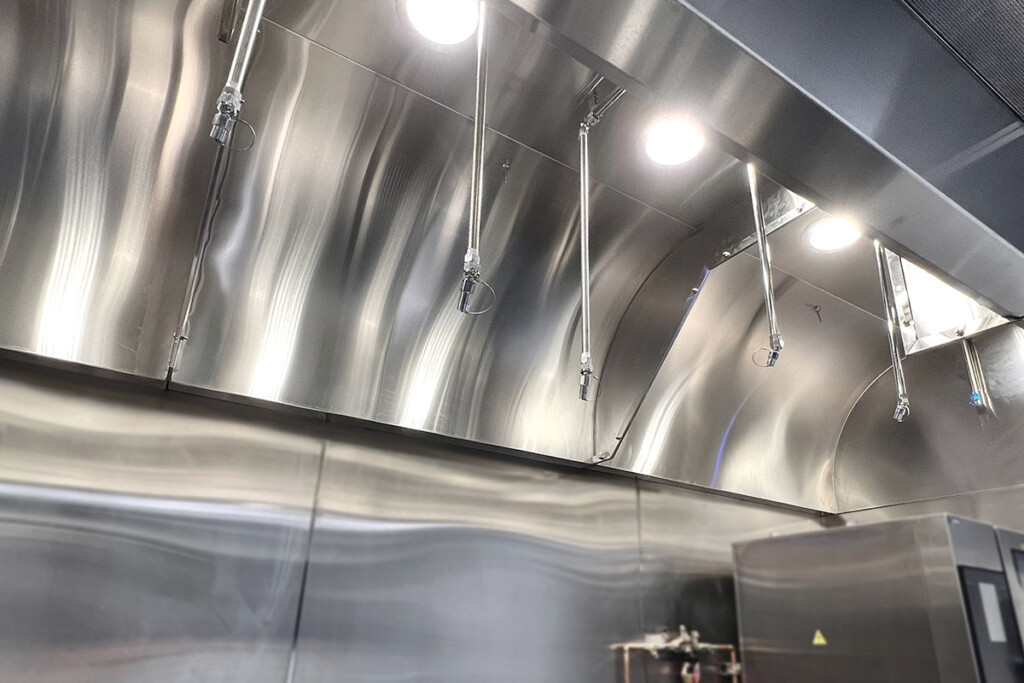 The primary purposes of a commercial kitchen ventilation system are simple: remove smoke and grease, and keep the air cool. But today's operators are asking a lot more of these systems. With an eye on operating costs and labor challenges, energy use and overall comfort are top of mind. And of course, making sure the air inside and out not only smells clean but is safe to breathe is a priority for many consumers.
Foodservice design consultants and manufacturers of CKV equipment understand the nuances involved in designing successful ventilation systems. A combination of equipment engineered to address these issues and creativity in kitchen ventilation design help operators find kitchen ventilation systems to fit their budgets and priorities.
To serve as a springboard for those in the market for ventilation equipment, FER dug into a couple recent projects for which creative ventilation was imperative.
SMART TECHNOLOGY ALLOWS FOR FLEXIBILITY
Walk through the food hall of City Foundry STL in St. Louis and you'll find a world of food offerings, from Bombay sliders to West African fried plantains, New Orleans po'boys to South American empanadas, as well as burgers, tacos, pizza, waffles and, of course, the city's signature dish: fried ravioli. Seventeen different restaurant concepts making use of 15 kitchens are a big part of the revitalization of this building (previously a site where castings were made for household appliance manufacturers).
Upon finding the roof of the building constructed in 1929 was not structurally strong enough to support 15 individual exhaust systems, the design team got creative. They designed the kitchen ventilation systems for City Foundry STL using only two exhaust systems. The 15 exhaust hoods from each kitchen area tie into two separate hood banks, with nine on one fan and six on the other. Crews installed the exhaust systems in a mechanical space to the side of the building, keeping everything off the roof.
"We couldn't have done this type of system without the smart connect features and IoT available today."
The key to success in this system is the fact that each hood operates independently of each other on its own smart control system, ramping up or cycling down according to the amount of production going on under each hood. "We couldn't have done this type of system without the smart connect features and IoT available today," says the manufacturer. "If nine hoods were all exhausting at full capacity to one system at once you'd have more than 18,000 cfm exhausting all the time, which would be a big waste of energy. In this case we are able to measure exhaust in real time and adjust the amount of makeup air according to the type of cooking being done under each hood." In the end, the facility found savings not only from an infrastructure standpoint of not having to purchase and install 15 exhaust fans and accompanying risers, but also from operational savings over time as a result of well-regulated airflow.
The system also allows flexibility. During the design phase the future tenants were unknown, which meant the team designed each hood to capture and contain a maximum amount of exhaust. Using demand control ventilation allows operators to adjust each hood individually to manage airflow on an as-needed basis.
PRIORITIZING NOISE LEVELS
When the time came to add equipment to an existing kitchen at Kendall College in Chicago, noise levels were a top priority. The team wanted the ability to talk to each other without yelling over a loud fan, whether working on new curriculum and recipes or teaching students a process. In this installation the only new equipment was the exhaust hood, as it was connecting to the existing makeup air unit. The team chose a hood designed to arch over the cooking equipment, where the curved surface allows air to glide across rather than being sucked up into a small space, which reduces the amount of air being moved, thus making less noise.
The new hood brought additional benefits. The arched design also leads to improved energy efficiency, as moving less air means less new air to heat and cool. Another benefit to this design comes in replacing filters, which are easily accessed at the front of the hood rather than up against the back of the wall, eliminating the need to climb over equipment for routine maintenance.
Test kitchens aren't the only place where controlling noise makes an impact. Operators at retirement facilities find traditional systems often produce feedback for patrons who wear hearing aids. And as employee comfort becomes a top concern, quieter kitchens make for a more satisfying workplace environment.
Operators have a few options when it comes to specifying quieter hoods. In addition to the arched design, another manufacturer also capitalized on noise reduction by designing a hood with a larger extractor profile. The original purpose for the new design was to increase grease extraction capability, but in changing the design parameters the static resistance of air moving through the extractor decreased, leading to an exhaust system operating about 15 decibels quieter than traditional hoods.
WHEN SPACE IS AT A PREMIUM
From ghost kitchens with high production levels to traditional operations trying to do more with less, space is a driving force of kitchen design. Luckily, there are options in exhaust systems that bring the necessary amount of power and comfort while taking up less space than traditional systems.
One manufacturer recommends considering dedicated outdoor air systems for kitchen ventilation when space is a premium. Rather than having a makeup air unit and a rooftop exhaust, everything is included in one piece of equipment. Not only do you save money on installation costs, but there are cost savings in maintenance with half as many filters to purchase and a fewer amount of parts to fail.
Exhaust hoods featuring integrated pollution control also save space by taking away the need for a stand-alone pollution control unit. "Many cities have instated codes requiring a certain level of air scrubbing to remove smoke and odor," explains one manufacturer. "But we're also seeing an increase in high-density housing with foodservice operations on the first floor that have increased the growth of this technology."
GETTING THE RIGHT DESIGN
Making the choice on smart systems, DOAS and pollution control units can seem overwhelming. The manufacturers FER spoke with provided their insight to help make the process easier. Here are their top tips:
• Understand where your priorities lie in regard to the cost of equipment, energy costs over time, and employee and patron comfort. Knowing this type of information from the beginning helps in choosing the proper equipment for long-term satisfaction.
• Make sure to understand the cost of operation in addition to purchase price and installation of equipment. Otherwise, you might find that cutting corners during construction only leads to higher maintenance and operating costs in the long run.
• Design for the future. Consider allowing enough overhang for changes in equipment under the hood.
• Share your expectations for the design from the start of the project, and stay involved throughout the process.
The good news: With today's products and technology, the number of combinations that can be used effectively are limitless.
---
Get a Sense
Put varied products from four ventilation manufacturers on your radar to learn what they can handle.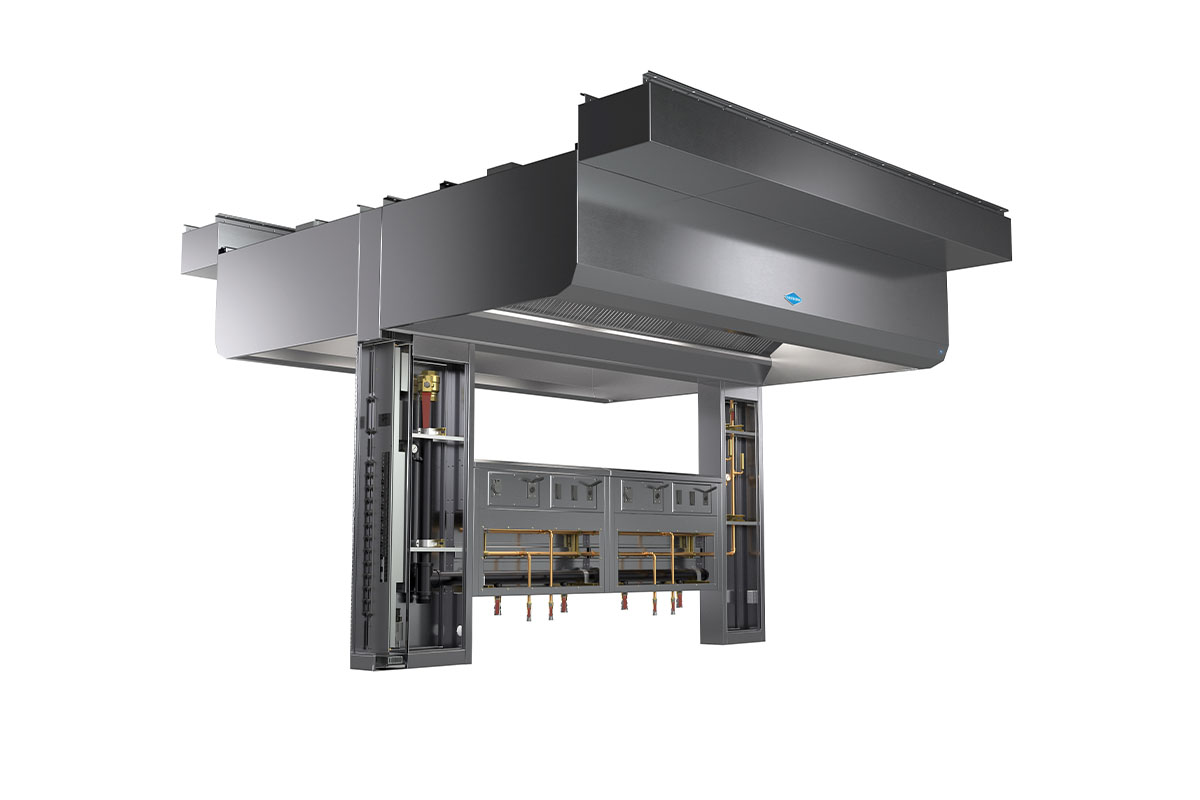 Gaylord
MODEL: PowerLITE UDS
DETAILS: This 9-ft.W utility distribution system provides electric, gas and water in an island configuration. Upgrades include IEQ monitoring, exhaust fan and hood canopy lighting controls and more. Another UDS model, PowerSelect, has added capabilities and options, including ceiling and wall-mounted configurations.
WEBSITE: gaylordventilation.com
---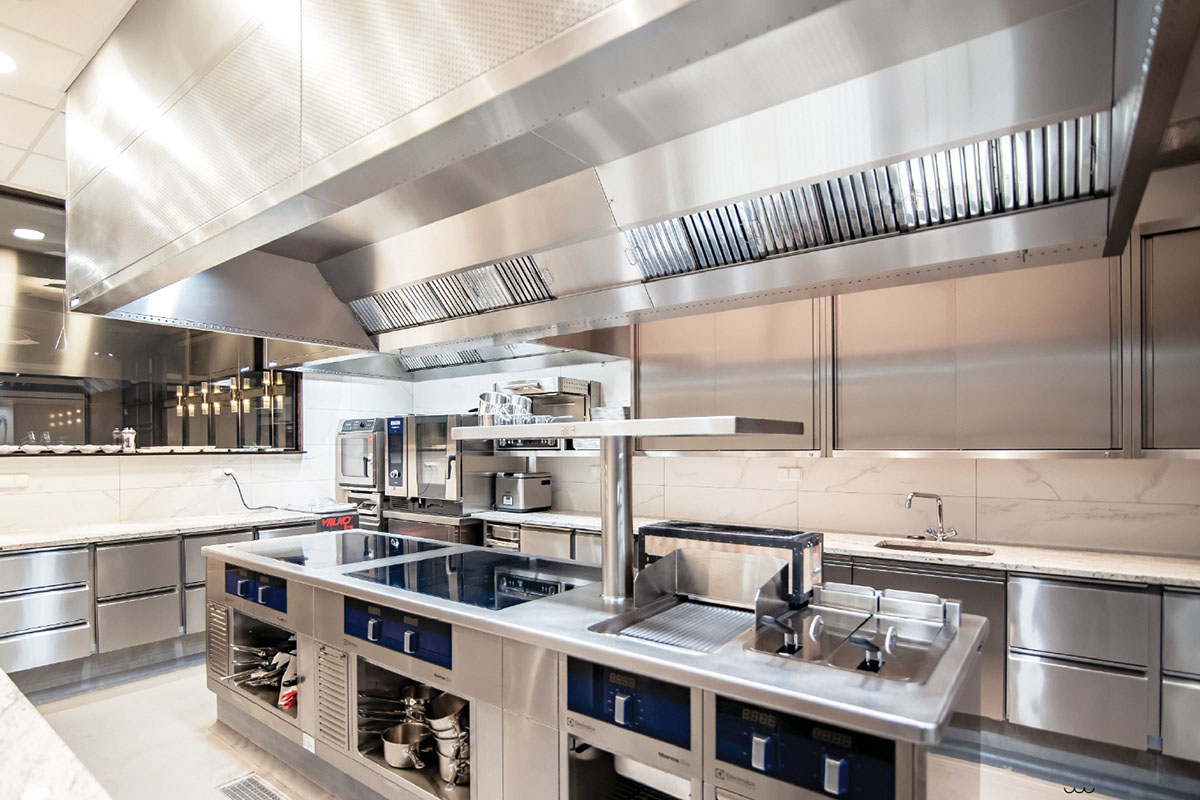 Halton
MODEL: SafeGuard
DETAILS: This multifaceted, IoT-connected platform drives energy savings, senses grease deposition levels in ductwork and mitigates fire risk. Let the system handle real-time air balancing, and gain insight via monthly system reports.
WEBSITE: halton.com
---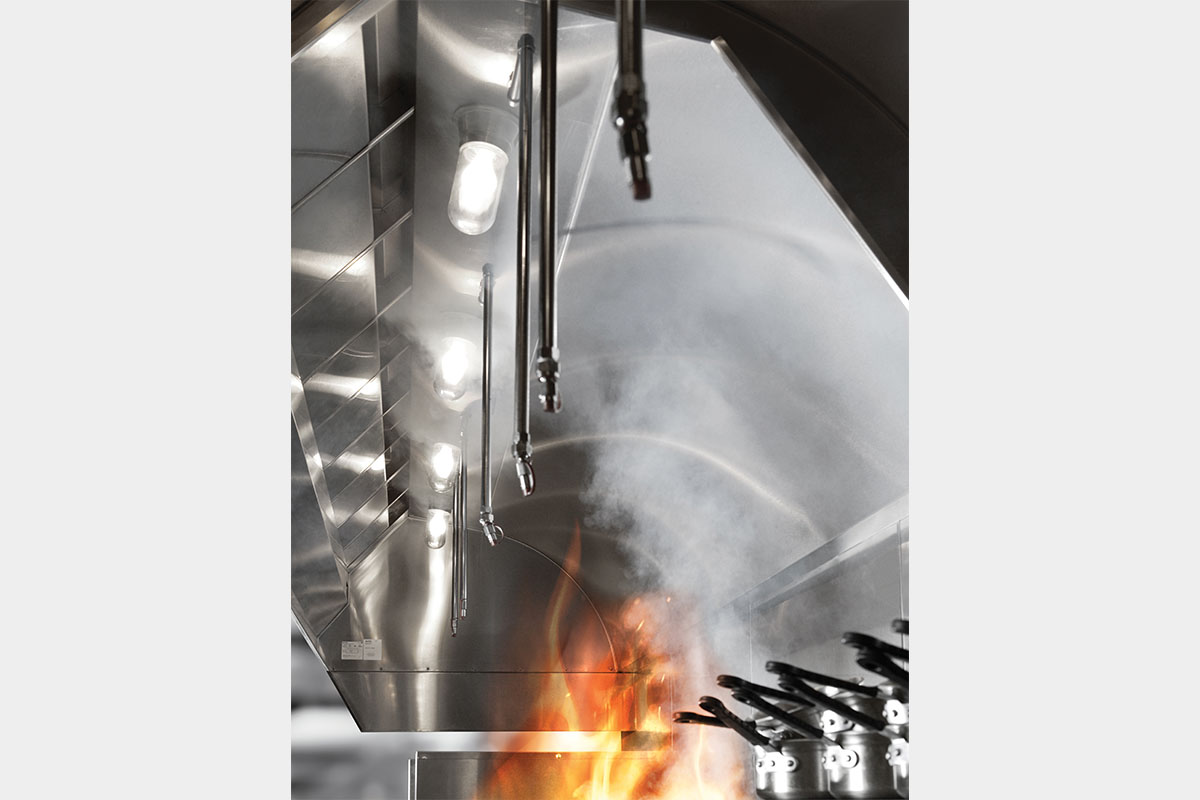 Avtec
MODEL: EcoArch
DETAILS: Place this exhaust-only canopy, available in various lengths, over cooking appliances reaching a top heat of 600°F. The maker recommends the hood for projects in which energy consumption is a factor, or when adequate makeup air is not available from the heating and cooling system. A concealed grease trough slopes to a removable grease cup.
WEBSITE: unifiedbrands.net
---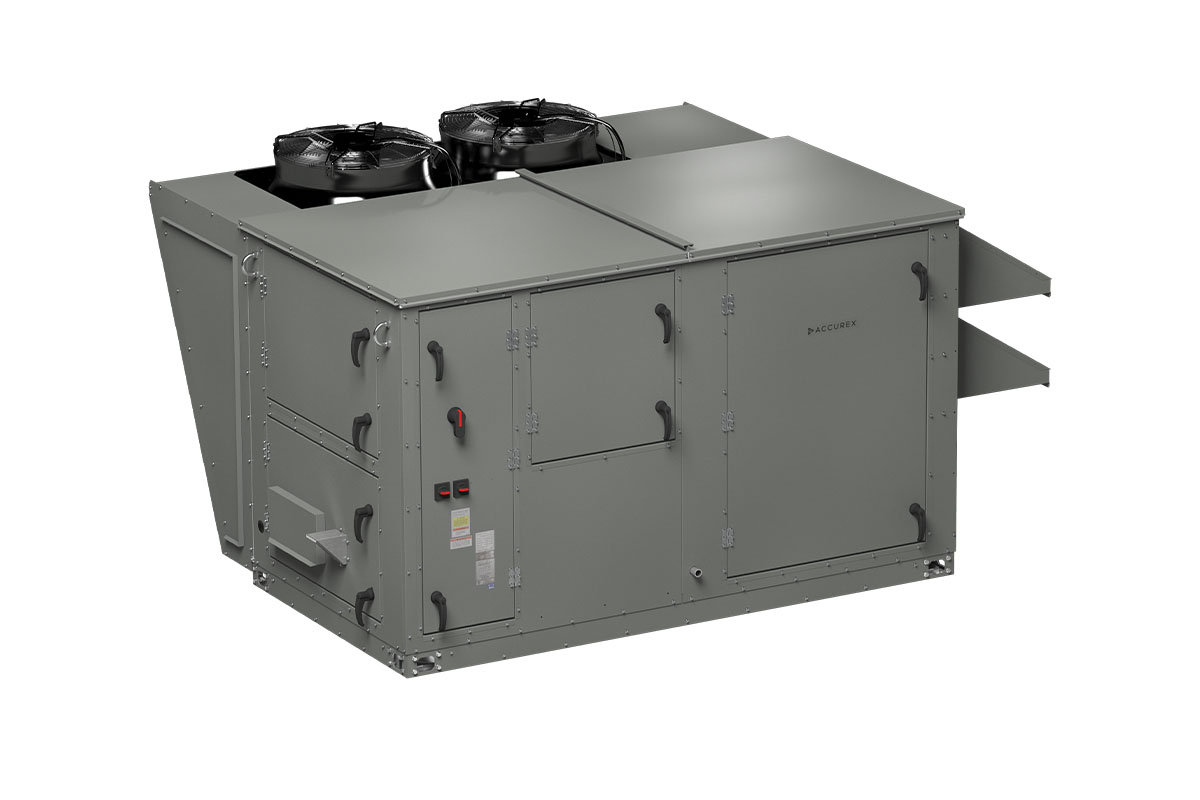 Accurex
MODEL: XRV-25
DETAILS: Handle more with this multipurpose dedicated outdoor air system, which can precisely control temperature and humidity, plus replace high quantities of outside air to offset exhaust. This model—the second-smallest out of five sizes—has a cooling capacity of 15 tons. Control settings from a web browser.
WEBSITE: accurex.com
---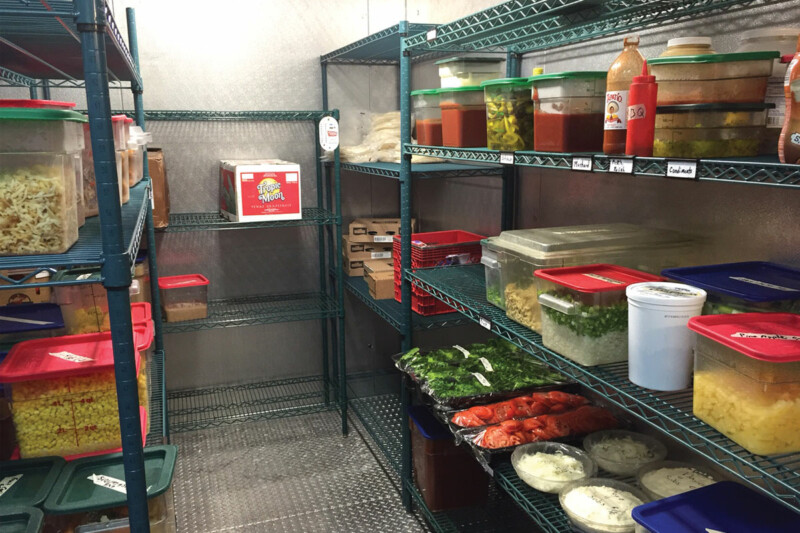 Equipment
A walk-in cooler and the food items stored inside are enormous investments for any business. As with any investment, you want to maximize your return and protect against loss. One…